As we saddle up for a Week 17 chock-full of meaningless and half-meaningless games, along with the ever-tantalizing Sunday Night Football game in Seattle, it's fun to look ahead to the possible matchups in the playoffs.
Using the machine-learning capabilities of AWS, we go through some of the most intriguing possible matchups and give some preliminary predictions on what we think will happen:
This matchup could very well repeat itself so long as the 49ers defeat Seattle this week (58 percent to happen), the No. 3-seed-No. 6-seed matchup goes as planned and Seattle wins again on the road against (in all likelihood) the Philadelphia Eagles. With respect to Sunday night, though, much of what happens comes down to the play of Seattle quarterback Russell Wilson, who has fallen off a bit since his MVP-like start to the regular season. Wilson is one of the best quarterbacks in the NFL in terms of producing big-time throws (6.61% of his dropbacks) and has been at his best in terms of limiting turnover-worthy plays (1.65%) relative to recent seasons. His support was likely at an all-time low against the Arizona Cardinals on Sunday, with players such as Duane Brown and Chris Carson out on the offensive side of the ball and playmakers such as Jadeveon Clowney, Shaquill Griffin and Quandre Diggs missing on the defensive side. If any subset of the latter group can come back and play Sunday, it should be a boost for the underdog Seahawks.
On the other side of the ball, we've seen some good and bad from Jimmy Garoppolo. But at the end of the day, he's producing more turnover-worthy plays on dropbacks than big-time throws, with an average depth of target fewer than 6.5 yards — the lowest in the NFL. Kyle Shanahan has been one of the best play-callers in the league, and the Seattle defensive scheme has been one of the weirdest in the entire league in terms of personnel package and coverage usage. Despite Seattle being bailed out by dropped passes and injuries to Emmanuel Sanders and George Kittle in the first matchup, overtime was required to hand the 49ers their first loss. Garoppolo's limitations aside, it's hard not to see San Francisco having success against Seattle's defense Sunday night, forcing an MVP-like performance from Wilson against one of the better defenses in the league if the Seahawks are to claim the NFC West title. 
Intriguing Matchup: SEA QB Russell Wilson (91.7 overall grade) vs. SF CB Richard Sherman (87.3 overall grade)
Wilson is the most valuable player in the NFL right now using PFF WAR. Sherman is the most valuable cornerback in the NFL — and a former Seahawk. It doesn't get much better than this.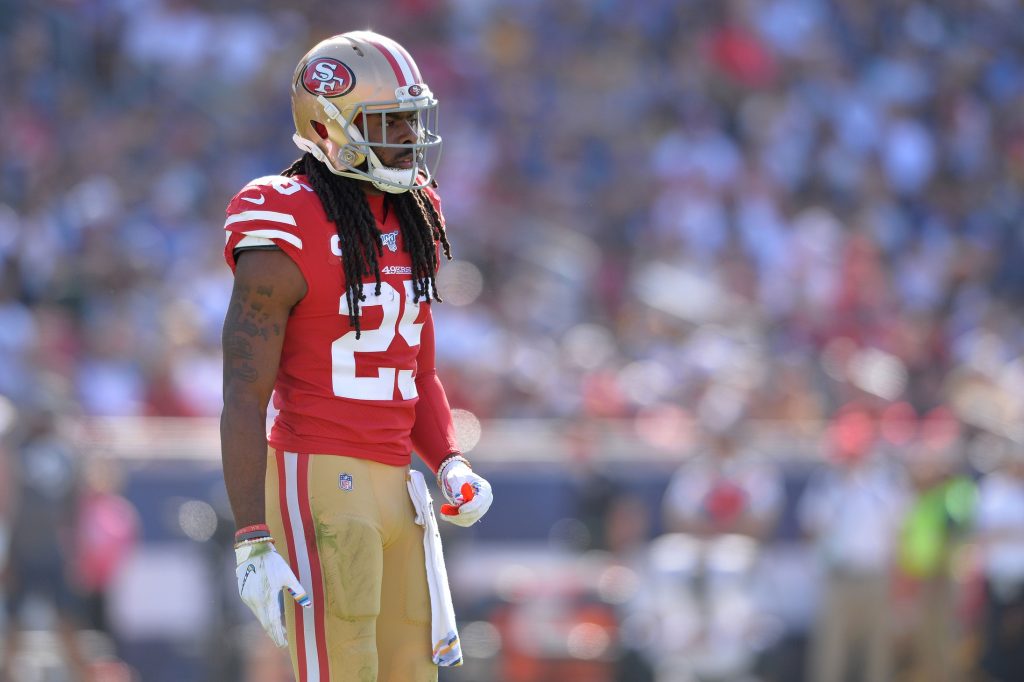 Orlando Ramirez/USA TODAY Sports
In just their second playoff game since the Music City Miracle, the Buffalo Bills should be much more equipped to pull off the upset than they were when led by Tyrod Taylor against the Jacksonville Jaguars in 2017. While Josh Allen is not an upper-echelon quarterback, the Bills have done a great job of building an offense that allows the team around him to be successful. John Brown (0.4 WAR) and Cole Beasley (0.3 WAR) have done a great job complementing each other, with Brown catching deep passes to the tune of 332 yards and four touchdowns and Beasley adding 344 yards after the catch (good for 12th among wide receivers). 
Houston, on the other hand, has been one of the more enigmatic teams in the entire league. They can beat the brakes off the New England Patriots and Tennessee Titans, but they've also allowed teams such as the Tampa Bay Buccaneers to hang around despite multiple turnovers. Deshaun Watson is the only "cluster 3" quarterback in the playoffs, a tier-two guy with high variance. Such high variance can be great if the positive plays are strung together long enough (think Joe Flacco in 2012), but it can also lead to ruin should he and his banged-up receivers struggle at any point in time. Getting J.J. Watt back should help Houston, but as of now, this game is only a 55%-to-60% proposition for the Texans, providing the real possibility that they could be at home for the Divisional Round for the second consecutive year. 
Intriguing Matchup: HOU WR DeAndre Hopkins (87.3 overall grade) against BUF CB Tre'Davious White (75.6 overall grade)
While the Bills are less of a man-to-man team than a zone team, you can bet on seeing a great deal of Tre'Davious White covering DeAndre Hopkins in this possible matchup. While Deshaun Watson is one of the great up-and-coming quarterbacks, he does often put the ball in harm's way, and White (six INT and seven PBU this season) is a talented-enough playmaker to make him pay.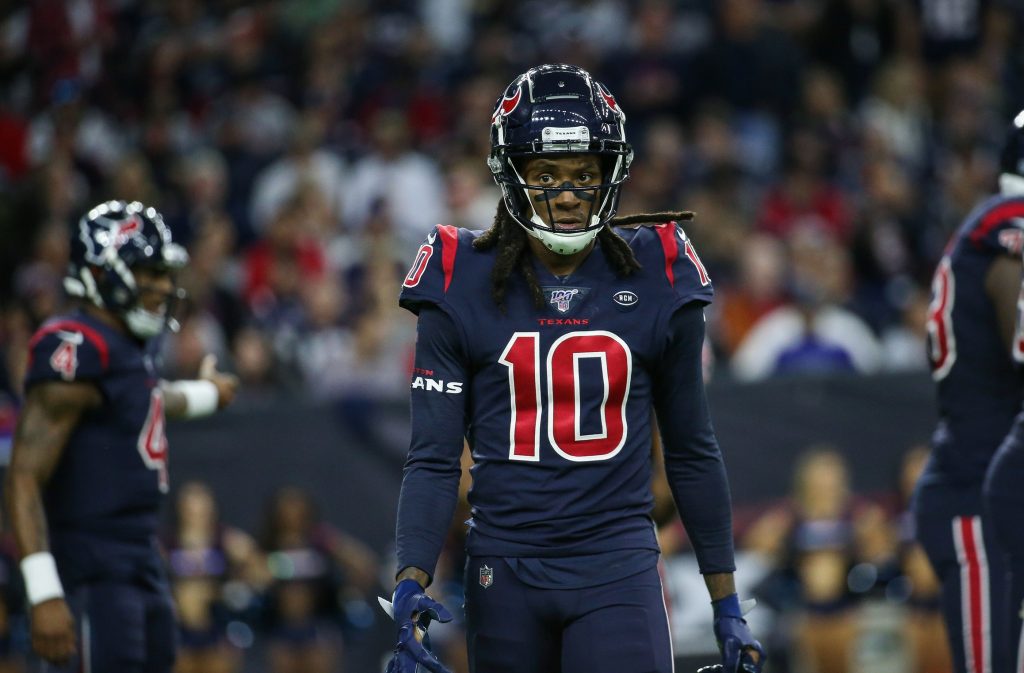 Trey Taormina/USA Today Sports
If all of the favorites win Sunday and New Orleans takes care of business in the Wild Card round, this would be the No. 2-seed-vs.-No. 3-seed matchup we get in round two. Drew Brees dispelled some of the questions as to whether he can be as effective outdoors last week in Nashville, throwing for 281 yards from a clean pocket, including 3-for-4 on passes traveling more than 20 yards downfield. Lambeau Field represents its own set of issues weather-wise (it was around 50 degrees in Tennessee on Sunday), but the disparity between Brees and Packers quarterback Aaron Rodgers at this point is more than palpable. 
The Packers' defense gave the Minnesota Vikings fits Monday night, pressuring Kirk Cousins on 47% of his dropbacks. However, Brees is the best quarterback in the NFL at avoiding pressure (24.7%) and should stress Green Bay's secondary with Michael Thomas and Jared Cook (who is leading the tight end position in yards per route run since Week 12). Alvin Kamara appeared to bust out of what has been a season-long slump against the Titans, as well, and he'll present a challenge out of the backfield for a struggling Blake Martinez and Green Bay's underneath coverage. Our power rating thinks the Saints are the second-best team in the NFL (to Baltimore), meaning that this matchup would likely be far more of a 50/50 proposition than prognosticators (factoring in Green Bay's home field and the first-round bye) believe at first glance.
Intriguing Matchup: GB Edge Za'Darius Smith (90.1 overall grade) versus NO LT Terron Armstead (79.5 overall grade)
Smith basically ruined Minnesota's chances of earning an NFC North title Monday night, generating nine total pressures and taking part in four sacks. Drew Brees was pressured only six times last week against the Titans, in large part due to the brilliance of Armstead, who pitched his third shutout in his last five games.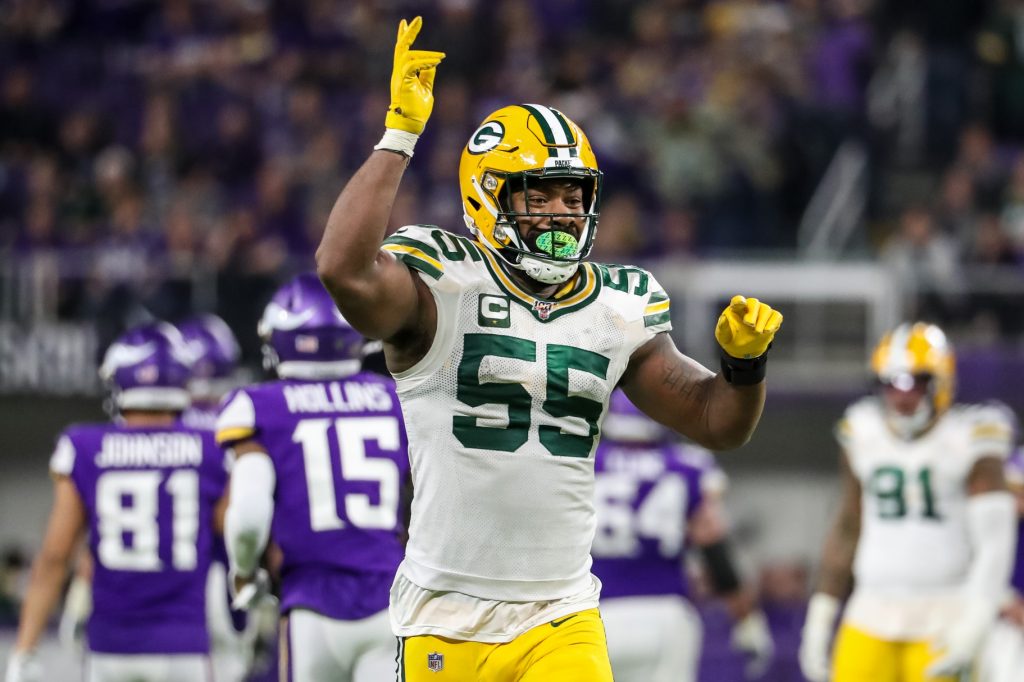 Brace Hemmelgarn/USA TODAY Sports
If things go as planned this weekend, this will be the AFC title game matchup should both teams win out — a rematch of a Week 3 game where the Chiefs got out to a big lead before holding on for dear life late. The Chiefs are the only team to beat Lamar Jackson twice in his career. And unlike in its last two matchups, the Kansas City defense can make a claim that it isn't among the league's worst units anymore. The group has faced the ninth-toughest schedule of opposing offenses this season and has responded by being in the upper half of the league in terms of total yards per play while also being a top-five unit in net adjusted yards per play in the passing game. The Ravens, meanwhile, have been astounding in almost every facet this season, but they are not particularly dangerous at the wide receiver spot. And newcomers Tyrann Mathieu and Juan Thornhill should be able to handle the Ravens' upstart tight ends in the middle of the field. 
The issue is going to be how the Chiefs contend with the dimension of football that is only valuable when the quarterback changes the calculus — the running game. We know that players like Lamar Jackson fundamentally alter not only what it means to stop him on the ground, but how difficult it is to stop the players he hands off to. The Chiefs' defensive resurgence has largely been a product of their pass defense, as they've held all but two opponents this season (and 14 of their last 15) to under 300 yards passing. When it comes to stopping the run, they've been a little less consistent; their Week 3 game against the Ravens started a string of four straight contests allowing more than 180 yards on the ground. They've been much better lately (allowing a little over 100 yards per game the last nine games), but their weakness defensively is something that Baltimore will no doubt exploit if given the opportunity. 
Intriguing Matchup: KC Edge Terrell Suggs (63.9 overall grade) versus BAL OT Ronnie Stanley (87.2 overall grade)
Suggs had two pressures and a stop in his first action for the Chiefs and has probably picked up a few things on Stanley during the time they shared in Baltimore. He'll need all of that knowledge if these two squads meet, as Stanley has been worth almost a third of a win for the Ravens so far this year, allowing just six pressures all season.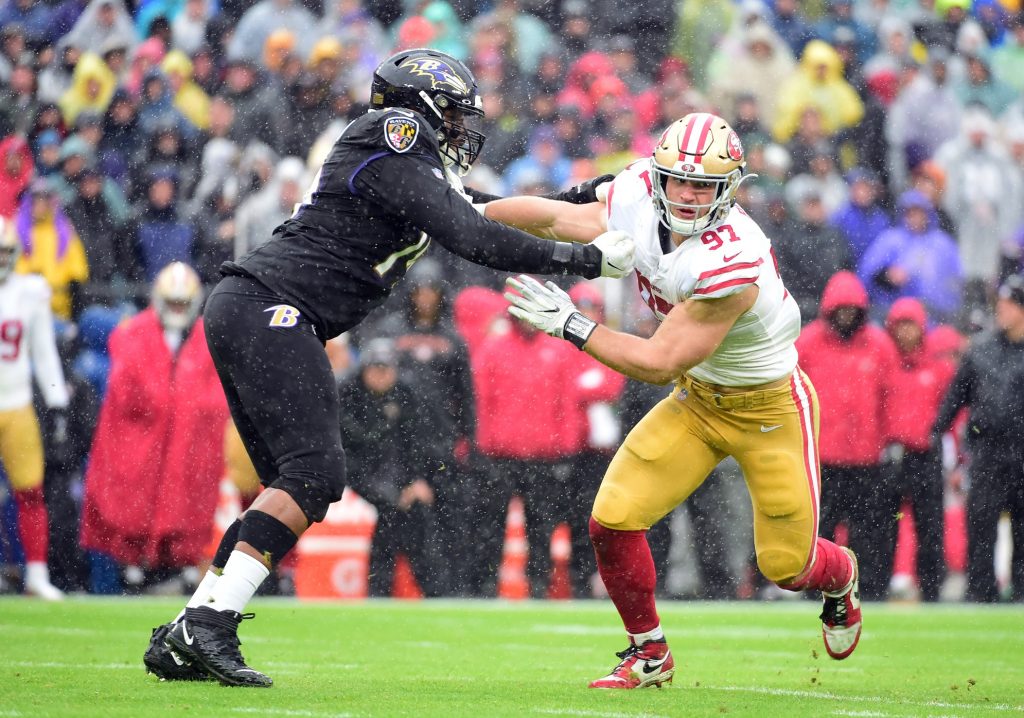 Evan Habeeb/USA TODAY Sports
Super Bowl: Kansas City Chiefs vs. San Franciso 49ers in Miami
Why all the negativity about the Chiefs in the last section if we're going to discuss their potential appearance in the Super Bowl? Because run defense doesn't matter nearly as much as having Patrick Mahomes does. Despite the Chiefs playing multiple games without their starting left tackle, their No. 1 wide receiver, multiple players on the interior of their offensive line and Mahomes himself, they are one of the hottest teams entering the playoffs, with the reigning MVP hitting his stride at just the right time. After earning the second-lowest negatively graded dropback rate in 2018, Mahomes struggled in that department through the first part of the season, and those little inaccuracies have hurt him on the margins. Mahomes has generated less than a 12% negatively graded dropback rate in four of his last six starts, including the last two against good defenses in the Chicago Bears and Denver Broncos. If he plays this way in the playoffs, the Chiefs will be a tough out.
We already discussed the 49ers above, and while it's true that they will have some difficulties in their path back to the Super Bowl for the first time since 2012, there's a lot to like about this outfit — and it starts with how well Garoppolo has matured in Shanahan's scheme. Garoppolo has been a top-10 player in the NFL this season in terms of limiting negatively graded plays, and as a result, has put players such as Kittle, Sanders and Deebo Samuel in position to make plays. Good offense generally beats good defense, so I, for one, would love to see this points fest in honor of former 49ers and Chiefs quarterback Joe Montana in Super Bowl LIV.
Intriguing matchup: George Kittle (94.4) versus Tyrann Mathieu (74.2)
This game features the two best tight ends in the game, and while the 49ers will have their hands full with Travis Kelce, Kittle's matchup against one of the offseason's best free-agent signings in Mathieu is the one that I'll have my eyes on. The former has more yards after the catch this season than all but 10 tight ends have in total receiving yards, while the latter has allowed under a 50.0 passer rating into his coverage over the second half of the season.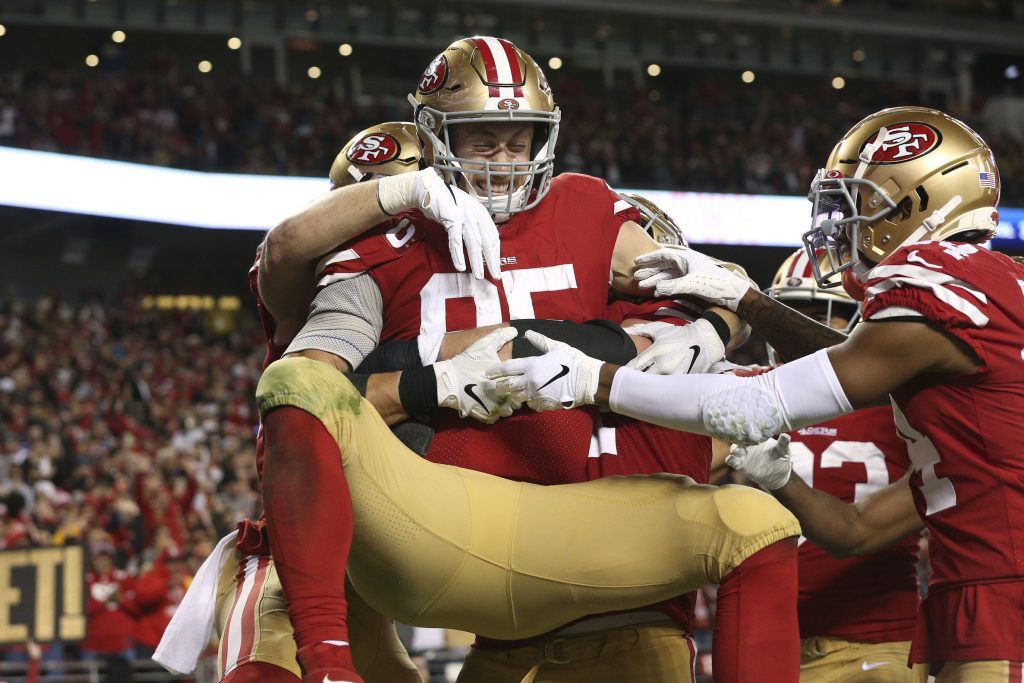 Cary Edmondson/USA TODAY Sports