A round into the NFL playoffs, and a lot of storylines have emerged. Is the Patriots' dynasty over? Should the Saints run it back… again, after another heartbreaking loss? Are the Titans for real?
One trend that emerged down the stretch of the 2019 regular season was the emergence of the Kansas City Chiefs defense under new coordinator Steve Spagnuolo. Since their last regular-season loss, a 35-32 defeat at the hands of the Tennessee Titans, only seven teams have allowed a better expected points added per play than the Chiefs (-0.09), and only six teams were better against the pass (-0.13).
Tyrann Mathieu was the AFC Defensive Player of the Month in December, while Juan Thornhill was one of the most productive rookies in the NFL this season, accumulating over a third of a win above replacement in over 1,000 snaps before his Week 17 ACL injury. Second-year cornerback Charvarius Ward had a very good season, allowing less than 50% of the passes into his coverage to be completed, breaking up five passes, and intercepting two more.
Frank Clark came with a big price tag (and my skepticism), but eventually produced results next to upcoming free agent Chris Jones, generating 47 total pressures and 30 stops while battling injuries. The question as the Chiefs go into their third playoff in four years as a top-two seed in the AFC: Is their defense resurgence for real? We look into this question below:
Coverage is not stable, but here's some encouraging data
At PFF, we chart how a quarterback comes to his decision to throw the ball, and the Chiefs are the fifth-best team in the NFL when the quarterback throws the ball on his first read (-0.05; only nine teams have allowed better than a 0.0 EPA on such throws, versus 11 overall). On admissible plays, the Chiefs were pretty good at forcing other teams off that first read, too, making them do so about a fourth of the time (11th-best in the league).
Early in the year they struggled covering secondary-read players like running backs, with Damien Wilson, Anthony Hitchens, and Ben Niemann all allowing over a 105.0 passer rating into their coverage for the season's first 10 weeks and combining for 734 yards allowed. Since that time, in large part due to the play of Mathieu, Thornhill, and Daniel Sorenson, those three have allowed only 373 passing yards into their coverage, despite playing players like Austin Ekeler (twice), Josh Jacobs, James White, Tarik Cohen, and Phillip Lindsay in those games.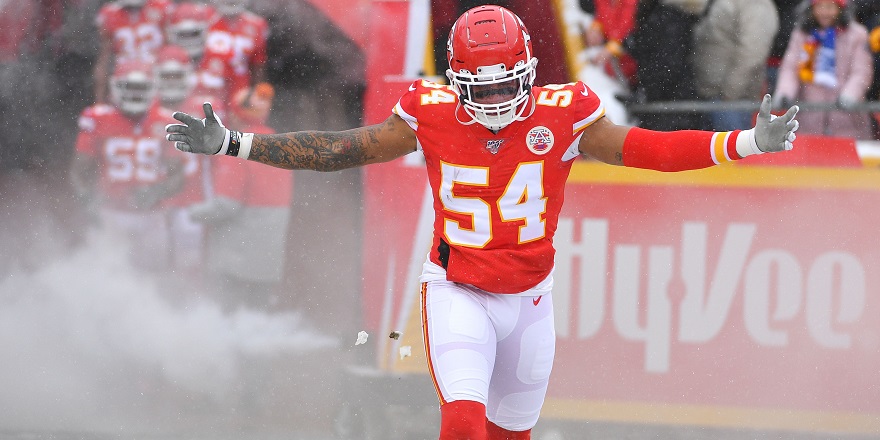 © Denny Medley-USA TODAY Sports
While a team's ability to play well on their opponent's first read is likely unstable long-term (we have only charted this data 2016-present), and very correlated with the quality of opposing offenses faced, the Chiefs have faced a top-10 schedule this season, and their improvement in underneath coverage has been noticeable enough to make their pass defense something that is as real as pass defense can be (read: something that won't keep them from winning).
Is the pass rush good enough? Does it matter?
After leading the NFL in pass-rushing grade last season, but losing Justin Houston and Dee Ford and changing defensive schemes, there were a lot of questions as to how, when applicable, the Chiefs would put heat on the quarterback. Clark was acquired from Seattle; Emmanuel Ogbah, Alex Okafor, and Khalen Saunders came in as well; and the defense did not turn in the kind of performance it did a season ago rushing the passer, earning only the 29th-best pass-rushing grade in the league. Jones did his part, generating 58 total pressures. The Chiefs were more productive at the linebacker position as well, with Wilson and Reggie Ragland each generating over 10 pressures. However, injuries to Ogbah and Okafor left third-year pro Tanoh Kpassagnon as the third-leading pressure producer on the team with only 31 (last year three Chiefs had over 50, and four over 35).
That said, we know pass rush generally doesn't matter as much as coverage does, and quarterbacks control their pressure rates more than anything. Tom Brady neutralized the Chiefs defense in the AFC Championship Game a year ago by getting the ball out quickly and targeting what were (at the time) weak members of the Chiefs secondary. In their upcoming matchup against Houston, they should be able to pester Deshaun Watson enough to play good enough pass defense to get them into a matchup with Baltimore, which presents its own challenges.
Run defense
Among the things that matter in the NFL, run defense is the least important. That said, the Chiefs, should the AFC favorites win this weekend, will be facing a different animal in the Baltimore Ravens and their ground attack, led by Lamar Jackson. The Chiefs have some good players on the interior of their defense in Jones (73.6 run defense grade), Saunders (71.9), and Mike Pennel (77.1), but have been victimized to the tune of 206.7 rushing yards against in their 2019 matchups against the remaining AFC playoff teams, meaning they'll need to be even better than normal at limiting early-down passing in order to keep teams from short-yardage situations, where they might struggle to produce negative-EPA plays for their opposing offenses.
The play-caller
Simply put, after a slow start, Spagnuolo has been one of the highest-graded defensive play-callers this season, and has turned the Chiefs into a defense that is substantially better than the one they played with in 2017 and 2018. After a few seasons in which Bob Sutton did not utilize the Chiefs talent to the best of its ability, Spagnuolo, as far as scheme uniqueness is concerned, stands out. The transition from a 3-4 scheme that utilized a lot of man coverage to a 4-3 scheme that is more multiple in its coverage has gone swimmingly so far, and if that continues Kansas City will be far more formidable on the defensive side of the ball than they were going into the 2018 playoffs.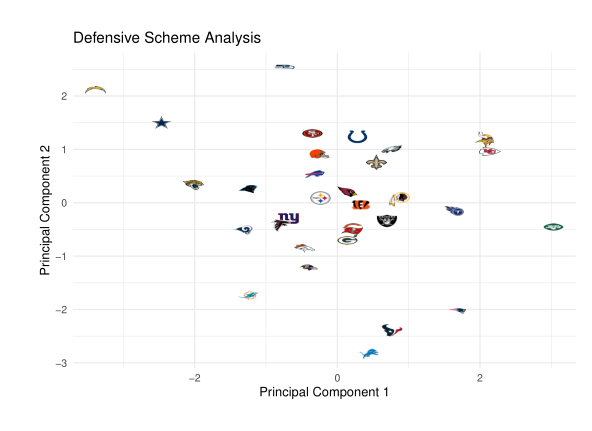 In conclusion, the Chiefs defense is indeed much improved. While defense doesn't win championships, the lack of a competent defense can (and, in the case of the 2018 Chiefs, did) keep a team from reaching its postseason goals. To the credit of Brett Veach, Andy Reid, and Spagnuolo, the Chiefs have a defense they can win with, and it will be interesting to see how it holds up the next few weeks.