The Seattle Seahawks, fresh off of paying Russell Wilson a huge deal a week ago, traded edge defender Frank Clark to the Kansas City Chiefs in exchange for the 29th pick in this week's draft, a 2020 second-round pick and a swap of 2019 third-rounders. The Chiefs and Clark have reportedly reached a five-year, $105.5-million deal ($63.5 guaranteed), pairing him with fellow 2019 offseason acquisition Alex Okafor (three years, $18 million) to form a new edge duo after years of a combination of Justin Houston, Dee Ford and Tamba Hali.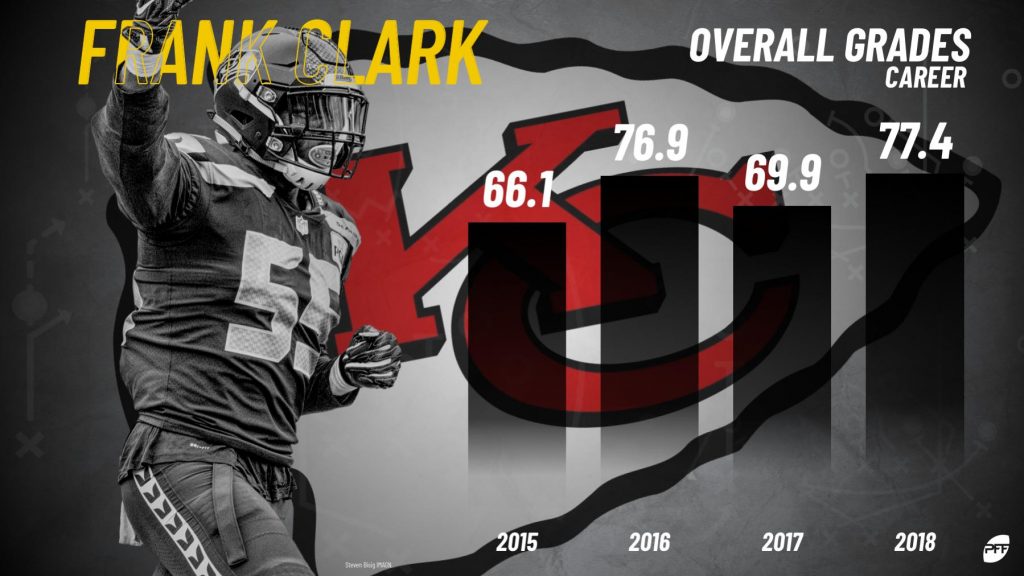 The deal makes a ton of sense for the Seahawks, who have surrendered first-rounders in previous drafts by trading for veterans like Percy Harvin and Jimmy Graham, as well as other high picks on the likes of Sheldon Richardson and Duane Brown. They came into the week with just four draft picks in total, so the additional capital should help a team that, despite some deficiencies in early-down play calling and a defense that was in the lower half of the league in EPA allowed, finished 10-6 and made the playoffs for the seventh time in nine years under Pete Caroll.  With needs all over their defense, they should have no trouble getting a difference maker with the 21st and 29th overall picks in Thursday's draft.
On the other hand, this appears to be a steep price for Kansas City to pay for a position that, relative to others, is not a need for their defense. As I wrote about earlier this offseason, the Chiefs were smart to trade Ford for a future pick – they were one of the best defenses in the NFL a season ago in producing pressure and generating sacks, but were 28th in expected points added – because they lacked talent and execution in the secondary. The New England Patriots threw quick passes at will to defeat them in the AFC Championship Game.  Adding Tryann Mathieu (a top-15 secondary player in terms of WAR since 2013) certainly helps them, but they are still in real need of talent and depth on the outside – currently relying on journeyman signing Bashaud Breeland and 2018 undrafted free agent (and trade acquisition) Charvarius Ward on the outside of Kendall Fuller in their nickel defense.  
At pick 29 they were likely going to have a chance at some subset of Greedy Williams, Byron Murphy, DeAndre Baker, David Long and Rock Ya-Sin to bolster that group. Now, with their highest picks sitting at Nos. 61 and 63, Kansas City will have a harder time acquiring starting-caliber talent this weekend, with trading up (usually a poor choice analytically) or trading for a veteran (where the pickings are slim) their best choices.  
While this might be, in the grand scheme of things, picking nits – as the Chiefs having the league's most valuable player in Patrick Mahomes and a schedule of opposing offenses (21st-most-difficult) that makes reversion upward towards the mean a real possibility defensively, it's our view that the Seahawks got the best of this deal, setting up Wilson and company with the opportunity to acquire young talent and compete in the NFC West for the foreseeable future.