Back in October, Patrick Mahomes was lying on the turf in front of a national audience on Thursday Night Football. Team doctors were popping his dislocated kneecap back into place on the field after a quarterback sneak caused the residents of Kansas City to collectively hold their breath — dreams of a Lombardi Trophy slipping away. The despair didn't last long, though, and Mahomes was able to return after just two weeks on the sideline and later deliver that Super Bowl title.
[Editor's note: Subscribe to PFF ELITE today to gain access to PFF's Premium Stats and new Player Grades experience in addition to the 2020 NFL Draft Guide, 2020 Fantasy Rookie Scouting Report, PFF Greenline, all of PFF's premium article content and more.]
At the time, Kansas City Chiefs head coach Andy Reid responded to questions as to whether he regretted the decision to use Mahomes as a runner, saying, "No. Not too many people get hurt on sneaks. It was a freak thing, sometimes it happens."
The numbers tell us that NFL playcallers aren't all on the same side as Reid. They're hesitant to insert their quarterbacks into a pile. Pittsburgh Steelers offensive coordinator Randy Fichtner echoed that sentiment last season when he said, "I wouldn't mind it in certain situations, but when it's obvious situations — fourth-and-1, third-and-1 — it really isn't something I'm interested in doing. I value our quarterback. There's a lot of stuff going on in those piles. Just the truth be known, if we can't hand it to one of our backs and we can't block them, we don't deserve to win that down."
The Steelers have run just 11 quarterback sneaks over the past five seasons, but oddly enough, that barely puts them among the bottom 10 teams in the NFL over that span. For some teams, it's simply not in their playbook — such as the Los Angeles Chargers, who have run just one quarterback sneak since 2015. Considering just how effective the play is in short-yardage situations, fear of injury to the most important player on the field is the only logical reason for its limited usage.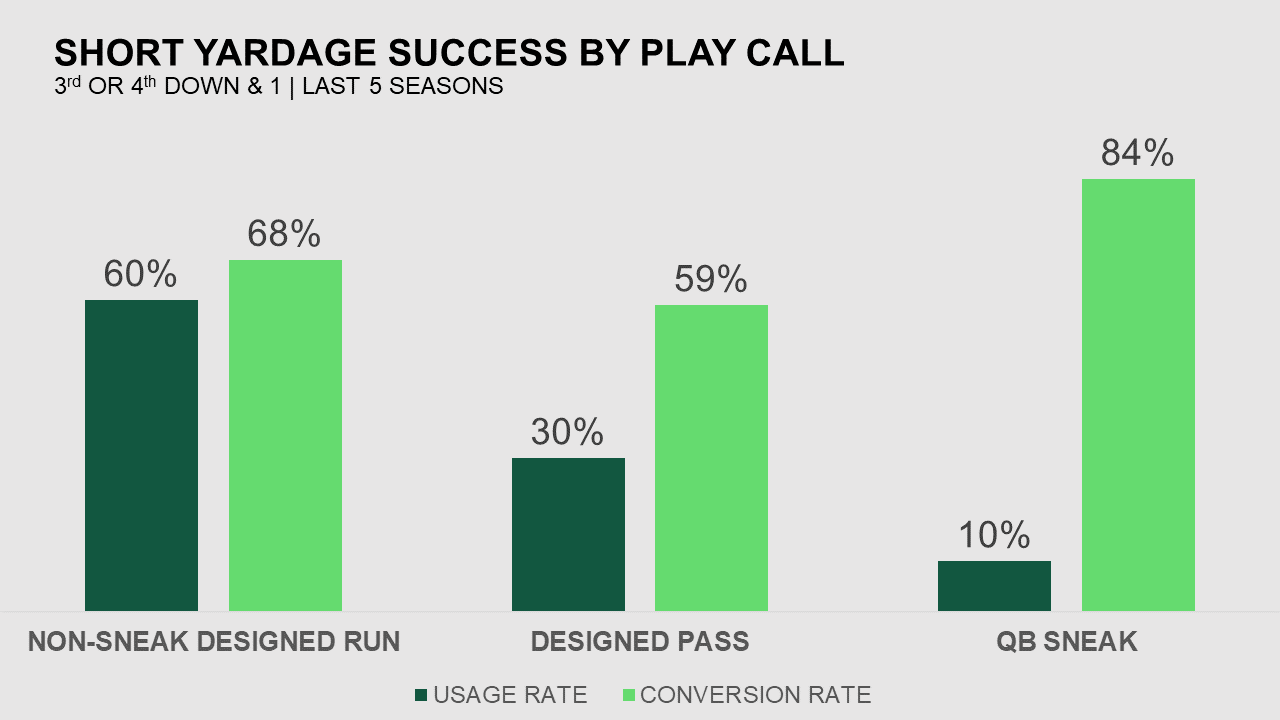 Looking at a five-year sample dating back to 2015, when NFL teams have been in third- or fourth-and-1 situations, the quarterback sneak has been the call on just 10% of plays compared to 60% for other non-sneak designed runs and 30% for designed pass plays. Meanwhile, the sneak has been the most effective play out of that bunch by a decent margin, with teams converting at an average clip of 84%.
Here at PFF, we like to tout the passing game. In short-yardage situations, however, we'll side with the football fans across America who yell at their television to "just sneak it" and remark that "all he has to do is fall forward" to pick up the first down. The numbers back up the idea that running the ball in short-yardage situations is a more effective way to move the chains than dropping back to pass, and specifically, the quarterback sneak in those yard-to-go situations is one of the most effective plays in football.
Take Josh Allen and the Buffalo Bills, for example. Standing at 6-foot-5 and nearly 240 pounds, Allen is a big, athletic guy — something he has used to his advantage as a runner for Buffalo. It's not only on designed runs out of shotgun or scrambles out of the pocket where Allen has excelled, though. The Bills have run 24 quarterback sneaks in third- or fourth-and-1 situations over the past two seasons, more than any other team in the NFL, and they've converted 23 of those 24 for first downs.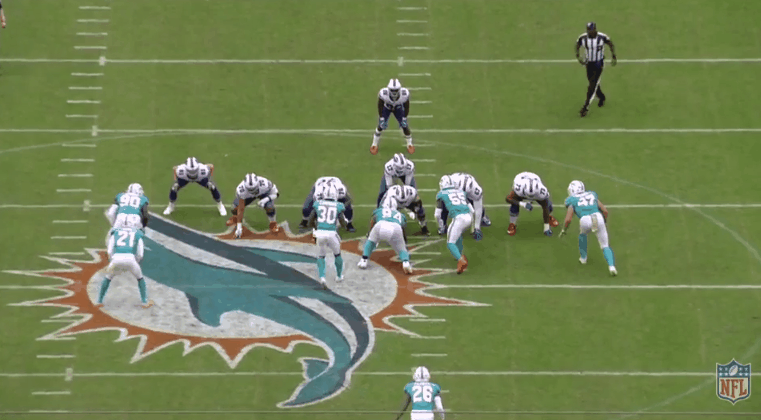 Go right up behind center, or read the hole and hit it as Allen does on this play above — it's really that simple, particularly if the offense catches the defense unprepared on a quick snap. The Bills have seemingly recognized that, utilizing the quarterback sneak on 48% of their yard-to-go situation on third and fourth down over the past two seasons. The only other team over 25% in that same time span is the Philadelphia Eagles at 32% — a team with another young, big, athletic quarterback.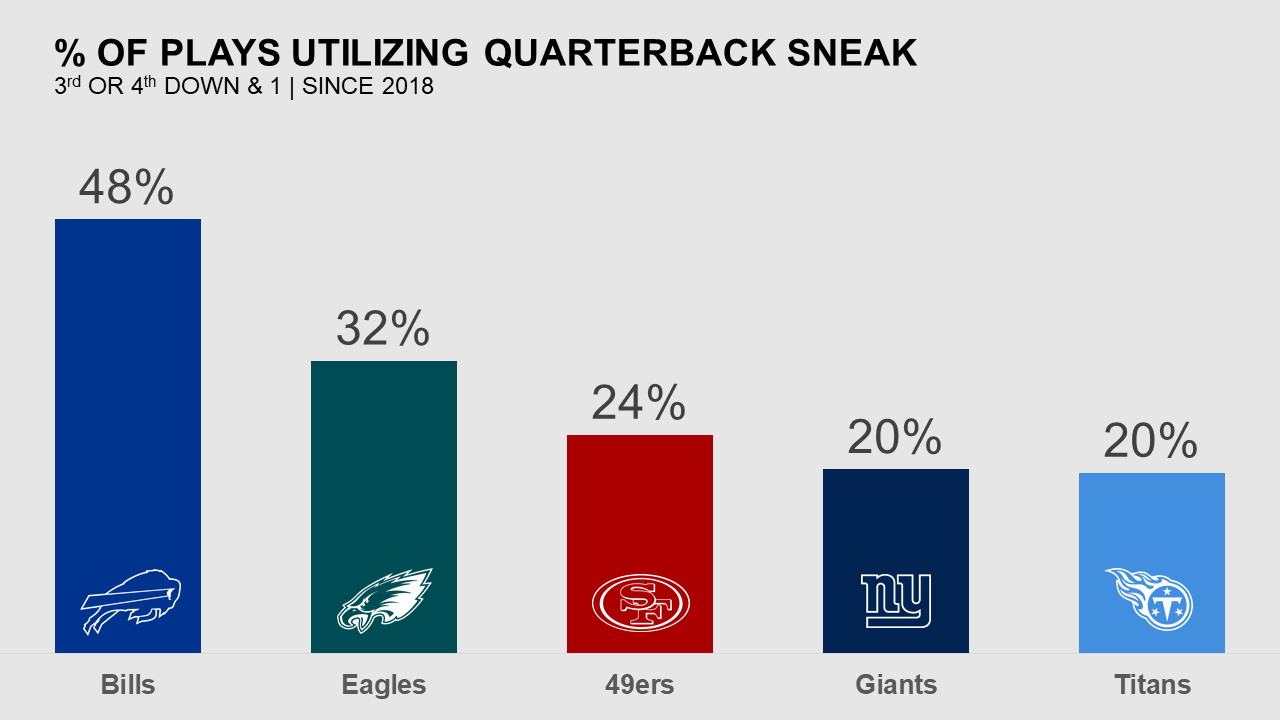 Carson Wentz has dealt with his fair share of injuries in his NFL career, but the Eagles have still proven to be one of the teams most willing to use him in quarterback sneak situations. The question becomes: Why aren't other teams comfortable using their quarterbacks in a similar manner? Is the sneak truly putting the quarterback in more harm's way than a dropback does as they step into pressure to deliver passes with defenders and offensive linemen falling at their feet?
The old-school mindset of lining up and asserting dominance by simply overpowering the other team — a mindset that many teams still cling to — has perhaps no better application than the quarterback sneak. The defense expects the offense to run, and it comes down to whether the offensive line can get just enough push for the quarterback to find his way past the first down marker. This also happens to be one of the few applications where the analytics say that teams should use this style of football more, and yet, coaches call its number just once every 10 opportunities.
I'm not the first person to write about this subject, nor will I be the last. The quarterback is the most valuable player on the field at any given time. The desire to protect him makes sense, but in that effort, NFL coaches are giving up an advantage for their offense in a game where every small advantage counts. The quarterback sneak should be getting more run.