Indianapolis Colts quarterback Carson Wentz has hit another obstacle less than two weeks away from the start of the 2021 NFL season, as he was placed on the reserve/COVID-19 list along with Colts center Ryan Kelly and wide receiver Zach Pascal, the team announced Monday.
Wentz recently returned to practice but didn't play this preseason after undergoing surgery to remove a painful bone particle from his foot.
The Colts traded a 2021 third-round pick and a 2022 conditional second-rounder (that could turn into a first-round pick) to the Philadelphia Eagles for Wentz this offseason. The pick becomes a first-round selection if Wentz plays 75 percent of snaps, or 70 percent of snaps in addition to the Colts making the playoffs.
The Colts currently have Jacob Eason, Sam Ehlinger and Brett Hundley on their quarterback depth chart behind Wentz. Eason was PFF's sixth-highest graded quarterback this preseason.

---
Click here for more PFF tools:
Fantasy Draft Kit | PFF Betting Dashboard | PFF Fantasy Rankings
PFF Fantasy Projections | NFL Premium Stats | Win Totals Tracker
---
How to attack the Colts' win total: Wentz's tumultuous offseason continues, and the Colts' season-long futures are swinging wildly behind. If Wentz plays a full 17 games, PFF's Power Rankings Tool expects them to eclipse their nine-win total. If Wentz misses time though, the Colts will most likely fall flat to start the season with Eason as the only healthy quarterback. PFF's new Power Rankings Tool offers projections based on 10,000 season simulations given Team Point Spread Ratings, Strength of Schedule and team records.
Fade the Colts Week 1: Bookmakers seem skeptical about the Colts, as they are now underdogs at home to start the season against the Seattle Seahawks. Buy the Seahawks and fade the Colts in the futures market if you expect Wentz to miss the first week of the season. PFF's Betting Futures Tool reveals betting opportunities within season win total and future markets.
Bet Jonathan Taylor's Week 1 player props: All indications are that the Colts will be without their top two quarterbacks for Week 1, which should cause Taylor to see a significant increase in his rushing attempts. With few other options among Colts skill position players, Taylor is poised for a monster share of the production to start the season.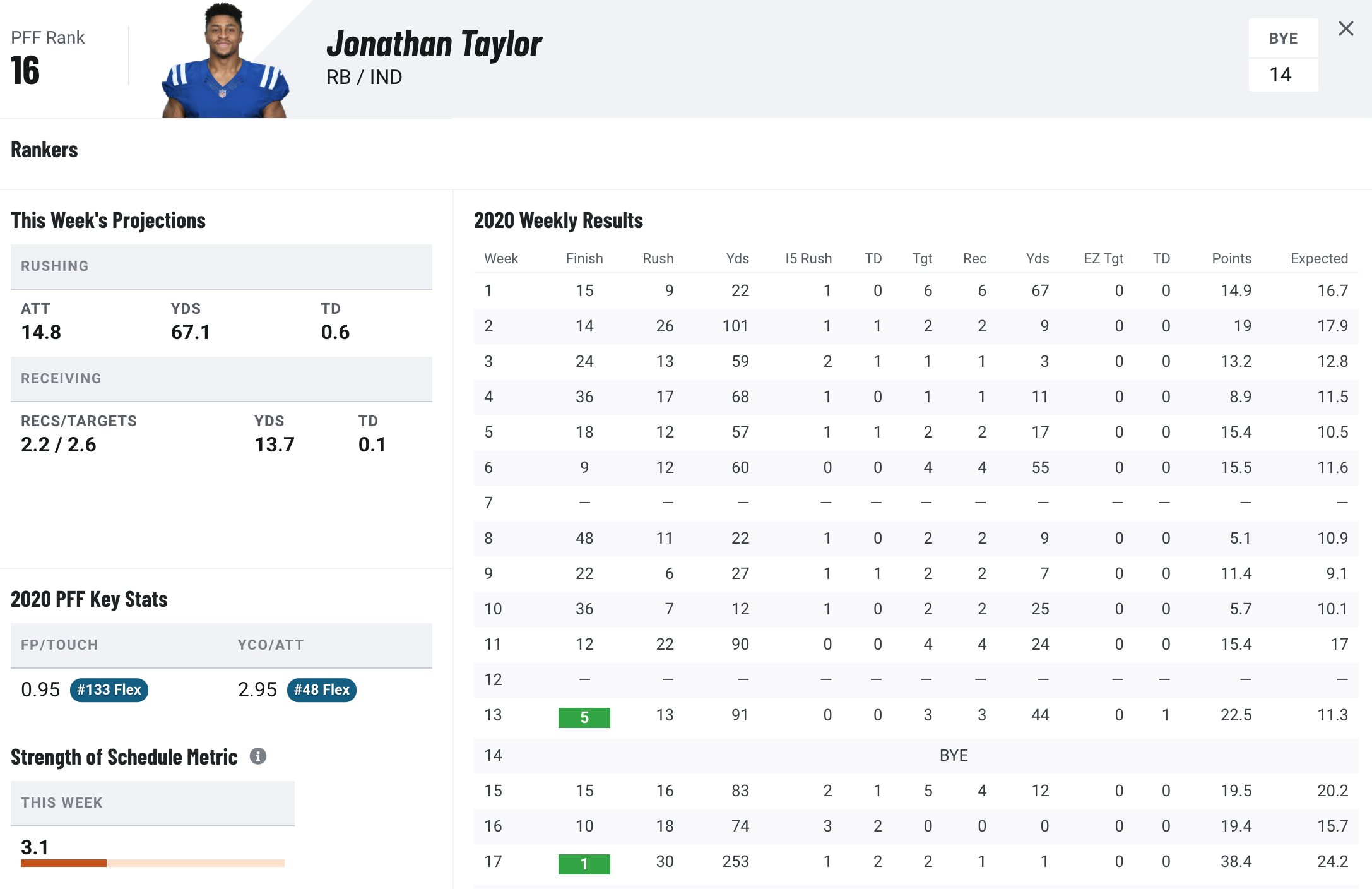 Lower Colts in your rankings: If Wentz doesn't start in Week 1, Eason will be under center for the Colts with Hundley as the backup. It's far from an ideal situation for a Colts passing attack that is down multiple offensive linemen, veteran T.Y. Hilton (neck injury) and Pascal (also placed on the COVID-19 list). Click here to find PFF's 2021 fantasy rankings.
Take a flier on Parris Campbell: This news should turn second-year WR Michael Pittman Jr. into the team's No. 1 option followed by Campbell and potentially seventh-round rookie Michael Strachan. Expect Indianapolis to rely heavily on 12 personnel, as Jack Doyle, Mo Alie-Cox and rookie Kylen Granson provide the Colts with a strong tight end room. Click here to find PFF's 2021 fantasy projections.
Colts' WR depth takes another hit: An injury that is expected to keep T.Y. Hilton off the field to start the regular season opened the door for Pascal to take on an increased role. Now, Indianapolis may need to look even deeper on the depth chart. Strachan and Dezmon Patmon are two options to pick up the slack after both earned 70-plus receiving grades this preseason. Click here for PFF's player grades. 
Eason earned backup quarterback job with preseason performance: Eason's 78.2 passing grade this preseason ranked third among the 25 quarterbacks with at least 50 dropbacks. He could be the Week 1 starter by default due to the uncertainty hanging around Wentz's status and Ehlinger's knee sprain, which is expected to keep him out of the season opener. Click here for PFF's premium stats.
Not a great start to Wentz's attempt at a career revival: Wentz would like to forget the 2020 season, as he led the NFL in turnover-worthy plays (24) and uncatchable pass rate (26.5%), but he hasn't been able to create any positive momentum in Indianapolis between his foot injury and this placement on the reserve/COVID-19 list. Click here to read PFF's 2021 QB Annual.