Indianapolis Colts star linebacker Darius Leonard has jumped ahead of San Francisco 49ers linebacker Fred Warner as the league's highest-paid player at the position.
Per NFL Media's Ian Rapoport, the Colts signed Leonard to a five-year, $99.25 million contract extension with $52.5 million guaranteed. He will earn $20 million per year over the first three years of the deal.
Leonard signs on the heels of the 49ers locking up Warner on a five-year, $95 million extension. Both players made an immediate impact coming out of the 2018 NFL Draft, but Leonard's selection as a first-team All-Pro in his rookie season vaulted him to elite status. Leonard earned another All-Pro selection in 2020 and is now the NFL's top earner on a per-year basis at linebacker.
Highest paid LBs on a per-year basis:

—> Darius Leonard: $19.85M
Fred Warner: $19M
Bobby Wagner: $18M
CJ Mosley: $17M
Zach Cunningham: $14.5M
Myles Jack: $14.25M
Deion Jones: $14.25M

— Ari Meirov (@MySportsUpdate) August 8, 2021
Leonard is one of the few off-ball linebackers in the NFL who has made a positive impact in the run game, as a blitzer and as a coverage defender over the past three seasons. That last facet is a big reason why Indianapolis made this deal a priority.
Offenses are getting better at finding weaknesses in coverage — often linebackers over the middle of the field — and exploiting them. But Leonard has held his own in coverage, comparing favorably to the NFL's other top young linebackers, such as Warner and Roquan Smith.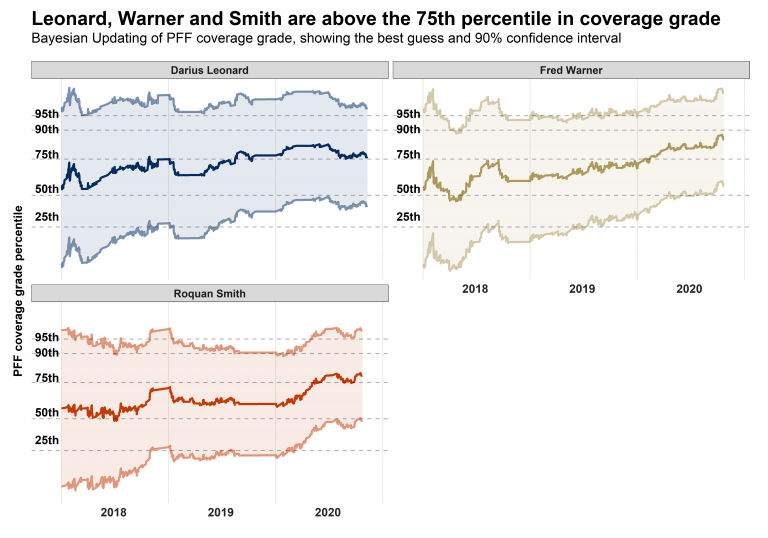 Leonard is coming off three consecutive seasons of 70.0-plus PFF grades to begin his NFL career after being drafted in the second round of the 2018 NFL Draft out of South Carolina State. He is one of just four linebackers in the league who has met that 70.0 threshold on at least 500 defensive snaps every season since 2018, joining Bobby Wagner, Lavonte David and Demario Davis.
PFF recently ranked Leonard as the sixth-best linebacker in the NFL entering the 2021 season — behind the aforementioned trio, the recently extended Warner and Eric Kendricks. And Leonard is only entering his prime, heading into his age-26 season.
The Colts have an impressive nucleus of young players, centering on Leonard, guard Quenton Nelson and edge defender DeForest Buckner. All three of those players are 27 or younger. The hope will be that Carson Wentz (28) joins that group, revitalizing his career under former offensive coordinator Frank Reich as Indianapolis pushes for its first AFC South title since 2014.
Leonard's deal is the second in a series of huge extensions for the Colts. Right tackle Braden Smith signed a monster four-year, $72.4 million contract extension earlier this offseason. And it should expected that he doesn't top Nelson's second contract.
Nelson, taken with the sixth overall pick, will likely top the guard market by a larger margin than Leonard just did the linebacker market. Nelson may come close to or even match what Leonard received, which would mark a 20% raise over Kansas City Chiefs guard Joe Thuney in terms of average money per year. Nelson is currently rehabbing a foot injury that will sideline him for 5-12 weeks, potentially leaving him off the field for the first few games of the season.