While this year's free agent class is not among the strongest we've seen in recent years, one position is absolutely stacked with available talent: wide receiver. Five of the top 12 free agents in our initial Free Agency Top 50 are wide receivers, and there's a ton of depth beyond the upper echelon, as well.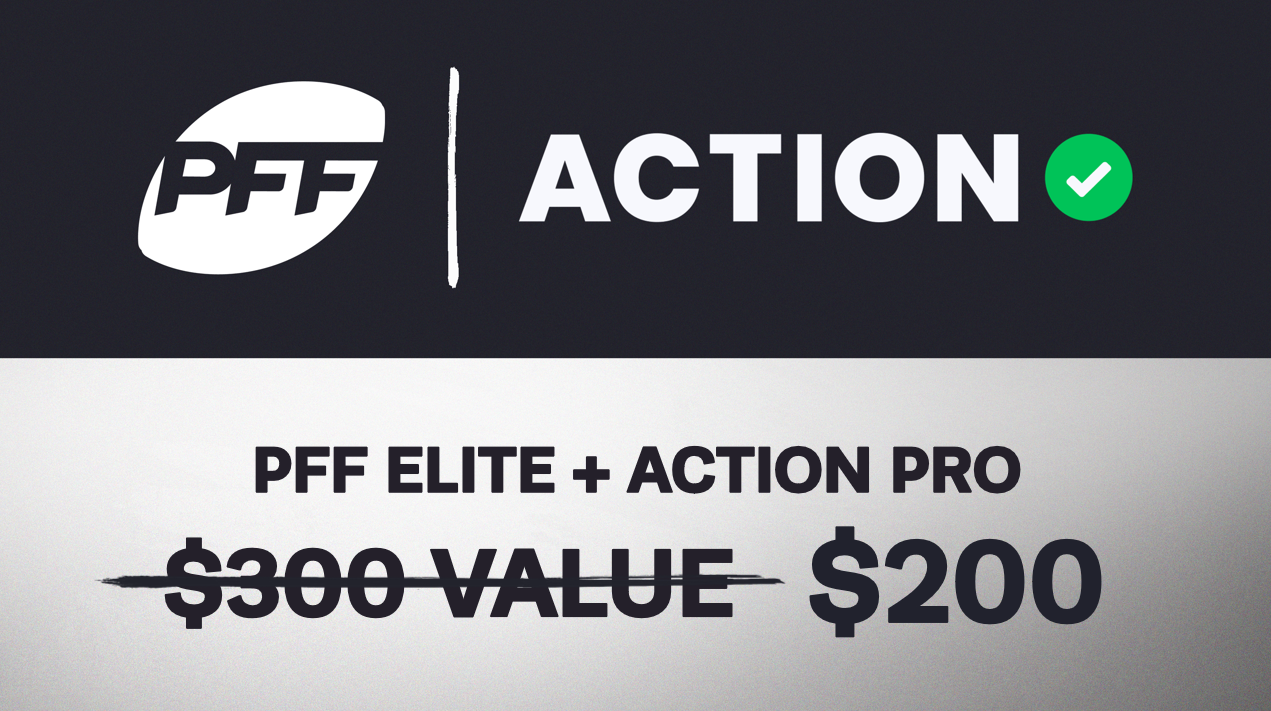 The cherry on top is that the free agent wide receiver group is extremely diverse in terms of playing styles, with a handful of true X receivers, great slot weapons, deep threats, after-the-catch specialists and so on. Whatever type of playmaker a team is looking for, they're out there. 
Here's how the top of the class stacks up over the 2019 and 2020 regular seasons, with a few notable position ranks (min. 75 targets) included in parentheses:
Player
Yards per route run
Explosive Plays (15+ yards)
Average depth of target
Yards after catch / reception
Contested catches
Chris Godwin
2.10
47
9.6
5.9

(8th)

22
Kenny Golladay
2.12
40
15.8 (4th)
4.1
36 (3rd)
Allen Robinson II
1.91
54 (4th)
11.0
2.8
44 (1st)
Will Fuller V
2.17 (8th)
34
13.9
5.0
14
JuJu Smith-Schuster
1.36
25
7.4
4.8
16
Corey Davis
2.03
42
12.2
4.5
19
Marvin Jones Jr.
1.42
44
13.5
2.1
32 (4th)
Curtis Samuel
1.22
31
11.4
3.7
11
T.Y. Hilton
1.75
25
11.3
4.1
11
Sammy Watkins
1.41
22
9.0
5.3
8
A.J. Green
0.93
8
13.7
1.7
18
The 2021 NFL Draft class at wide receiver is also as highly touted as they come, with five players currently in the top 20 on Mike Renner's Big Board and fourteen players in the top 100. However, the same could be said about the 2020 class, which had no noticeable effect on the free agent market. Nevertheless, with so many wide receivers from the 2020 class already playing high-level NFL football, perhaps we do see some more trepidation from clubs.
In 2019, these five teams had the worst receiving grades as a unit at the wide receiver position:
32. Philadelphia Eagles
31. Las Vegas Raiders
30. Pittsburgh Steelers
29. Indianapolis Colts
28. Baltimore Ravens
Each team on the above list drafted a wide receiver in the top 100 picks, with the Raiders going so far as to draft three in the first 81 picks. Philadelphia, Las Vegas, Pittsburgh and Indianapolis all selected a wide receiver in the top 50. 
All of that is to say, with yet another elite crop of pass-catchers on the way and considering the potential salary cap situation in 2021, the offers may not be flowing in quite as these free agent receivers expect.
Historical Position Market
The wide receiver market is one of the more stable markets year over year, with consistent growth at the top of the market as big-name playmakers hit free agency or sign lucrative extensions. The edge defender market acts the same way, though it could have a rare down year this offseason considering the uninspiring free agent class at the position. Nevertheless, four edge defenders will be coming off the franchise tag — the Baltimore Ravens' Matthew Judon and Yannick Ngakoue, the Tampa Bay Buccaneers' Shaquil Barrett and the Pittsburgh Steelers' Bud Dupree.
As you can see below, from 2014-2020, the top of the wide receiver market only had one offseason without growth (2016). Otherwise, the top guys steadily push the market upward.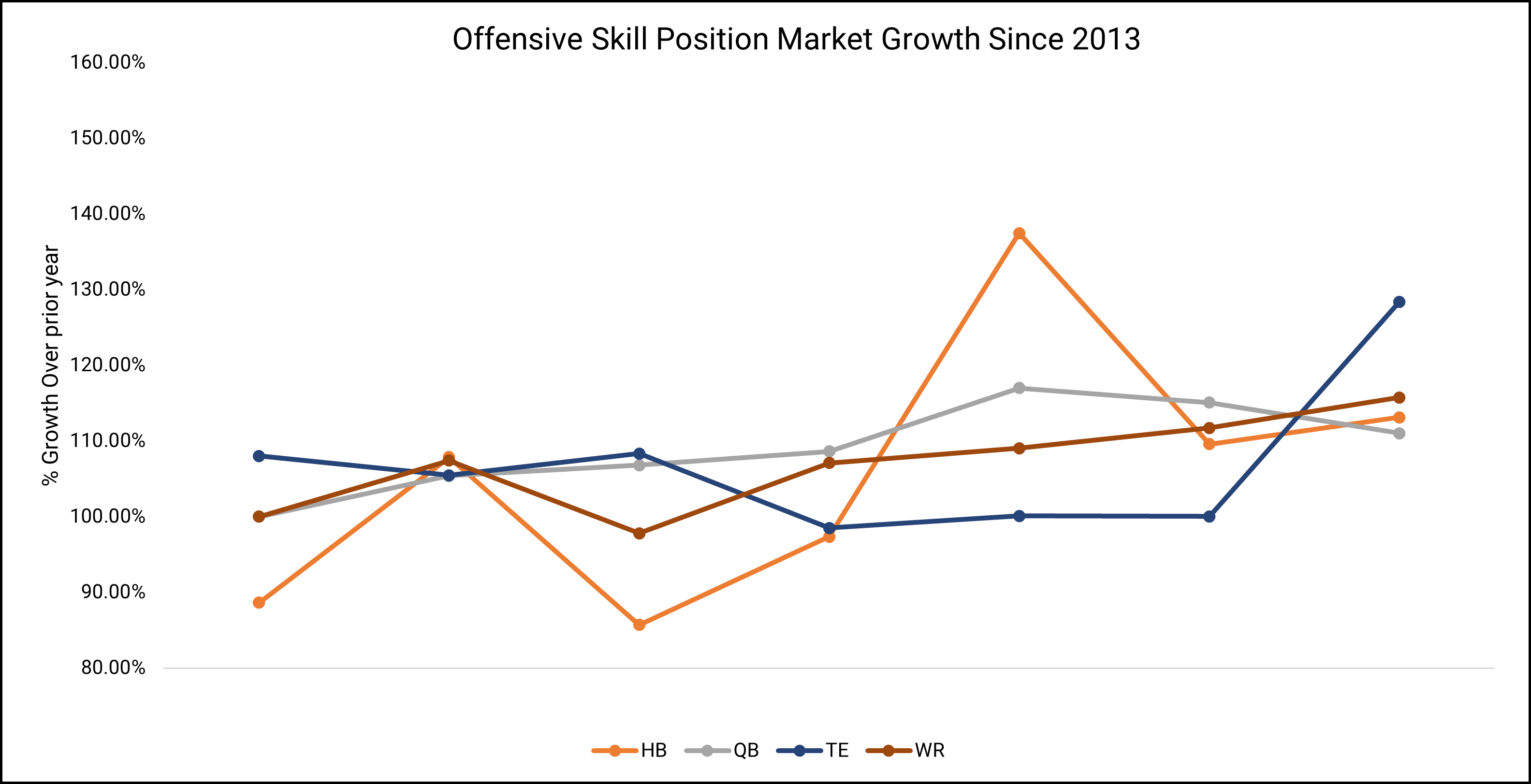 The main factor this offseason that will determine whether this trend continues is not where the salary cap ends up but, rather, how many wide receivers get franchise-tagged.
That brings us to the first group…
Most likely franchise tag candidates
Our friends at Over the Cap currently project the franchise tag at wide receiver to be $16.02 million under a $175 million salary cap. This is the lowest the tag could be. While just two of the 11 wide receivers in our above table make this list, the Bears with Allen Robinson II and the Titans with Corey Davis are certainly in the discussion, as well. One note on Robinson: His franchise tag would be $18 million at a minimum because of his 2020 salary and the collective bargaining agreement rules governing the franchise tag, which we won't get into.
A franchise tag here would almost seem cruel given all that Godwin has done this season for the betterment of the team. First, Godwin had 10 (!) pins placed in his broken index finger, which caused him to miss only his team's Week 8 game. Buccaneers wide receivers coach Kevin Garver, who once coached Larry Fitzgerald, compared Godwin to the future Hall-of-Famer because of his mental toughness and ability to play through issues. 
Since returning in Week 9, Godwin has just one drop on 35 targets, and it came in his first game back from surgery. Here's how he's been hauling in passes from Tom Brady:
Chris Godwin is playing with pins in his broken finger and now has to catch the ball like this pic.twitter.com/pQHqAlxgvV

— The Ringer (@ringer) November 9, 2020
Next, Godwin was (at least publicly) supportive of the Buccaneers' decision to bring in Antonio Brown, even though that meant fewer opportunities for him in a contract year. All of that said, a franchise tag seems very likely. The Buccaneers used the franchise tag on Shaquil Barrett for the 2020 season, and after another strong campaign, they've made it clear they plan to extend him to a multi-year contract. 
Tampa Bay is hell-bent on attacking this window with Tom Brady by any means necessary, and unfortunately for Godwin, a franchise tag may be required to keep everyone together.
Golladay proved last season that he deserves to be discussed among the game's elite wide receivers, putting up 1,190 yards and 11 touchdowns while primarily catching passes from backup quarterbacks Jeff Driskel and David Blough. Golladay is a big-bodied, traditional X wide receiver with some of the best GUAGI ("go up and get it") skills in the entire league.
Detroit is set to lose both Golladay and Marvin Jones Jr. to free agency, and this is just one more reason why the franchise tag here seems like a foregone conclusion. While Golladay has missed most of the season, his numbers in the four games he finished are still very impressive considering he probably wasn't at 100%:
| | | | | | | |
| --- | --- | --- | --- | --- | --- | --- |
| Week | Targets | Receptions | Yards | TD | Yds./Route Run | Passer Rtg. |
| Week 3 | 7 | 6 | 57 | 1 | 2.04 | 140.2 |
| Week 4 | 8 | 4 | 62 | 1 | 2.00 | 115.6 |
| Week 6 | 6 | 4 | 105 | 0 | 3.75 | 109.7 |
| Week 7 | 7 | 6 | 114 | 0 | 3.26 | 118.8 |
Another reason to anticipate a franchise tag here is because of what happened at the trade deadline. The Giants reportedly made a big push to acquire Golladay, potentially because the wideout signaled he wants to go to a team that he feels is more likely to extend him after the 2020 season. There's a 2019 A.J. Green parallel here with the missed games heading into the offseason, but Detroit would be wise to extend the younger Golladay before his price climbs even higher.
Now with the Lions in the middle of a general manager search, talks between the two sides have presumably slowed down. Golladay appears to be focusing on getting his hip right for 2021, which is the smartest course of action. He's already proven he's worth the money, it's just a matter of striking a deal.
Most likely playing for a new team in 2021
It has been quite the rollercoaster this season following the contract negotiations between Allen Robinson II and the Chicago Bears. After tensions seemed to reach a boiling point earlier in the year, several Bears players took to Twitter with the #ExtendARob movement, but to no avail.
Chicago once again focused its spending this past offseason on defense, which was as nonsensical as it's been disappointing. The Bears have the fourth-most money in the NFL currently invested on defense, and they rank 19th on offense. 
Unsurprisingly, they rank 27th in expected points added per play on offense so far in 2020. To his credit, Robinson already has over 1,000 receiving yards on the season, good for his second consecutive 1,000-yard season while catching passes from some of the worst quarterbacks in the NFL. No other Bears player has eclipsed 500 yards.
The Bears playing hardball with their only established receiving weapon is a bold strategy, and at this point, it may backfire with Robinson heading for greener pastures.
Even before the 2019 season ended, rumors were swirling that 2020 could be Smith-Schuster's final campaign in Pittsburgh. The writing has been on the wall for a myriad of reasons, the most apparent being the Steelers' cap situation in 2021 and beyond.
Pittsburgh attacked a Super Bowl window with Ben Roethlisberger much like the New Orleans Saints did with Drew Brees, and 2020 is really the final frontier for both. In addition to Smith-Schuster, left tackle Alejandro Villanueva and edge rusher Bud Dupree are also set to hit free agency, among others. 
Finally, Pittsburgh has taken a wide receiver in the top 66 draft picks three years in a row — James Washington in 2018, Diontae Johnson in 2019 and Chase Claypool this year. While Smith-Schuster primarily operates out of the slot, meaning his skill set would not necessarily be redundant, Pittsburgh has clearly prepared for life without him.
A big market like New York seems like a perfect fit for Smith-Schuster, already one of the more marketable players in the NFL. He's also still only 24 years old, so teams shouldn't be afraid to sign him to a long-term extension running for up to five years.
T.Y. Hilton is very quietly coming off three straight outings with at least 80 yards and a touchdown, as the Colts' offense seems to be hitting its stride at the right time. Philip Rivers and Hilton seem to be getting on the same page, which is great news both for the Colts' playoff hopes and Hilton's contract prospects.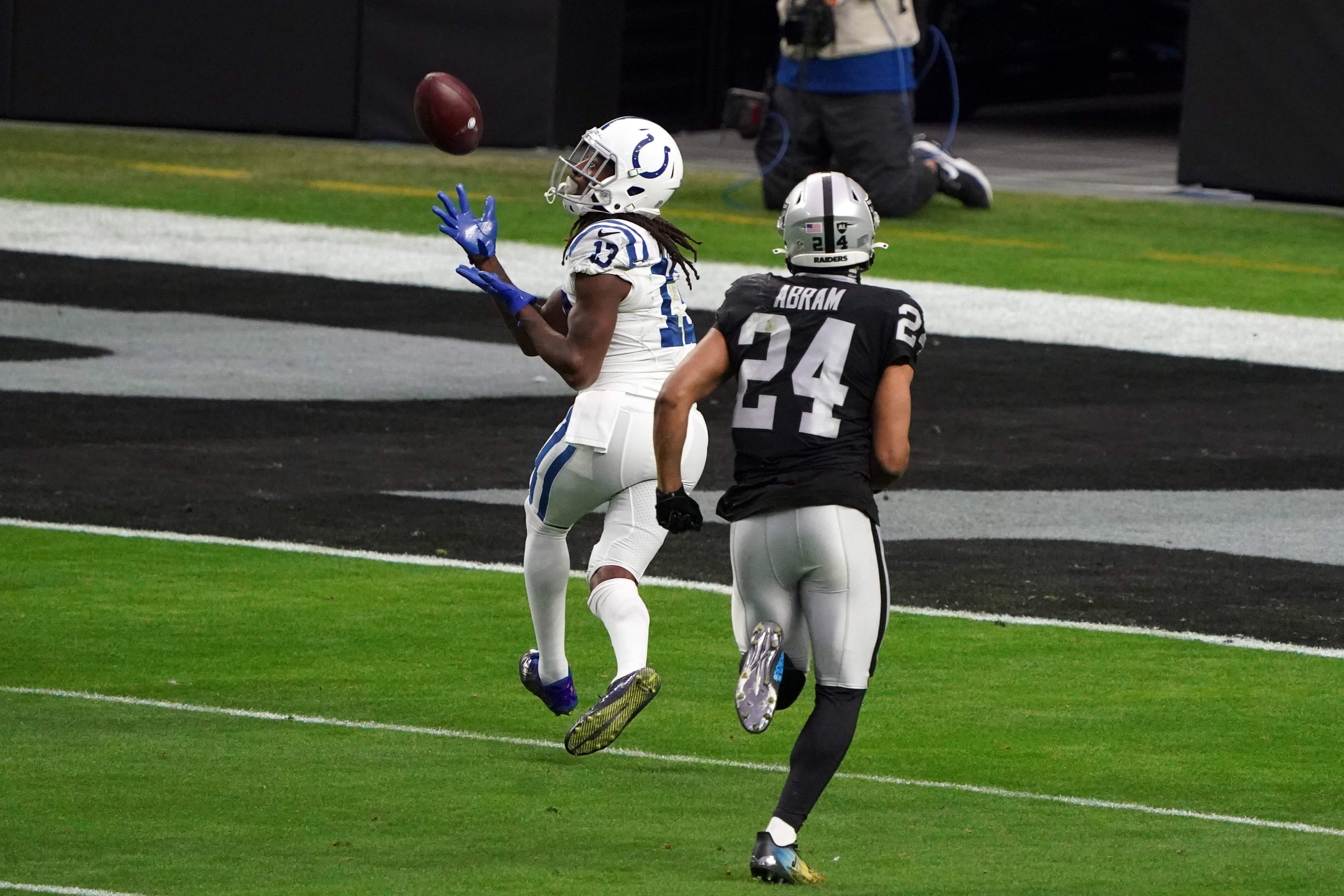 Nevertheless, Hilton is on the wrong side of 30 at this point, and the decline from his prime years is apparent at times. On the other hand, his floor could be really enticing to the right team. Hilton currently has a 76.3 receiving grade in 2020. If that holds up, it would be his seventh 75.0-plus receiving grade in the past eight seasons. 
Coming into the 2020 season, it seemed like there was no shot of Hilton getting extended, with the Colts taking a wide receiver in the top 60 picks for the second consecutive draft (2020 Michael Pittman Jr., 2019 Parris Campbell). Injuries to both players cleared the way for Hilton to once again be the top target in Indianapolis, though, and perhaps the cap-rich Colts try to find a way to make it work. They already took care of nose tackle Grover Stewart with an in-season extension, so Hilton could have the ear of the front office now.
The other Detroit Lions wide receiver is an interesting free agent case study for 2021 because the range of outcomes here is really wide. Marvin Jones Jr. has been his usual productive self for the Lions this season, stepping up and taking on a bit more of the load with Golladay's absence. Even though more snaps on the outside would make sense with no Golladay, Jones has actually seen his slot snaps increase dramatically.
This could be for various reasons, but it's a good sign that his receiving grade out of the slot (68.2) falls in line with his receiving grade out wide (70.5). 
Biggest stock risers in 2020
The Tennessee Titans are once again deeply regretting their fifth-year option decision on a former first-round pick. Last offseason, the Titans elected to decline the fifth-year option for 2016 No. 8 overall pick Jack Conklin. The right tackle had a career year and signed a sizable deal with the Cleveland Browns.
Flash forward to the 2020 offseason, and 2017 No. 5 overall pick Corey Davis had his option declined, as well. Davis isn't just having a career year compared to his own prior seasons, he's having a career year at the wide receiver position, period. His 89.5 offensive grade ranks third in the NFL among wide receivers, and his 90.8 receiving grade on snaps lined up out wide is the best mark in the league.
After much discussion of Davis converting to more of a slot wide receiver, he's excelled in the "Z" role as the outside wide receiver off the line of scrimmage. He's been dominating on in-breaking routes and crossers all year because defenders can't get a hand on him to jam him at the line, and he's obviously a great athlete in space considering he was a top-five pick.
Tennessee may try to work out an extension, but A.J. Brown will be eligible for an extension after 2021 and will probably be looking for $20M per year at a minimum. That could be on the Titans' mind as they set their price point for Davis.
No player had more trade rumors centering on them coming into the 2020 season than Curtis Samuel. The 2017 second-rounder has arguably raised his stock more than any player this season, with Joe Brady — the Panthers' new offensive coordinator — deserving a lot of that credit.
When the Panthers signed Robby Anderson this offseason, the big question in Carolina was which player would be the primary "deep threat." The answer is… neither. Samuel is being deployed in a completely different manner than in past years. He already has nearly as many carries (29) as he had in his first three seasons combined (31). He's also logged more snaps in the slot (324) than any prior season with three games left to go. 
Even more drastic, and perhaps one of the most jarring statistics in the NFL this season, is the difference in Curtis Samuel's average depth of target from 2019. Samuel's 2020 average depth of target is 6.3 yards, which ranks 111th out of 118 wide receivers with at least 25 targets. In 2019, Samuel's 15.1-yard average depth of target ranked 16th out of 124 wide receivers with at least 25 targets. The new and improved Samuel is starting to look more and more like Deebo Samuel. And with many NFL offenses built around quick outs in the passing game, he becomes an extremely intriguing player.
D.J. Moore is still on his rookie contract through the 2021 season (2022 if the Panthers exercise his fifth-year option, which they will), so it actually makes some sense for Carolina to at least explore an extension with Samuel. What may ultimately prevent a move from happening here is the Panthers' salary cap situation. 
Carolina smartly decided to offload its big veteran contracts this past offseason as the team entered their rebuild, but as a result, the Panthers lead the NFL with $52 million in dead money. They don't have as much cap room as one would think, so Samuel could be a luxury they can't afford. Anderson signing a two-year deal that ran one year beyond Samuel's deal expiring was probably not by accident, so that could be the plan going forward. 
Will Fuller V looked like he finally put all the pieces together in Houston this season — so much so that it almost made us forget about the DeAndre Hopkins trade (not really). Fuller hadn't been healthy enough to appear in more than 11 games since his rookie season in 2016, and just when it looked like he could put together a 16-game campaign as a true WR1, a six-game suspension for PEDs derailed his year.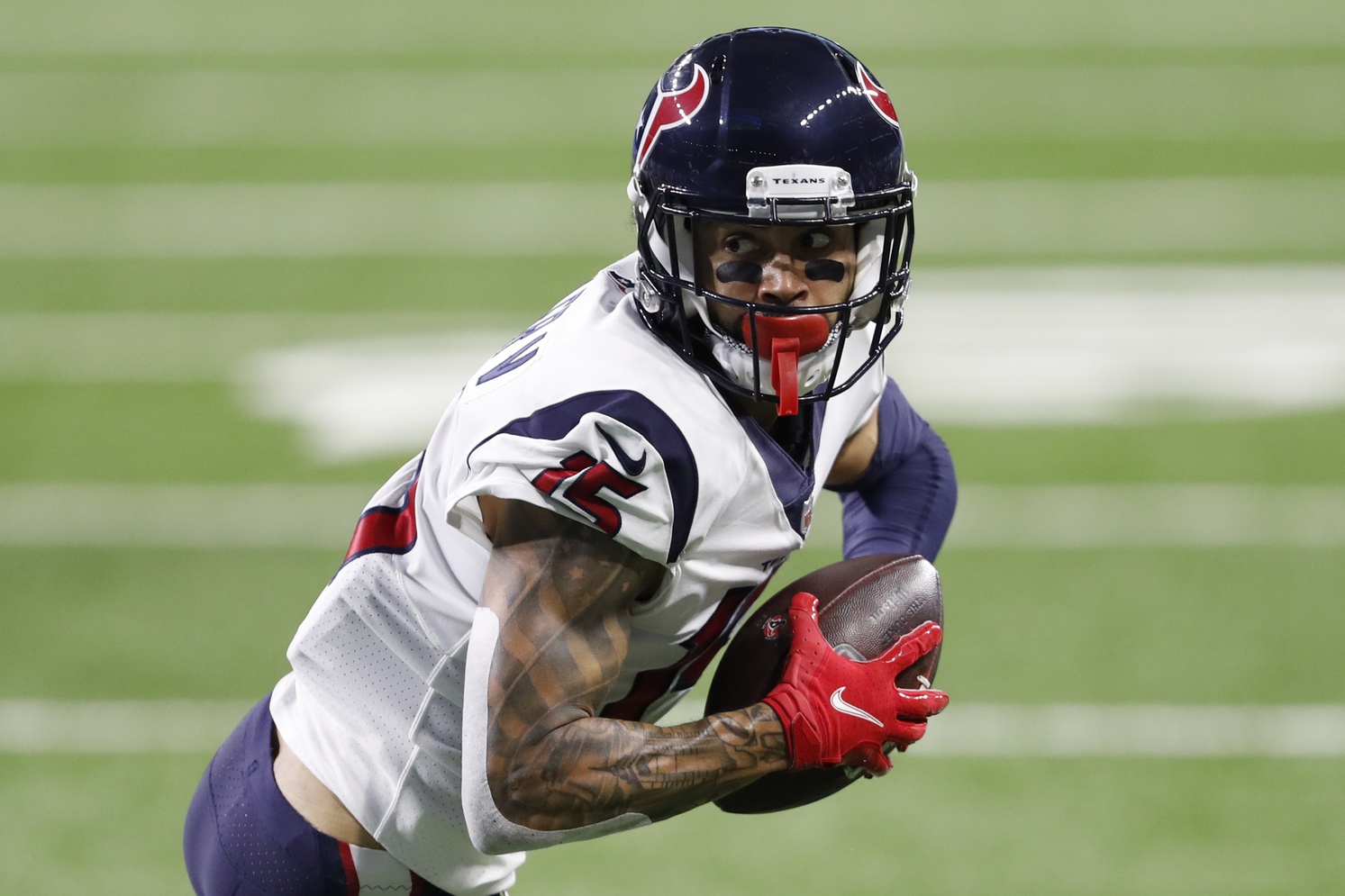 Fuller ironically was fresh off putting on a show on national television with a 171-yard, two-touchdown Thanksgiving day rout of the Detroit Lions. That apparently seemed too good to be true. And alas, it was.
No suspension is the same, and we have no idea what the specifics are with Fuller's situation. But how it relates to his free agency is the big question. There's no doubt that he was in the midst of a phenomenal season, and he took on a much more nuanced role after Hopkins' departure, but his inability to play a full season has to have teams wary. A reported trade deadline deal with the Green Bay Packers fell through in the end, and with so many less-risky options available to teams, Fuller may not have many suitors.
One thing working in his favor is that Deshaun Watson has made it clear he wants Fuller back in Houston next season. In that vein, his suspension may be a bit of a blessing in disguise for the Texans, who may now be able to agree to a lower price tag.
Former No. 4 overall picks looking for one last deal
This is a very convenient category title for two players who have had polar opposite career paths since being drafted No. 4 overall. A.J. Green was a star right out of the gate, making seven straight Pro Bowls to open his NFL career. Watkins, on the other hand, needed a change of scenery before truly getting his career off the ground.
Watkins floated the idea of retirement before the 2020 season, instead agreeing to a pay cut to stay in Kansas City in hopes of winning back-to-back Super Bowls. This could turn out to be a really wise gamble, as we love a good narrative in the NFL. 
Watkins has missed almost half the season due to injury, but he's back in action now right as the Chiefs hold onto the No. 1 seed in the AFC. Watkins had a similarly pedestrian 2019 regular season before putting up at least 75 receiving yards in all three of Kansas City's playoff games. His Super Bowl performance was impressive, with 98 yards on five receptions — including a handful of crucial first-down catches. 
Perhaps if Watkins can once again play his best football on the biggest stage, a team or two will become more interested. Although he is playing in his seventh NFL season, he's still just 27 years old. 
Green makes this list perhaps because of name recognition alone, as he is not the same player he once was. However, his inclusion is important if only to illustrate the dangers of using the franchise tag on an older wide receiver (especially for a team nowhere close to competing). Despite losing a step, Green can still win at the catch point and use his veteran savvy to box out.
A team looking for a reliable veteran leader at the position may talk themselves into a one- or two-year deal for Green as he closes out a potential Hall of Fame career.
Final thoughts
The wide receiver market is most likely going to prove to be "recession-proof" as well as "huge-influx-of-young-talent proof." That's just the nature of the premium positions in the NFL. It also doesn't hurt that a lot of the teams with ample cap space — the Jets, Dolphins, Colts, Patriots and Football Team are all top eight in projected 2021 cap space — are in desperate need of wide receiver talent.
If Godwin and Golladay do get franchise-tagged, that could create a bidding war for Allen Robinson II. If Robinson, Fuller and Davis also get franchise-tagged by their respective clubs, the market could go cold in a hurry as teams shift their attention to draft prospects.