This year's crop of free-agent wide receivers was one of the weakest groups in recent memory, so any NFL team needing to massively upgrade at that position was always going to be looking at alternative avenues.
The Dallas Cowboys made a move for Brandin Cooks, but plenty of WR-needy teams are still trying to plot a way to upgrade one of the most important positions in the game.
Here is a pathway for each of those teams.

I believe the Bengals when they say they have no intention of trading away Tee Higgins, but everybody has a price, and the Bengals have a lot of financial juggling to do over the next couple of seasons as they try to pay market-leading money to quarterback Joe Burrow and receiver Ja'Marr Chase.
Any potential plan to give comparable money to Higgins would create a salary cap nightmare, and if they plan to simply keep Higgins around for as long as they can without committing long-term money to him, they would be wise to listen to alternative offers.
Either way, everybody has a price, and the Patriots would be wise to test their resolve with a trade offer that features the No. 14 pick of the draft. Higgins showed last season he could be a true No. 1 receiver when Chase wasn't playing and caught 56.7% of his contested targets overall. Higgins is one of the few players who would immediately transform the outlook of this offense.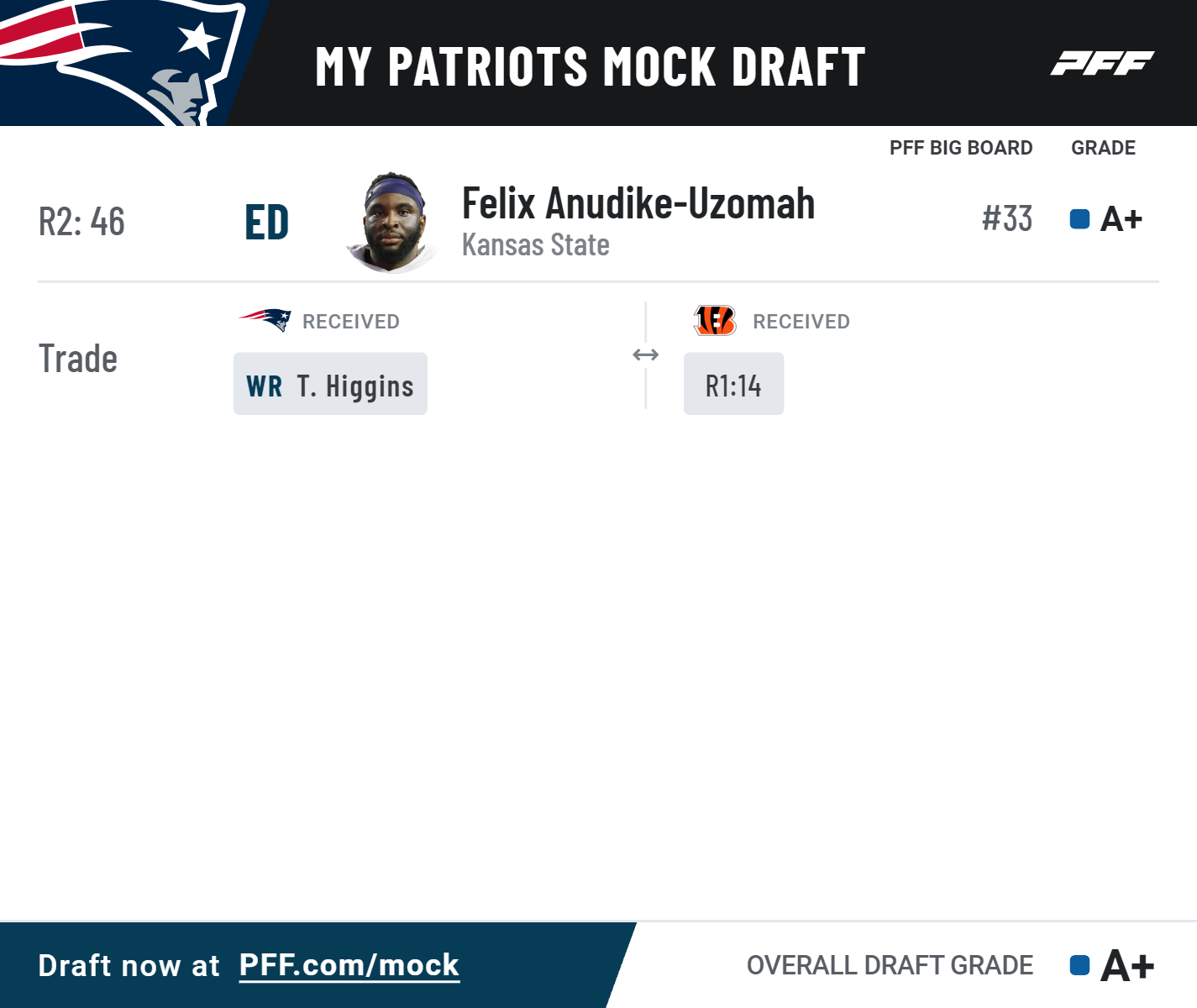 The loss of receiver D.J. Moore in the trade up to the No. 1 pick is massive for the Panthers, who now face the prospect of deploying a weak group of pass-catchers around their rookie quarterback.
The Panthers are one of the few teams with more than enough cap space to absorb DeAndre Hopkins' contract, and the fact that it's a relatively short-term commitment actually works in their favor: If all goes well, the money would come off the books the same time they'd be looking to invest it elsewhere.
However, that contract will keep the price for Hopkins relatively cheap — as the deal for Brandin Cooks showed — and Carolina still has mid-round picks to put to use.
There's no move in the draft they can make that will have the kind of impact adding Hopkins would, and ensuring that their rookie passer has a chance to succeed is the most important thing this franchise will do after they make the call on which quarterback they draft.
DeAndre Hopkins: PFF overall grade and rank since 2013 (postseason included)
| | | | |
| --- | --- | --- | --- |
| Season | Snaps | PFF Grade | Rank |
| 2022 | 553 | 72.9 | T-33rd of 102 |
| 2021 | 560 | 79.8 | 17th of 94 |
| 2020 | 1,043 | 87.1 | 7th of 101 |
| 2019 | 1,114 | 87.8 | 5th of 103 |
| 2018 | 1,154 | 92.0 | 1st of 110 |
| 2017 | 1,021 | 90.2 | 4th of 106 |
| 2016 | 1,224 | 77.8 | 27th of 104 |
| 2015 | 1,214 | 90.6 | 4th of 101 |
| 2014 | 1,058 | 84.0 | 12th of 100 |
| 2013 | 999 | 68.7 | 68th of 107 |
---
Click here for more PFF draft tools:
Mock Draft Simulator | 2023 NFL Draft Big Board | 2023 NFL Draft Guide
---
Ohio State's Jaxon Smith-Njigba is one of the biggest enigmas in the 2023 NFL Draft. In 2021, in the same offense that fielded first-rounders Chris Olave and Garrett Wilson alongside him, JSN was the player who outgained his more experienced teammates. When Olave and Wilson opted out of their bowl game to prepare for the draft, Smith-Njigba put up 336 yards and three touchdowns on 15 catches.
He then missed almost all of the 2022 season with a lingering hamstring problem. On top of that, he spent just over 90% of his career snaps in the slot and ran a relatively pedestrian 4.53-second 40-yard dash at his pro day, according to most reports.
There is much debate about what exactly his ceiling is in the NFL, but one thing almost nobody disagrees with is that he will be good at something. He will make an offense better.
Houston needs exactly that, and hitting on a receiver for its new quarterback is far more important than what type of receiver that player ends up being. Drafting JSN at No. 12 overall might be the safest move they can make to add quality to a receiving corps badly in need of it.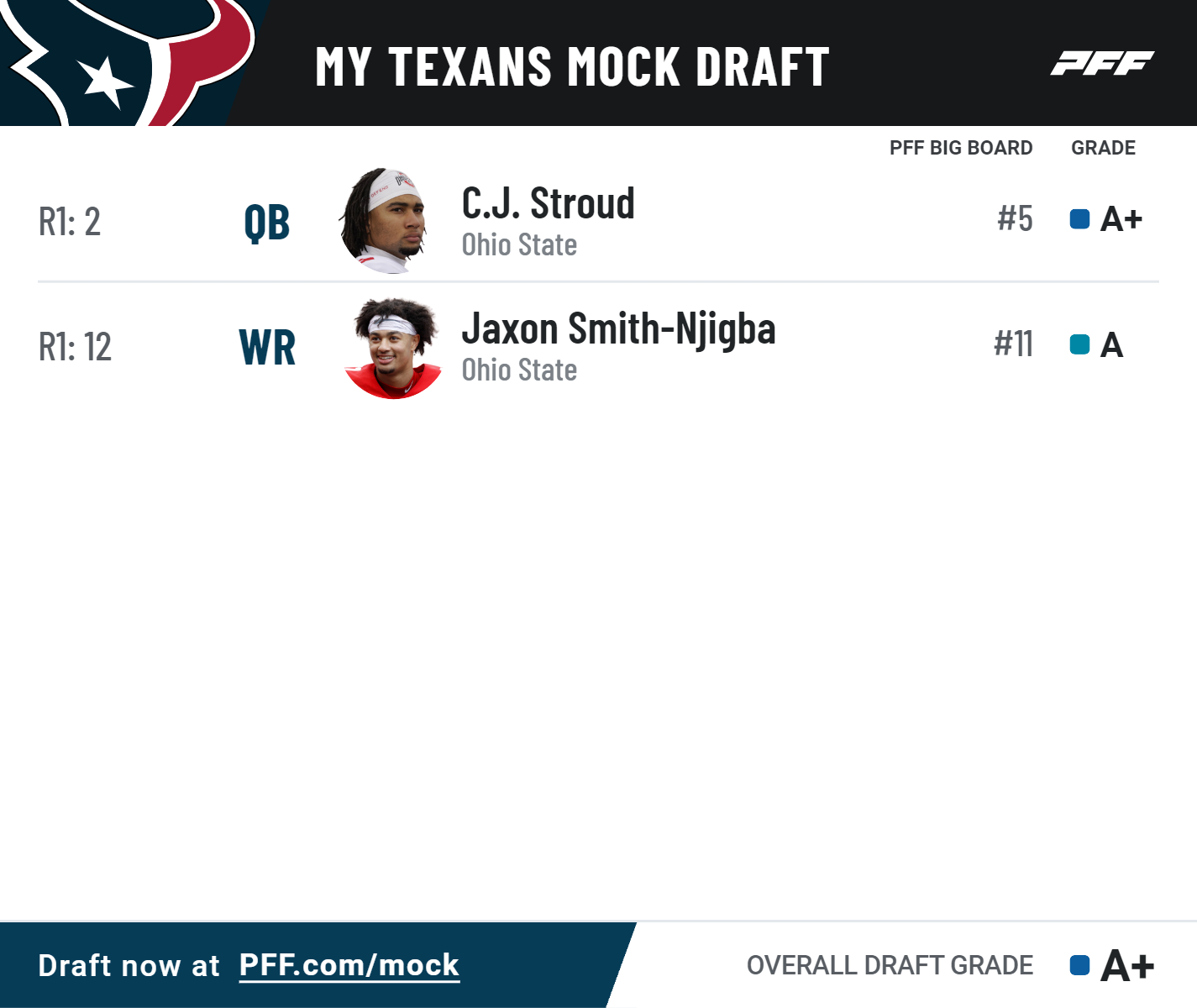 According to reports, Denver's entire wide receiver room appears to be on the trade block as new head coach Sean Payton returns to the strategy of making Russ cook pre-prepared meals rather than giving him free rein to throw together a pickle and ice cream salad.
The Indianapolis Colts are going to draft their future quarterback in the first round, but that player is going to need an upgrade to a receiver group that has been too reliant on Michael Pittman Jr. since he joined the team.
Pittman has caught 70.5% of the passes thrown his way in the NFL but generated just 1.62 yards per route run over the same time. Jerry Jeudy is an elite separator, particularly against man coverage, and he can operate from the slot or out wide. He brings a lot of the skills that complement the weaker areas of Pittman's game and would be a force multiplier within this offense.
Fix: Draft Jordan Addison at No. 25 overall
Jordan Addison may well be the best receiver in the draft, but the further along the process we all get, the more the luster appears to be coming off his stock and a slide in the first round sounds more likely.
Addison had relatively unimpressive workout numbers, especially for a player who weighed in at just 170 pounds at the combine, and some are questioning whether that combination of size and average athleticism will succeed as much against NFL athletes as it did in college.
Ultimately, Addison's trump card is route running and his feel for the game. He gets open and makes plays from all alignments and at all depths and has generated over 2.8 yards per route run over the last two seasons in two different offenses.
The Giants made a big upgrade to their pass-catchers by trading for Darren Waller, and there are some players already on the roster who can emerge as bigger threats in 2023, but adding Addison would immediately put this group over the top and make it a real strength.