The offseason wait for NFL football seemed like it would last forever, and then in the blink of an eye, the first quarter of the regular season is already in the books. As somber as that may be, it does mean we get a chance to break out the first PFF All-Pro team of 2020.
We have given more weight to playing time than usual. With just four games played for most teams, if you missed one, that's a bigger issue than it would be in an end-of-season All-Pro team.
So without further preamble, let's dive into the best players so far this season.
[Editor's Note: PFF's advanced statistics and player grades are powered by AWS machine learning capabilities.]
The Aaron Rodgers revenge tour is in full swing. The Green Bay Packers did virtually nothing to help him out this offseason in terms of personnel, but it doesn't matter, because they did change things schematically that have had an effect.
Between those changes and Rodgers' determination to prove he can still be the league's MVP, he has hit heights we haven't seen from him in more than half a decade. He has an overall PFF grade of 96.3 through the first month of games, and he is the only quarterback not to have recorded a single turnover-worthy pass.
There has been some spectacular quarterback play so far this season, and you could make strong arguments for a couple of other players at the position. In the end, nobody is playing better than Rodgers right now.
Every time you watch Cook play, you see him generating yardage that wasn't there from the play design or blocking and only happened because he made a guy miss, attacked a soft shoulder, or took the right angle with his running. His grade has improved each week of the season, and after a month of play, he has four straight games with a rushing average of over 4 yards per attempt, despite some awful blocking in that period. He is averaging 3.6 yards after contact per carry; he has broken a league-leading 21 tackles and ranks sixth league-wide with an elusive rating of 91.9, with more touches than any of the players ahead of him on that list.
With injuries biting deep in Indianapolis, Mo Alie Cox has seen an uptick in opportunity and responded by emerging as one of the best playmakers at the position over the first month of the season. He had back-to-back PFF game grades above 90.0 in Week 2 and 3, and for the season, he has generated a passer rating of 126.3 when the ball has been thrown his way, scoring two touchdowns and catching 84.6% of targets.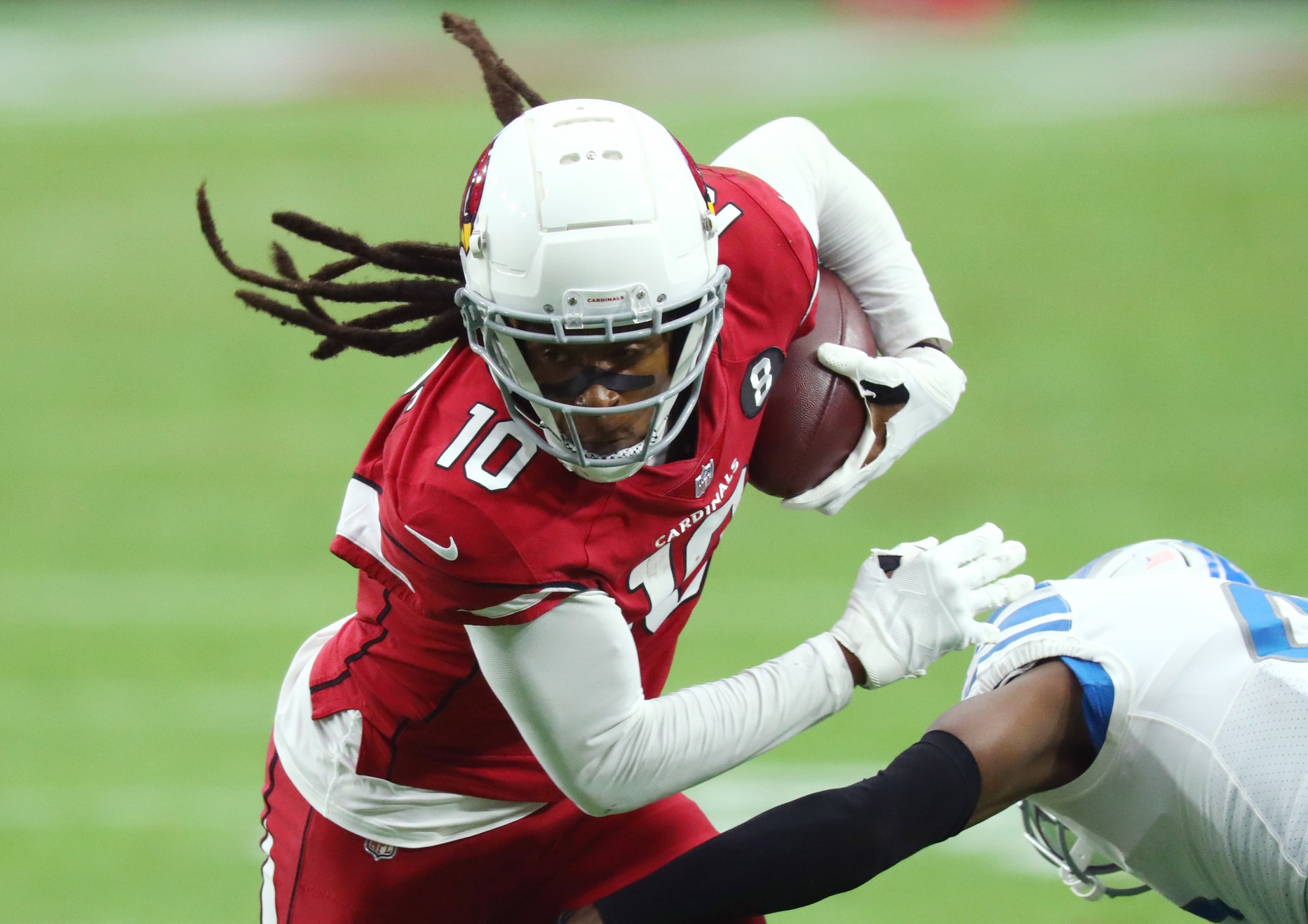 The trade for Hopkins was already a lopsided victory on paper for the Cardinals, but seeing it play out on the field only reinforces Arizona's win. Hopkins has been as advertised and leads the league in catches while being second in targets through four weeks. He has been an instant hit in this offense and even revealed a little more to his game that wasn't always highlighted in Houston. Hopkins has continued to be as good as any receiver in the game, despite working in a new offense with a new quarterback. He is a true All-Pro.
Jefferson is the only rookie to make this All-Pro team, and it's largely on the strength of just two games. Though Jefferson has played in all four weeks, he wasn't a starter for the first two and was largely deployed in the slot as the third receiver in an offense that doesn't really target that player. When he was given the keys to the vacated Stefon Diggs role in Week 3, he set about putting on a show, earning back-to-back PFF grade above 91.0 and catching 11 passes for 278 yards and a score. Despite the drag of those first two games, Jefferson leads all wideouts in yards per route run (3.7) and is top-10 in receiving yards.
Sadly, an injury knocked Austin Ekeler out of this week's game against Tampa Bay and will sideline him for a while, but he picked up where he left off before and has been one of the best all-around weapons in the league. Ekeler is one of two running backs in the league to have PFF grades of at least 75.0 as both a rusher and receiver, and he has been doing his work behind one of the league's worst offensive lines. Ekeler has an elusive rating of 91.5 for the season, seventh-best in the NFL, and has been averaging 3.6 yards after contact per carry.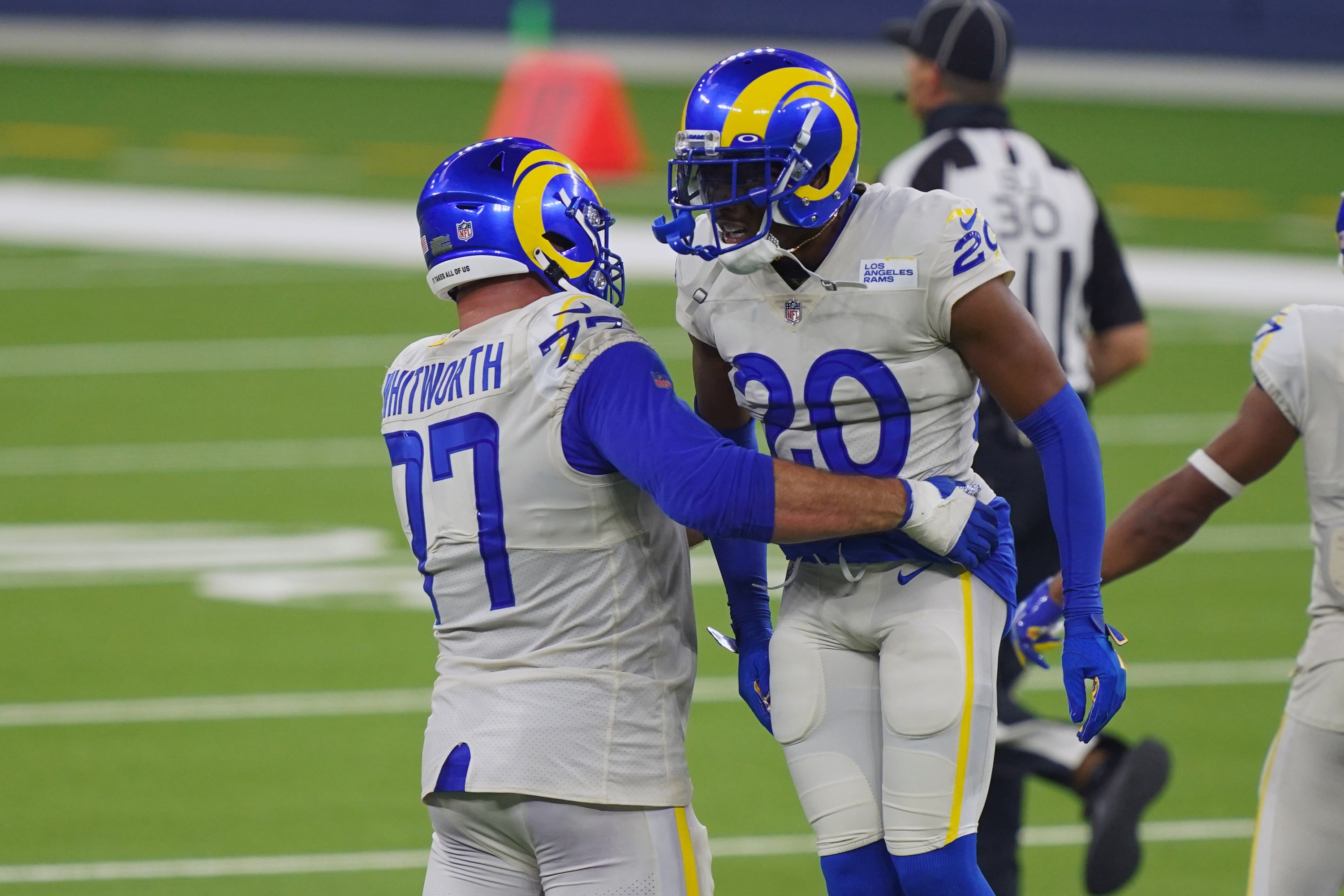 Andrew Whitworth is almost 39 years old, but he has been as good as any tackle in football for the first month of the season. Those two statements are not supposed to go together. While the rest of the Rams' offensive line has taken a big leap in performance, that leap just allowed Whitworth to return to his level of elite play. He has yet to surrender a sack or a hit and has allowed just three hurries across four games and over 130 pass-blocking snaps. As if that wasn't good enough, his run blocking has been dominant, particularly in Week 1 against Dallas when he opened a yawning chasm for one rushing touchdown.
There have been few better performances at any position than those from Buccaneers left guard Ali Marpet through four weeks of the season. Marpet has two dominant games and two good games, and after four games, he has surrendered just one total pressure as a pass-blocker. That has never been more important, given the quarterback he is now tasked with protecting. This has also been his strongest start to a season in the run game, and right now, he is on course for an All-Pro spot by the season's end.
Linsley is the only center in the league to have earned a PFF grade above 80.0 in both pass protection and as a run-blocker. Given how little most centers have to take on one-on-one blocks in pass protection, that facet is often easier than the run game, but even so, Linsley has yet to be at fault for a single pressure through four games. As a run-blocker, he has the highest PFF grade of any player at the position, and he has been a vital part of the resurgence in Green Bay's offense and the success they have had running the ball.
One of the biggest surprise performances of the season has been the play of Wyatt Teller at right guard for the Browns. Teller had the best PFF grade of any player at any position in Week 4, but he has been excellent even outside of that game — he's been a different player to anything we have seen from him in his career before this season. Teller's overall PFF grade is 94.1, and he has allowed just three hurries across three games while dominating on the ground. The worst run-blocking grade of his season is 78.7, with the other three being at least 84.0. Teller has been a huge part of Cleveland's offensive success.
Along with Teller, the arrival of Jack Conklin has transformed Cleveland's offensive line. Jedrick Wills Jr. has held up well on the other side of the line at left tackle, but Jack Conklin was made for this offensive system and has been able to bulldoze players on the ground, especially with combination blocks with Teller inside. Conklin has also been good as a pass-blocker, allowing four total pressures across four games. This is always likely to be the weaker part of his game, but he is on course for the second-best PFF pass-blocking grade of his career.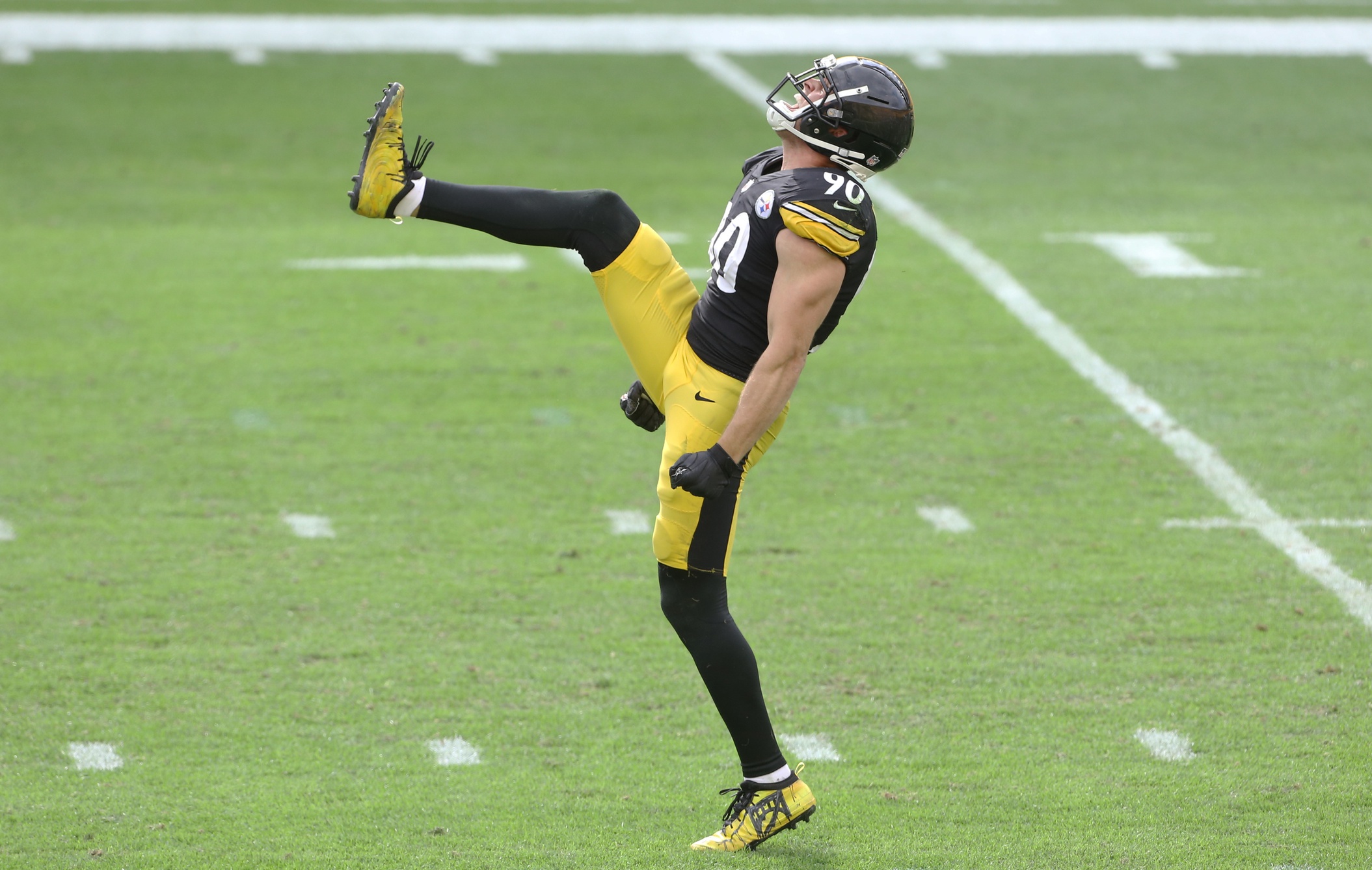 T.J. Watt had a strong case a season ago for Defensive Player of the Year. Apparently, he's determined to claim it this season in case we weren't paying attention in 2019. Even though he has played in only three games compared to most players' four, he ranks fifth among edge rushers with 18 total pressures. He also has an interception to his name, as he recognized a quick-game pass, cut underneath it and snagged a turnover. Watt has the best pass-rush win rate (29.6%) of any edge rusher in the game and has had three straight games with a PFF grade above 90.0 to open his year.
The only edge rusher with a higher PFF pass-rushing grade than T.J. Watt is Myles Garrett. With an extra game under his belt compared to his divisional foe, Garrett leads the NFL in total pressures, with 27. He trails only Watt and Khalil Mack in pass-rush win rate (23.1) and has an absurd three forced fumbles in four games. Not to mention, his five sacks are tied with Za'Darius Smith's total for the most in the NFL. Garrett was playing at this level last season before being suspended for the second half of the year, but he looks set to play an entire campaign as a truly dominant edge rusher.
The Colts traded a first-round draft pick to San Francisco for the right to sink a boatload of cash into DeForest Buckner, and it has paid off handsomely so far. Buckner is on course to have by far the best season of his career, improving his overall PFF grade by almost 10 grading points from his best years in San Francisco, and they were solid in their own right. He has 15 total pressures through four games, with five in each of his past three games. He also has 10 defensive stops while playing both sides of the line inside, causing chaos for opposing offenses trying to block him.
It looked for a moment like the unthinkable was going to happen, and Aaron Donald wasn't going to make this team. There are other interior linemen out there with better PFF grades through four weeks, but all of them have either played a fraction of the snaps, missed time or played against Minnesota's Dru Samia, which has totally skewed their grade in small sample sizes. Donald has been uncharacteristically mortal by his standards this season, but even so, he is tied for the league lead with 27 total pressures and has a PFF pass-rushing grade above 90.0.
Jack's interception against Joe Burrow and the Cincinnati Bengals this past week was one of the plays of the season so far, and he has been a force throughout the first four games. Jack has two PFF game grades above 90.0 and a third right behind at 87.5. He has graded well in every facet of the game PFF tracks. Critically, though, his highest grade is the game's most important area — coverage — and this has been a career year so far for him in that regard. That interception was just the latest in a sequence of good plays he has made in coverage this season.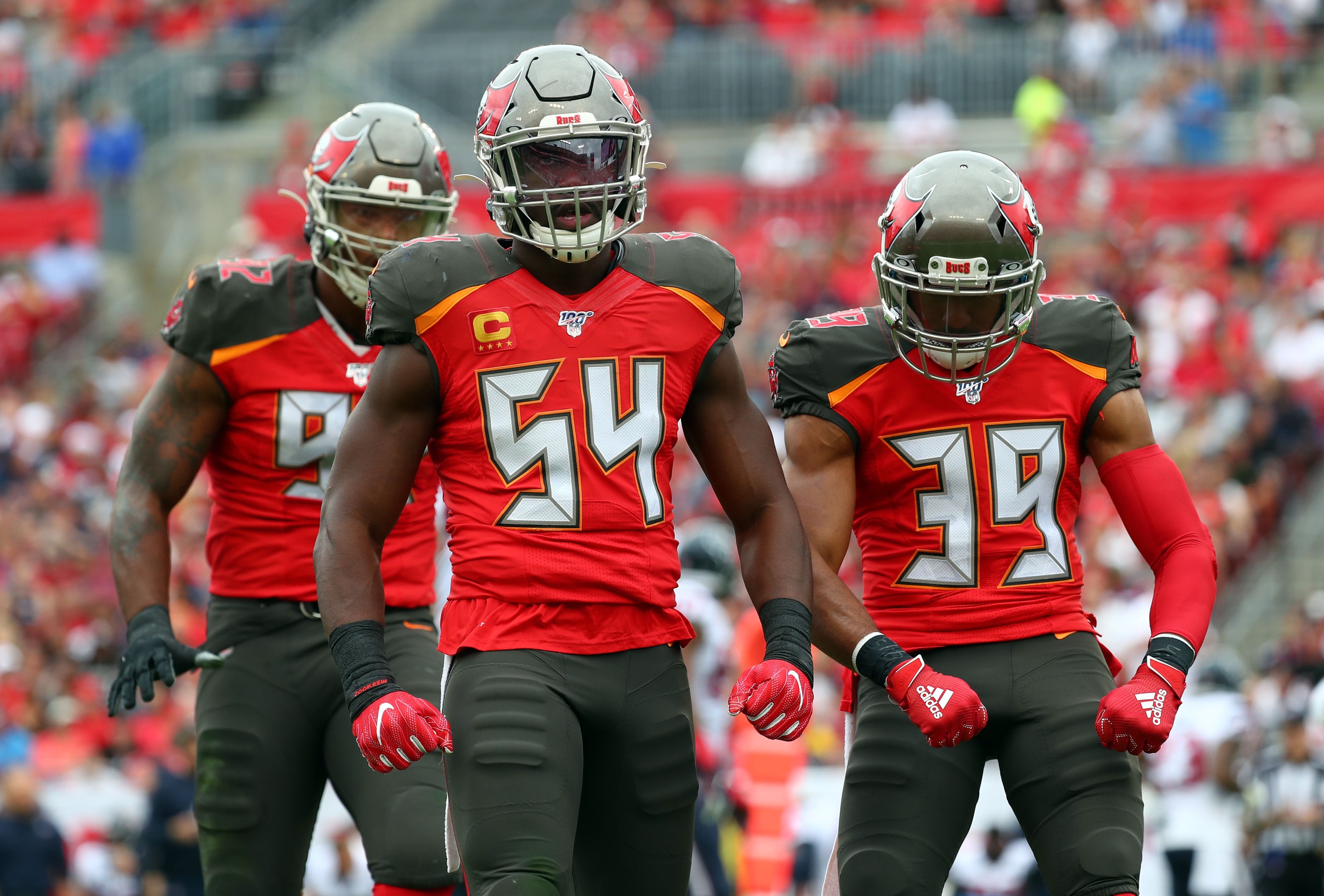 Another linebacker with multiple game grades above 90.0 already this season, Lavonte David has been a star for Tampa Bay's defense. He already has 19 defensive stops through four games, and with an interception and a pass breakup to his name, he has been beaten for a passer rating of only 53.5 in coverage this season —around 50 points better than the league average for a linebacker. As is his trademark, David has already forced a fumble, making that at least one every season since his rookie year. And he is on track for back-to-back seasons with a PFF coverage grade of at least 90.0.
For the second season in a row, Jaire Alexander has looked like the best corner in the game to start the year. This season, it has already lasted longer than it did in 2019, with Alexander coming off a Monday Night Football performance in which he shut down Calvin Ridley, who had been on fire to that point in the season. Alexander has given up some catches this year, but he has been beaten for just 7.9 yards per reception and a 71.2 passer rating. He has also yet to be flagged for any kind of penalty.
During his time in Carolina, James Bradberry faced one of the toughest gauntlets of elite receivers in the league due to the division he was in. Liberated from that nightmare of an assignment, Bradberry is instantly a much better coverage defender. He hasn't had easy assignments for the first few weeks of this season but has seven pass breakups while allowing just 52.2% of passes thrown into his coverage to be caught. Bradberry's numbers would be even better were it not for a couple of touchdowns he gave up against the Steelers in the first game of his season.
Every time you look up, Jessie Bates is making plays for the Cincinnati defense. He hasn't been perfect, but on a defense without a lot of help, he has multiple games with more than one pass breakup from his safety position and has at least one defensive stop in each outing. His range from the deep middle of the field has been exceptional, even if it resulted in him getting flagged for an extremely harsh unnecessary roughness call on one occasion for what looked like a perfectly placed shoulder-to-shoulder hit. Bates has been a real bright spot on Cincinnati's defense.
Josh Allen and the offense is getting the bulk of the attention in Buffalo this season, but the defense has carried on being quietly impressive and underrated. One of the most underrated members is safety Jordan Poyer. The way Buffalo deploys their safeties, Poyer has lined up all over the secondary, both in deep coverage and closer to the box as well as covering the slot against certain matchups when required. He has been excellent in any of those areas, racking up eight defensive stops in four games and forcing a key fumble against the Jets in Week 1.
How much does a change of scenery or simply getting healthy make a difference? Xavier Rhodes went from allowing a catch on over 80% of targets last season with the Vikings to picking off passes, breaking three more up and allowing just a 47.0 passer rating over his first month of play with the Colts. More than that, Rhodes looks visibly more fluid in his movements and far more like the player that was once one of the better shutdown corners in the game before his deterioration.
Sanders is yet to miss either an extra point or field goal this season, with six of his kicks coming from 40-plus yards.
By far the highest PFF punting grade of the season so far, Fox is at 93.6, and no other punter is even above 80.0.
Precisely one return touchdown has been scored in the NFL so far this season, and it belongs to Duvernay.
With already over 100 special teams snaps to his name, Cethan Carter has been one of the busiest special teams players, as well as one of the best.