With the abbreviated offseason and all of the challenges that come with the 2020 NFL season, teams will have to be more patient than they've ever been with this year's free-agent acquisitions.
Still, some big offseason signings have managed to come out of the gate strong. With the help of PFF contract projections, we forecasted every deal this offseason, and we've taken a second look here at some that made us look smart and some where we look to be wrong so far.
[Editor's Note: PFF's advanced statistics and player grades are powered by AWS machine learning capabilities.]
With that said, here are the offseason moves looking a bit worrisome and those looking like a great result of quality pro-scouting through three weeks.
Early Dividends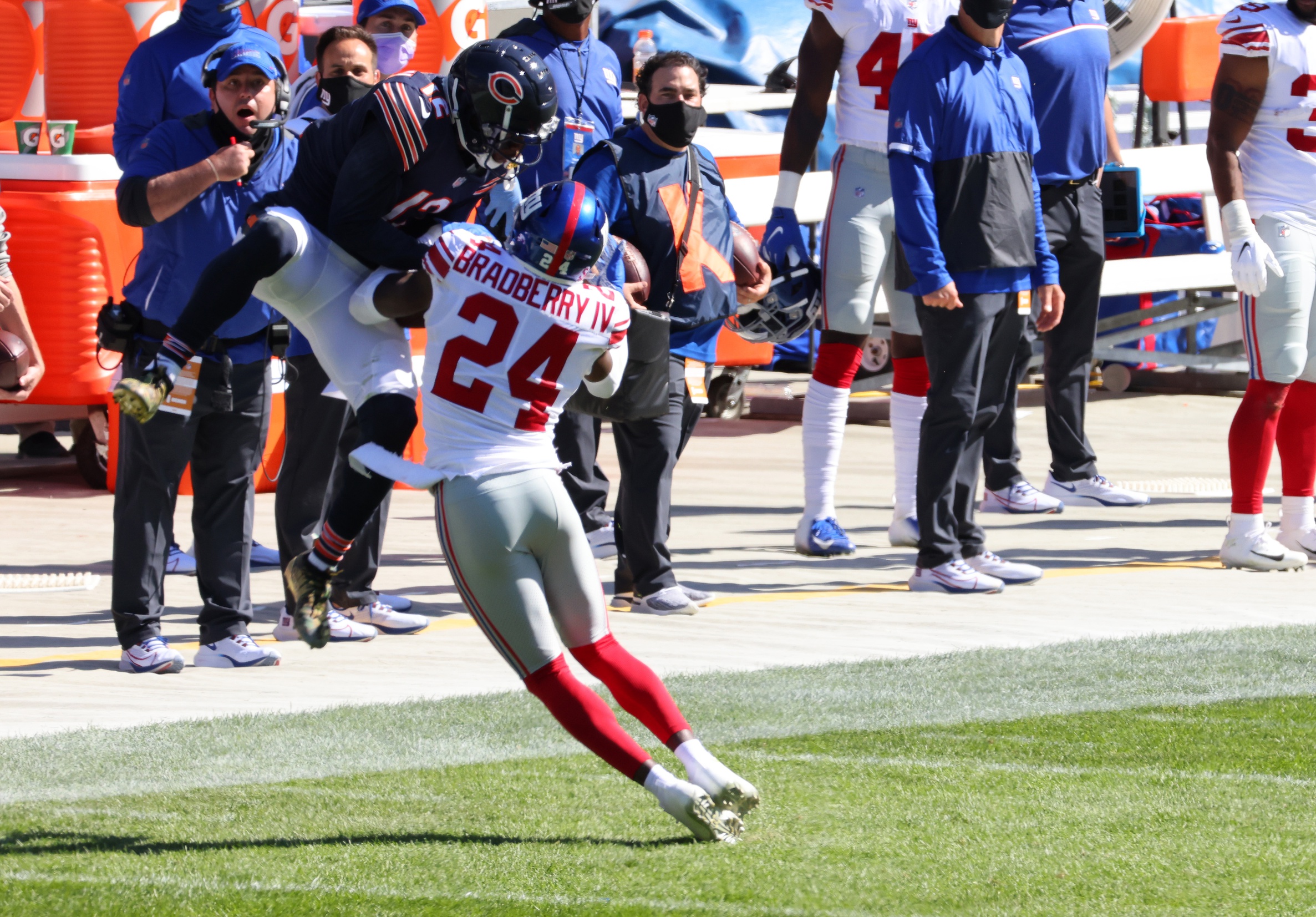 True Contract: 84.81% of Top 5 APY at CB – $14.5 million per year
PFF Contract Projection: 42.39% of Top 5 APY at CB – $7.25 million per year
Cornerback play is highly volatile, as we have discussed countless times at PFF (find two great articles on the subject from Eric Eager & George Chahrouri here and here), so we're not too surprised when PFF Contract Projections have a few of the larger disparities in perceived value each offseason at cornerback. The above 42% difference was the third-largest among all free agent signings in 2020.
Because of the nature of the position, sometimes you have to trust traits/instincts, durability/accountability and a guy that can keep his floor consistently high with smart decision-making and by limiting mistakes. That's Bradberry. Another challenge in evaluating NFL cornerback play is, of course, presented when Bradberry spent his time in the NFC South and saw Julio Jones, Mike Evans and Michael Thomas twice a year.
At the end of the day, Bradberry is a quality Cover-3 corner at just 27 years of age who can also play well in press-man coverage when called upon. The last time a Panthers cornerback went to the NFC East on a big contract, it was Josh Norman to the Washington Football Team, but so far Bradberry is off to a much better start in New York.
Bradberry was absolutely dominant in Week 2 with a tough matchup against Allen Robinson. He ripped an interception away from Robinson without even turning back to look at the throw — just a pure instincts play.
HUGE INTERCEPTION FOR JAMES BRADBERRY!!

The Giants are alive in this game right now, some way, some how #TogetherBlue pic.twitter.com/dtOjQwoHsg

— Alex Wilson (@AlexWilsonESM) September 20, 2020
In addition to the highlight plays, Bradberry has been great on a snap-to-snap basis. His 84.1 coverage grade ranks third among all cornerbacks with at least 50 snaps in 2020. The Giants had to hit on Bradberry with their 2019 first-round pick cornerback Deandre Baker pursuing a different career path, and so far GM Dave Gettleman's reunion with the cornerback he drafted in Carolina back in 2016 is off to a great start.
True Contract: 46.07% of Top 5 APY at WR – $10 million per year
PFF Contract Projection: 50.25% of Top 5 APY at WR – $10.9 million per year
Anderson is looking like he could be this year's candidate for: Which former weapon in Adam Gase's offense will break out on a new team?
Anderson and the Sir Purr Panthers were trailing in Weeks 1 and 2 against Las Vegas and Tampa Bay and were forced to throw the ball a lot, creating great game script situations for Anderson, but he's been producing in his own right.
Anderson has always been known as a deep threat with serious burner potential on the outside — his 16.5-yard average depth of target from 2018-19 ranked eighth out of 157 wide receivers with at least 50 targets over the two seasons. However, Anderson ranked just 52nd in yards after the catch with 437 yards on 190 targets (2.3 YAC per target) over the same period.
So far in 2020, Anderson's average depth of target is way down to 9.7 yards, almost seven full yards lower than his 2018-19 average. On the other hand, Anderson is fourth in the NFL in yards after the catch with 131 yards on 24 targets (5.46 YAC per target) through three games. Anderson's yards per route run of 2.68 is tied for sixth in the NFL with Deandre Hopkins among all wide receivers with at least 50 snaps.
True Contract: 96.55% of Top 5 APY at Right Tackle – $14 million per year
PFF Contract Projection: 106% of Top 5 APY at Right Tackle – $15.37 million per year
Jack Conklin was the eighth-overall pick of the Tennessee Titans in the 2016 NFL Draft but battled with some injuries in his young career that led to the Titans declining his 2020 fifth-year option following the 2018 season.
After a stellar 2019 campaign, Conklin effectively priced himself out of Tennessee as they doled out big time contracts to Ryan Tannehill, Derrick Henry and others. Conklin agreed to a shorter deal with strong guarantees from Cleveland (just three years), and that already looks to be a smart move by the 26-year-old. Conklin is one of just 15 tackles with PFF grades above 70.0 in both pass blocking and run blocking so far in 2020.
Conklin did have to miss the Battle of Ohio in Week 2 against the Bengals, but it seemed like the short turnaround to Thursday was the primary cause there. Otherwise, he has gotten off to a great start in Cleveland. The Browns had some of the worst tackle play in the entire NFL in 2019, and Conklin has been the stabilizing presence they'd hoped for.
This always seemed like a great fit, as Kevin Stefanski hoped to emulate the 2019 Titans offense in Cleveland with a lot of play-action and designed rollout concepts for Baker Mayfield. Perhaps more importantly so far, Conklin has also blocked well in Kevin Stefanski's outside-zone running scheme with Nick Chubb doing his best Derrick Henry impression through three games as well. Conklin and first-round pick Jedrick Wills could be the tackle tandem in Cleveland for years to come.
Early Regrets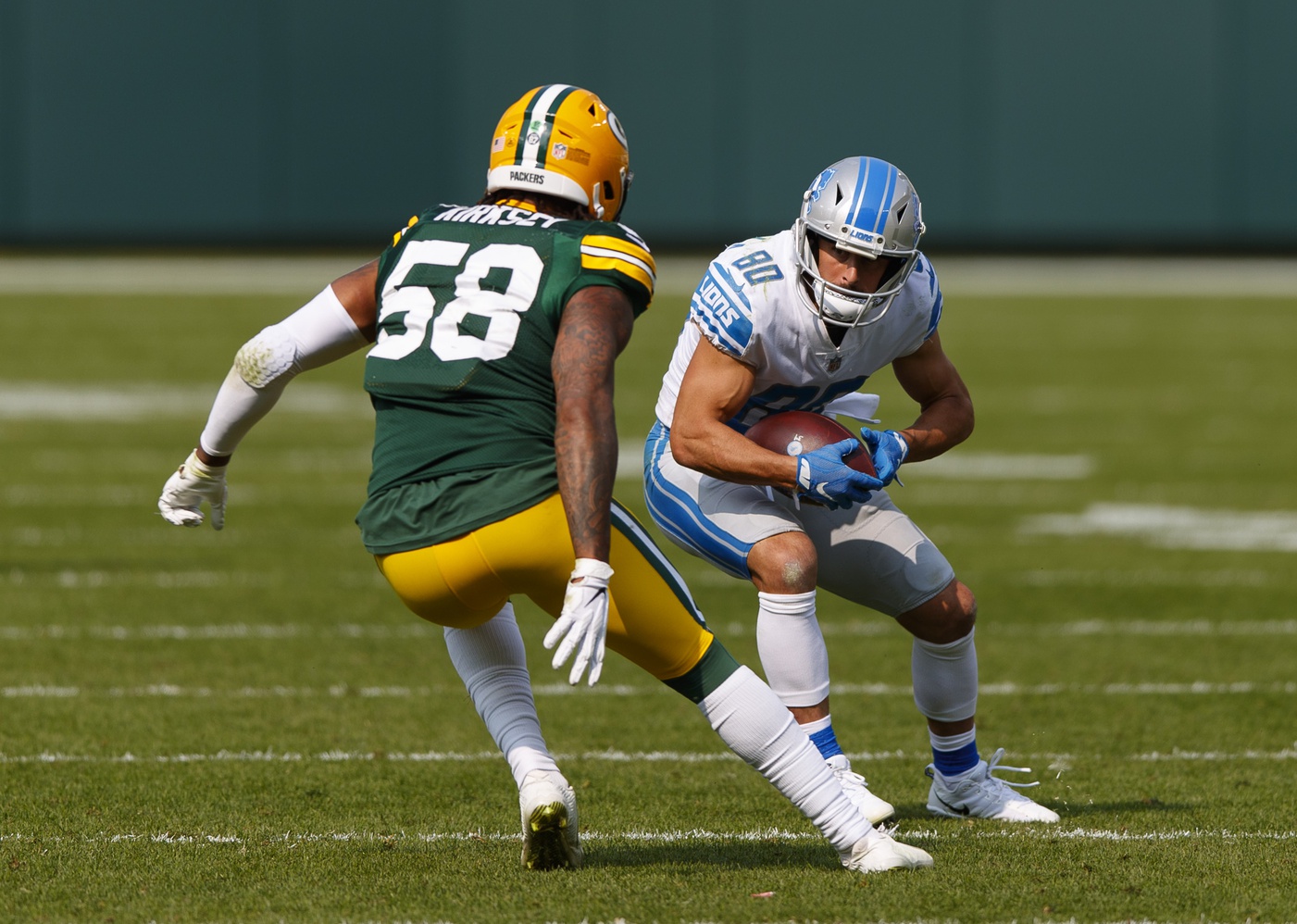 True Contract: 41.67% of Top 5 APY at LB – $6.5 million per year
PFF Contract Projection: 10% of Top 5 APY at LB – $1.5 million per year
The Packers' run defense was absolutely bullied in the 2019 NFC Championship game against the 49ers, allowing 285 yards on the ground at a 6.8 yards per carry clip. Jimmy Garoppolo had just eight pass attempts. Eight.
After a not-so-great outing from Blake Martinez, the Packers' starting MLB for three seasons, Green Bay decided to move on and look for a cheaper option. Christian Kirksey had two strong seasons in 2016 and 2017 but unfortunately dealt with shoulder and hamstring issues in 2018 and missed the majority of 2019 with a torn pectoral muscle.
The hope was that he would return to form and stay healthy. Kirksey graded out below 50.0 overall in Weeks 1 and 2 and sustained a shoulder injury in the Saints game that limited him to just 17 snaps. His 31.9 overall grade on the season ranks 74th out of 81 linebackers with at least 50 snaps.
The Packers are 3-0, but their run defense hasn't been much better. The absence of Kenny Clark is notable, but through three weeks the Packers have allowed 345 rushing yards on 63 carries, a 5.5 yards per carry clip. Perhaps more concerning, teams have been deploying pass-catching backs against them with great success, with the most recent example perhaps being the play of the season so far from Alvin Kamara:
Alvin Kamara forced 4 missed tackles on this 52 yard TD.

Most on any single play this season ???? ????
pic.twitter.com/9WuP4tlwwz

— PFF (@PFF) September 28, 2020
Oren Burks, their third-round pick in 2018, looked solid in relief Sunday night but only logged 13 total snaps; more quality coverage snaps from him could go a long way. Kirksey's primary replacement, Ty Summers, allowed eight receptions on eight targets for 70 yards with 44 yards after the catch against Kamara and the Saints — so someone will need to step up there for Green Bay.
True Contract: 75.32% of Top 5 APY at LB – $11.75 million per year
PFF Contract Projection: 78.87% of Top 5 APY at LB – $12.3 million per year
Another free-agent linebacker, Littleton was playing some of his best football with the Los Angeles Rams before signing with the Raiders this offseason on a three-year, $35.25 million contract. The Raiders prioritized defensive spending this offseason on inside linebackers (Littleton and Nick Kwiatkoski), neglecting to address a very young secondary where they've instead invested significant draft capital.
Littleton is tied for the league lead in missed tackles among all linebackers with six. He's tied for fourth among linebackers in targets at 19 so far through three games, with 14 receptions allowed and zero forced incompletions.
The Raiders have now allowed 491 rushing yards through three weeks, 28th in the NFL, and they rank 29th in the NFL with 3.4 yards after contact per rushing attempt. They're not much better against the pass, as they've allowed 483 yards after the catch to opposing receivers, second-most in the NFL. There is clearly still a lot to clean up on defense in Las Vegas, and it starts with Littleton running the show in the middle.
True Contract: 79.26% of Top 5 APY at Center – $9 million per year
PFF Contract Projection: 45.49% of Top 5 APY at Center – $5.165 million per year
Not to be confused with the Dallas Cowboys' offensive lineman of the same name, the Jets' Connor McGovern was a fifth-round pick of the Denver Broncos in 2016 where he started the previous two seasons. McGovern took a big step forward in 2019, earning a 72.0 overall grade and an 82.5 pass-blocking grade, making him a top-10 center per PFF WAR in 2019.
McGovern's 2019 campaign so far appears to be something of an aberration, as his 2020 pass-blocking grade of 24.0 ranks 36th out of 36 centers with at least 25 snaps. McGovern has allowed nine pressures through three games, second-most among all centers (coincidentally, only the Broncos' replacement Lloyd Cushenberry has more with 14). McGovern's pressure percentage is 8.7%, a bottom 20 mark across all offensive linemen in the NFL.
We learned last week that Sam Darnold isn't allowed to make audible calls, so one would think McGovern's job at center would be relatively straightforward. But, obviously, a highly predictable offense with weapons that struggle to get open makes his job a lot more difficult.
With their other free agent acquisitions at offensive line, Greg Van Roten and George Fant, off to shaky starts in New York as well, perhaps it's not solely the players' fault. (See above: Robby Anderson.)