The general team-building ethos in the NFL revolves around a central point: get a franchise quarterback and, if possible, get him on a rookie deal. This stems from the position's high value and the flexibility that a cheap contract provides when filling out the rest of the roster.
While not exhaustive evidence, all but one Super Bowl since the Seattle Seahawks' victory in 2013-14 (the Falcons 28-3 collapse in Super Bowl LI being the exception) have featured at least one team with a passer still being paid on their rookie deal. Thus, it makes sense to be aggressive in attempting to acquire a young quarterback, particularly through trading up in the draft. 
Click here for more PFF tools:
Draft Guide & Big Board | Mock Draft Simulator
Dynasty Rankings & Projections | Free Agent Rankings | 2022 QB Annual
Player Grades
---
And it's also understandable that those teams will face an "upcharge" in doing so. If a team is willing to give up draft capital to select the most valuable position in American sports, they're probably willing to surrender more than what the market would deem fair for a typical trade of that pick. This leaves us with two questions:
Are teams paying extra for trading up for QBs?

If so, how much extra are they paying?
To answer these questions, we will focus on trades that strictly exchange one team's picks for another's. Typically when analyzing the market of NFL draft pick trades, we reference the Jimmy Johnson Draft Pick Value chart, which was created by former Cowboys minority owner and engineer Mike McCoy and maps a numerical value to every draft pick. While criticisms of the chart are well documented, it does still appear to dominate the overall NFL draft trade market. To get the surplus value of a trade, the calculation is simply subtracting the total point values exchanged by the two teams. This does not, however, appear to apply for blockbuster trades with quarterbacks early in the draft. 
One example is in the 2016 trades where the Los Angeles Rams and Philadelphia Eagles traded up for rights to select Jared Goff and Carson Wentz, respectively. The chart has the Rams and Eagles gaining a surplus of 417 and 319 points, respectively. And those values map to roughly the 48th and 58th pick, respectively. While these are particularly egregious examples, nine of the 16 team trade-ups in the first round for quarterbacks have the organizations gaining surplus value based on that chart, with five of the positive surpluses being equivalent to a mid-fourth-round pick or more.
While NFL teams are far from perfectly efficient, it seems highly unlikely that they would give up surplus value, per the chart, while allowing teams to trade up for a signal-caller. Thus, for the purposes of this exercise, we will give NFL teams the benefit of the doubt that they are functioning under a different logic. So, to better assess how much value is being surrendered in such deals, we will use the more accurate Fitzgerald-Spielberger draft trade value chart.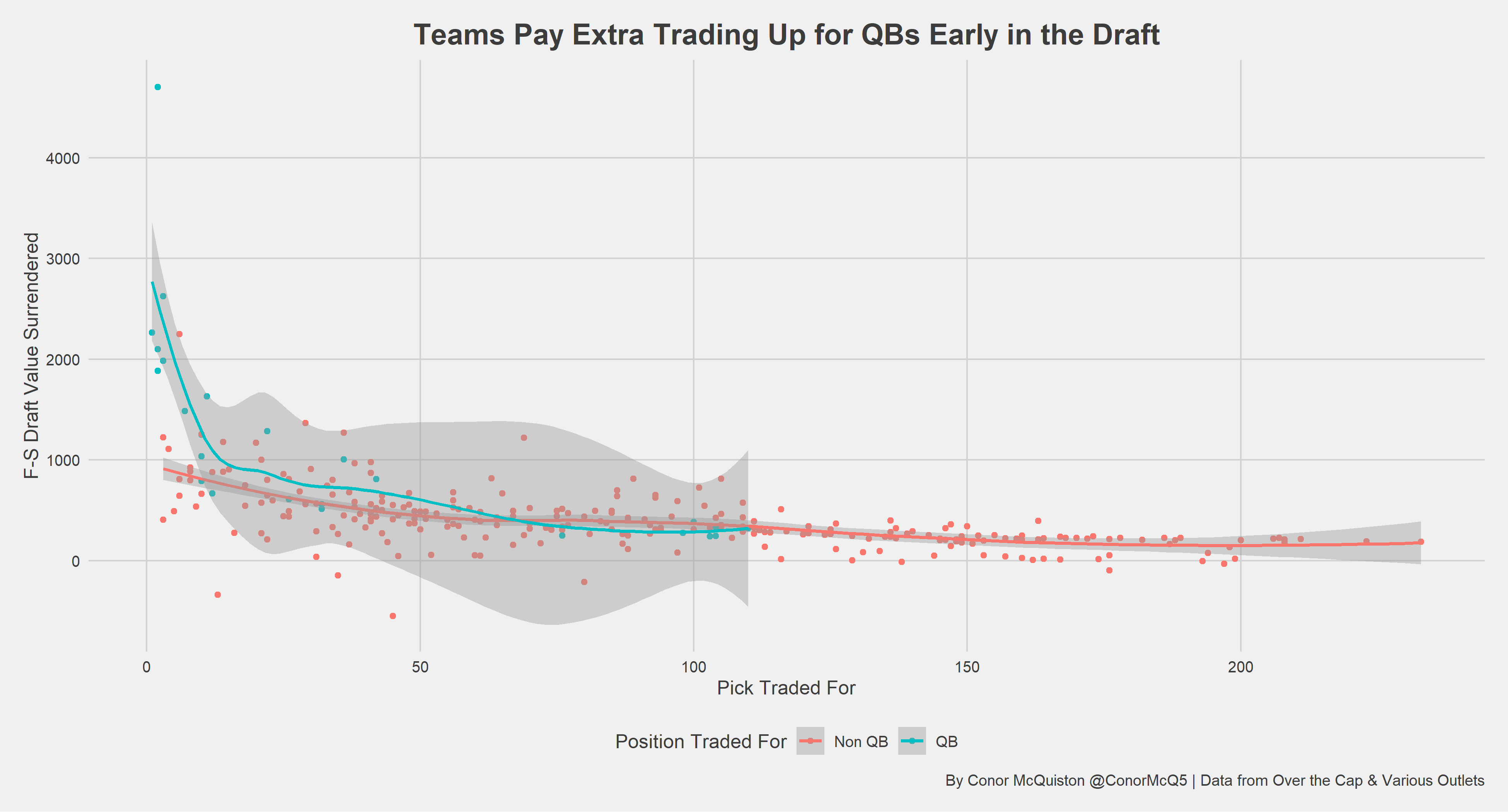 From this plot, we can see that draft teams do pay a premium when trading up for quarterbacks. For a sense of scale in this chart, 3,000 points corresponds to the first overall pick and 1,000 points roughly corresponds to the 50th overall pick. There does appear to be a point where this premium disappears, and this does not supply a strong estimate for what that premium is.
DOMINATE FANTASY FOOTBALL & BETTING WITH AI-POWERED DATA & TOOLS TRUSTED BY ALL 32
Unlimited Fantasy League Sync
Fantasy Start/Sit Line-Up Optimizer & Waiver Wire
WR-CB & OL-DL Matchups, PFF Player Grades, & Premium Stats 2.0 Tools
Nathan Jahnkes Rankings - #1 Most Accurate Last 70 Weeks
PFF Best Bets, Player Props, & Power Ranking Tools
NFL Mock Draft Sim with Trades & Draft Grades
Already have a subscription? Log In