How the mighty have fallen. Only three years after winning Super Bowl LII at US Bank Stadium in Minneapolis, Doug Pederson is officially out as the head coach of the Philadelphia Eagles.
It's easy to see why, though. After a 7-9 season to open the partnership between Pederson and quarterback Carson Wentz, the former backup quarterback orchestrated the 13-3 season that ended in Minneapolis with Nick Foles hoisting the Lombardi.
Two straight injury-riddled 9-7 playoff finishes gave way to a disaster in 2020, where Wentz lost his starting job and the team finished 4-11-1, with Pederson appearing to tank the last part of the last game in an attempt to move up three spots in the 2021 NFL Draft.
The straights of the Eagles coincided with Pederson's as a playcaller. He was 13th in our offensive playcaller rating in 2017, but that rating fell to 28th in 2020.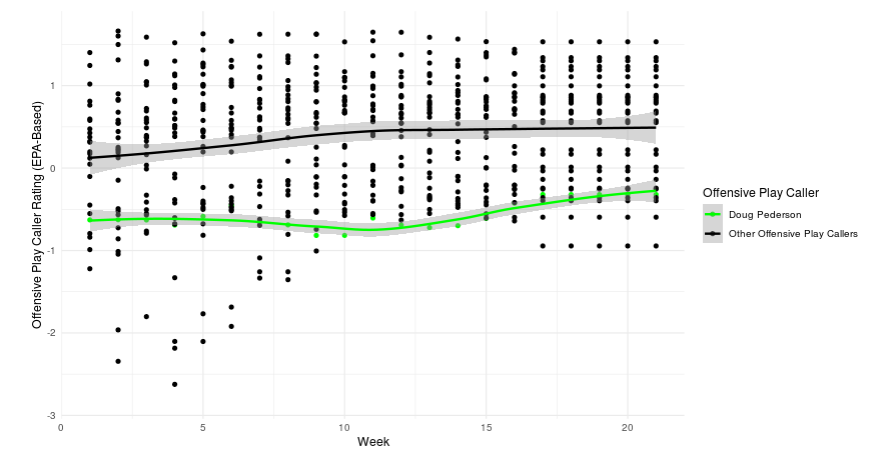 Now that Pederson is gone, the Eagles will be competing with six other teams for candidates over the next few weeks. Today I wrote about those six openings as well as some candidates to replace them. Re-ranking the openings would not be difficult a second time around because the Eagles' current vacancy is the worst in the league. Here's why.
The Eagles have one of the league's worst starting quarterback situations
Carson Wentz was basically a replacement-level quarterback in 2020, leading the league in turnover-worthy plays despite not playing in any of the last four games. More than 18% of Wentz's dropbacks were negatively graded, a percentage that was higher than even Mitchell Trubisky's in 2020.
In addition to his poor play, cutting Wentz would cost the Eagles more than $59 million in dead money and would not result in any cap savings until 2022. And even then, said savings would be minimal.
This brings me to the second point.
The Eagles have the second-worst cap situation in football
The Eagles are an estimated $51 million over the projected cap for 2021, per our friends at OverTheCap. Only the New Orleans Saints have less space.
This is despite the fact that their roster in 2020 earned only 2.9 wins above replacement from top to bottom, fifth-worst in football. In addition to Wentz's deal, there are a number of deals — like those given to Lane Johnson, Brandon Brooks, Jason Kelce, Malik Jackson, Darius Slay and Javon Hargrave — that range from not trivial to impossible when it comes to getting out of them.
Possible Candidates
Today's article has some in-depth information on many of the available candidates, but here are some names that I think could be solid choices for the birds.
Eric Bienemy
A former second-round pick by the Chargers — and like Pederson, a Reid assistant — Bienemy has overseen the development of league MVPs under his tutelage, from Adrian Peterson in Minnesota to Patrick Mahomes in Kansas City.
He's never been the primary playcaller for the Chiefs — that's a job that Andy Reid has mostly held down — but neither was Pederson. After years of being overlooked, he might hit on bad luck again vis a vis Philly, given his similar career path to Pederson.
Joe Brady
After taking a wildly average 2018 LSU offense to the College Football Playoff National Championship in 2019, Brady finished the 2020 regular season with the third-highest offensive playcaller rating in the NFL. After directing an offense with Teddy Bridgewater and P.J. Walker to the league's 17th-best yards per play mark, as well as lifting Joe Burrow to the top draft position in 2020, Brady might be the man to either rehabilitate Wentz's career or give a boost to Jalen Hurts'.
He doesn't have any head coaching experience, which is an obvious issue, but other up-and-coming coaches have been able to come out of the gate without said experience. His star will only get brighter, so look for a progressive team like the Eagles to snatch him up this offseason.
Note to NFL teams in need of an HC:

Hire Joe Brady pic.twitter.com/wdoD8YXEmh

— PFF (@PFF) January 2, 2021
Robert Saleh
Despite a season full of injuries and issues surrounding COVID-19, the San Francisco 49ers allowed only 5.0 yards per play on defense, good for fourth in the NFL. This earned Saleh the highest mark in our defensive playcaller ratings.
There were some questions about how he handled the fourth quarter of Super Bowl LIV, but aside from surrendering a lead to one of the best quarterbacks to enter the league since the merger, he's done a great job developing young talents like Fred Warner, Nick Bosa, Arik Armstead and DeForest Buckner while assimilating newcomers such as Richard Sherman.
Injuries have been the norm in Philly, which has led to their poor play defensively — they were 20th in net adjusted yards allowed per attempt despite playing in the NFC East — but Saleh appears to be a coach who can be robust with respect to these perturbations.
Arthur Smith
Smith has been in command of the Tennessee Titans' offense over the last two years, where they have finished fourth in yards per play in both seasons.
After falling out of favor in Miami, quarterback Ryan Tannehill has been one of the most efficient passers in the NFL over the last two years, respectively averaging 9.7 and 13.5 yards per play-action pass attempt during those two seasons.
Many will point to Derrick Henry's two league-leading seasons on the ground as another positive, while skeptics will point toward prehistorical run/pass ratios as evidence of a flaw in his approach. He has a Shanahan-like ceiling as a head coach who also calls plays, but a pretty low floor if he's not endowed with the talent he has in Tennessee. Could he have a similar influence on Wentz that he had on Tannehill?
Greg Roman
This pick would be one that signaled a buy into Jalen Hurts, the type of athlete at quarterback with which Roman has had success.  While the Ravens offense regressed some from what was a historically good 2019 season, much of said regression can be attributed to losing three parts of the league's most valuable offensive line to go along with an injury to Lamar Jackson.  In fact, Roman only fell from the fourth-best playcaller in our rankings in 2019 to fifth in 2020, with his team putting up over 385 yards in each of their final five games, all wins.
There has to be some concern over what transpired in San Francisco vis a vis Colin Kaepernick's regression and the lack of quarterbacks with his or Lamar Jackson's talents freely available. Still, he's earned the opportunity to be considered.