The Jacksonville Jaguars firing Urban Meyer has opened up more questions about the upcoming NFL head coach hiring cycle.
---
Click here for more PFF tools:
Rankings & Projections | WR/CB Matchup Chart | NFL & NCAA Betting Dashboards | NFL Player Props tool | NFL & NCAA Power Rankings
---
We get into potential candidates for the Jaguars' job, the defensive player of the year debate, Aaron Rodgers' future and much more in this week's NFL mailbag.
Hi Ashley, I do think the Jaguars are a good fit for New England Patriots offensive coordinator Josh McDaniels and the Jaguars.
McDaniels has done a great job with rookie quarterback Mac Jones (83.0 overall grade) this season, proving – if it needed to be proven at all – that his successful play-calling and coaching wasn't just a product of Tom Brady. That should have been somewhat obvious since the Patriots offensive coordinator also got solid production out of Matt Cassel, Jimmy Garoppolo and Jacoby Brissett during his time in New England, but Jones' rookie season solidifies that McDaniels is a natural fit to coach and groom a young quarterback.
I recently asked a league source if he was concerned about Trevor Lawrence since the Jacksonville Jaguars rookie quarterback has struggled this season (57.1 overall grade). The response: "What would Lawrence look like in New England?" Meaning, Lawrence would be significantly more impressive in a better system with more structure around him.
McDaniels can't bring New England's organizational foundation with him to a new team – we've seen that proven time and time again with other Belichick disciples, including McDaniels in his stint as head coach of the Denver Broncos – but the Patriots longtime offensive coordinator is older, wiser, more experienced and more respected at this point in his career. He's essentially the head coach of the Patriots' offense.
The other factor here is that McDaniels has a good thing going with Jones, and he's not going to want to leave for a lesser or riskier quarterback. If he goes to a team that needs to draft a quarterback, then he's kind of stuck with a veteran option because this year's draft class isn't strong. I mentioned in this column a few weeks ago that I'm not sure if Chicago Bears rookie quarterback Justin Fields would be a great fit with McDaniels simply because the Patriots were not interested in him this spring.
But Lawrence is a different story as one of the top quarterback prospects in recent memory. In addition, McDaniels would likely have a long rope in Jacksonville. Jaguars owner Shad Khan gave Gus Bradley and Doug Marrone four seasons as head coach. And there's no way the Jaguars would want four head coaches in four or five seasons, which is what they would be facing if they only gave their new head coach a season or two to prove himself.
None of this is to say McDaniels is a sure-thing to Jacksonville. He'd have to be OK with the organization, and the team would have to trust that McDaniels wouldn't back out like he did with the Indianapolis Colts in 2018. Nonetheless, on the surface, it appears to be a good fit.
Some other notable names worth mentioning for the Jaguars' job: Tampa Bay Buccaneers offensive coordinator and former Jaguars quarterback Byron Leftwich, Dallas Cowboys offensive coordinator Kellen Moore and Kansas City Chiefs offensive coordinator Eric Bieniemy. Ex-Philadelphia Eagles head coach Doug Pederson is also available, and Buffalo Bills OC Brian Daboll has done a great job with QB Josh Allen.
I don't think Los Angeles Rams defensive tackle Aaron Donald will win his fourth Defensive Player of the Year award, but there's a case for it. So, I don't think there should be more than a three or four on the outrage scale if he did win again.
Donald is PFF's top-graded defensive player this season (93.9), top-graded run defender (91.2) and third-highest graded pass rusher (92.6). He also has the highest wins above replacement (WAR) among defensive players this season. He's second in total pressures, ninth in sacks, second in hurries and fifth in pass-rush win rate. No one else really has Donald's resume. 
Aaron Donald's snaps and grades in 2021 | By week
| | | | | |
| --- | --- | --- | --- | --- |
| Week | Total Snaps | Overall Grade | Run Defense Grade | Pass-Rush Grade |
| 1 | 66 | 81.4 | 55.2 | 90.7 |
| 2 | 61 | 92.1 | 79 | 91.3 |
| 3 | 60 | 90.1 | 55.6 | 88 |
| 4 | 72 | 74.4 | 84.3 | 51.5 |
| 5 | 60 | 79.5 | 76.5 | 75.1 |
| 6 | 45 | 89.7 | 78.7 | 79.6 |
| 7 | 63 | 79.6 | 58.4 | 84.4 |
| 8 | 41 | 91.1 | 79.7 | 87.2 |
| 9 | 55 | 88.6 | 75.5 | 81.3 |
| 10 | 53 | 75.1 | 80.8 | 59.9 |
| 12 | 81 | 90.8 | 80.4 | 87.5 |
| 13 | 52 | 95.8 | 95.1 | 91.4 |
| 14 | 74 | 89.6 | 57.3 | 90.1 |
Click here to view Aaron Donald's career in PFF Premium Stats…
Cleveland Browns defensive end Myles Garrett and Dallas Cowboys linebacker Micah Parsons are higher rated as pass-rushers and have more sacks, but they aren't as good at defending the run. T.J. Watt also has more sacks, but he's not as complete of a player as Donald. Ultimately, Garrett, Watt, Cowboys cornerback Trevon Diggs and Patriots linebacker Matt Judon all have better odds to win DPOY than Donald. Donald has been more valuable, however, and probably deserves the honor again, but chances are someone else – probably Garrett or Watt – will take it.
I'm certainly not saying San Francisco 49ers defensive coordinator DeMeco Ryans doesn't deserve a head coaching job, because he's an ascending young coach in the NFL. But my guess is that it comes down to three factors:
The 49ers' defense has actually taken a slight step back this season. It ranked seventh with -0.027 EPA per play against (lower is better) last season, and it's 20th with -0.004 EPA per play against this season. 

Ryans is still inexperienced as a coach. He retired as a player in 2015, was hired by the 49ers  as a defensive quality control coach in 2017 and has only been a coordinator for one season.

The New York Jets hired former 49ers defensive coordinator Robert Saleh as head coach last offseason, and it hasn't gone very well. The Jets are 3-10 on the season, so it wouldn't be shocking if it took a couple of years for a team to go back to that well.
That being said, current Los Angeles Chargers head coach Brandon Staley had a pretty similar resume to Ryans as the Los Angeles Rams' defensive coordinator, but he did coach up the NFL's leaders in EPA per play against (-0.141) in 2020.
Ryans definitely looks like a future NFL head coach, but it just might take him a couple more years.
My two top guesses are the Packers or the Broncos. I was fairly convinced that Rodgers was going to do one more season and done in Green Bay during this offseason's drama, but it does feel like some fences have been mended in that relationship. The Packers have to be willing to help Rodgers out, however, and that starts with re-signing wide receiver Davante Adams and probably inserting another top receiver in that offense.
The Broncos need a quarterback and have some of the best and most underrated weapons in the NFL with running back Javonte Williams, wide receivers Courtland Sutton, Jerry Jeudy, Tim Patrick and K.J. Hamler and tight ends Noah Fant and Albert Okwuegbunam signed for the future. I'm not quite sure what would need to happen at head coach to get Rodgers to Denver, but it's worth keeping an eye on.

I think, in a number of ways, going from a lifetime college football coach to suddenly leading an NFL team was too much of a change for Meyer.
He was used to winning and being the king of the castle, and suddenly, he was losing and facing tough questions from NFL reporters. He didn't act like himself.
From not flying home with the team after a loss to the Cincinnati Bengals to showing a lack of interest in coaching decisions involving running back James Robinson and safety Andre Cisco to allegedly lambasting assistant coaches and physically kicking kicker Josh Lambo, he didn't act like an NFL head coach with the Jaguars.
Before Meyer was fired, a league source texted me, "They hate him." I asked, "players or staff?" And he texted back, "everyone."
It was an untenable situation, and Meyer simply alienated himself from most of the people in the building. He had to go. Lawrence, especially, is too valuable of a player to keep in a bad situation for too long.
So, a lot of people think NFL stands for "Not For Long," but an agent recently told me it actually stands for "Notorious Effing Liars." He didn't say, "effing," though.
I've also heard from sources that it stands for National Football League.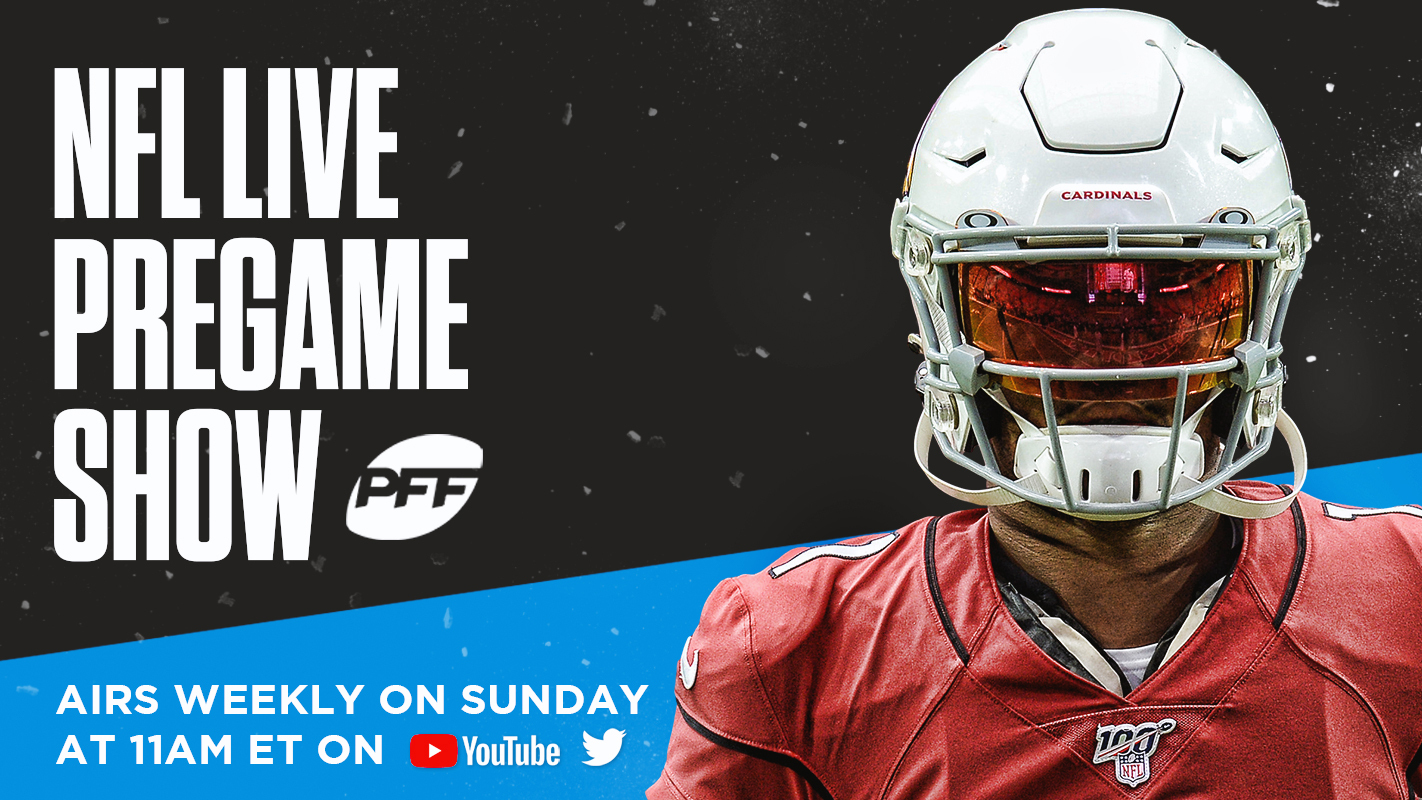 Somebody hire this guy. I want to see PFF's Steve Palazzolo playing that 7-foot tall player role.