The Arizona Cardinals secured the services of DeAndre Hopkins earlier this offseason with one of the most lopsided trades in recent memory, and now they are putting a bow on it by signing him to an impressive two-year, $54.5 million extension that includes a $27.5 million signing bonus and $42.75 million guaranteed at signing, per NFL Network's Ian Rapoport.
As ESPN's Adam Schefter pointed out, Hopkins had three years remaining on his current deal, so this could be viewed as a new five-year deal that keeps Hopkins with Arizona through 2024.
Hopkins has the resume to justify the monster contract and the pedigree that should help quarterback Kyler Murray reach his potential sooner rather than later.
Deshaun Watson made the playoffs in his first two seasons as the full-time starter in Houston, and he relied heavily on Hopkins along the way. Murray is now entering his sophomore season looking to take that next step, and Hopkins should be the perfect guy to help him do just that. 
Hopkins has become one of the game's most dominant wide receivers, and he was doing it long before he had a quarterback as good as Deshaun Watson throwing him the football. In 2015, Hopkins earned a PFF grade of 90.4 as he racked up 111 receptions, 1,521 receiving yards and 11 scores with a combination of Brian Hoyer and Brandon Weeden throwing him the football.
Over the past three years, nobody has been targeted more than Hopkins, who has seen 469 passes thrown his way, four more than Michael Thomas in New Orleans. 
Hopkins excels as a receiver who wins through physicality and aggression at the catch point, and not necessarily through separation. That's not to say he can't get open — only three receivers over that same span saw more targets when the separation was charted as "open" in PFF's grading process — but Hopkins has become truly special when it comes to making plays in tough situations.
The eighth-year wideout has 10 touchdown catches on targets while in tight coverage over the past three seasons, which is more than any other player. He also leads the league in first downs (40) and contested catches (38) on those same targets over that time.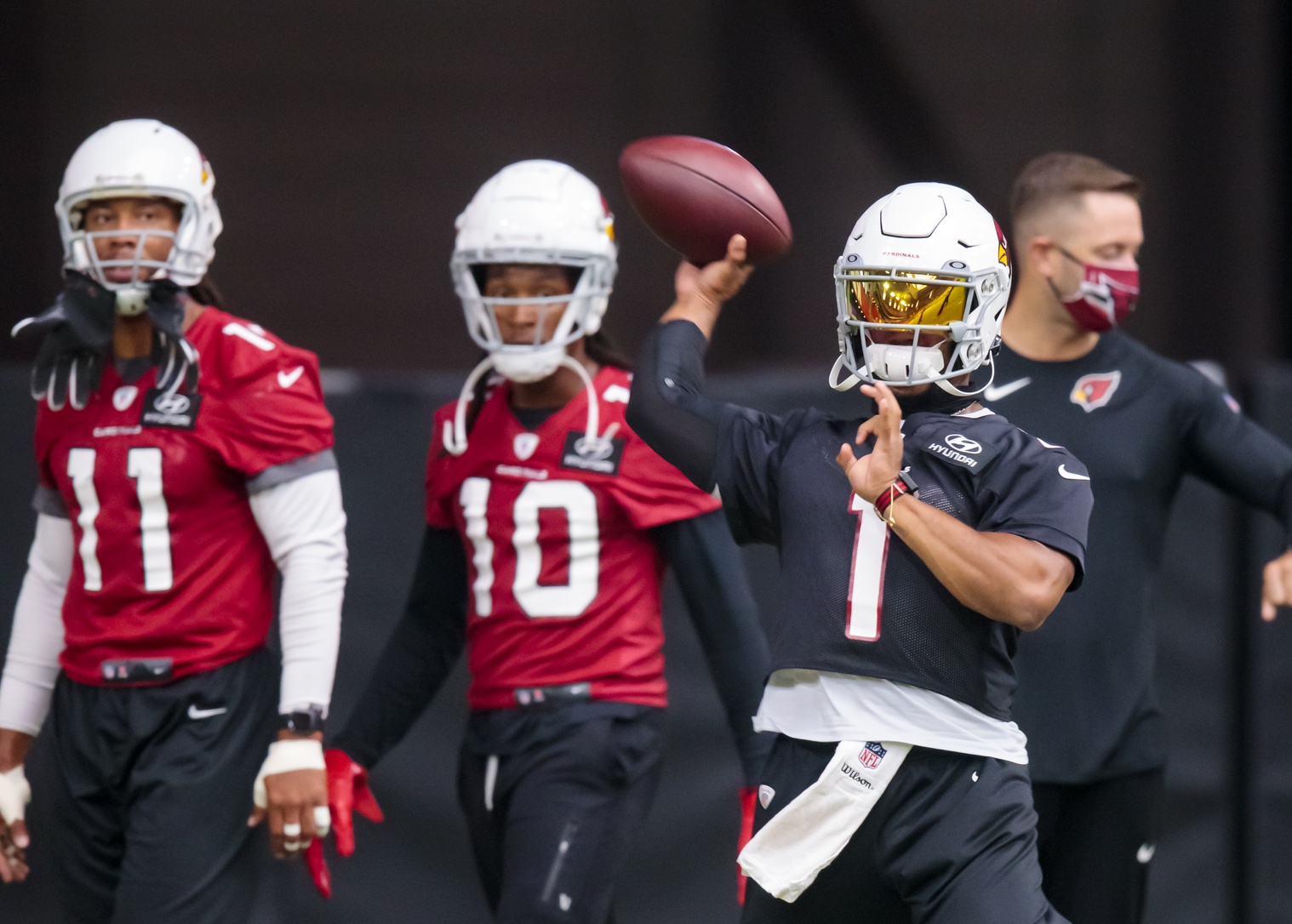 There is little doubt that Hopkins is the type of elite receiver that Kyler Murray has yet to throw to in Arizona, and he could make a huge difference to the young quarterback's play in his second season.
One concerning aspect of Murray's rookie year was how underwhelming he was within structure. Murray's clean-pocket PFF grade ranked 32nd among qualifying signal-callers last year, as did his grade when he was in rhythm. And on passes charted as his first read, his grade ranked just 28th. Hopkins has the skills to change the decision-making process for Murray and make him more confident in that initial read.
The only delicate balance is not leaning on that impulse too much and feeding Hopkins targets that he shouldn't really get. Even the best receivers in the game only come down with contested catches a little more than 60% of the time, so relying too heavily on that can be to the detriment of an offense overall.
A trait Hopkins shares with new teammate Larry Fitzgerald is outstanding hands. While Fitzgerald may have one of the best drop rates in NFL history, Hopkins is no slouch in that regard himself. Despite constantly being in contested-catch situations, Hopkins has just 26 drops over his seven-year NFL career. He also holds the PFF record for the most consecutive catches made without a drop, with a whopping 225.
Another notable similarity between the two players is that neither player's game is overly dependent on speed. Fitzgerald is a physical specimen, and Hopkins is obviously up there with him, but Fitzgerald's transition into the second phase of his career could provide the blueprint for Hopkins. This should ease the concerns of paying Hopkins over $20 million per year only for him to lose a step in the not-so-distant future. 
Ultimately, the reasons why this trade was such a huge win for the Cardinals are also the reasons why it's worth locking him down with a long-term extension. This team is invested in its young quarterback and head coach, and now they have a top-tier weapon to make both look better in their roles. On top of all of that, they were able to unload one of their most bloated contracts in running back David Johnson. 
To illustrate how much the Houston Texans helped the Cardinals by agreeing to take on David Johnson's contract, just look at the Los Angeles Rams' situation with Todd Gurley II. The Rams took on $20.15 million in total dead money charges just to release Gurley from his massive extension signed in 2018. If it were not for this trade, the Cardinals might have been forced to cut Johnson, as they had made their intentions of moving on from him quite clear when they traded for Kenyan Drake, placing the transition tag on him shortly after.
By including Johnson in the trade, Arizona incurred just $6 million in dead money, and Houston took on the remaining $12.3 million in guaranteed base salary. And $12.3 million in potential dead money savings is huge, especially after we just saw the Cleveland Browns reportedly offer the New Orleans Saints $5 million in cash/cap in exchange for a second-round pick. 
This is what makes the trade even more of a gaffe from The Texans' perspective — not that there needed to be more negatives in addition to the fact they traded away a top-five wide receiver at 28 years old just before extending their franchise quarterback.
It also looks worse taking on David Johnson in this trade, considering the Texans just traded a third-round pick for running back Duke Johnson Jr. last season (trading a third-round pick for a backup running back was arguably a worse deal than the Hopkins trade, but we digress).
After seeing the contracts that the Texans gave out to Zach Cunningham and Deshaun Watson in the past two weeks, you understand why they were not interested in extending Hopkins this offseason with three years remaining on his deal. There is only so much cash to go around, and it's not always about the salary cap (though the Texans aren't sitting too pretty there, either). The Texans simply have some work to do in the near future. 
J.J. Watt, who is still playing at an elite level, has no guaranteed money left on his deal that runs through 2021. And Houston's other first-round wide receiver — Will Fuller V — is set to play 2020 on the fifth-year option and will be looking for a sizable extension of his own with a big 2020 season. 
The second-round pick in 2020 that the Texans acquired from Arizona along with David Johnson was valuable, considering they didn't have their own first- or second-round picks (thanks to the Laremy Tunsil and Brandin Cooks trades, respectively). They used that second-rounder to select TCU defensive tackle Ross Blacklock, who I mention because he will try to replace former Texans standout defensive tackle D.J. Reader, who signed a lucrative extension with the Cincinnati Bengals this offseason. 
Houston is once again without their first- and second-round picks for 2021, meaning they could potentially miss out on adding any rookie-contract players who can contribute right away (or at all) in next year's draft. 
All in all, this is the price of not having a GM: In the last year, the Texans moved on from Jadeveon Clowney, DeAndre Hopkins and D.J. Reader, yet they still have very little cap space to work with and the lowest draft capital of any team in the NFL for 2021. That's not exactly a recipe for success. But at the end of the day, if Deshaun Watson continues to play at this high of a level, it may all work out in the end.
For Arizona, though, they have a young and talented quarterback, an innovative head coach and one of the best wide receivers in the game, fresh off a newly signed contract extension. The future is bright in the desert.