What better way to ring in the agreement between the NFL and NFLPA last week to open training camps and the NFL season than by putting my name to low-probability predictions? By the nature of lists and rankings, someone has to be first. PFF grades are no different. 
Subscribe to PFF's EDGE or ELITE subscriptions to get access to the following tools, charts, etc. 
– All Premium Article Content
– Fantasy Football Rankings & Projections
– Fantasy Football Draft Guide, Cheat Sheets & Advanced Stats
– Fantasy Football Mock Draft Tool (DraftMaster)
– Fantasy Football Strength of Schedule Matrix
– NFL Player Grades
– NFL Premium Stats
Each year, there are players who take big steps in their careers to pop in the PFF grading scale. While there's always a good chance Aaron Donald will repeat as the highest-graded interior defender — a title he has held for five consecutive seasons — there's no fun in predicting that. So, here are 12 dark horse candidates to finish the 2020 season as the highest-graded players at their respective positions for the first time in their NFL careers. 
For reference, here are the highest-graded players at their respective positions last season. 
2019 Highest-Graded Players at Each Position
Ryan isn't the boldest prediction on this list, but his stock is at a low point after a down season for himself and the Falcons in 2019. The fact that he fell victim to pressure more than nearly any other quarterback in the league last year is a big reason for his meager outlook. No quarterback dropped back to pass under pressure (297 snaps) more than Ryan in 2019, and he saw his PFF passing grade fall nearly 50 points when that pressure did get home. From a clean pocket, his 90.9 passing grade ranked fifth in the NFL. 
If improvements from a young right side of the offensive line lead to more clean pockets in 2020, there is no reason Ryan can't push the league's elite for the title of top-graded quarterback next season — particularly with players such as Julio Jones and Calvin Ridley to throw to. It's easy to forget that the only three qualifying quarterbacks with a higher overall passing grade than Ryan over the past decade are Drew Brees, Tom Brady and Aaron Rodgers. 
Current Seahawks fullback Nick Bellore came on PFF's 2 for 1 Drafts podcast earlier this offseason and said of Carson: "He's an absolute specimen running the ball, and I'm glad I don't play linebacker anymore and play against him because the stuff that he does to guys is disrespectful."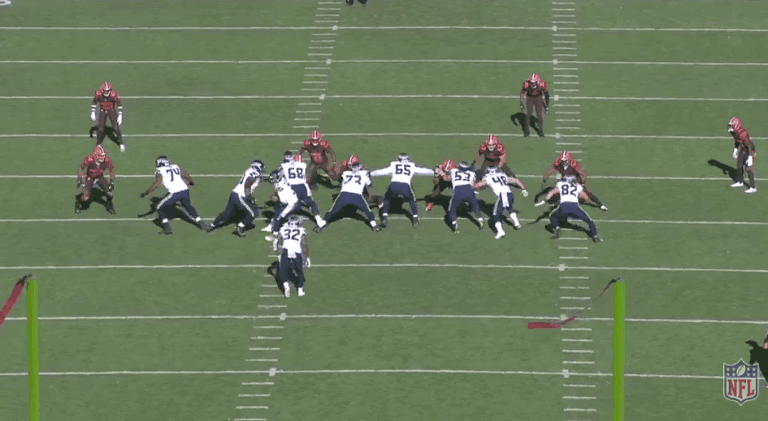 The tape concurs. Over the past two seasons, Carson's 107 broken tackles as a runner are fewer than only Chubb (PFF's highest-graded running back in 2019), and his 3.5 yards after contact per carry average is a top-five mark at the position. That kind of production above expectation is a recipe for grading out highly as a running back, something I expect Carson to do in 2020 if he can remain healthy. 
PFF's fantasy projections — which are slightly less bullish on Golladay now than they were a month ago — currently have him slated for 1,300 receiving yards in 2020. With Matthew Stafford returning and feeding him downfield targets, there is a good chance that Golladay puts up big numbers and high grades in a Detroit offense that was pushing the ball downfield in the passing game early and often during the 2019 season. After all, few players are better at coming down with those deep passes than he is. Golladay's 930 receiving yards on passes 20 or more yards downfield over the past two seasons are fewer than only Tyreek Hill and Mike Evans. Those big plays could be the key to a big grade in 2020. 
I wrote earlier this offseason that, even without a featured role in the Eagles' offense, Goedert is already one of the better tight ends in the NFL. Part of the reason I like his chances here as a dark horse candidate to finish the 2020 season as the league's highest-graded tight end is that, similar to reigning titleholder George Kittle, Goedert can produce from multiple roles — not just as a receiving threat. He joined Kittle as the only tight end to finish 2019 with a top-10 grade at the position as a receiver and as a run blocker.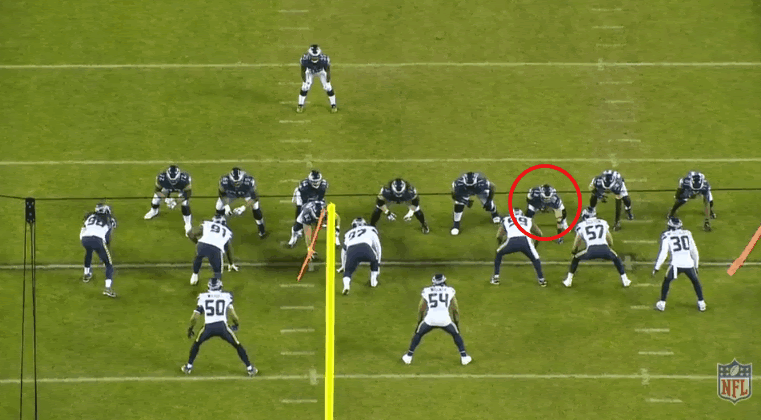 Grading well in both facets simply gives him a better chance to put up an elite overall grade than more one-dimensional players at the position. He may still draw fewer snaps than Zach Ertz next season, but the Eagles will run plenty of plays with both on the field. That gives Goedert plenty of opportunity to continue to show he's one of the league's best at the position. 
Heading into his third season out of Auburn, Smith is an integral part of a Colts' offensive line that enters the 2020 season as PFF's top unit in the NFL. He improved his overall grade from 72.2 as a rookie in 2018 to 79.8 this past season (12th among all qualifying tackles) thanks to a big bump in his run-blocking grade. It rose over 15 points to 86.3 in 2019, and he helped pave the way for a Colts' run game that led the league in expected points added (EPA) per play on runs to the right of the center. If Smith can make a similar jump in pass protection next season, we could be looking at him as a surprise atop our tackle grades. 
Jenkins' overall grade last season may not appear all that impressive, but the number itself can be misleading. For context, here are the grades for every rookie who played at least 100 snaps when lined up at guard last season. 
Rookie Guards in 2019 | Min. 100 snaps
The only rookie guard to best that mark over the past three seasons was Quenton Nelson, who has quickly become one of the best players in the entire NFL. Moving back further to all guards, Jenkins' 69.0 grade ranked 19th among 81 qualifiers in 2019. Considering the learning curve from college to the NFL at a position along the offensive line, there's reason to believe Jenkins should be even better next season. 
Ragnow fit right into his new position in 2019, and given his play at Arkansas while at center, that shouldn't come as a surprise. Similar to his college days, run blocking was the strength of Ragnow's game this past season.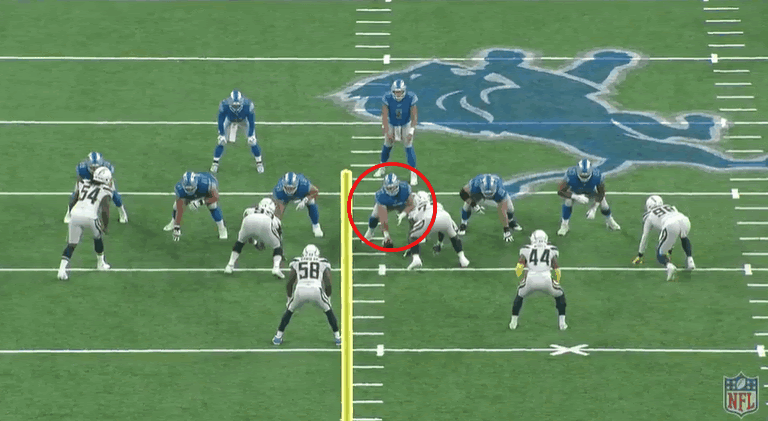 His 78.2 run-blocking grade fell below only Jason Kelce on the season at the position, and his 74.9 overall grade already ranked sixth in the NFL among centers. With Ragnow heading into his second season at the position, there's a real chance we could be talking about him as one of the best young offensive linemen in the NFL this time next season if others aren't already. 
It's a shame that Tuitt's 2019 campaign got cut short due to a pectoral injury because he was on his way to the best season of his career. After recording PFF grades of 80.5 in 2017 and 81.9 in 2018, Tuitt put up an 89.1 mark last season through the first six weeks. His 85.0 pass-rushing grade trailed only Aaron Donald and Calais Campbell among qualifying interior defenders. 
Highest Pass-Rushing Grade Through Week 6 of the 2019 Season | Interior Defenders
In many ways, Tuitt's career is following a similar arc to teammate Cameron Heyward's career. Heyward showed significant improvement over his first five seasons in the NFL before tearing his pectoral muscle in his sixth season. Tuitt's two (plus) best seasons came directly before a torn pectoral muscle in his sixth season. Heyward returned with a career-high 89.1 PFF grade and a first-team All-Pro appearance following his injury. Now, it's time to see how Tuitt responds, but the tools are there for him to be a dominant force on the interior. 
It's hard to imagine a rookie campaign for an edge defender going much better than Nick Bosa's did for the San Francisco 49ers last season, and even he didn't come away as the league's top-graded edge defender. Young is one of the few physical specimens and talents who could accomplish the feat in his first season, though. 
He is coming off a season where he put up a 96.0 overall grade at Ohio State. PFF's lead draft analyst Mike Renner said Young was one of just two prospects he has felt comfortable calling a future Hall of Famer out of college since he started scouting, joining Quenton Nelson out of Notre Dame. Expect big things from Young early in his NFL career. 
Johnson has had anything but a traditional path to the NFL, but at 28 years old, he is finally getting a chance to show what he can do. In his first season with any defensive snaps last season, Johnson recorded an 88.5 overall grade in 2019 — fourth among 89 qualifying linebackers. 
Highest Overall Grades Among Linebackers in 2019
Listed at 6-foot-2 and nearly 250 pounds, Johnson is straying from the way the linebacker position is trending physically. That body does lend itself well to the run game, where Johnson showed physicality and produced, posting a 91.4 run-defense grade on the season. More importantly, his 76.3 coverage grade ranked 10th at the position, showing he's not a liability there, either. Broncos fans should be excited about his prospects heading into the 2020 season. 
After Dean's nightmarish Week 9 performance against the Seattle Seahawks, no cornerback closed out the 2019 season hotter than him. He was making plays on the football at an absurd rate, forcing 10 incompletions on 33 passes thrown his way from Week 10 through the end of the regular season. 
In all, he allowed just 14 catches for 134 yards over that seven-game stretch. It's not the largest of samples to make projections off, but Dean did put together several solid seasons of play at Auburn and clearly has NFL athleticism. Even over just half of a season, it's hard to ignore that kind of production. 
Williams falls into the category of players who shouldn't necessarily be a dark horse to end the year as the highest-graded player at his position, but the public seems to be lower on him than we are. Over his first three seasons in the NFL, he is tied with Micah Hyde for the fifth-highest overall grade at the safety position.
It's not always easy to measure the impact of a free safety on the first watch of a game, given that some of their best plays are ones they prevented from showing up on the broadcast, but Williams has provided real value to the Saints' secondary since being selected in the second round of the 2017 NFL Draft. It would not be all that surprising to see him make a few more plays on the ball next season and become the league's highest-graded safety.