The return on investment from the 2022 NFL Draft wide receiver class was strong. Chris Olave, Drake London and Garrett Wilson all recorded receiving grades above 80.0 this past season, with Wilson winning Offensive Rookie of the Year. But it was someone else who tied legendary Hall of Fame receiver Randy Moss for an NFL rookie record.
The record was the most touchdowns scored in a four-game span for a rookie wide receiver, and the someone else who accomplished it was Green Bay Packers receiver Christian Watson.
Watson didn't finish the year with a season-long receiving grade as high as that of Olave, London or Wilson, but from Week 10 on no rookie receiver recorded a higher receiving grade than Watson (83.4). He also led all rookie receivers in receiving touchdowns (seven), explosive plays (13) and trailed only Garrett Wilson in receiving yards (523 to Wilson's 582) during that span.
Watson ended his season on a high note, but with the way it started, there was no guarantee that would be the case. He suffered a minor knee injury that required surgery and forced him to miss most of training camp. He was able to practice for only a few weeks with the first-team offense before Week 1 rolled around, but injuries on the depth chart thrust him into the starting lineup right away.
The Packers drafted the dynamic North Dakota State receiver at the top of the second round for a reason: They expected big things from him. They knew Watson's athleticism could unlock a new level for their downfield passing attack. That's why, on the first play of the season, they dialed up a deep ball to him. Right from the pre-snap, the play looked like a hit. As the ball was snapped, Watson ran past Vikings cornerback Patrick Peterson to get behind the defense with nothing but green in front of him. Then-Packers quarterback Aaron Rodgers saw that, too, and let it fly perfectly in sync with where Watson was running for a sure-fire touchdown.
"I knew we were going to call that play," Watson said in an exclusive interview with PFF. "Throughout the week we called it on multiple occasions at practice, and we were hitting on it, so the coaches told me we were going to start with that. I was hyped up. We got the perfect coverage for it seeing inside leverage. In my mind, right away I was thinking, 'This is it, this is the start of my career.'"
Or, it should have been.
The ball went right through Watson's hands for a drop. Obviously frustrated, he ran back to the huddle for the next play, eager to make up for his blunder. He wouldn't see another target until the fourth quarter of that game — torture for a young rookie looking to make his mark and earn the confidence of his future Hall-of-Fame quarterback.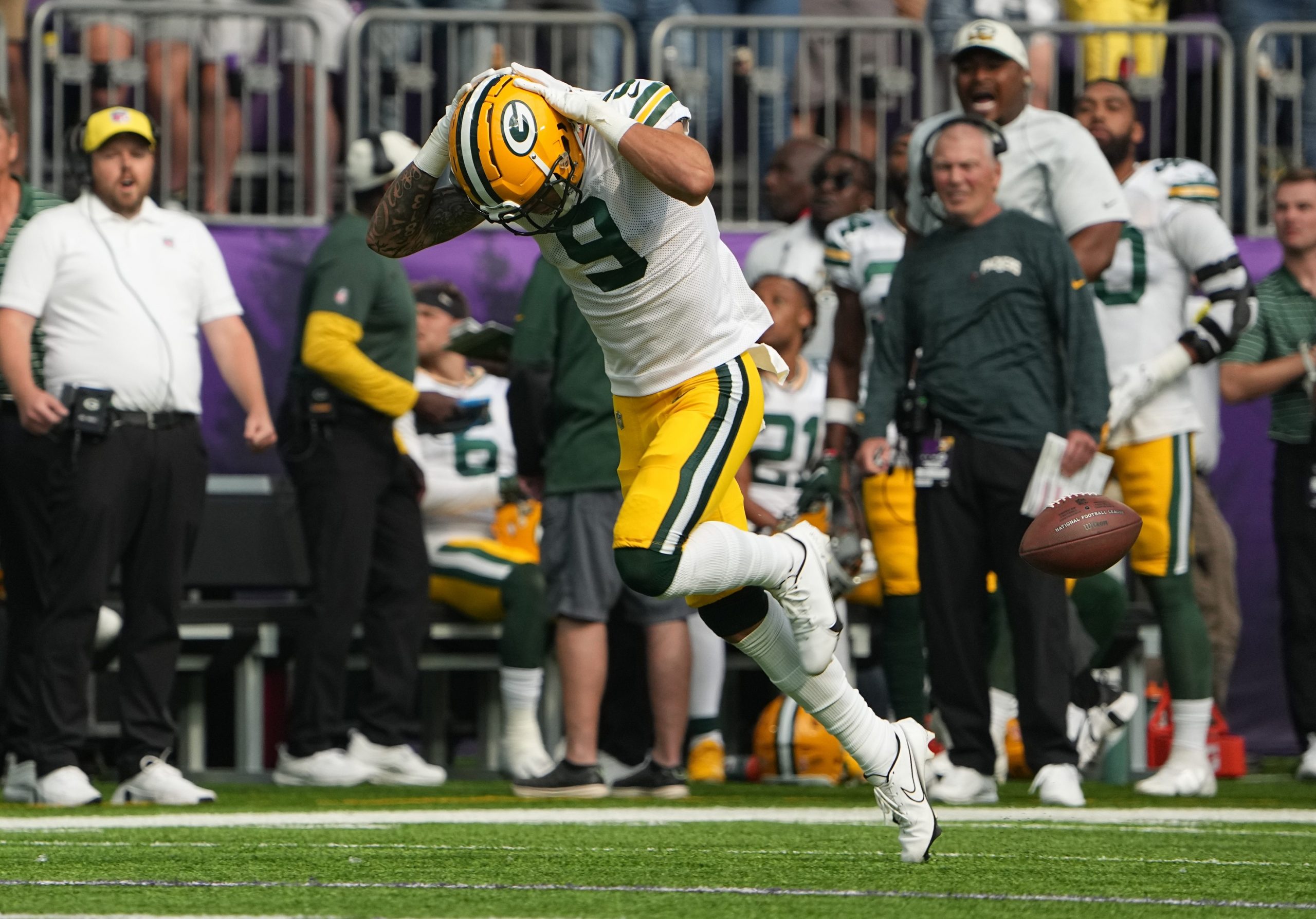 That was a lot of time to think about his first target in the league.
"It was a positive and a negative for me," Watsons said. "I didn't take advantage of the opportunity, and I didn't have the correct mindset. I was thinking, 'This is easy.' I lost my fundamentals. My hands were too far apart. I was fading away from the ball; I didn't have that attacking mindset. It went from the best way to start my career to one of the worst possible ways to start my career, dropping a touchdown."
Watson mentioned fellow receivers Allen Lazard, Randall Cobb and Sammy Watkins encouraging him on the sideline in that game and beyond. Through the ups and downs of that game and the ones that followed, Watson was appreciative of the leadership and mentorship of those veterans. Those players, as well as the coaches, lifted him up, telling him he has made that play hundreds of times before, and that there will be plenty of chances to make them again.
They weren't lying.
Over the next few weeks, Watson battled through a hamstring injury that forced him to miss three games. It wasn't until about Week 10 when he was really feeling good health-wise, and that's when the real Christian Watson arrived.
In Week 10, Watson set season highs in targets (eight), receiving yards (107) and receiving touchdowns (three) in a big shootout win at home over the Dallas Cowboys.
"I saw in an interview later that week that Aaron [Rodgers] had said it was like a weight was lifted off my shoulders, and he took the words right out of my mouth," Watson said. "I felt like that was the point where I could put everything behind me and don't look back. That was definitely the turning point for me."
It sure felt like a turning point. His Week 10 performance kicked off a stretch of four games during which he recorded eight touchdowns in four games (seven receiving and one rushing). From that moment forward, Watson was one of the best rookie receivers in the league, commanding a 25.1% wide receiver usage rate in his offense (how often he was targeted versus how many routes he was running).
Those veterans — Lazard, Cobb and Watkins — who Watson leaned on last season are now elsewhere heading into 2023. When glancing at the Packers' depth chart, Watson feels like the choice for Green Bay's WR1 in just his second year.
The Packers are also ushering in a new era at quarterback, as Jordan Love will be taking over full time with Aaron Rodgers now in New York with the Jets. It's a youth movement for Green Bay's passing attack, and Watson is excited about his connection with Love.
"People need to understand that [Love] was learning and practicing and in the meeting rooms with a Hall of Fame quarterback each and every day," Watson said. "He's his own quarterback, but I'm sure he's taken so many things from Aaron [Rodgers]. We've seen a lot of flashes of what he can do. It's only going to be put more on display. Everything we've seen so far is only going to be multiplied. We're ready to go out there and ball. We have full confidence in him."
From injuries to early playing time to redemption and an arrow pointing way up, Watson's rookie season was one where he felt the full rollercoaster of early NFL life. From his point of view, what he learned most is that he has to believe in himself before anyone else does, and that comes with "being great" in all aspects of his life, not just on Sundays.
There were times when Watson learned he could do things a better way, or that he could be more prepared when his number was called. But they call it a learning year for a reason. You take you good, you take the bad, and you are better for it.
That's how Watson sees it.
"It went exactly how it was supposed to go," Watson said. "I think I needed every bit of the trials and tribulations along the way in order to build me up, build that confidence and build that momentum. … It showed me what this league was all about and how to find my footing."