Overreactions — both good and bad — take shape after every Week 1 contest in every NFL season, regardless of the teams or players involved. And now that we are a few days removed from the opening week of the 2021 season, those overreactions have been flooding the NFL news cycle.
Let's dive into PFF's advanced database to identify the overreactions that should be bought into and the ones that should be ignored.
---
Click here for more PFF tools:
Rankings & Projections | WR/CB Matchup Chart | NFL & NCAA Betting Dashboards | NFL Player Props tool | NFL & NCAA Power Rankings
---
MAC JONES SHOULD BE THE FAVORITE FOR NFL ROOKIE OF THE YEAR
Buy or sell?: Buy
Jones is already making a strong case that he is the most NFL-ready quarterback from his class.
The Patriots quarterback shredded the defenses he faced in the preseason and carried that success into Week 1 by winning PFF Rookie of the Week despite the loss to Miami. He was decisive, accurate, made the right reads and looked poised beyond his years, minus an early fumble. He finished with a 76.6 passing grade anchored by four big-time throws, tied for fourth-most for the week. His 11.4% uncatchable pass rate ranked seventh. 
The Patriots quarterback became the new favorite to win the Offensive Rookie of the Year Award after this strong performance, according to DraftKings Sportsbook. At this point, it's hard to disagree with that.
TREVOR LAWRENCE IS GOING TO STRUGGLE IN YEAR 1
Buy or sell?: Buy
Lawrence is one of the best quarterback prospects the NFL has seen this century and was the easy choice to go first overall. However, that still doesn't mean he will light up the league right away, especially considering his situation with the Jacksonville Jaguars.
Lawrence had a lackluster debut against the Houston Texans, one of the NFL's bottom-tier teams. He earned a 57.3 passing grade, ranked dead last in uncatchable pass rate (26.7%) and tied for the most turnover-worthy plays (three). The decision-making was brutal, and he looked like a typical rookie. 
The No. 1 overall pick's ceiling is the highest of the draft class, but he might take some time to get there.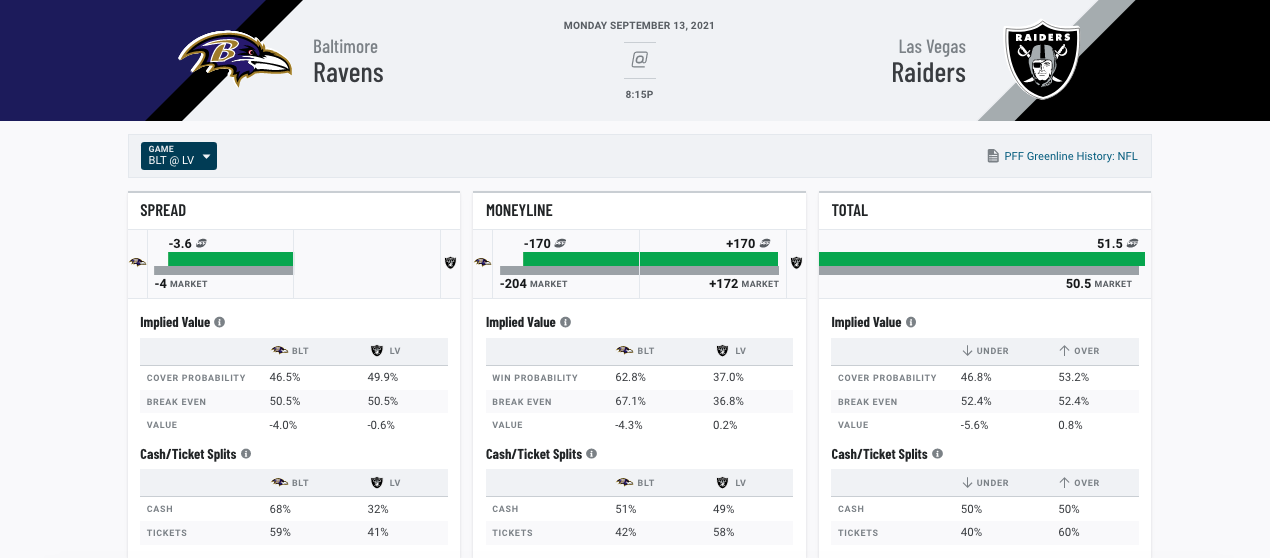 Buy or sell?: Sell
The Steelers may have upset the Buffalo Bills on the road, but there was one big red flag with the surprising W: The performance from quarterback Ben Roethlisberger.
Big Ben's arm is nowhere near where it needs to be. The ability to accurately throw the ball into tight windows with any zip or touch is simply not there. Throw in the lack of mobility, and defenses will feast on the veteran quarterback in 2021.
Roethlisberger produced two turnover-worthy plays trying to make something happen on the move, and he had twice the number of negatively graded throws than positively graded ones. As a result, he finished with a 38.0 PFF grade, last among all quarterbacks in Week 1. 
On top of all of this, Pittsburgh also has the hardest remaining schedule among the 32 NFL teams. The defense and coaching staff remain great, but as long as their quarterback situation is like this, any talk of them contending for the Lombardi Trophy is a non-starter.
KYLER MURRAY IS GOING TO HAVE A JOSH ALLEN-ESQUE BREAKOUT IN YEAR 3
Buy or sell?: Buy
Murray took a big step forward with his pocket passing a season ago, but the mistakes he made while trying to create something outside of structure always capped his ceiling.
While Murray did have one such interception in Week 1, he made up for it with no fewer than six big-time throws, which led all quarterbacks for the week and topped his career-high by two. He wasn't forcing the ball as much and did a fantastic job attacking the receiver's leverage.
Kyler Murray was a human highlight reel in Week 1 pic.twitter.com/jxEkTau2Yz

— Anthony Treash (@PFF_Anthony) September 14, 2021
Only time will tell whether or not this is a new Murray that will take that next step throughout this season, but there's plenty of reason to buy into the idea that he learned from his past mistakes.
JALEN HURTS IS THE LONG-TERM SOLUTION FOR PHILLY
Buy or sell?: Sell… For now…
Jalen Hurts had a career day against the Atlanta Falcons. He tied for the second-highest PFF grade for the week and played a disciplined brand of football inside of the pocket. Holding onto the ball and taking risks were major issues in Hurts' rookie campaign, but that was nowhere to be found in Atlanta.
Jalen Hurts inside the pocket 
| | | |
| --- | --- | --- |
| 2020 | | 2021 Week 1 |
| 2.77 | Avg. Time-to-Throw | 2.16 |
| 9.7 | Avg. Depth of Target | 3.0 |
| 0.19 | EPA per pass | 0.57 |
Out of the pocket, Hurts completed five of his eight attempts for 50 yards and a score, one of which was a big-time throw. Hurts generated the lowest negatively graded throw rate overall of Week 1, which was a metric he ranked 33rd in last year.
Philadelphia did some hand-holding with its second-year signal-caller; the receivers helped him significantly after the catch, and the defense he faced falls into the bottom-tier of the league. Still, it was a promising performance for the sophomore quarterback. Now, he needs to repeat this kind of outing consistently to prove he can be that guy.

IT'S TIME TO PANIC IN GREEN BAY
Buy or sell?: Sell
It was truly a dumpster fire of a day for the Green Bay Packers, who lost by 35 points to the New Orleans Saints. Reigning MVP Aaron Rodgers looked anything like the top player in the NFL and had one of the worst performances of his career. His 43.3 PFF grade was the second-lowest of Week 1 and is among the five worst of his time as the Packers' starting quarterback.
According to PFF's ball-location charting, Rodgers also threw only 30% of his passes accurately, which is the worst mark he has posted in a single game since PFF began collecting that data in 2016. The Packers ranked 31st in EPA per play generated and 32nd in EPA per play allowed on defense.
As bad as this all sounds, it's time to R-E-L-A-X Green Bay (for now, at least).
It was only one week. The Packers still rank eighth in PFF's Power Rankings and are the clear favorites to win the NFC North. They are coming off a successful 2020 campaign and retained their most important pieces from that squad. 
Buy or sell?: Buy
Winston's return to the field was low-volume but high-efficiency. He led the Saints to 0.71 EPA per pass on 25 dropbacks, a mark that led every passing offense in Week 1 and would have been the best figure of the Saints' 2020 campaign.
Winston ended up tying with Jalen Hurts for the second-highest PFF grade of the week and didn't make any of those classic head-scratching passes. He also threw a dime downfield that shows the difference between him and Brees:
Post-LASIK Jameis is coming for the MVP
pic.twitter.com/Pb7R0ostpl

— PFF (@PFF) September 12, 2021
Last year's form of Brees couldn't hit throws of that nature, and defenses knew it. As PFF's Mike Renner highlighted on Monday, Winston opens up the playbook for Sean Payton and the Saints, which will make things that much more difficult for opposing defenses.
He'll need to add more to his plate before we can declare post-Lasik Jameis a new man, but the early returns were great, and his proven high end from the past shows he is capable of leading the Saints to one of the top passing offenses in the NFC. If the overall decision-making is truly improved, we can start talking about the Saints as a top-three team in the NFC.