If you've watched your fair share of NFL broadcasts, you've heard the term "shot play." It's the single most dramatic play in football. For the three or so seconds the ball hangs in the air, fans hold their breath and rise to their feet in near unison like Pavlovian dogs after a bell. That's because the range of outcomes involved in such a play is so apparent. One fluky bounce, improbable catch or soul-crushing drop can ultimately determine the outcome of the game.
That high-level variance involved in one play not only makes football so fun, but it makes shot plays a critical staple of offenses around the NFL.
The New Orleans Saints were always the exception — until now.

---
CLICK HERE FOR MORE PFF TOOLS:
Rankings & Projections | WR/CB Matchup Chart | NFL & NCAA Betting Dashboards | NFL Player Props tool | NFL & NCAA Power Rankings
---
Facing Drew Brees and the Saints' offense the past couple of seasons was akin to death by a thousand paper cuts. They were going to methodically march the ball downfield by churning positive plays on the ground and never letting the ball hit the turf through the air. Over that span, only the Baltimore Ravens have had fewer plays result in a loss or no gain.
With a strong defense and the most accurate quarterback in NFL history, that was a winning formula. New Orleans went 25-7 over the regular season the past two years despite little semblance of a downfield passing attack. Only the San Francisco 49ers, who've dealt with injuries at the quarterback position, managed fewer big-time throws than the Saints, per PFF's charting over that span. Last season, Brees' arm strength issues came to a massive head. His farthest throw all year traveled a measly 38 yards past the line of scrimmage, and he threw only five passes all year targeted over 30 yards downfield (four different quarterbacks had four such throws this past week alone).
DREW BREES 2020 PASSING MAP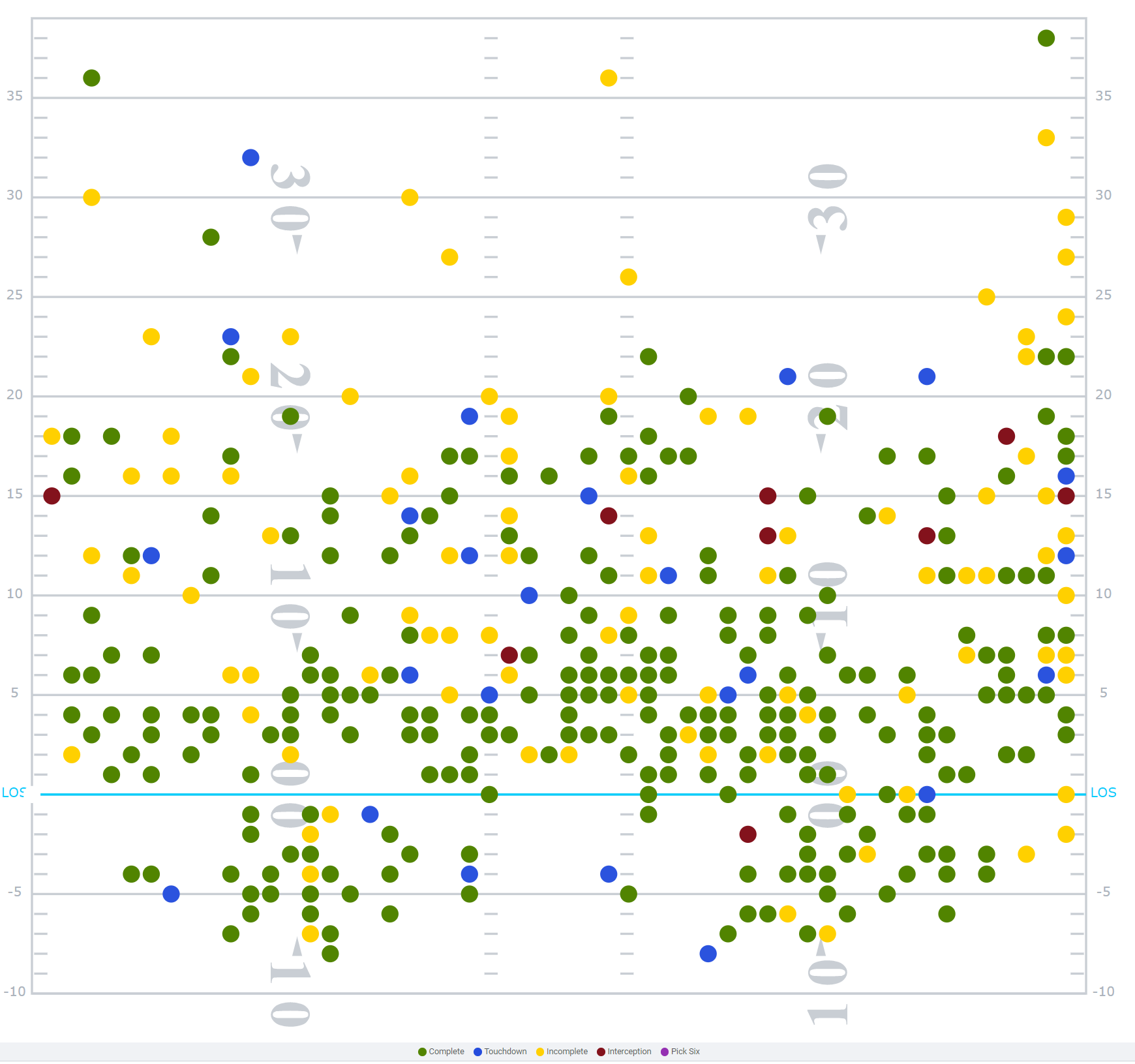 While the Saints were still ultra-consistent offensively, problems arose when opposing defenses were talented enough to stop that constant churn. Teams that could stop the run and play enough press-man to disrupt quick underneath passes were an issue. Brees finished 21st in passing grade against man coverage last season and averaged only 6.4 yards per attempt. Those issues reared their ugly heads against the Tampa Bay Buccaneers in the divisional round, when Brees couldn't find space underneath and didn't have the arm to attack downfield. 
He threw just one pass that traveled 20-plus yards downfield on 37 dropbacks and had a 6.6-yard average depth of target, with his farthest completion coming only 18 yards downfield. He finished 19-of-34 for 134 yards with a touchdown, three interceptions and a 48.8 PFF grade. The early playoff exit was eerily reminiscent of the Saints' loss to the Minnesota Vikings the year prior, when Brees yet again failed to generate explosive plays. He didn't make a single big-time throw, and only six of his 75 dropbacks resulted in gains of 15-plus yards in those two losses.
While Brees' consistency was enough to get the job done in the regular season, running the table against three or four playoff teams sometimes requires variance. The Super Bowl runs that Eli Manning, Joe Flacco and Nick Foles embarked on in the past decade were done not because they played perfectly efficient football but, rather, because they were able to generate explosive plays with a high-variance play style.
Enter, Jameis Winston — the high-variance king himself. He racked up more big-time throws in 2019 than Brees had in 2019 and 2020 combined (31 vs. 27). He also tallied more turnover-worthy plays in 2019 than Brees had in 2019 and 2020 combined (40 vs. 32). His recklessness in Tampa Bay was left unchecked and almost encouraged by Bruce Arians' vertical passing offense. While he passed for over 5,000 yards with a 10.9-yard average depth of target, Winston was left without a starting job offer at the year's end.
JAMEIS WINSTON 2019 PASSING MAP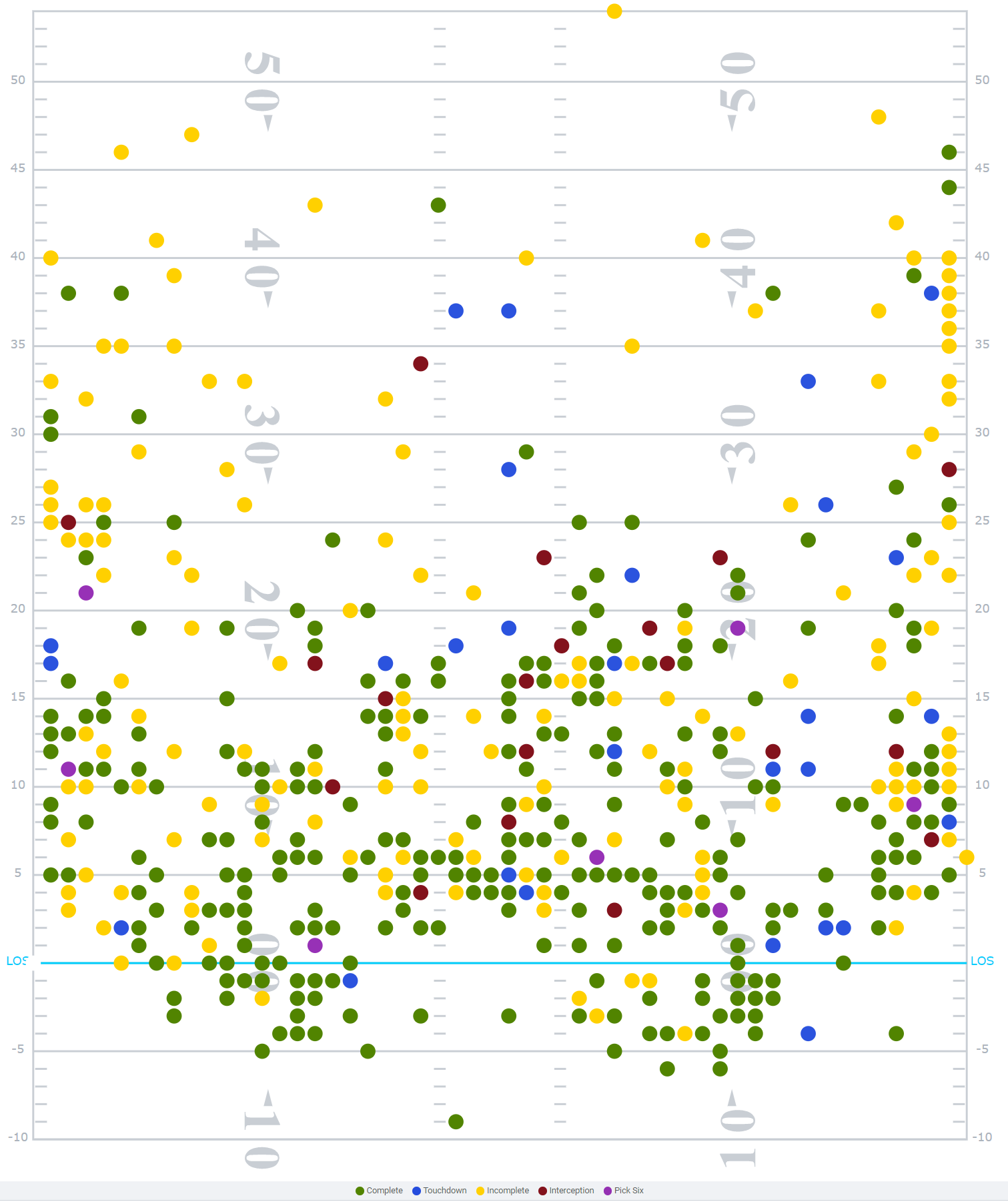 Philosophically, his play style was diametrically opposed to what the Saints' offense been in recent years. That's why many were left perplexed when he came on as a backup in New Orleans last year. In retrospect, it may have been exactly what both parties involved needed. While the Saints obviously needed that explosive element Winston could provide, the signal-caller needed the reeling in that Sean Payton's varied quick passing game can provide.
The early returns are everything Saints fans could have hoped for. After a lights-out preseason, Winston and the Saints' offense carved up the favored Green Bay Packers in Week 1 en route to a 38-3 victory. He finished 14-of-20 for 148 yards, five scores, no picks and an 81.1 passing grade. Winston's 8.9-yard average depth of target was higher than all but two games Brees had last season — and also a yard and a half lower than any season of Winston's career. And maybe more importantly, the shot play was back in the Saints' offense.
Post-LASIK Jameis is coming for the MVP
pic.twitter.com/Pb7R0ostpl

— PFF (@PFF) September 12, 2021
The above play is a ball that traveled in the neighborhood of 60 yards through the air on a concept that Brees simply couldn't have run. New pages of the Saints' playbook are unlocked like for Sean Payton and company. It's difficult to measure exactly what that field-opening ability does to opposing defenses. From a coverage perspective, it will change the looks the Saints get because defenses have to respect that threat. Even though New Orleans fans will have to get used to more turnovers, they'll also rarely feel the helplessness of having no recourse to defenses that shrink the field as they did against the team in the past two postseasons.
While the Saints may not be as much of a threat to win the regular season in the NFC this year, Winston's variance and high-end play make this team more of a Super Bowl threat should they make the playoffs. A more restrained Winston could be the lightning in a bottle New Orleans needs.