It's easy to forget how crazy the 2020 NFL season was now that we approach some level of normalcy. 
Last season, rookies were thrust into NFL action or cast aside without any preseason to change opinions or alter their fate. This season, the NFL preseason is back — albeit with a different number of games — giving us the chance to check out rookie players on the big stage for the first time.

---
Click here for more PFF tools:
Fantasy Draft Kit | PFF Betting Dashboard | PFF Fantasy Rankings
PFF Fantasy Projections | NFL Premium Stats | Win Totals Tracker
---
The lack of preseason football didn't prevent some of the top players from having all-time great seasons, but how many players missed out on whatever development advantage that preseason presents? How many missed the opportunity to change their standing within the roster and be given greater opportunities when the real bullets start to fly in Week 1 of the regular season?
These few weeks of preseason are a chance for some of these second-year players to hit the field and show they can hang at this level, even if their rookie year could have used seasoning.
Obviously, there is no point analyzing the play of players such as Justin Jefferson, Chase Young or Justin Herbert, sophomores whose rookie years were so dominant that, in some cases, they aren't even featuring this preseason at all. But there are players whose rookie year didn't go to plan. Those are the players this article is focusing on.
The Steelers are amid a rebuild on the offensive line, and Dotson is at the heart of it at his guard spot. A fourth-round pick last season, Dotson saw a handful of snaps in Week 1 before starting in the second game of the season against Denver. He played reasonably well across 358 snaps as a rookie but was particularly impressive as a pass-blocker, earning a PFF grade of 87.2 and surrendering just one hurry in 219 pass-blocking snaps.
Those are the kind of data points that get people excited for a young player's potential, but a little over 200 pass blocks is still a very small sample size. Head coach Mike Tomlin has also repeatedly poured cold water on the Dotson hype, first saying he had done nothing to earn first-team reps. When he finally did get those reps, Tomlin said to reporters, "I wouldn't anoint him just yet."
The second-year lineman now has an overall PFF grade of 92.9 and a mark of at least 86.5 as both a run-blocker and pass-blocker. He has yet to allow any pressure this preseason and has been a big part of the Steelers' offensive line not looking as weak as it seemed on paper. 
Josh Uche Snaps by role + alignment

Run defense

11

EDGE

25

Pass rush

17

LB

9

Coverage

8

Other

2
Uche was one of the most dynamic pass-rushers in the nation while at Michigan and was highlighted as a potential "tweener" in the 2020 PFF Draft Guide.
The 6-foot-3, 238-pound edge was low on experience in college, rushing the passer just a little over 300 times in his entire career. Still, he was devastating when he did, generating a pass-rush win rate of 28.2% that ranked second in the nation.
All of that made him a perfect Patriots player, but picking up that role in the NFL isn't a quick process. Uche played just 179 snaps as a rookie after being selected in the second round of the 2020 draft.
He flashed ability in those snaps, but his first preseason has been important for him to prove he can nail down a much larger role this year. He was excellent in his debut against Washington, notching three total pressures on 12 rushes from the edge but then lived a second life in the game as an off-the-ball linebacker, lining up there 11 times and dropping into coverage on eight snaps in the game.
Uche may yet become that tweener player for the Patriots, and this preseason is going a long way to proving he has the chops for it.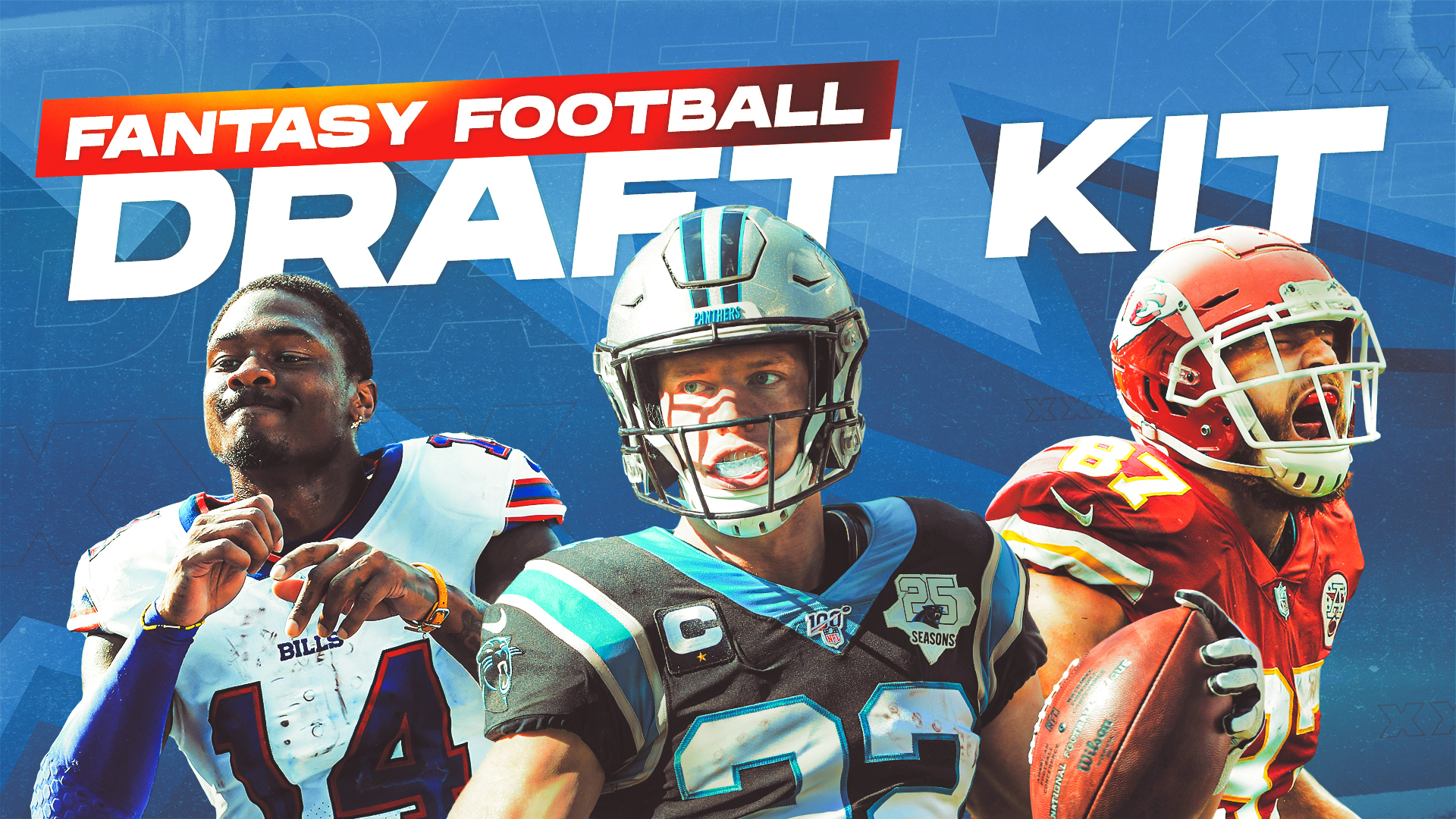 Between the lack of preseason and having to suffer through Drew Lock as his quarterback, few players had a more forgettable rookie year than the former Penn State star.
Hamler also held the dubious honor of leading the league in drop rate, putting a full 18.9% of his catchable targets on the ground. Hamler ended his rookie season with 54 targets, 30 catches, 381 receiving yards and an overall PFF grade of just 55.9. 
Still, he was one of the biggest X-factor players in the draft, and we are beginning to see the potential he has in his first preseason. Hamler has already torched the Minnesota Vikings secondary for an 80-yard touchdown in his preseason debut before following that up with a much shorter touchdown reception against Seattle.
Hamler has split his time in the slot (55%) and outside (45%), and despite that two-yard touchdown pass has an average depth of target of 22.3 yards downfield. Hamler's speed is lethal to an NFL defense, and he is showing there is a little more to his game, as well.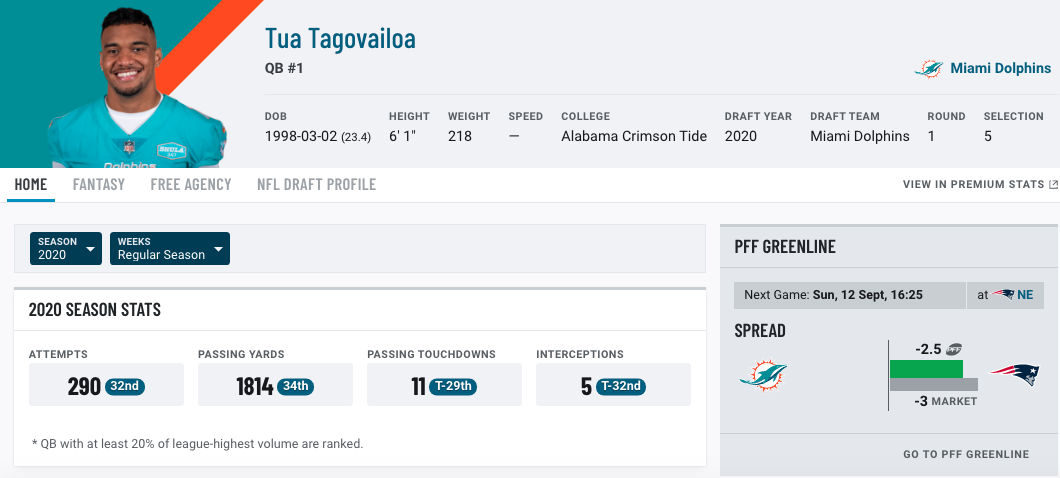 Tagovailoa is pushing the extremes of this thought experiment because he was a top draft pick who ended up starting most of the year after Miami benched starter Ryan Fitzpatrick in Week 8.
What makes Tagovailoa's first preseason important is that his rookie year was very underwhelming. He wasn't bad, but nor was he capable of just steering the ship without running it aground, and the team had to bench him on multiple occasions over the season to put Fitzpatrick back in to try and rescue a result.  Compared to fellow top-six draft selections Joe Burrow and Justin Herbert, Tua looked disappointing.
When you consider the major injury he was working his way back from, you could argue that Tua would have benefitted more than most first-round rookie quarterbacks from a preseason in his rookie year, and this year he gets the opportunity to show that he has addressed some of the failings from his debut season.
Tua's biggest issue last year was a lack of big plays. His big-time throw rate of 2.3% was the lowest mark in the NFL, with just seven such throws coming across nine starts. He already has two in just 34 dropbacks across this preseason and has looked markedly more confident and assertive with the football. It's only preseason, but these are important snaps for Tua to rebuild his confidence after a shaky start to his pro career.
Related: Tua Tagovailoa has improved — but is it enough? via Seth Galina
Baun was one of the best edge rushers in the nation in college at the University of Wisconsin. He was the fifth-ranked edge rusher on the PFF Big Board last year, coming off a season with an overall PFF grade of 89.6 in which he notched 13 sacks and 52 total pressures across 347 pass-rushing snaps.
Despite that rush prowess at around 230-pounds, Baun was always likely to transition to an off-the-ball linebacker role at the next level. And that's what has happened. No preseason a year ago won't have helped that transition, but this year we are starting to see the fruits of that move.
So far this preseason, Baun has earned an overall PFF grade of 91.2 and been deployed off the line of scrimmage on all but three of his snaps. That experience as an elite college pass-rusher still stands him in good stead, and he has three pressures from just eight snaps rushing the passer. Baun also has a batted pass and four defensive stops to his name as he battles to carve out a significant role in a loaded New Orleans defensive front this season.
The high-end plays from Jordan Love are so fun to watchpic.twitter.com/np9t4UZx5x

— Sam Monson (@PFF_Sam) August 24, 2021
Unlike other first-round rookie quarterbacks, Love was never expected to start in Year 1. He was backing up Aaron Rodgers, and even before the 2020 season, Rodgers would have been expected to start every game. When he then upped his performance back to MVP levels, it was never a question. Love spent the season as the No. 3 quarterback having had no preseason to get any game time and so didn't take a single NFL snap during his first year in the league. 
This year's NFL preseason is his first game time at this level. Unfortunately, an injury has cost him some of that valuable game time, but Love saw 28 snaps in Week 1 against Houston, displaying the full Jordan Love experience across them. Love uncorked a nice big-time throw and put up an adjusted completion rate of 86.7%, but he also tried to force an ill-advised pass into double coverage and his grade netted out at a solid-but-unspectacular 72.4 overall. 
The starting job is still not an option for him this season, but Love needs some game reps at this level. And the Packers need them in order to better inform their long-term plans at the position.
Unlike most of these players, Wharton actually impressed enough to make waves last year without a preseason. An undrafted rookie out of Missouri S&T, Wharton would have been a supreme long shot to even make the final roster when he first caught on, but he not only survived the final cuts, he played 612 snaps on the defensive line in Year 1.
The raw talent was there, but between needing to maximize his physical tools — he was listed at just 255 pounds — and the jump in competition, his overall PFF grade was just average at 61.8.
In his first preseason action, Wharton seems intent on showing what he has been able to build on top of that rookie foundation. He has an overall PFF grade of 91.7 through two weeks of preseason action, and the Chiefs are confident enough in what he brings to the table that they have been willing to move their best defensive player, Chris Jones, to the edge full time in order to accommodate the riches they have in their interior talent.
Wharton now has five total pressures on 32 pass rushes. His run defense is still a question mark, but Wharton looks like an impact interior pass-rushing force on a defensive line that suddenly has more than one of them. Given the leap he was making a season ago, this preseason performance could be a real indication that he is set for big things in 2021.
Mason Kinsey has been legitimately ballin' this preseasonpic.twitter.com/wUQvAvGwVB

Also this was an absolute dime from Matt Barkley

— Sam Monson (@PFF_Sam) August 24, 2021
An undrafted rookie a season ago out of Berry College, Kinsey was the first player ever to sign an NFL contract out of that institution, but the lack of NFL preseason a year ago meant he never got the opportunity in Year 1.
He had two stints on the New England Patriots practice squad over the course of the regular season but then signed a futures contract with the Titans and has been making waves into the preseason for them.
Kinsey has played 62 snaps across two preseason games thus far, and those snaps have seen him earn 12 targets. Given that he has only been on the field running pass patterns on 31 snaps, that target rate of 38.7% is an impressive figure.
Kinsey has caught 10 of those targets for 107 yards and a score, generating 3.45 yards per route run. He is a classic slot receiver in profile, and he has lined up inside on 90.3% of his snaps so far.
Tennessee has elite receivers at the top of the depth chart, but the proven quality gets pretty thin pretty quickly, and so another strong preseason game from Kinsey could see him force himself into the conversation for playing time this season on the active roster.