We are closing in on the final stretch of the 2020 NFL season, so we have just enough time to check in on what a PFF All-Pro team would look like if the season ended now, almost three-quarters of the way through.
We're only a few weeks removed from our All-Pro team at the midway point of the year, and many of the positions have remained the same. But there is a lot of movement at the top and some fierce battles for positions that could get very interesting to watch in the final weeks.
So let's dive into the team.
Rodgers maintains his spot as the All-Pro quarterback despite a wobble in his season, and now his closest competitor is a resurgent Patrick Mahomes. Rodgers has 30 big time throws — just three behind Russell Wilson for the league lead — and has offset those with just seven turnover-worthy plays, tied for the fewest among full-time starters. Rodgers has three single-game grades above 90 this season, and while box score stats often don't tell the whole truth, they can paint a nice picture — he has only one game with a passer rating of under 107.
Derrick Henry has begun to go full beast mode in recent weeks and is actually playing better now than he was last season during the peak of his production. We know he leads all backs in rushing yards, but he is closing in on eclipsing 1,000 yards after contact again, averaging 3.7 yards after being hit per carry. Only Henry and Dalvin Cook have more total rushing yards this season than Henry has racked up after contact, and if anything he looks like he is only just getting started.
Arguably the best route runner in the league for a number of seasons, Davante Adams has stepped up his game this year to simply being the best and most complete receiver and the go-to player for Aaron Rodgers. The only knock on Adams is durability, as he has missed at least a game in every season since 2016. This year, he isn't just the best-graded receiver in the NFL but the most productive, leading the league in yards per route run at 2.96 — one of only three receivers to average more than 2.5 yards for every pass pattern they have run.
Justin Jefferson made it as far as he did in the draft because of questions about whether he could be as successful outside at the NFL level as he was in college lined up in the slot. Apparently, the answer isn't just "yes" — it's emphatically so. Jefferson is second only to Adams in yards per route run this season (2.91) and has three single-game PFF grades above 90, with one more of 86.6. He has caught 73.2% of the passes thrown his way and continues to dominate even when Adam Thielen is missing from the Vikings lineup.
This one might be the biggest no-brainer decision in the team. Only Tyreek Hill and D.K. Metcalf have more receiving yards than Travis Kelce does this season, and he has the highest PFF grade of any receiver regardless of position. He already has 95 targets this season and has dropped just one pass, racking up over 400 yards after the catch and generating a passer rating for Patrick Mahomes of 129.7 when throwing the ball his way. Kelce's blocking is also impressive for a player who doesn't need it to be, and with George Kittle missing time this season, Kelce has been in a world all by himself.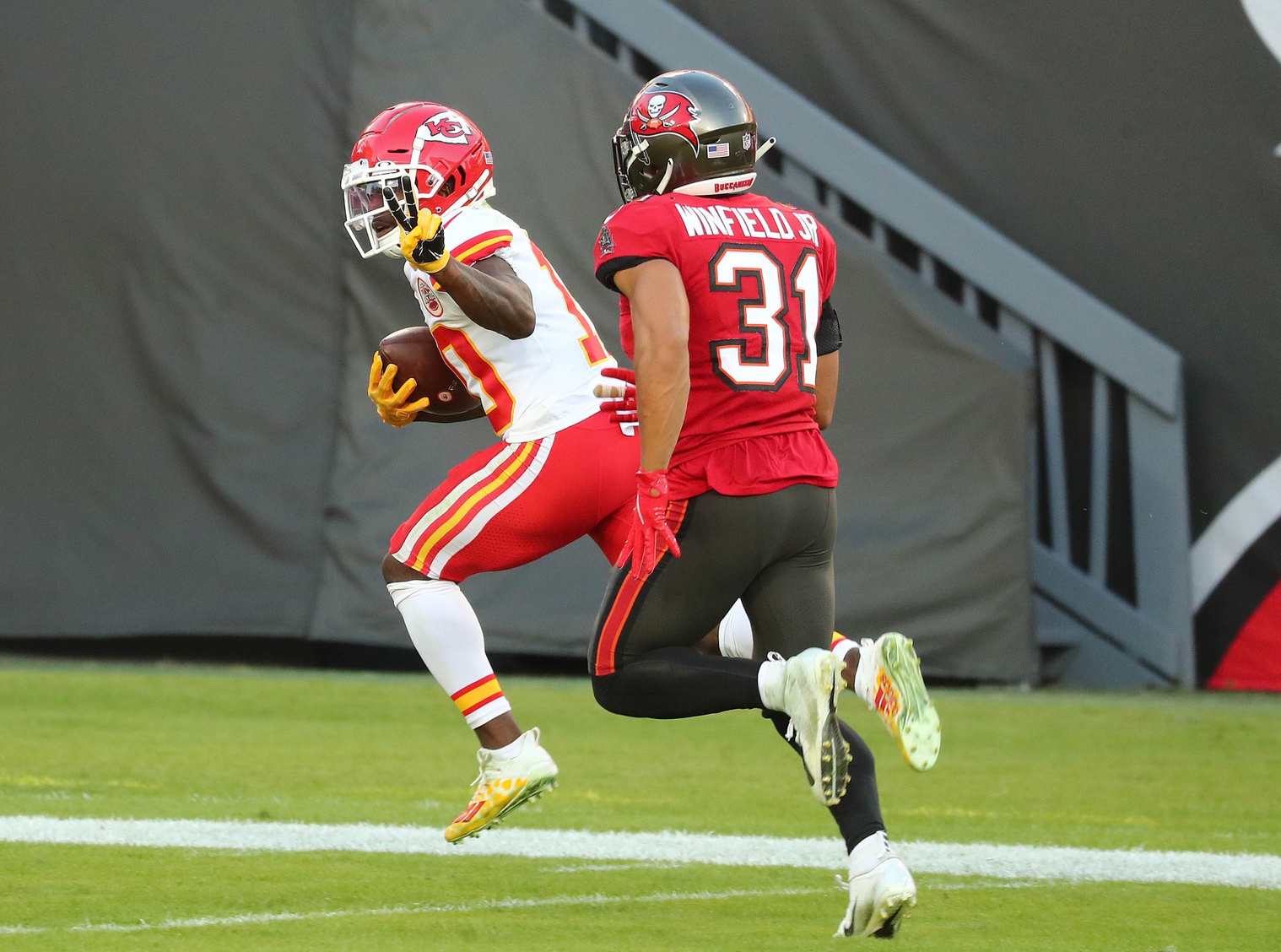 We saw this week against the Tampa Bay Buccaneers just how much of a cheat code Tyreek Hill is if he gets the opportunity to show it. The Buccaneers left him single-covered and he set about lighting their secondary on fire, putting up over 200 receiving yards in the first quarter alone before the team adjusted and paid more attention to the danger he presents. Hill is one careless defensive snap away from a touchdown at any given moment, and that danger is only magnified when his quarterback is Patrick Mahomes.
Replacing a Hall of Fame caliber player on the offensive line is a long shot, but the 49ers seem to have done just that in moving from Joe Staley to Trent Williams. Williams currently has an overall PFF grade of 90.0, his highest mark since 2016. Across 12 weeks of play, he has surrendered just 12 total pressures and has four perfect games of pass protection. Run blocking has been as dominant as you would expect from Williams if you have seen even a few seconds of his highlight reel. In a really tight battle among left tackles this season, he currently occupies top spot.
Cleveland's offensive line has been one of the best in the NFL after upgrading in several spots from last year's unit. The group is aided by the scheme that arrived in the offseason, and that benefit can be seen in holdovers such as Joel Bitonio seeing a clear jump in performance. Bitonio boasts an 84.3 overall PFF grade through Week 12, which would be a career-best if it holds, and he has surrendered only eight pressures. He has always been a good pass blocker, but the new system has allowed him to post by far the highest PFF run-blocking grade (80.0) of his career.
Corey Linsley has been the standout player at the center position, and it's one of the bigger gaps between the top player in the league and their trailing competition. He has an 89.8 overall PFF grade, which is more than 10 grading points higher than the next best player. He has surrendered just two total pressures across 379 pass-blocking snaps and has the best run-blocking grade of any center, as well. Unfortunately for Linsley, a sprained MCL may keep him out for as much as the rest of the regular season, which will make earning this spot at the end of the year a challenge.
Zack Martin is another player who just went down to injury and is expected to miss some significant time. Ironically, the thing giving him the nod over Wyatt Teller — who has a better overall PFF grade — is playing time. Teller has missed time with injury, while Martin had been on the field more often — earning more than 120 additional snaps of playing time to offset the difference in grade. Martin has allowed just one sack this season despite the disaster in Dallas on the offensive line and at quarterback. He was also asked to kick out to right tackle, where he played well before going down with an injury.
The best right tackles in the league this season aren't able to match the peak play of their teammates on the left side, but they have at least been significantly more healthy. Jack Conklin has been a big part of Cleveland's resurgence in solidifying the team's offensive line. He has allowed just 11 total pressures all season, only one of which has been a sack on Baker Mayfield. And officials have penalized him just once as he continues to be a dominant force in the run game.

Breaking news: Aaron Donald is very good at football. How good? Well, he leads the NFL with 66 total pressures, seven more than any other player at any position. Donald is the only primarily interior player we have seen lead the league in total pressures since 2006, and he has done it in three of the past four seasons, including this one. He is the best pass-rusher in football and continues to produce at this level despite the extra layers of attention and game-planning that go into reducing his impact. He is the gold standard at the position.
The battle to be the best interior defender in the league after Aaron Donald has been hotly contested for a number of years now. Cameron Heyward held that title in 2019, and judging by his play this year, he is reluctant to let it go without a fight. However, he is just jumped on this team by DeForest Buckner. In his first season with the Colts, Buckner has been even better than advertised, posting 32 total pressures and 20 defensive stops. And when he has been out of the lineup, the magnitude of his loss is immediately obvious.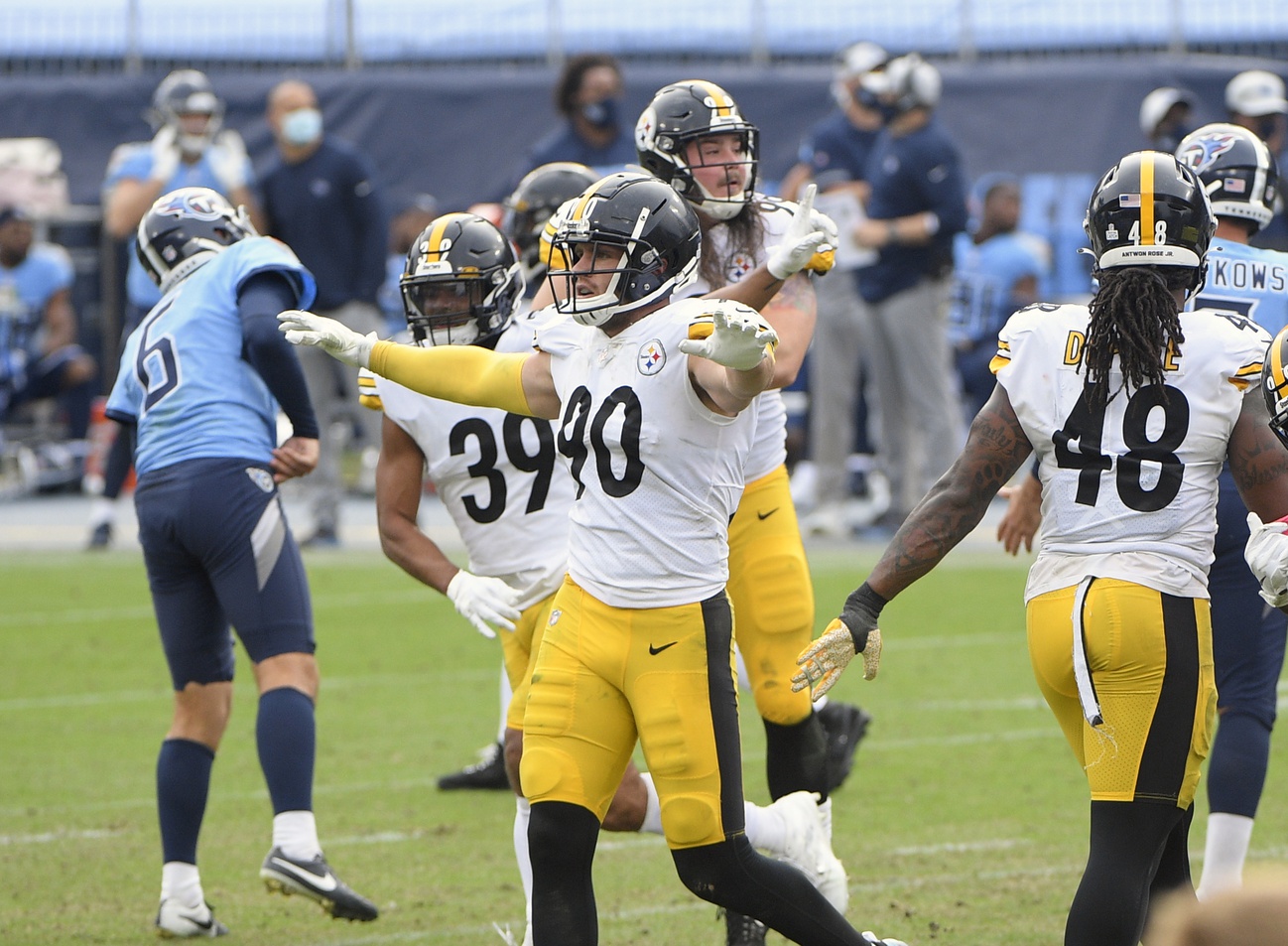 T.J. Watt had a legitimate Defensive Player of the Year type of season in 2019, but he fell short and is coming for it again in 2020. He has 54 total pressures, ranking third in the NFL, and the best pass-rush win rate (25.7%) of any player — including Aaron Donald. Watt even has an interception to his name on a play he had no business making when he dropped underneath a quick-game pass to pick off New York Giants quarterback Daniel Jones in Week 1.
We are seeing Khalil Mack back to his best play again this season after a couple of years in which he either missed time injured, was good but not great, or both. His 91.6 overall PFF grade is the best mark he has posted since 2016 when he was still playing in Oakland for the Raiders. And he has elite marks in both run defense and as a pass rusher, to boot. Mack owns the highest PFF pass-rushing grade (90.8) of any edge rusher this season, just ahead of Joey Bosa and T.J. Watt, thanks to the decisiveness of his wins and a pair of forced fumbles.
Seattle's defense may be struggling badly this season, but you can't fault Wagner for what's happening. The veteran linebacker continues to set the standard at the position and has even been asked to take on extra roles and responsibilities as the Seahawks try and patch up weak areas. Wagner has 18 total pressures from blitzing and has already tallied the second-most pass-rushing snaps in a season of his career, and we saw on Monday night that he still has the coverage skills to run step for step with an elite receiving tight end and break up the pass at the catch point.
Few positions have been hit as hard by the explosion of offensive production and efficiency in 2020 than linebacker, but one player who has been standing impressively against the tide is Minnesota's Eric Kendricks. A season ago, Kendricks broke out with a PFF coverage grade of 88.4 and an overall mark of 90.1, and this season he has continued to make those plays in coverage. He has three interceptions and three more pass breakups from 42 targets into his coverage and is just four defensive stops away from matching what he managed in all of 2019, including the playoffs.
Dating back to college, Howard's high-end play has always been spectacular. The issues have come with consistency and the low-end play that comes along with it. This season, that low-end play has been largely absent. Howard has allowed just 48.5% of passes thrown into his coverage to be caught, the best mark of his career; he's also allowed a passer rating of 50.3, also a new career-best. He has seven interceptions, which capture the headlines, but also another eight pass breakups and three games in which he allowed no receiving yards at all to opposing receivers.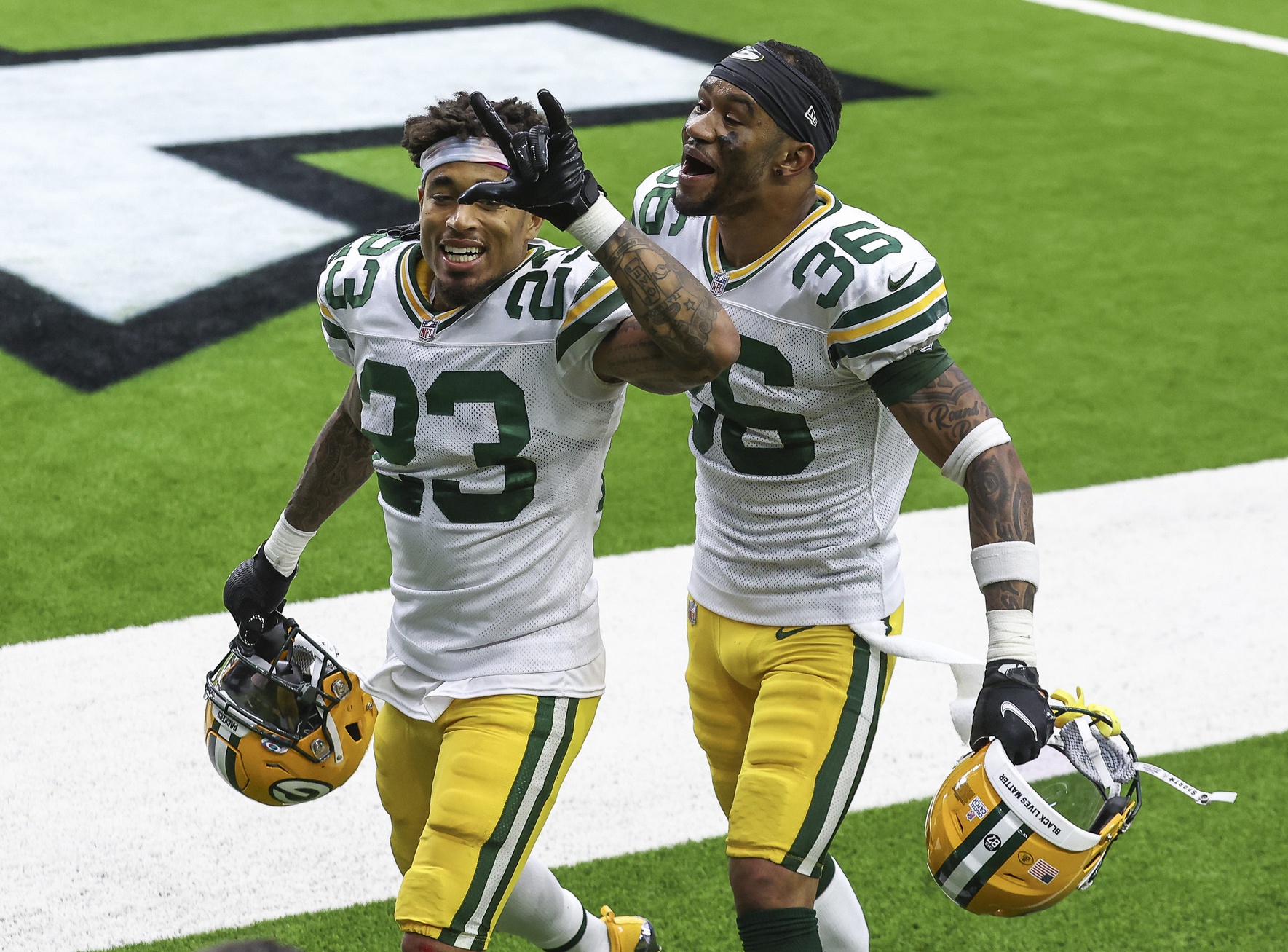 Alexander was the clear-cut best corner in the game for the first half of the season, but he has started to wobble in recent weeks, with some more average performances throwing his spot on the team into jeopardy. Overall, Alexander has still only allowed 241 receiving yards all season, and the lone touchdown he has allowed came in the first week of the season against the Vikings. Throwing the ball Alexander's way has generated a passer rating of only 70.4, and he has been flagged just once for a penalty all season. He has also allowed only 9.6 yards per reception, so even when he has given up catches, they have done little damage.
There might not be a more impressive cornerback performance overall this season than that of Bryce Callahan for the Broncos. A slot cornerback by trade, Callahan has been forced to play outside — on both sides — due to injuries at times this season. He has held up well and been elite when in the slot, but even overall has allowed a passer rating of just 46.9 all season to go along with a completion rate of 53.8%. He hasn't been beaten for a touchdown all season, and the longest completion into his coverage went for only 19 yards.
There aren't many reasons to be cheerful about the Bengals' defense, but the play of Jessie Bates has been one of them. Bates has three interceptions to his name but also 10 pass breakups and the best PFF coverage grade (91.2) of any safety. His range from the middle of the field has been remarkable, and he has been making plays against some high-end quarterbacks with little help alongside him. This is on pace for by far the best season of his young career and a truly All-Pro caliber one.
Second Team: Marcus Maye, New York Jets
Justin Simmons had an All-Pro caliber season in 2019, and he is doing his best to back it up in 2020 with an overall PFF grade of 86.5. Simmons has already matched the four interceptions he had last season, but he has made fewer plays on the football overall and been less successful in preventing touchdowns. He has still shown the ability to make plays all over the field, and he's made far more plays close to the line of scrimmage than most free safeties. His 20 defensive stops rank in the top 10 among all safeties, including those whose primary role is to exist in the box.
Sanders has been the best kicker in the league overall this season and has just one miss from 51 attempts. He owns a perfect record from eight attempts at 50 yards or more.
There are few wider gaps between a player and the rest of his peers than that between Jack Fox and the rest of the punters. His box score averages are excellent, but nobody has matched his combination of hang time, direction and distance all season.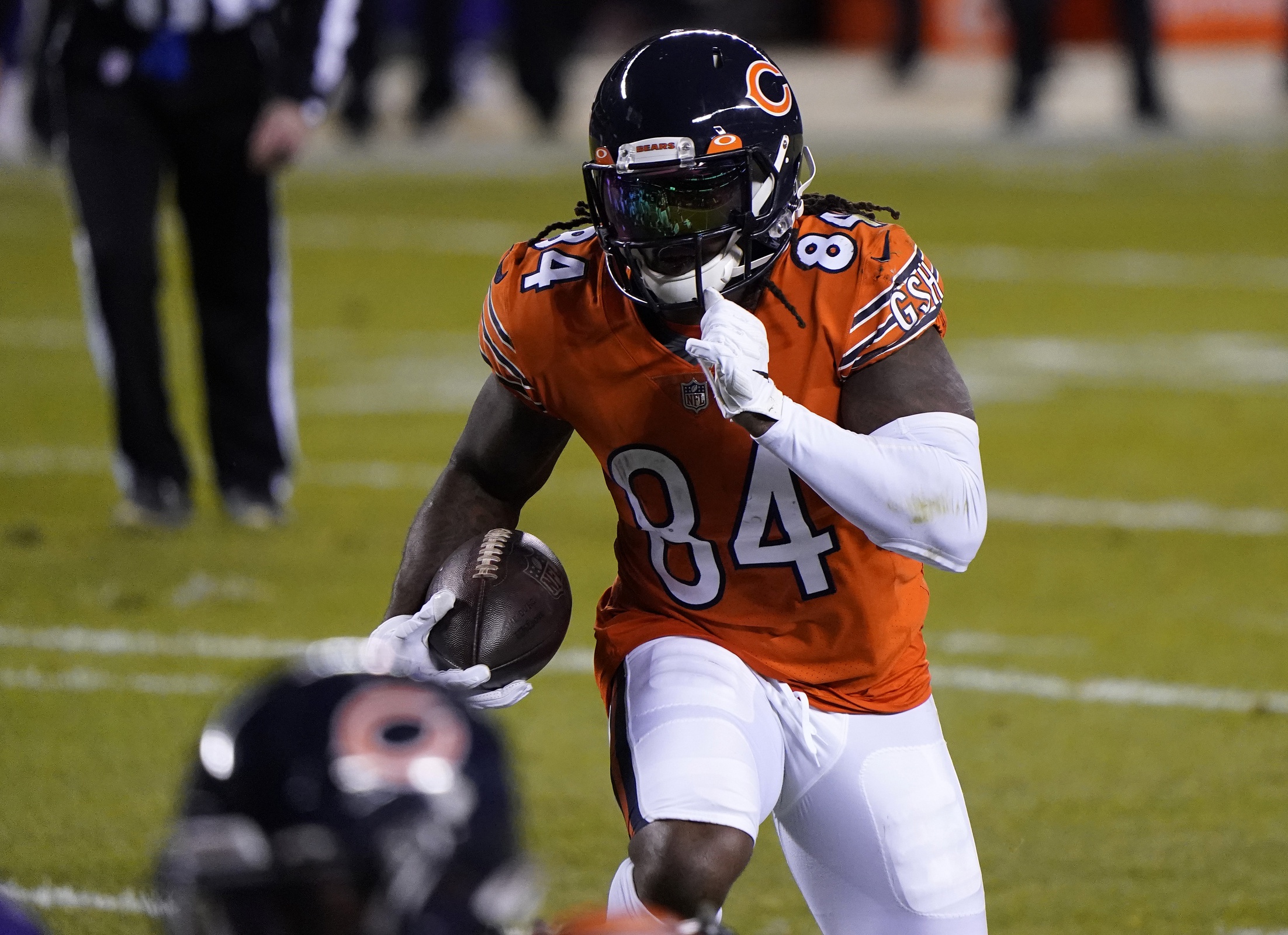 Patterson tied the all-time kick-return touchdown record with his eighth score against the Vikings in Week 10 and has an average of 29.6 yards on returns, with by far the highest PFF grade (87.4) when he does bring one out.
Indianapolis is evidently the place for special teams this season. George Odum plays on five phases of special teams and has 10 total special teams tackles to his name along with a PFF grade above 90.0.