• Christian McCaffrey is on pace for a record-breaking season: The 49ers' star running back is on pace for 2,550 scrimmage yards.
•Aaron Donald is back to his best: The Los Angeles Rams' standout interior defender leads the position in quarterback pressures through Week 4.
• Looking for more grades and data? To access PFF Premium Stats, subscribe now!
Estimated Reading Time: 7 minutes
---
We're four weeks into the 2023 NFL season, and the league's best players are showing out, whether that be the leader of a high-powered Miami Dolphins offense, a San Francisco 49ers running back on pace for a record-breaking year or the most accurate long snapper in football right now.
Here is PFF's first-quarter All-Pro team.



---
Offense
Tua Tagovailoa had a rough outing against the Buffalo Bills in Week 4 but is on pace for 38 touchdown passes at the helm of the NFL's most high-powered offense. He's tied for fifth in the league with eight big-time throws through four weeks and sports the 12th-lowest turnover-worthy play rate (2.6%) at the position.

McCaffrey is on pace for 2,550 scrimmage yards this season, dominating for the 49ers to open the year. He is averaging 4.0 yards after contact per carry and leads all running backs with 22 missed tackles forced on rushing attempts through four weeks. His 323 rushing yards after contact are more than all but himself and D'Andre Swift have in total rushing yards.
While his numbers have dipped after an incredible opening game against the Los Angeles Chargers in which he racked up 215 yards, Tyreek Hill still ranks third in the league with 470 receiving yards through four weeks. He is averaging 3.92 yards per route run, placing second among wide receivers.
Aiyuk is the only player averaging more yards per route run than Tyreek Hill, coming in at 4.57. He has yet to drop a pass from the 17 catchable targets thrown his way, and while the 49ers' offense has plenty of weapons, he has been quarterback Brock Purdy's favorite target when healthy this season.
The rookie leads all tight ends with 242 receiving yards through Week 4 and is the only tight end in the league to average more than 2.00 yards per route run (2.30) across 20-plus targets. He is also tied for the league lead at all positions with six contested catches.
Jefferson leads all receivers with 543 receiving yards this season. He ranks fifth in the NFL with an average of 3.25 yards per route run and has yet to drop any of the 33 catchable passes sent in his direction.
Williams has been nearly perfect in pass protection in 2023, allowing just three hurries from 132 pass-blocking snaps through four weeks. He's been a standout as a run blocker, too, with his 84.8 PFF run-blocking grade ranking third among offensive tackles.

Smith missed the first two games of the season but has otherwise been arguably the best guard in football. He has yet to allow any pressure from 92 pass-blocking snaps and has produced a 92.7 PFF run-blocking grade.
Ragnow owns the second-best PFF run-blocking grade among centers this season (84.8). He has allowed four pressures from 145 pass-blocking snaps, although they all came in one rough outing in pass protection against the Atlanta Falcons.
Lindstrom has had his issues in pass protection, allowing seven pressures on 152 pass-blocking snaps, but has been among the best run blockers at the position again, with his 82.3 PFF run-blocking grade ranking third among guards.
O'Neill is the highest-graded run-blocking offensive tackle this season, earning a 90.3 PFF run-blocking grade. He's been solid in pass protection, too, allowing just five total pressures from 180 pass-blocking snaps.
---
Defense
An immediate standout on a very talented defensive line, Carter has impressed both as a run defender and a pass-rusher in his first four NFL games. From 104 pass-rushing opportunities, he has racked up 20 total pressures, including two sacks.
Rumors of Donald's decline have been greatly exaggerated. After injuries limited him last year, he has looked back to his best in the early stages of the 2023 season. His 22 total pressures are the most of any player on the defensive interior — and more than all but four edge defenders.
Bosa has been a standout run defender and pass-rusher so far this season. His 20 pressures through four weeks ties him for seventh among edge defenders, with half of those pressures resulting in a quarterback knockdown via either a sack or hit.

Leading all players with 23 total pressures, including six sacks and six hits, Garrett boasts a 94.0 PFF pass-rush grade — the best of any player in football right now. He struggled against the run this week against the Ravens but has earned 90.0-plus PFF pass-rushing grades in all four games this season.
If Roquan Smith's addition looked good in 2022, it looks even better early in 2023. Tied for seventh at the position with 15 tackles resulting in a defensive stop, Smith is the only linebacker in the NFL to earn 80.0-plus PFF grades in coverage and against the run.
Williams leads all linebackers with 23 tackles resulting in a defensive stop through four games. Recording three pass breakups, also tied for the lead at the position, has helped him earn a position-leading 90.2 PFF coverage grade.
On the field for 165 coverage snaps, Fuller has allowed just 41 receiving yards on seven receptions from 14 targets. He's been one of the best tacklers at the position, both in coverage and against the run, with his 11 tackles resulting in a defensive stop ranking second at the position.
Bland paces the cornerback position with three interceptions so far this season. From 123 snaps in coverage, he has allowed 10 receptions on 18 targets for 111 yards, with a pair of pass breakups to boot.
Bates' three interceptions ties him with DaRon Bland and New York Jets safety Jordan Whitehead for the league lead through four weeks. His 89.4 PFF coverage grade ranks second at the position, and he has missed just 2.9% of his tackle attempts.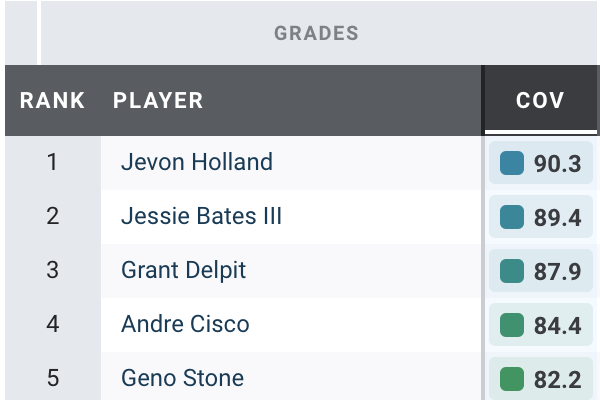 Holland's 90.3 PFF coverage grade is the best at the position. He has yet to record an interception but has two pass breakups to his name and a pair of forced fumbles. He looks to be on track for a career year.
McDuffie, in his second year out of Washington, has been a standout in the slot for the Chiefs. Targeted 17 times from 137 snaps in coverage, he has allowed 111 yards on 11 receptions. He has yet to record an interception or a pass breakup but has forced two fumbles.
---
Special Teams