Through Week 7, the Arizona Cardinals have outscored opponents 225-114 — good for a +111 scoring differential — while the Buffalo Bills are right behind them at +105.
Through Week 7 of the 2020 season, the Kansas City Chiefs and Baltimore Ravens led the NFL at +75 — a whopping 36 points behind Arizona this year. It goes beyond just looking at the top spots, too. The Tampa Bay Buccaneers are +86 while the Cincinnati Bengals and Los Angeles Rams round out the top five at +61.
What does this have to do with free agency? 
Well, it's even bleaker on the other end of the spectrum. There are currently nine teams with a point differential below -40, whereas last year at this time, there were just five such teams. The gap between the good teams and the bad teams grew this offseason, meaning free agency has already begun for a lot of clubs that view 2022 and beyond as the priority. It's never too early to start researching who could hit the open market next offseason. 
Another added layer to free agency this time around is that there were a lot of one-year deals given out last offseason because of the drop in the salary cap. So players such as Miami Dolphins wide receiver Will Fuller V and Pittsburgh Steelers wide receiver Juju Smith-Schuster are back on the open market once again. 
Editor's note: Several factors have gone into these free agency rankings, so they are not solely derived from PFF grade. Three-year grades span from 2019 to Week 7 of the 2021 season.
Click here for more PFF tools:
Rankings & Projections | WR/CB Matchup Chart | NFL & NCAA Betting Dashboards | NFL Player Props tool | NFL & NCAA Power Rankings
---
OFFENSE
Center
Best available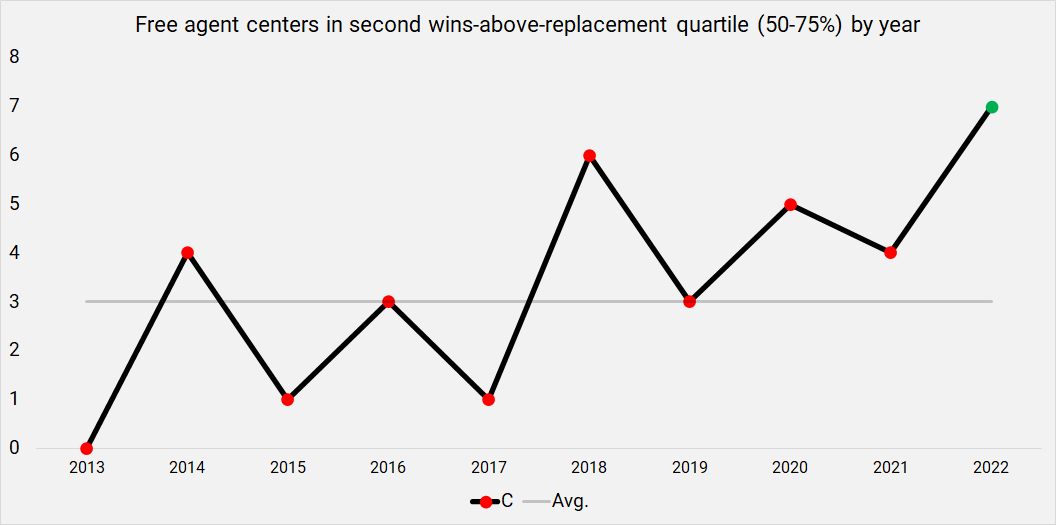 2022 presents a very strong class of free-agent centers, with Iowa center Tyler Linderbaum also looking like a first-round lock. Linderbaum is PFF's highest-graded center thus far in 2022 after earning the top honors in 2021. If you need a center, this is your offseason.
Class strength rating: 9/10
---
Guard
Best available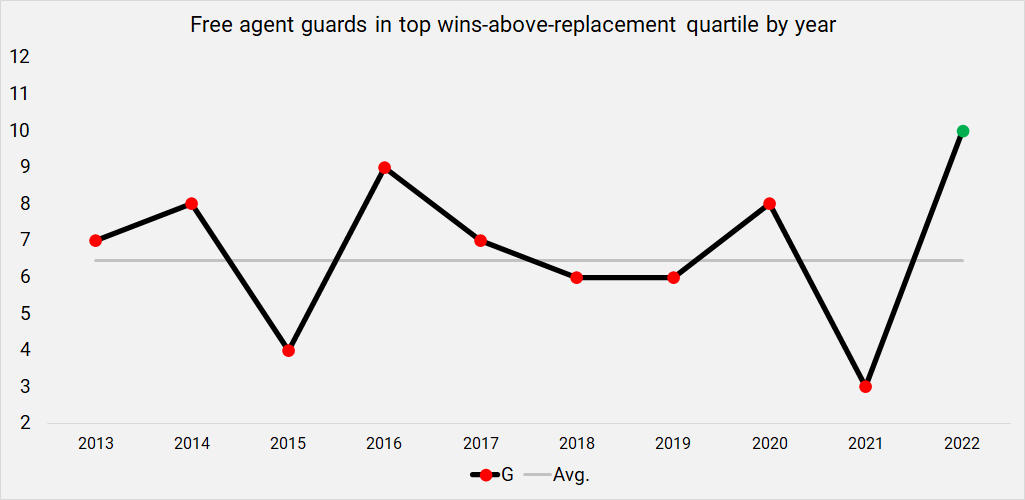 Depth options
The strength of the free-agent class along the interior of the offensive line continues at guard, as Cleveland Browns guard Wyatt Teller and Washington Football Team guard Brandon Scherff are both looking to perhaps become the highest-paid player at the position. Beyond the top five, players such as Indianapolis Colts guard Mark Glowinski, Chicago Bears guard James Daniels and Jacksonville Jaguars guard Andrew Norwell — whose 82.4 pass-blocking grade through Week 7 ranks third among guards — could be solid mid-tier veteran options.
Last offseason, we saw many of the top-paid guards get cut as cap casualties or accept a pay cut, including now Baltimore Ravens guard Kevin Zeitler. If the trend continues into 2022, the guard market could be flooded with talent. It may not be so wise to spend top dollar if a team can avoid it.
Class strength rating: 8/10
---
Running Back
Best available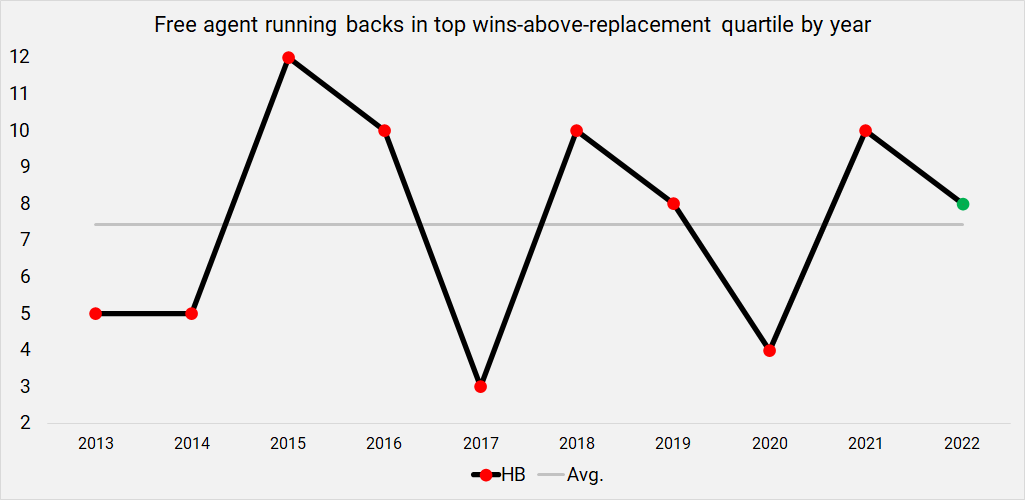 Depth options
The 2021 offseason didn't have any top-end free agent running backs available once Green Bay Packers running back Aaron Jones signed his extension to run it back, and this year looks to be no different. Last year, the biggest free-agent contract doled out was a two-year, $11 million deal for Las Vegas Raiders running back Kenyan Drake, but his replacement with the Arizona Cardinals, Chase Edmonds, has been much better so far this season, though his backup James Conner is starting to eat into his workload rather significantly. 
Teams should never spend a significant amount of free agency dollars on a running back even if some productive players are available, and the NFL seems to have finally figured that out. 
Class strength rating: 5/10
---
Quarterback
Best available
If a perceived "good" quarterback reached free agency in the first place, it is an inherent red flag because teams don't let good QBs reach free agency. As for veteran quarterbacks who can serve as a bridge to a franchise's next signal-caller, there are a handful of solid options available. 
The only player here that a team may view as a potential franchise quarterback is Jameis Winston. With a 66.1 passing grade that ranks 24th among quarterbacks even in a Sean Payton offense behind one of the league's premier offensive lines, it's hard to imagine things getting much better for Winston. In his defense, the New Orleans Saints have trotted out the least talented group of wide receivers through seven weeks in the NFL. Nevertheless, it's hard to envision a team making a truly big offer for Winston at this juncture.
Depth options
The one intriguing depth option at quarterback is Bills backup Mitchell Trubisky. With the Bears offense a complete and utter failure whether Nick Foles, Andy Dalton or Justin Fields now are under center, teams may now look at Trubisky through a different lens. 
Should he have been drafted No. 2 overall ahead of Patrick Mahomes? No well-adjusted individual is convincing themselves of that. However, is he as bad as he looked during his time in Chicago? Can Bills offensive coordinator Brian Daboll — credited with a lot of Josh Allen's remarkable turnaround — help Trubisky grow in a similar manner? 
These are the questions that could intrigue teams.
Class strength rating: 3/10
---
Related content for you: 12 potential NFC trades ahead of the 2021 NFL trade deadline via Brad Spielberger
---
Offensive Tackle
Best available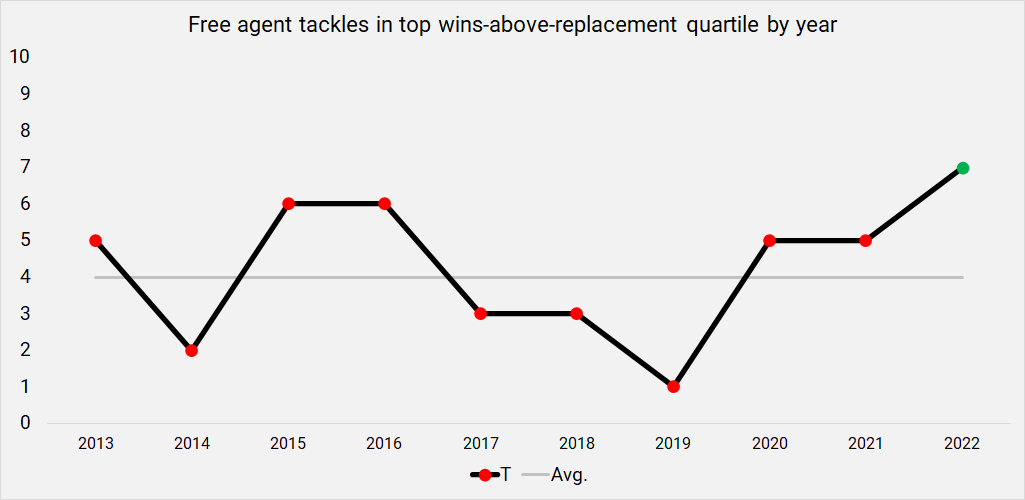 The Saints always find a way to fit the players they want to retain under the salary cap, but the 2022 offseason will present yet another challenge. Terron Armstead is a premier left tackle, and with players like Rams tackle Andrew Whitworth still playing at a high level into their 40s, 31 years old shouldn't scare any teams away in free agency. Entering his age-33 season, San Francisco 49ers tackle Trent Williams reset the market at left tackle last offseason at $23.01 million per year, so there's plenty of recent precedent weighing in Armstead's favor from an age standpoint.
New Orleans is projected to be around $55 million over the 2022 salary cap when the offseason begins — a number that seems easily surmountable for general manager Mickey Loomis and vice president of football administration Khai Harley after clearing over $100 million in cap space last offseason. And it very well may be easy, but the Saints likely won't have the luxury of an uber-cheap Winston to save them at the league's most expensive position. If Armstead does reach the open market, there's probably a good chance he, at least, comes close to resetting the market at tackle once again.
Depth options
The Bengals made the most polarizing decision of the 2021 NFL Draft in selecting LSU wide receiver Ja'Marr Chase No. 5 overall. Chase's 754 receiving yards through seven games are an NFL record, so with the gift of hindsight, it appears they made a good decision.
The opportunity cost of the decision to not draft Oregon tackle Penei Sewell meant they had to sign former Minnesota Vikings tackle Riley Reiff in free agency to keep Joe Burrow upright and healthy. Reiff has been OK so far adjusting to life as a right tackle after years operating exclusively at left tackle. 
New York Jets tackle Morgan Moses — a surprise cap casualty of the Washington Football Team — and Jaguars tackle Cam Robinson also present solid options as well.
Class strength rating: 7/10
---
Tight end
Best available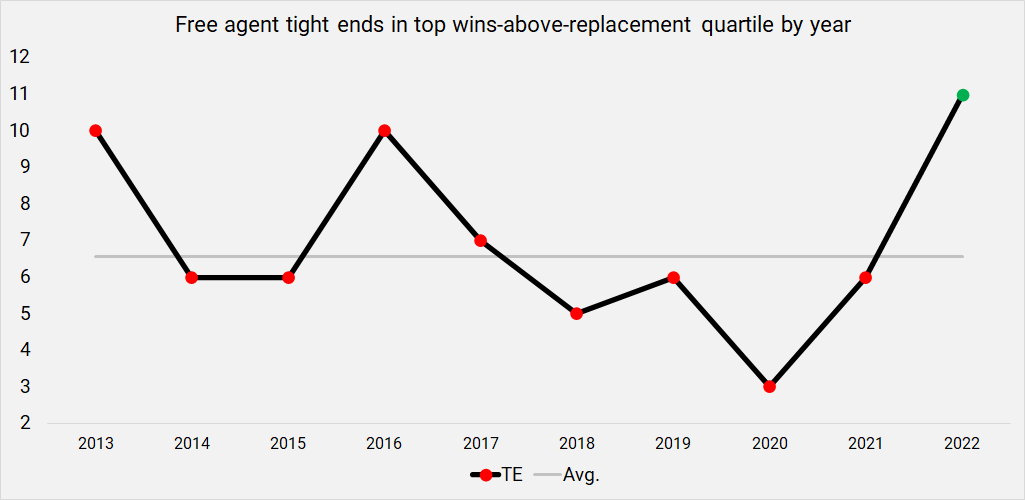 With the continued growth of the pass-catching tight end, we're often reminded of how hard it is to find talent at the position. There were just two tight ends in 2020 with at least 75 receptions compared to 22 wide receivers. Going further, there were just 14 tight ends with at least 50 receptions in 2020 compared to 55 wide receivers. Obviously, there are supposed to be more wide receivers garnering targets, but the gap is still huge.
However, with players such as Atlanta Falcons tight end Kyle Pitts entering the league — and breaking an NFL record for the most receiving yards by a tight end through his first six games that stood since 1961 — the tides are turning. This year's free-agent class is emblematic of a new NFL, especially when you consider that Philadelphia Eagles tight end Dallas Goedert and Dallas Cowboys tight end Dalton Schultz were not even their respective teams' TE1s until very recently. 
Depth options
The list goes on and on at tight end. Two 2017 first-round picks in the New York Giants' Evan Engram and Cleveland Browns' David Njoku slot in at Nos. 6 and 7 while the Cardinals' Zach Ertz, Chargers' Jared Cook, and Steelers' Eric Ebron are also set to test the open market. 
Class strength rating: 10/10
---
Wide Receiver
Best available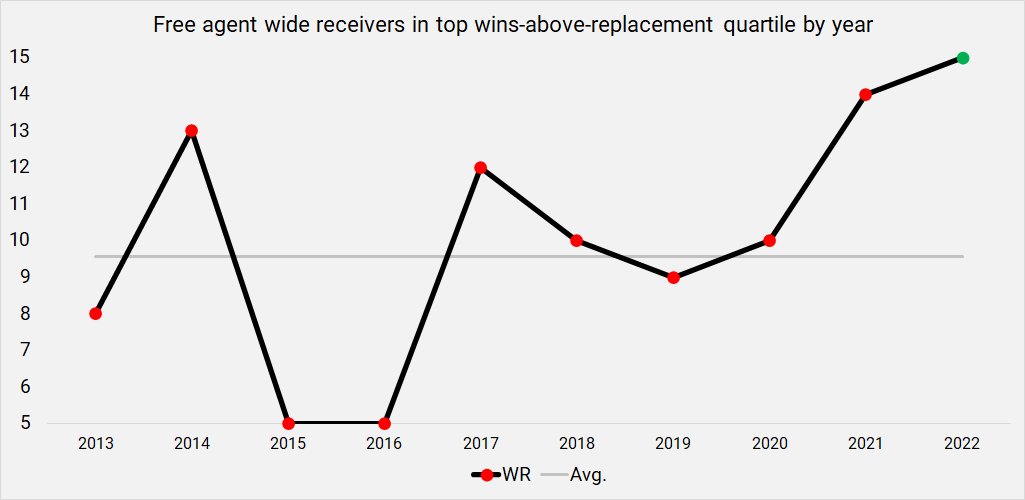 Depth options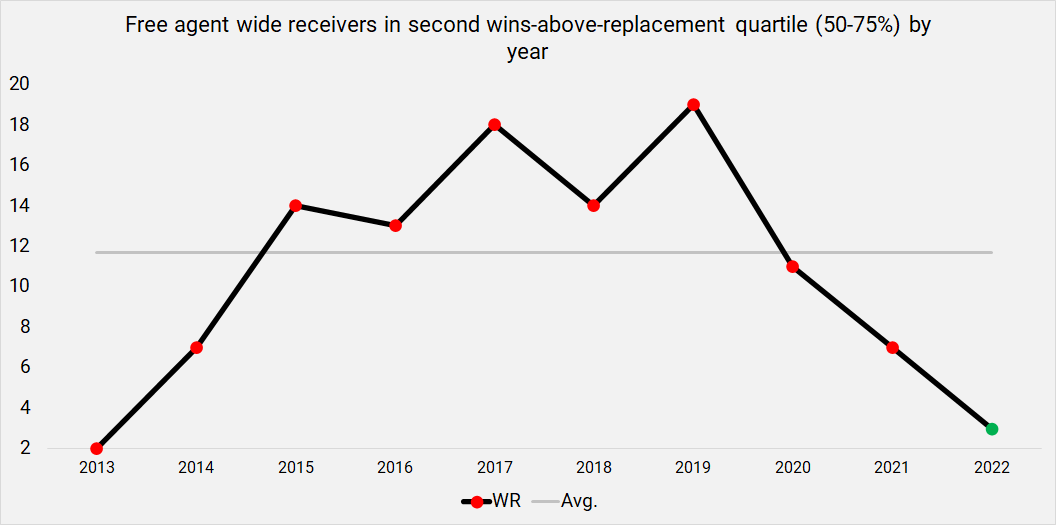 The good news is that there are more top quartile free agent wide receivers available than any offseason since at least 2013. 
The bad news is that the talent runs dry after the cream of the crop. 
The Buccaneers' Chris Godwin and the Bears' Allen Robinson are back on this list after each received the franchise tag last offseason. In 2022, they'll have to compete with arguably the top wide receiver in the NFL in Packers star Davante Adams, who is looking to become the highest-paid wide receiver in football. And if he keeps up his current pace, that may become his contract floor. 
Adams' 92.2 receiving grade and 22 explosive receptions rank first among wide receivers so far in 2021, and his 3.25 yards per route run ranks third. He's the gold standard at wide receiver over the last two seasons, and he's about to be paid accordingly.
Class strength rating: 8/10
Average annual cost of top quartile wins-above-replacement unrestricted free agents
Year
C
G
HB
QB
T
TE
WR
2019

$6.975

$4.779

$4.13M

–

$16.5M

$3.08M

$8.19M

2020

–

$4.81M

$4.47M

$21.12M

$13.25M

$7.08M

$7.31M

2021

$6.82M

$7.93M

$4.02M

$10M

$8.6M

$7.66M

$6.91M

2022*

$8.1M

$10.2M

$5.33M

–

$12.18M

$10.18M

$13.2M
*Projections are likely inflated because were cannot account for inevitable franchise/transition tags
DEFENSE
Cornerback
Best available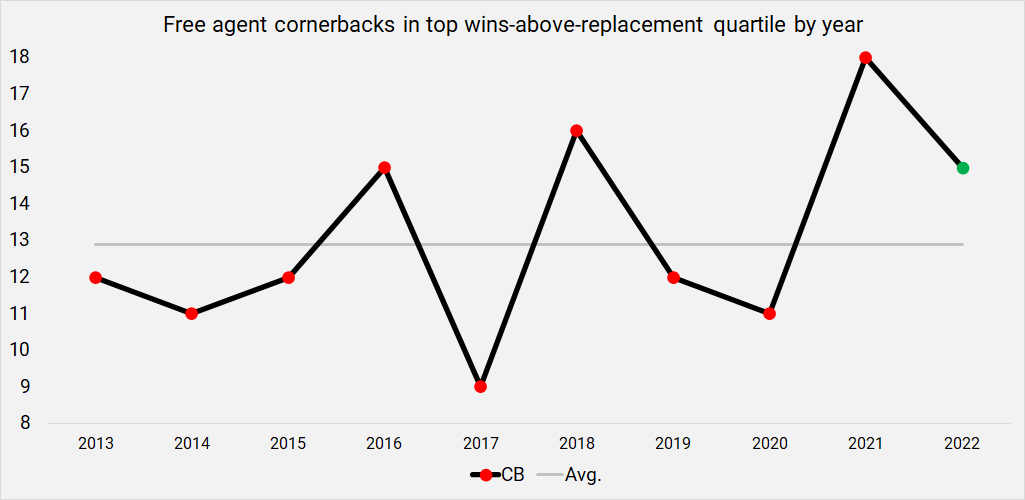 Just like at linebacker, there are top-end players available, but beyond that, there's not much to speak of this offseason. Furthermore, there's probably a decent chance the full top five on our list are extended by their incumbent clubs — even with Donte Jackson and Stephon Gilmore both on the Carolina Panthers. 
The lack of available talent at cornerback has been one of the stories of the entire 2021 season so far, as the Buccaneers signed Richard Sherman while other contending teams, such as the Cardinals and Tennessee Titans, walk a very fine line with their current cornerback rooms. For this reason, it's hard to envision a team with a top-end talent at the position letting them walk after the season.
Last year's market at cornerback was very quiet, with the top deal going to Washington's William Jackson III at just three years, $40.5 million ($13.5 million per year). 
Class strength rating: 5/10
---
Interior Defender
Best available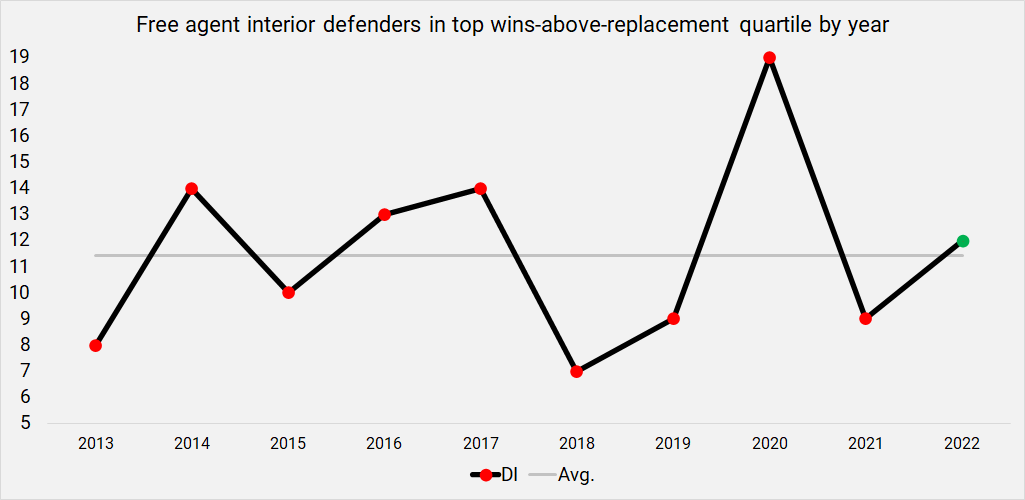 The interior defender group has a strong argument for the worst collection of available talent at their position, and that's before considering that our top three guys are all well into their 30s. This is not the offseason to add talent to the interior defensive line.
Depth options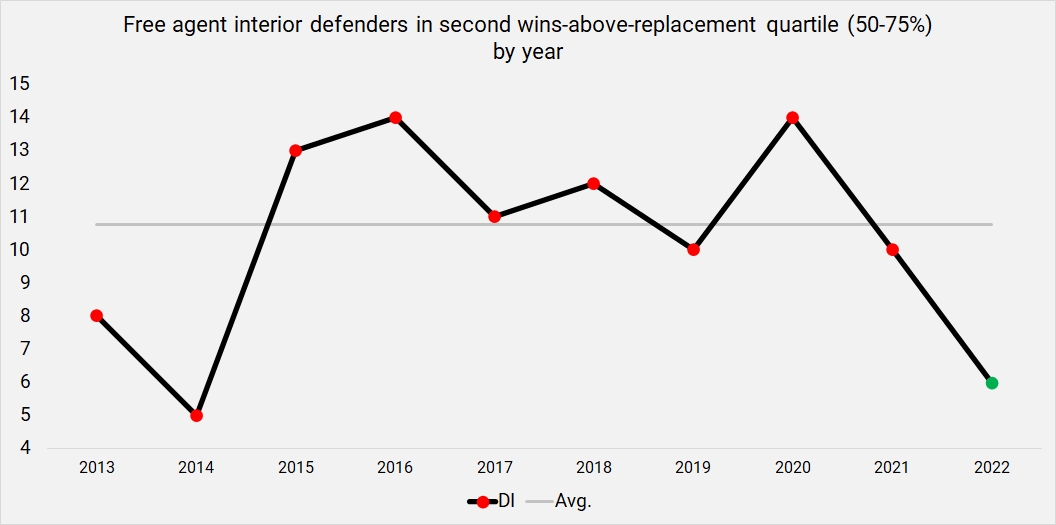 Class strength rating: 3/10
---
Edge Defender
Best available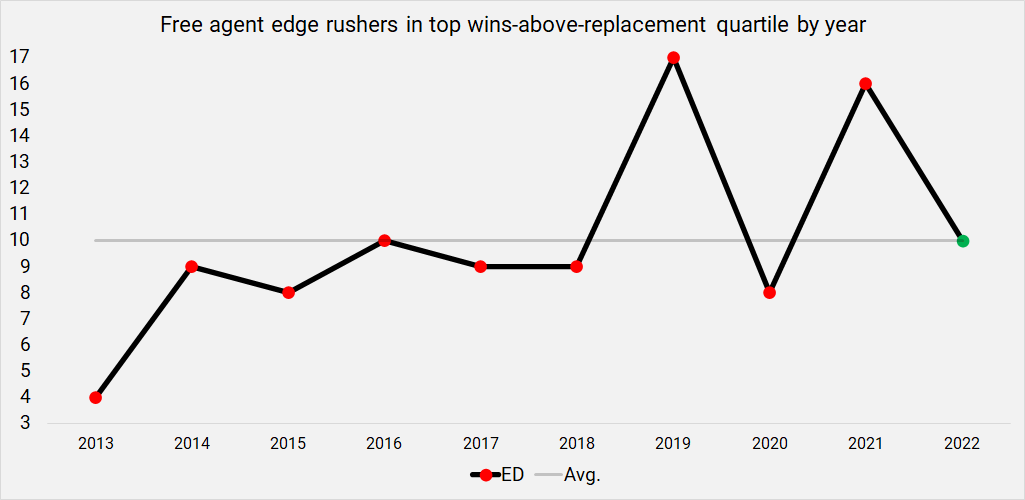 While the edge defender group is underwhelming overall, there are three extremely productive veterans who have shown very few signs of slowing down in recent years. 
All three have missed significant time to injury since 2019 — as the Cardinals' Chandler Jones and Denver Broncos' Von Miller missed the entire 2020 season — yet all three have earned pass rush grades of at least 70 and rank inside the top 40 in sacks over the span among edge defenders. 
The Dolphins' emerging star Emmanuel Ogbah — whose 89.5 grade this year ranks fifth among edge defenders through Week 7 — has made the absolute most of his contract year so far. The Panthers' Haason Reddick has done all he can to be considered a true presence along the edge, recording 16 sacks over his last 11 games. He still has to make some refinements to his pass rush arsenal, but it will probably be worth it for a team — whether it's Carolina or otherwise — to make the investment to find out if he can have a career on the edge for years to come.
Class strength rating: 4/10
---
Related content for you: Grading all 32 first-round picks after Week 7 of the 2021 NFL season via Sam Monson
---
Linebacker
Best available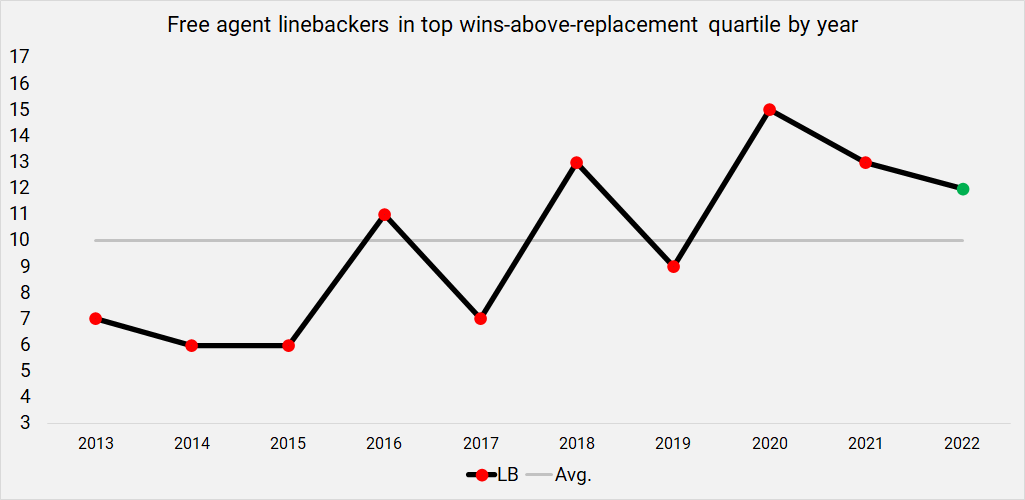 Looking at both pictures (above and below) illustrates the full outlook at linebacker this offseason, as there is almost no depth to speak of whatsoever. It gets even more bleak with some added context: Nos. 5 and 6 on the above list — Broncos linebackers Alexander Johnson and Josey Jewell — are both out with major injuries. Further, a lot of these top quartile linebackers in recent years are on the wrong side of 30. 
Depth options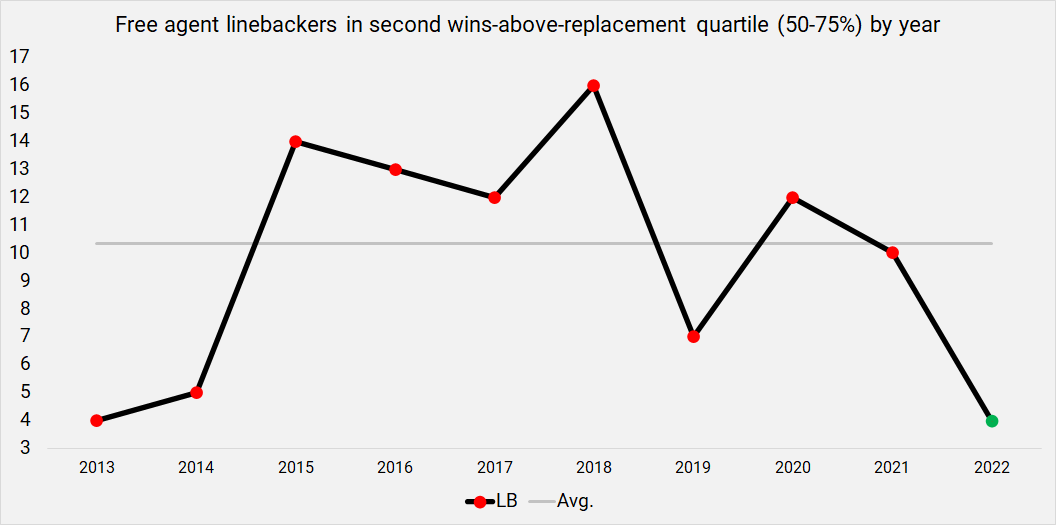 Titans linebacker Jayon Brown, who signed a one-year, $4.5 million contract last offseason when his market was underwhelming due to the salary cap drop and an injury, stands to benefit most because he was patient. He needs to get healthy and produce to close out the season, but the opportunity is there for the taking.
Class strength rating: 5/10
---
Safety
Best available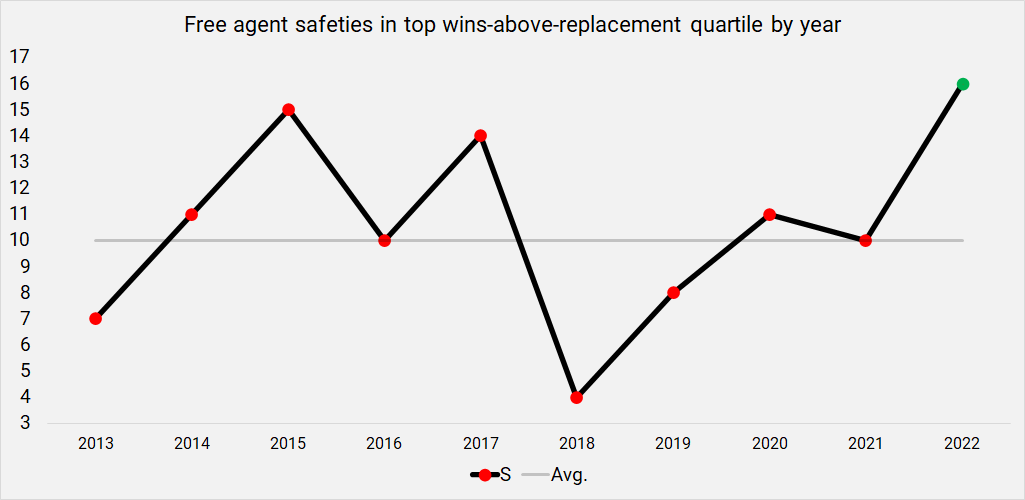 For the second year in a row, there are a lot of strong options at safety. The market did not develop much at all last offseason, but perhaps Seattle Seahawks safety Jamal Adams' market-setting $17.5 million per year payday forces teams to pay up now before the market expands even further.
For the second offseason in a row, New York Jets safety Marcus Maye desperately wants out of the Big Apple, per his agent, so it's not likely he'll receive a second franchise tag and remain off the market. 
Class strength rating: 7/10
Average annual cost of top quartile wins-above-replacement unrestricted free agents
Year
CB
DI
ED
LB
S
2019

$6.56M

$4.48M

$6.07M

$6.14M

$8.42M

2020

$8.16M

$7.02M

$10.19M

$5.93M

$4.75M

2021

$5.41M

$4.16M

$9.04M

$3.8M

$3.9M

2022*

$10.6M

$11.48M

$12.57M

$8.82M

$10.64M
*Projections are likely inflated because we cannot account for inevitable franchise/transition tags
2022 OFFSEASON MARKET ANALYSIS
Overall, the free agency class leaves a lot to be desired, which is surprising considering some of the players back on the market after signing one-year fliers in 2021. Loading up at the less-sexy positions, such as interior offensive line, or targeting valuable depth options at tight end appears to be the smartest paths forward. However, there is still a lot of football left to be played, and things can always change in a hurry.