A blockbuster trade for Houston Texans quarterback Deshaun Watson very well may be developing ahead of the NFL trade deadline on Tuesday, Nov. 2, where the Miami Dolphins, Carolina Panthers and Philadelphia Eagles are worth monitoring. Rumors have been swirling since before the 2021 season began, and now the Houston Chronicle's Jon McClain reports a deal could be imminent. 
We covered a dozen of the many hypothetical moves that could stand to be made by AFC teams, and now we shift our attention to the other conference. NFC teams, particularly the NFC South, have already been loading up on available talent early in the 2021 season. The Texans traded cornerback Bradley Roby to the New Orleans Saints back in September, and more recently, the Panthers added cornerback C.J. Henderson from the Jacksonville Jaguars and 2019 Defensive Player of the Year cornerback Stephon Gilmore from the New England Patriots.
---
Click here for more PFF tools:
Rankings & Projections | WR/CB Matchup Chart | NFL & NCAA Betting Dashboards | NFL Player Props tool | NFL & NCAA Power Rankings
---
We start with a look at a few more potential moves in the NFC South, with the Atlanta Falcons as sellers and the Tampa Bay Buccaneers as buyers.
Hypothetical Trade: Hayden Hurst & 2022 sixth-round pick → Cincinnati Bengals for 2022 fifth-round pick
Dead money: $0
Cap savings: $1,102,730
Contract with acquiring team: One year, $1,102,730
Bengals quarterback Joe Burrow has gotten a lot out of a thin tight end group thus far in 2021. Veteran C.J. Uzomah returned from a torn Achilles suffered in 2020 and has hauled in fourteen receptions this year to lead the group. 2019 second-round tight end Drew Sample is the only other Bengals tight end with a target on the season with four, as the Bengals have deployed 11 personnel (one tight end) on a league-high 74.2% of offensive snaps since 2020. 
Hurst is familiar as the former first-round pick of the AFC North rival Baltimore Ravens. Hurst was traded before the 2020 season to the Falcons along with a fourth-round pick in exchange for second- and fifth-round picks, as Atlanta acted out of desperation in an attempt to return to the playoffs. After Hurst's third season in 2020, the Falcons had the choice to exercise his 2022 fifth-year option for just $5.428 million. Even at that very low price tag, Atlanta elected to decline, making Hurst a free agent after this season. 
Since 2019, Hayden Hurst has 11 contested catches compared to eight combined from Uzomah and Sample, and his 7.8-yard average depth of target is well beyond Uzomah (5.3) and Sample (4.6). Hurst lines up in the slot on almost 50% of offensive snaps, whereas Uzomah and Sample don't crack 20%, as they primarily line up inline. Either Bengals head coach Zac Taylor would get even faster and more spread out on offense with Hurst or the offense would dramatically improve its ability to run plays out of 12 personnel.
The Falcons can add other depth around ascending star tight end Kyle Pitts. With Hurst, they cut their losses and get started rebuilding the roster while the Bengals add another receiving option that, at the very least, provides depth and compensatory pick consideration after the season. 
---
Hypothetical Trade: Duron Harmon → Tampa Bay Buccaneers for 2023 sixth-round pick
Dead money: $137,500
Cap savings: $597,222
Contract with acquiring team: One year, $597,222
It's no secret the Buccaneers are looking to add talent at cornerback and bolster a secondary that has given them issues this season and is dealing with various ailments. 
Harmon is a versatile, ball-hawking safety Tom Brady used to go toe-to-toe with in practice in New England, and he can help the Buccaneers' young group of safeties as Tampa Bay makes its push for back-to-back Super Bowls. 
So far in 2021, new Falcons defensive coordinator Dean Pees has deployed his defense in a similar manner to that of Tampa Bay Buccaneers defensive coordinator Todd Bowles.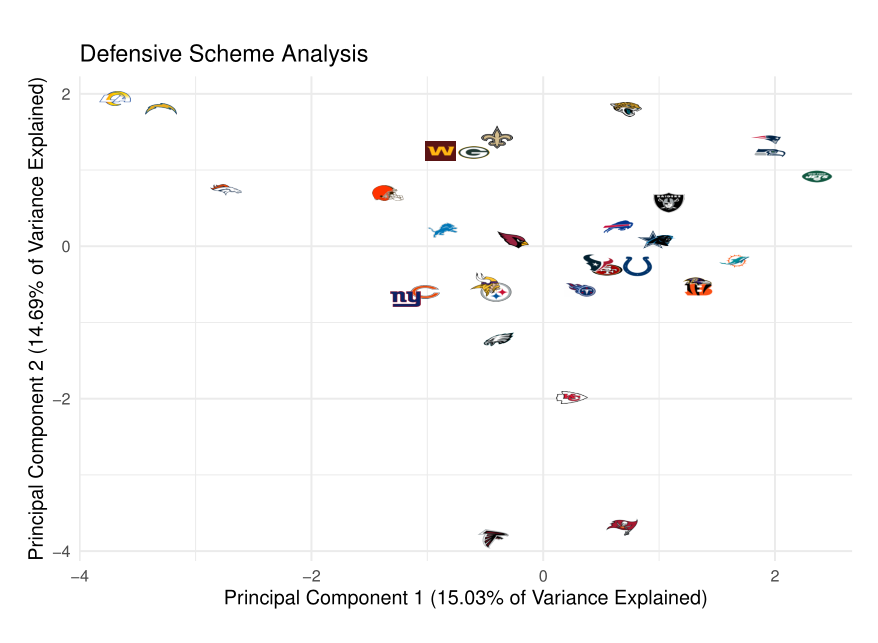 PFF's own Dr. Eric Eager examined a handful of tendencies and traits to identify the similarities and differences between each play-caller's scheme. Here, the Falcons and Buccaneers may be unique, as they are two of just three teams to play over 20% of snaps in Cover 2 and top six in percentage of plays run with a two-down front. 
The Buccaneers' trio of young safeties — Mike Edwards, Jordan Whitehead and Antoine Winfield Jr. — are solid young playmakers on the backend, yet all have sub-70.0 coverage grades so far in 2021. Harmon has a 90.3 career coverage grade — 20th-best among all safeties since 2013 — and his 13% forced incompletion percentage on targets ranked 17th. Harmon is another veteran presence on the backend who adds more depth and brings a different perspective to the equation, which can't hurt.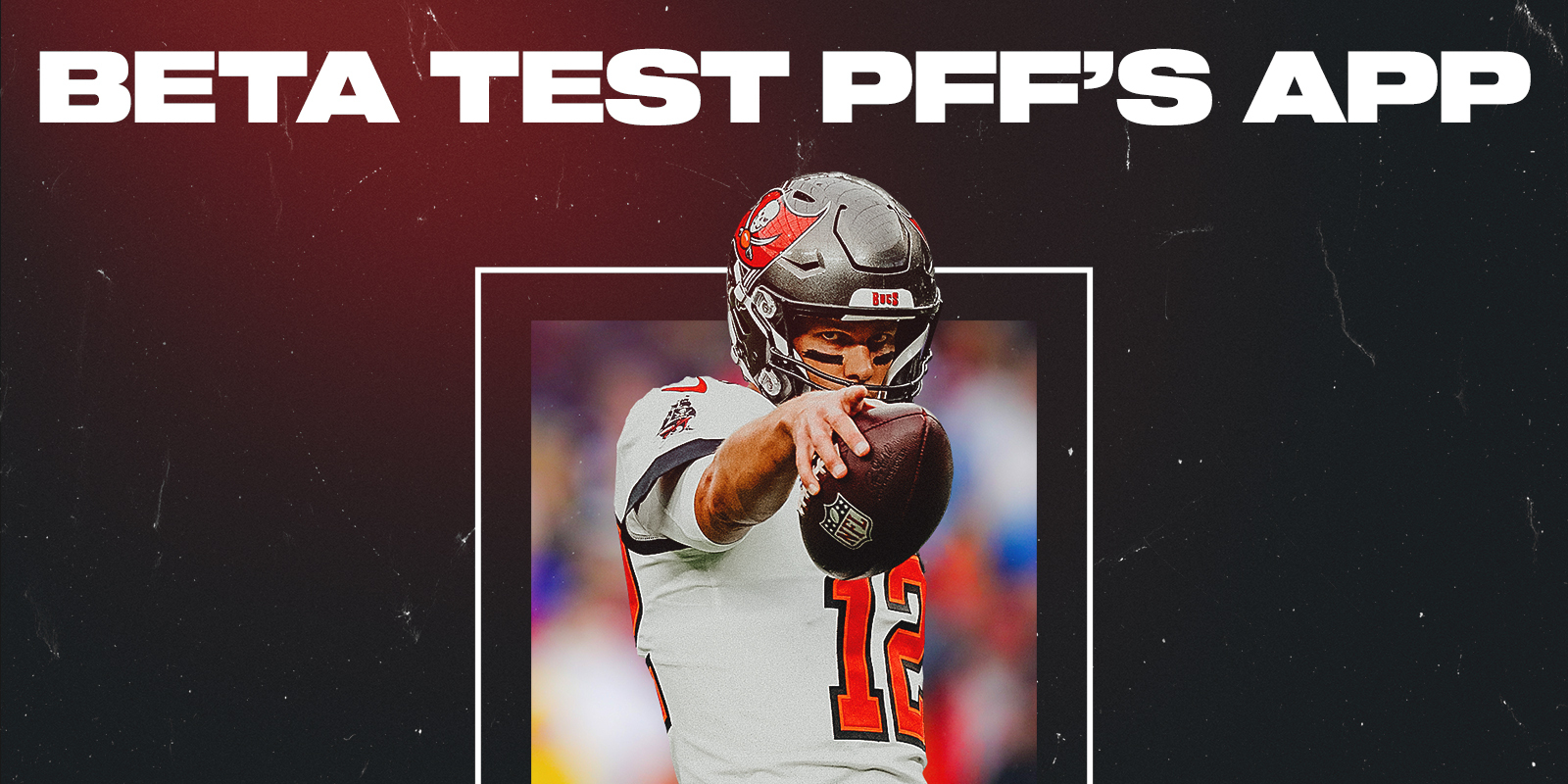 Hypothetical Trade: O.J. Howard → Buffalo Bills for cornerback Dane Jackson, 2022 fifth-round pick
Dead money: $0
Cap savings: $3,340,555
Contract with acquiring team: One year, $3,340,555
Here we have a different type of move: The Tampa Bay Buccaneers emulate the NFC South rival Carolina Panthers and exchange a tight end for a cornerback, much like Carolina did in moving Dan Arnold for C.J. Henderson. However, the Buccaneers also receive draft capital. The move also clears salary cap space for the Buccaneers that could perhaps be spent on veteran additions as they gear up for a playoff run. 
Tampa has Rob Gronkowski close to returning from a rib injury and Cameron Brate as a reliable reserve option. With so many key players in need of an extension, Howard doesn't seem to fit into the long-term plans. In Buffalo, Howard can line up inline and in the slot, which makes the ways he and 2021 breakout Dawson Knox can be deployed more diverse.
The Bills traded away their primary blocking tight end, Lee Smith, to the Falcons, so Tommy Sweeney is the only other tight end on the roster seeing any snaps, and he has just four receiving yards. Howard has made the most of sparse opportunities, hauling in 100% of the catchable passes thrown his way and averaging 6.6 yards after the catch per reception, which ranks 10th among tight ends.
The Bills add one final piece to their offense for when they experience life without Knox, and the Buccaneers get a depth player at cornerback, a draft pick, and some cap space to perhaps sign more veterans before the playoffs in return.
---
Hypothetical Trade: Akiem Hicks → Los Angeles Chargers for 2022 fifth-round pick
Dead money: $1,500,000
Cap savings: $5,777,778
Contract with acquiring team: One year, $5,777,778
Chargers head coach Brandon Staley is a fast-rising branch of the Vic Fangio defensive tree, as he coached outside linebackers for the Bears under Fangio in 2017-18 before following him to the Denver Broncos in 2019. After just one season as the Los Angeles Rams' defensive coordinator in 2020, where he lead them to the No. 1 ranking in terms of expected points allowed per play, Staley finds himself the head coach of the other team in Los Angeles. 
Hicks was at the peak of his powers during Staley's tenure in Chicago (2017-18), as he recorded 100 total quarterback pressures, ranking eighth among all interior defenders. He was equally good against the run — his 71 defensive stops ranked second and his 20 tackles for loss or no gain ranked tied for sixth from 2017-18.
The Chargers currently rank 31st in team run-defense grade (35.2), and the interior defender unit ranks 24th in pass-rush grade (59.3). 
Hypothetical Trade: Nick Williams & 2022 seventh-round pick → Los Angeles Chargers for 2022 sixth-round pick
Dead money: $1,500,000
Cap savings: $782,679
Contract with acquiring team: One year, $841,503
This trade is effectively a smaller-scale version of the above Hicks trade. Williams was also with the Bears when Staley was the outside linebackers coach back in 2018 and had his best season in the NFL. 
The Detroit Lions used their second- and third-round picks in this year's draft on interior defenders, and they've been very purposeful in getting their young players snaps this season as they continue to overhaul the entire organization. Detroit might as well get whatever they can while they can, and the Chargers need to beef up on the interior however they can.
---
Hypothetical Trade: Evan Engram, 2022 sixth-round pick → Tennessee Titans for 2023 fourth-round pick, 2023 sixth-round pick
Dead money: $0
Cap savings: $3,340,555
Contract with acquiring team: One year, $3,340,555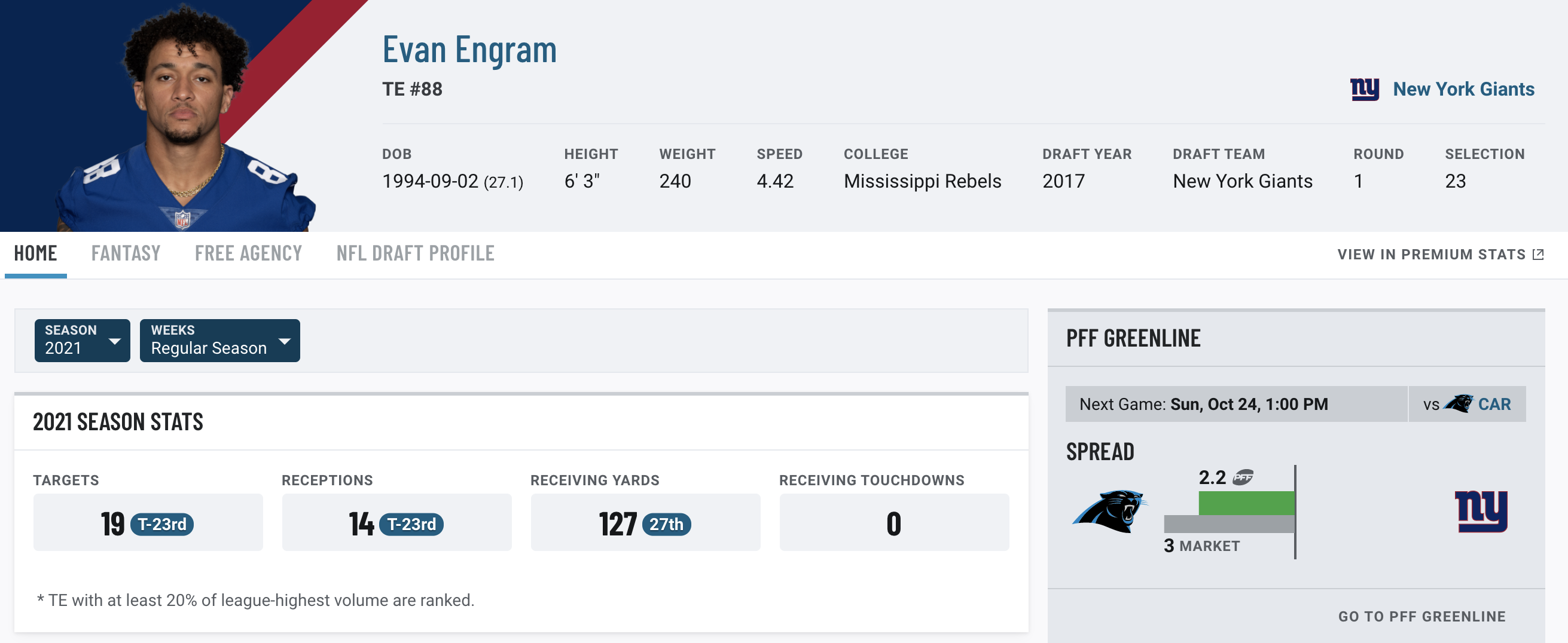 Before the 2021 season began, the Minnesota Vikings lost emerging tight end Irv Smith Jr. to a season-ending injury and made a bit of a panic move, trading for former New York Jets fourth-rounder Chris Herndon. The former Jet has shown flashes but is inconsistent from a production standpoint, which could be partly due to a disastrous stretch of offensive performance in New York. 
Speaking of stretches of disastrous offensive performance in New York, the Giants haven't been all that much better. Since hiring Jason Garrett as offensive coordinator in 2020, the Giants rank 25th in expected points added (EPA) per dropback and 30th in success rate per dropback. However, as much as Giants fans give Engram a hard time, he's still more productive than most teams' top options at tight end.
Nevertheless, the Giants invested a first-round pick in Florida wide receiver and dynamic offensive weapon Kadarius Toney in addition to doling out a big-time four-year, $72 million contract to free agent Kenny Golladay. New York consistently claims to have Engram in their future plans, but perhaps time has finally run out. 
The Jets were able to get a fourth-round pick in exchange for Herndon and a sixth-round pick, underscoring just how barren the talent is at the tight end position.
| | | | | | |
| --- | --- | --- | --- | --- | --- |
| Player (since 2019) | 2021 cash | PFF receiving grade | Yards after catch | Yards per route run | Explosive plays |
| Chris Herndon | $920K | 52.1 (71st) | 4.2 | 0.79 (t-72nd) | 5 (t-64) |
| Evan Engram | $3.34M | 62.9 (49th) | 4.8 | 1.34 (29th) | 20 (t-21st) |
The difference in the player values also boils down to the fact Herndon came to Minnesota for a full season with a minimum salary, whereas Engram will be a half-season rental for a decent chunk of change with $3.34 million remaining on his fifth-year option. Regardless, Engram is clearly a superior player to Herndon and could be one final weapon to put the Titans' offense over the edge. Both Titans star wide receivers in A.J. Brown and Julio Jones have dealt with injuries in 2021, and Engram is no stranger to the injury report, which could create some pause. 
---
Hypothetical Trade: Andre Dillard → Baltimore Ravens for 2022 sixth-round pick (via MIA), 2023 fourth-round pick
2021 Dead money: $1,754,384
2022 Dead money: $1,754,384
Cap savings: $3,081,867
Contract with acquiring team: Two years, $3,081,867
During the 2019 draft, the Eagles traded up to the No. 22 pick with the Ravens to select tackle Dillard, who was Philadelphia's first pick after selecting Jordan Mailata in the seventh round (No. 233 overall) of the 2018 NFL Draft. 
Flash forward to 2021, and Mailata just signed a four-year, $64 million extension while Dillard is in and out of the lineup. An extended absence for right tackle Lane Johnson has forced Mailata to slide over to right tackle while Dillard steps in on Jalen Hurts' blindside. Dillard has an impressive 78.0 pass-blocking grade on the largest single-season sample of his pro career, as he's allowed zero sacks on 199 snaps. Dillard is peaking at the perfect time if Philadelphia is indeed looking to sell high.
The Eagles have at least one more season of control on a former first-rounder who's shown flashes when healthy, so they may need to be blown away to make a move like this, but Baltimore could step up to the plate if they think it will keep them atop the AFC.
Ravens free-agent addition Alejandro Villanueva had a dreadful 13.4 pass-blocking grade in Week 1 at right tackle but has steadily bounced back with a 70.7 pass block grade over Weeks 4-6 at left tackle. It's notable that the Eagles elected to move Mailata over to right tackle so Dillard could stay at left tackle, and Baltimore may be inclined to do the same. Baltimore already has too many tackles who prefer the left side, but with All-Pro Ronnie Stanley's status going forward a bit cloudy, it could be worth getting Dillard into the fold due to his ability to play both sides.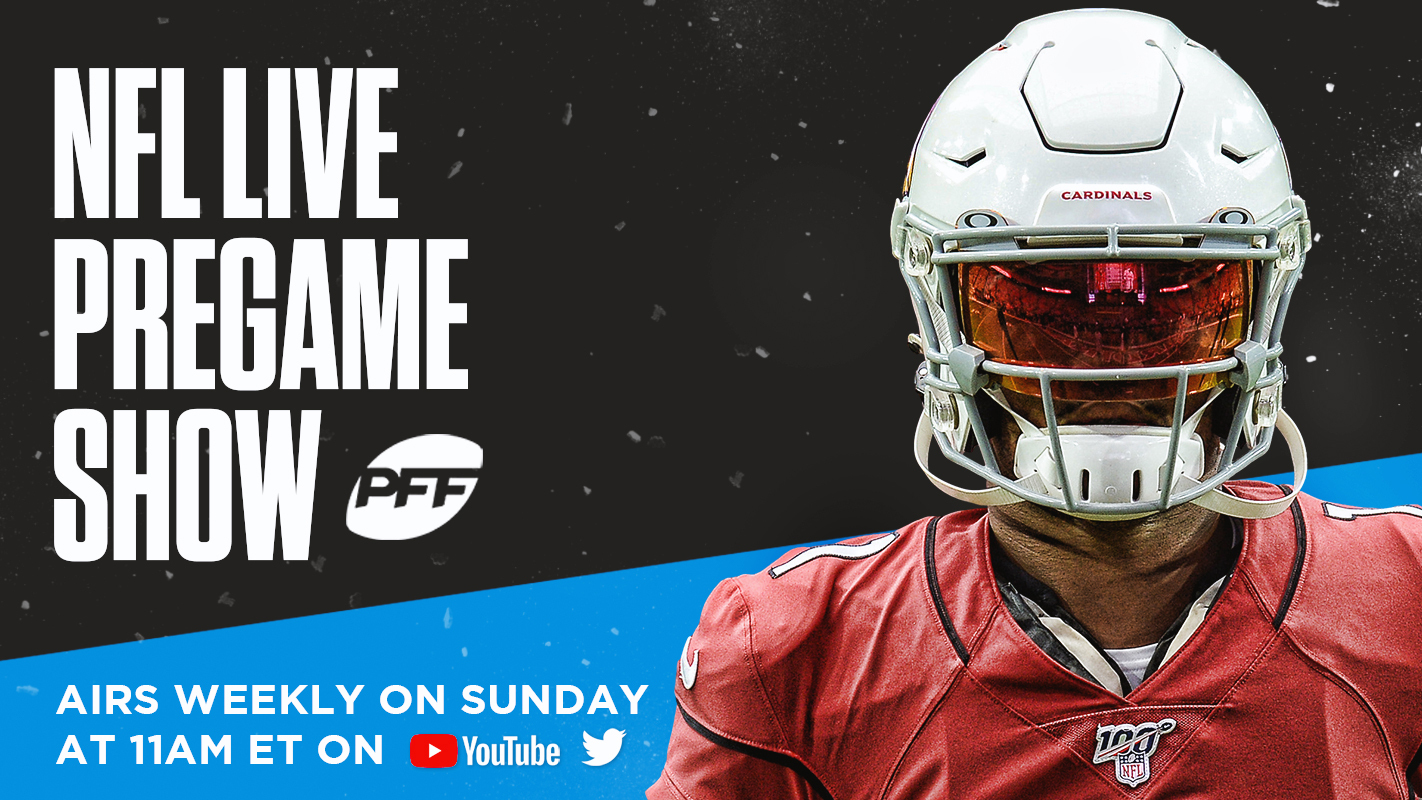 Hypothetical Trade: Ryan Kerrigan → Kansas City Chiefs for 2022 seventh-round pick (via NE or MIN)
2021 Dead money: $285,000
2022 Dead money: $1,140,000
Cap savings: $597,222
Contract with acquiring team: One year, $597,222
The Chiefs are looking to beef up their defensive line, sources have informed PFF. They were likely interested in longtime Houston Texans edge rusher Whitney Mercilus, who is now a member of the Green Bay Packers following his release. Kansas City is already allocating the third-most 2021 cap space in the NFL to the defensive line, but Chris Jones' injuries and Frank Clark's poor performance have contributed to the Chiefs ranking dead last so far this season in run-defense (32.7) and pass-rush grade (59.5). 
Kerrigan is not the consistent backfield presence he was in his heyday, but anything will help at this point. His pass-rush grade is still above 60.0 so far this season, which would make 11 straight seasons for the longtime Football Team quarterback hunter. Kerrigan has 107 career sacks, but zero have come in the playoffs. In a move akin to Terrell Suggs landing with Kansas City in its run to the 2019 Super Bowl, Kerrigan gets one last chance in a rotational role to play late into January.
---
Hypothetical Trade: Tim Settle → Buffalo Bills for 2022 sixth-round pick (via CAR or BUF)
Dead money: $67,011
Cap savings: $511,111
Contract with acquiring team: One year, $511,011
The Bills did all they could to beef up their defensive front, using their first- and second-round picks on Miami defensive lineman Gregory Rousseau and Wake Forest edge rusher Carlos Basham. Rousseau has shown flashes of the rangy athleticism that allows him to line up on the edge and inside. However Basham and 2020 second-round pick A.J. Epenesa haven't played much, as the latter was a healthy scratch for Monday Night's loss to the Tennessee Titans. 
Settle excels rushing the passer from the interior, as his 79.2 pass-rush grade since 2020 is 13h-best among interior defenders. Pending free agents Vernon Butler and Harrison Phillips have been underwhelming in Buffalo, as both have registered fewer quarterback pressures in 2020 than Settle on more pass-rush snaps.