Many of the top free agents are off the board after a flurry of deals over the past two weeks, but there are still talented players waiting to find their next teams. The majority of the list is made up of veterans who still have quality play left to give, but there are younger players, such as James Conner and Malik Hooker, scattered throughout who simply need to remain healthy and on the field at their next stops.
We'll kick things off with one of the thinner positional groups following a string of signings last week — quarterback.
Smith being the top option here means that teams still looking to add a starting quarterback for the 2021 season should have their sights set toward a strong incoming class in the 2021 NFL Draft. Smith's return from a gruesome leg injury this past season to help lead the Washington Football Team to the playoffs was undoubtedly a great story. However, his play wasn't quite back to the level we saw before he was sidelined.
His 66.0 overall grade in 2020 ranked 28th among 36 quarterbacks to play at least 400 offensive snaps, and his 5.4-yard average depth of target came in over a full yard below the next closest quarterback (Drew Brees). There just wasn't any vertical threat to the Washington offense. Smith did show he could still provide solid play if needed, though. A team looking for a veteran backup could certainly use his services next season.
Teams that should be interested in Smith: New York Jets, Cincinnati Bengals, Los Angeles Chargers
When healthy, Conner can be a three-down back who can contribute both on the ground and as a receiver. Since 2018, he ranks in the 68th percentile among qualifying running backs in missed tackles forced per rush and the 96th percentile in missed tackles forced per reception. That's the kind of elusiveness you want to see out of a running back.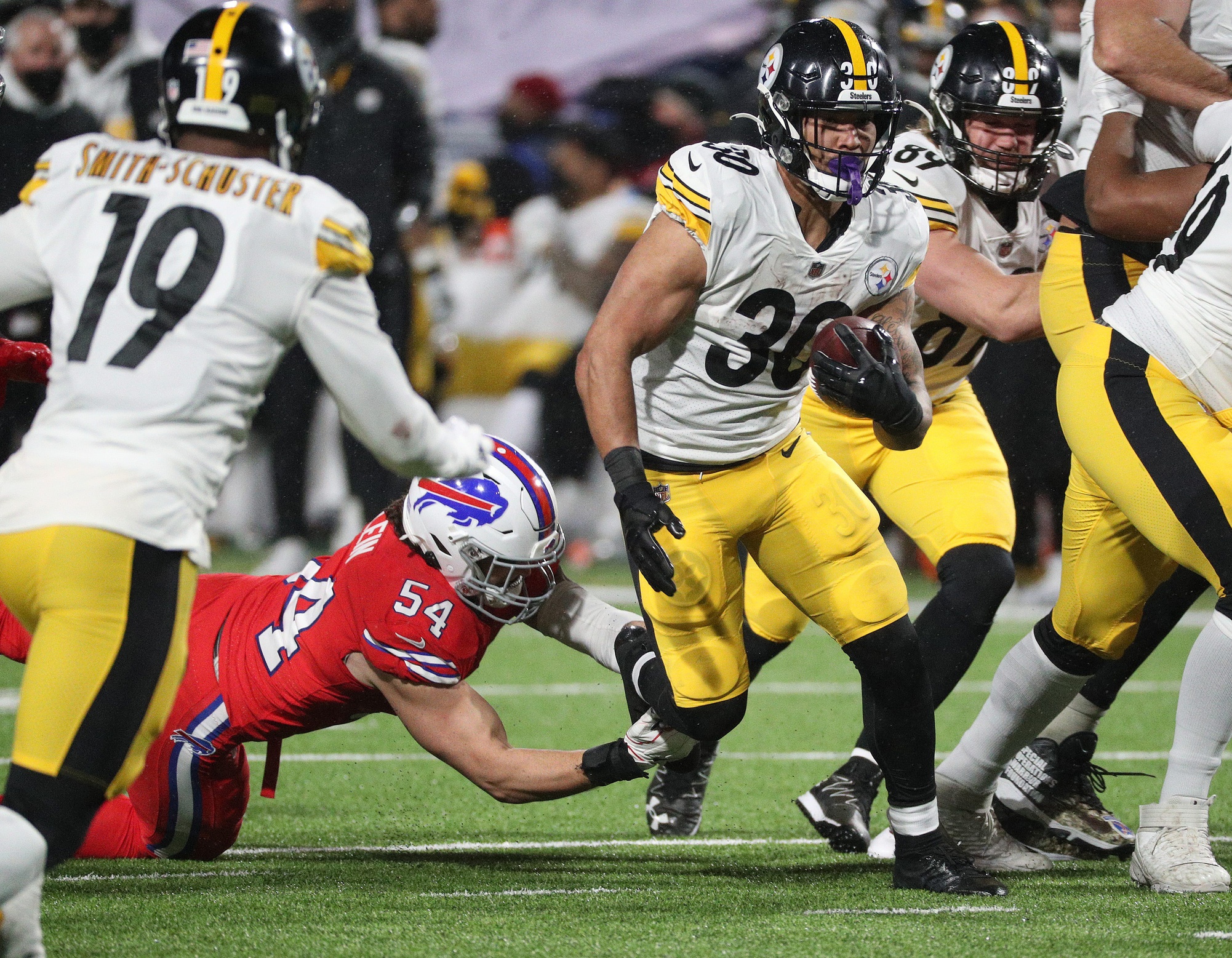 The issue is that Conner has struggled to avoid injuries throughout the early stages of his NFL career. After playing just over 300 offensive snaps as the Pittsburgh Steelers' starting running back in 2019, he did clear 500 snaps this past season. It's hard to say that Conner was fully healthy for many of those snaps, though. His 69.4 overall grade was a career-low on an offense that struggled to establish its rushing attack.
Teams that should be interested in Conner: Miami Dolphins, Arizona Cardinals, Pittsburgh Steelers
Brown is the wild card of the group. He's currently PFF's highest-ranked available receiver and was the 33rd-ranked player overall entering free agency. There's an argument to be made that, purely from an on-field perspective, Brown should be even higher.
His 82.2 PFF grade upon returning midway through the 2020 season for the Tampa Bay Buccaneers ranked 16th among all receivers across the league. That, of course, came without any offseason work with the Buccaneers and while playing a new role in an offense that had plenty of other mouths to feed.
It's not purely an on-field evaluation with Brown, though. Prospective teams must also decide whether they want to bring him into their locker room given the issues that popped up in both Pittsburgh and Las Vegas, along with the ongoing legal concerns surrounding the receiver. The most recent update there is that the woman accusing Brown of sexual battery may subpoena the Buccaneers, New England Patriots and Las Vegas Raiders regarding their correspondence and relationship with Brown, per Matt Baker of the Tampa Bay Times. Needless to say, Brown is embroiled in off-field issues.
The potential concerns with Watkins and Humphries are more about injuries. Watkins missed a string of games from Week 6 through Week 11 this past season for Kansas City before sitting out additional time in the postseason with a calf injury. The result was a career-low 64.5 overall grade in 2020. Availability has been a concern with him throughout his career, but he does project as a solid secondary option at wide receiver when healthy.
Humphries' injury risk is even higher given that head injuries have held him out of late. If he is good to go heading into 2021, he stands out as one of the better slot receivers in the free-agent market thanks to his route-running chops and feel for zone coverage to get open underneath over the middle of the field. Humphries posted career-highs in PFF grade (75.2), receptions (76) and receiving yards (816) in 2018 before injuries slowed him down in Tennessee.    
Teams that should be interested in adding at wide receiver: Baltimore Ravens, Kansas City Chiefs, Los Angeles Chargers
The pickings for quality starting tight ends are slim — not just in free agency, but also in the 2021 NFL Draft. There aren't many real difference-makers at the position in the current NFL landscape. Burton beats out a list that includes Marcedes Lewis, Richard Rodgers and Jesse James.
It was just several years ago when Burton signed a $32 million contract with the Chicago Bears that included $18 million guaranteed following his role in Philadelphia's 2017 Super Bowl run. He had a solid enough first year with Chicago in 2018, which included a 69.4 overall grade, 50-plus receptions and six touchdowns. However, injuries and poor play stole the headlines the following season. Burton ended up playing just 283 offensive snaps that year, with under 0.5 receiving yards per route run when on the field.
Injuries followed Burton to Indianapolis in 2020, and he began the season on injured reserve before entering a timeshare with Jack Doyle and Mo Alie-Cox. His 69.9 PFF grade on the season on just shy of 400 snaps ended up ranking 20th among 71 qualifying tight ends.
He's not going to be a true difference-maker, but he can be a nice complementary piece in a strong passing attack at 29 years old.
Teams that should be interested in adding at wide receiver: Jacksonville Jaguars, Cincinnati Bengals, Tennessee Titans
It's not a surprise that neither Okung nor Schwartz has found a home yet. Schwartz will be 32 years old next season, and Okung will turn 34 in October. Both players also come with injury concerns. 
There are still plenty of reasons that teams should have interest in them for 2021, assuming each wants to play. It's not easy to find starting tackles who you're confident in. Even with a deep 2021 draft class, it will be tough for contending teams to rely on the play from a rookie at a position that historically takes some time for players to develop.
Since Schwartz entered the league in 2012, he has posted an 85.7 PFF grade. Okung trails not too far behind, at 81.3. Both have been among the more reliable tackles in the league, particularly in pass protection. The recent injuries are a risk, but it's one that teams should be willing to take a chance on given what Schwartz and Okung can provide when healthy.
Teams that should be interested in adding at tackle: Pittsburgh Steelers, Indianapolis Colts, Kansas City Chiefs
The free-agent guard market very quickly thinned after Joe Thuney, Kevin Zeitler and Kyle Long signed new deals. There isn't any player left out there who you truly feel comfortable in stepping up and slotting into a starting role. James Carpenter and John Miller were also under consideration here, but I opted for players who I felt have a bit more upside should things break right on their new team.
Taylor started the season at guard for Green Bay in each of the past two years, but he has combined for fewer than 200 snaps since 2019 due to injuries. Prior to that, he had a string of solid performances in pass protection as the Packers' starting left guard across the 2016, 2017 and 2018 seasons. He came away from those campaigns with a 75.6 pass-blocking grade — not bad at all for the guard position.
Turner had injury concerns of his own with Los Angeles in 2020, appearing in just nine games on the year, but the bigger concern was just how poorly he played. Turner's 34.8 overall grade ranked dead last among qualifying right guards across the league. That was a departure from the norm when looking at the rest of his career. The grade was nearly 30 points lower than his previous low mark of 63.9 in 2019.
Things have been trending in the wrong direction, but the hope is that Turner can get back to the form he showed early in his career with Carolina. I would rather take that chance than sign a player who has never reached the lows of Turner's 2020 season but also hasn't shown much more than replacement-level play.
Teams that should be interested in adding at guard: Carolina Panthers, Cincinnati Bengals, New York Jets
Reiter is the top interior offensive lineman remaining on the free-agent market after two solid showings as Kansas City's starting center in each of the past two years. He has been a significantly better pass protector than run blocker over that stretch, with a low pass-blocking grade of 77.7 (2020) and a high run-blocking grade of 60.9 (2020). Considering how the Chiefs — one of the pass-heaviest teams in the NFL in neutral game scripts — want to play, that split has worked out just fine since 2019.
The Kansas City Star's Herbie Teope reported last week that the Chiefs have an interest in bringing Reiter back, but there are surely other teams that could use his services to solidify their offensive lines. Reiter isn't going to suddenly turn into an All-Pro road grader, but teams should be able to rely on him to not be a weak link. That's a majority of the battle along the offensive line.
Teams that should be interested in Reiter: Kansas City Chiefs, Pittsburgh Steelers, New York Giants
I recently wrote a piece focusing on these two players, and a more in-depth look at what they still offer at this stage of their career can be found here. The synopsis is that both Clowney and Ingram can still contribute. Recent injuries and limited sack production will likely lead to them making less on their next contracts than their level of play warrants, as well. 
Clowney is one of the NFL's elite run defenders at the edge defender position, and his pass rushing had been improving in recent years before a downtick in 2020 with the Tennessee Titans. The fact that he didn't sign with the team until September and was impacted by injuries probably had a little to do with that. Even then, Clowney came away with a solid 74.9 PFF grade. 
Ingram has also been hit with injuries in each of the past two seasons, playing just over 1,000 snaps combined across his 2019 and 2020 campaigns. Don't let his zero sacks in 2020 fool you, though: Ingram has been a quality pass rusher when on the field, with pass-rushing grades of at least 75.0 in each of the past two years. It's not hard to see him making a significant impact on a defense that moves him around in obvious passing situations.
Teams that should be interested in adding at edge defender: New York Giants, Baltimore Ravens, Indianapolis Colts 
This is another position where the top options consist of veterans coming off injuries. Those are typically the type of players who come in the second wave of free agency after the younger guys without those concerns are scooped up. However, both Casey and Short are still solid players who can boost teams looking for additional talent inside.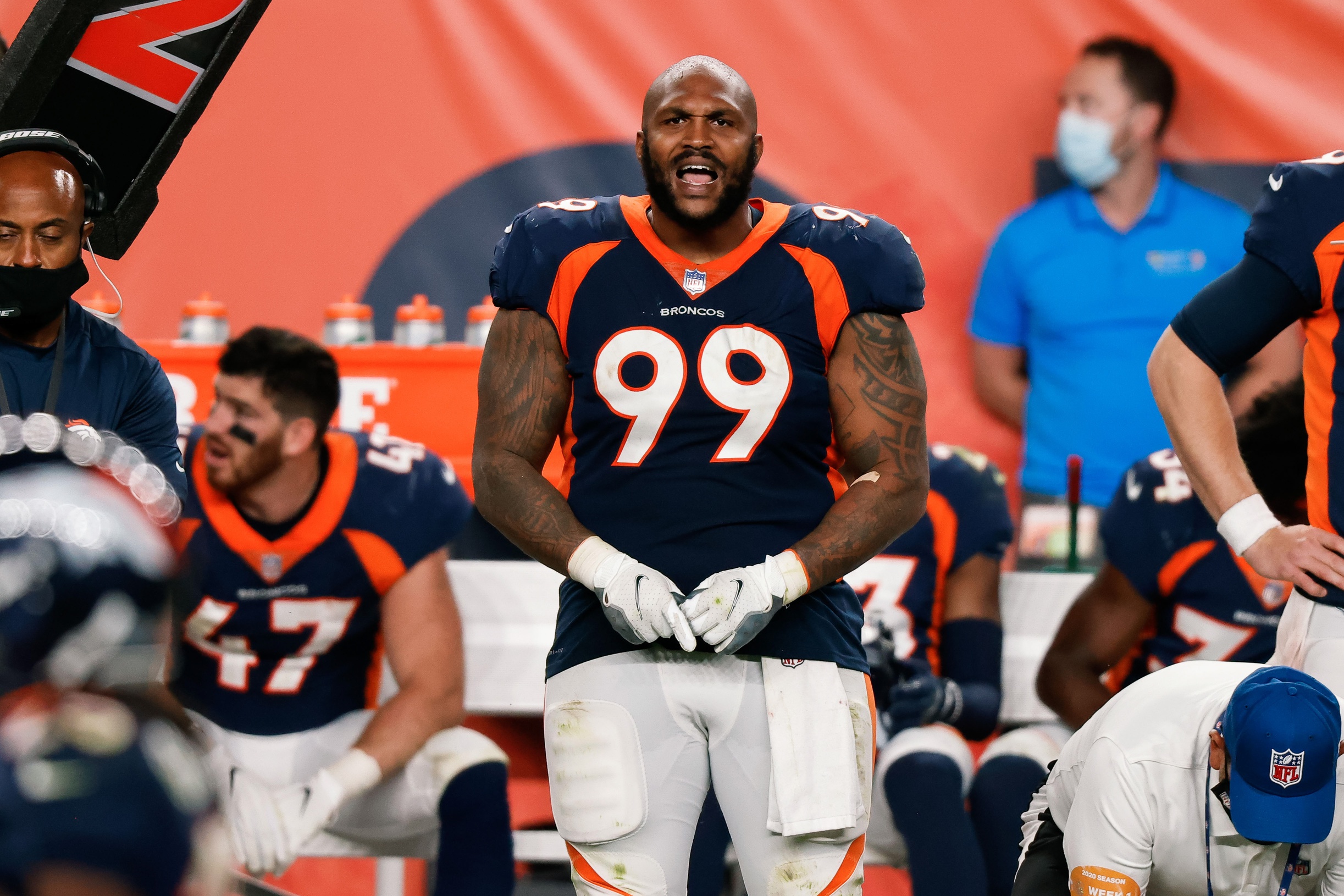 The Broncos acquiring Casey for merely a seventh-round draft pick last offseason looked like robbery. Through the first nine years of his career, Casey played at least 600 defensive snaps while never recording a sub-70.0 PFF grade. Six of those nine years came in at 78.0 or higher. He was one of the more reliable interior defensive linemen in the league — a strong run defender and an effective interior pass rusher. And Casey was off to another strong start with Denver in 2020 before a torn biceps halted his season after just three starts. 
Short's injury history is more of a concern. He combined to play just over 200 total snaps across the 2019 and 2020 seasons due to two separate shoulder injuries. The allure in bringing him in this offseason on a potential one-year flier is that prior to those two lost seasons, he was one of the NFL's very best interior defensive linemen. His lowest PFF grade from 2015 to 2018 was 83.7, and he came in at 27th on PFF's list of the top 50 players in the NFL entering the 2019 season. There's upside left to chase with the 32-year-old.
Teams that should be interested in adding at interior defender: Buffalo Bills, Arizona Cardinals, New Orleans Saints
The Seahawks' decision to draft Jordyn Brooks in the first round of the 2020 NFL Draft has left Wright's future with Seattle in doubt. He's comfortably the top off-ball linebacker on the free-agent market should the Seahawks choose not to bring him back in his longtime spot next to Bobby Wagner. Wright is coming off a 2020 season with Seattle in which he earned an impressive 75.3 overall grade and ranked as the sixth-most valuable linebacker in the NFL, per PFF WAR.
Goodson is also coming off a relatively solid 2020 season for Cleveland. His 848 defensive snaps marked a career-high, as did his 66.6 coverage grade. Prospective teams can rely on Goodson to excel as a tackler. He has missed just 13 tackles in his career on over 200 opportunities. He's not exactly an exciting option at the position, but teams can certainly do worse than what he was able to provide the Browns last season. 
Teams that should be interested in adding at linebacker: Green Bay Packers, Los Angeles Rams, Washington Football Team
Cornerback is one of the deeper free-agent positions after releases added to an already deep class.
Nelson was a recent salary cap cut at the position, with Pittsburgh continuing to shed defensive starters. In his first year with the Steelers in 2019, Nelson delivered a strong performance at the cornerback position, with an 80.3 coverage grade and a 73.3 passer rating allowed on throws into his coverage. He took a slight step back this past season, but he has still set a strong baseline with his play over the past three seasons. Nelson's 53.5% completion rate allowed since 2018 ranks sixth among 66 cornerbacks to see at least 150 targets.
Sherman is the biggest fish left in what was a crowded unrestricted free agent market. His combination of age (almost 33 years old) and injury (five games played in 2020) has likely led to the slow market early on, but it was just two seasons ago that he was PFF's highest-graded cornerback in the NFL. His high-level play over the course of his career speaks for itself. There are plenty of zone-heavy teams still in need of cornerback help that make sense as potential destinations.
Lastly, Poole stands out as the best slot cornerback still on the market after two strong showings in New York. He has come away with overall grades of 79.0 and 77.1 the past two years, though he did miss the second half of the 2020 season due to injury.
Cornerback remains one of the deeper positions as we head toward the 2021 NFL Draft, with other players such as Malcolm Butler, Casey Hayward Jr. and Quinton Dunbar all having the ability to make an immediate impact in the right situation.
Teams that should be interested in adding at cornerback: Arizona Cardinals, New York Jets, Las Vegas Raiders
Woods and Hooker don't necessarily make sense together, since both are free safeties, but they are the top two players at the position still on the market.
Woods isn't coming off his best season in a Dallas defense that struggled as a unit in 2020. His 61.9 overall grade was a career-low after he hit marks of 68.0 or higher in each of his first three NFL seasons. It also came in a year where Woods was asked to play more in the box, with just 349 of his 990 defensive snaps coming in free safety alignments. He projects as a solid all-around option who has still yet to turn 26 years old and doesn't carry any kind of extensive injury history.
Hooker is even younger than Woods, turning just 25 at the start of April. He also brings a higher pedigree with him as a former first-round pick for Indianapolis back in 2017. From production to size to athleticism, Hooker had a lot of what you want in a playmaking free safety coming out of Ohio State. However, he also comes with injury concerns after missing the majority of two of his first four years in the NFL (2017 and 2020). Hooker has flashed solid play at times, including a career-high 79.2 overall grade in 2018. He'll need to flash more consistency at his next stop, though.
Teams that should be interested in adding at safety: Minnesota Vikings, Atlanta Falcons, Dallas Cowboys