In their first game in their new home, the Las Vegas Raiders stunned the New Orleans Saints, who plagued themselves with far too many penalties and miscommunications on the night. 
Editor's note: All of PFF's grades and advanced stats from this game will be finalized and made available to ELITE subscribers within 24 hours of the final whistle.
STORY OF THE GAME
The Saints shot themselves in the foot on multiple occasions, with momentum-shifting penalties on both sides of the ball, dropped passes and a horrendous Drew Brees interception in the third quarter. The 41-year old quarterback looked far from the star signal-caller of the past, failing to take advantage of the Raiders' young secondary. Brees had an average depth of target of just 5.3 yards. Much like the season opener against the Tampa Bay Buccaneers, over 60% of his passing yards came after the catch, further highlighting his unwillingness — or, perhaps, inability — to push the ball downfield. 
Both quarterbacks were pressured on over 30% of their dropbacks — Brees at 31.6% and Derek Carr at 33.3% — but Carr ate three sacks while Brees was able to get rid of the football before being brought down. In true Carr fashion, he targeted his tight ends, running backs and even his fullback a combined 23 times — Darren Waller notched 16 of them — while looking his receivers' way just 11 times. Waller carried the Raiders' passing game with 12 receptions for 103 yards, one touchdown and seven first downs. 
There was one bright spot for the Saints, and that was star running back Alvin Kamara. He finished the contest with 13 carries, 79 yards and two touchdowns, adding another nine receptions for 96 yards in the receiving game. His efforts would not be enough, however, to help his team leave Las Vegas with another win on the season.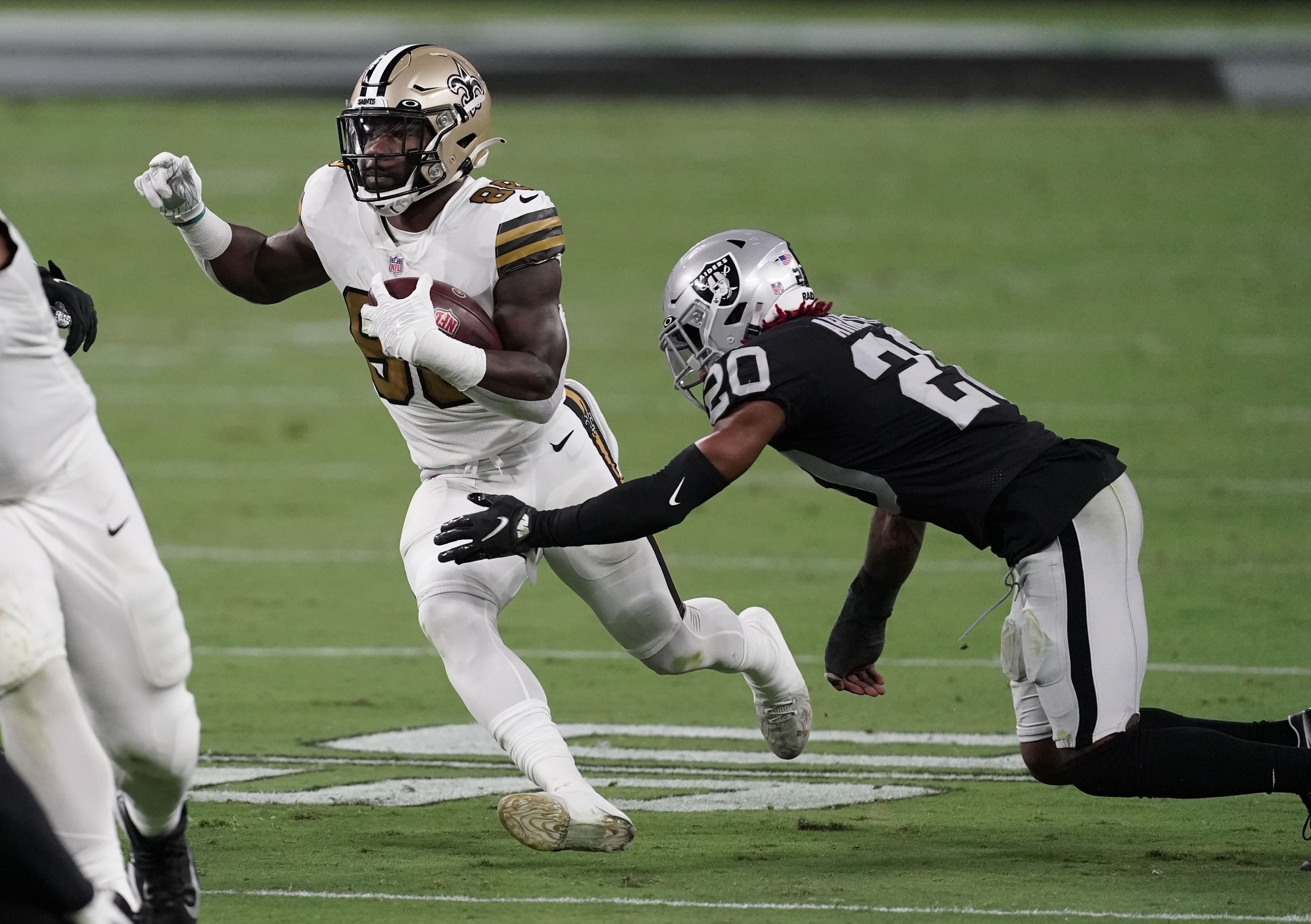 ROOKIE WATCH
The Raiders' rookie receiver duo did not make much of an impact in their second week of game action. Henry Ruggs III was targeted on just four routes, hauling in one catch for a measly four yards. Bryan Edwards saw three looks in his direction but made the most of them. He reeled in two for 42 yards, moving the chains on both. His third resulted in a defensive pass interference for another first down. 
John Simpson — the Raiders' fourth-round offensive guard out of Clemson — was thrust into action after starter Richie Incognito went down with an injury early in the first quarter. Simpson struggled to hold his own in his NFL debut, allowing multiple quarterback pressures and failing to create running lanes for his backs. 
On the opposite side of the ball, first-round cornerback Damon Arnette saw over 45 snaps, but he had a difficult time in coverage for the second week in a row. Brees targeted him five times, completing four for 41 yards and two first downs. The former Ohio State Buckeye has had a rough start to his NFL career, but he has the talent and physical ability to right the ship as he gets more comfortable in the Raiders' defensive scheme. 
For the Saints, edge defender Malcolm Roach (29), receiver Marquez Callaway (13), tight end Adam Trautman (8) and offensive lineman Cesar Ruiz (6) all played over five snaps but fell short of making any meaningful impact. 
ELITE subscribers can view player grades, advanced statistics, positional snap counts and more in Premium Stats 2.0.