Every week throughout the 2020 NFL season, we'll revisit the biggest storylines around the NFL's quarterback play and try to add proper context to PFF grading and traditional stats.
Before we start, here are a few disclaimers to aid in the understanding of the PFF system and its interaction with box score stats.
There's no doubt that quarterback play is the biggest driver of passing production, and most people are conditioned to have a picture of how well a quarterback played based on the five basic box score stats — completions, attempts, yards, touchdowns and interceptions.
The reality is that the best quarterbacks will rise to the top, or close to it, statistically over time, but in one-game samples or even full seasons, there are other forces at play that heavily influence those numbers.
The PFF grade is here to isolate the quarterback's play away from his playmakers, playcaller, opposing defense and anything else that could influence his statistics. We give credit for good throws regardless of the result, and we do the same for bad throws. PFF passing grade has proven to be one of the most stable passing metrics available, and we believe adding proper context to every play is crucial for long-term player evaluation.
Week 14 is in the books, so here's a look at some of the top stories from the latest slate of NFL games.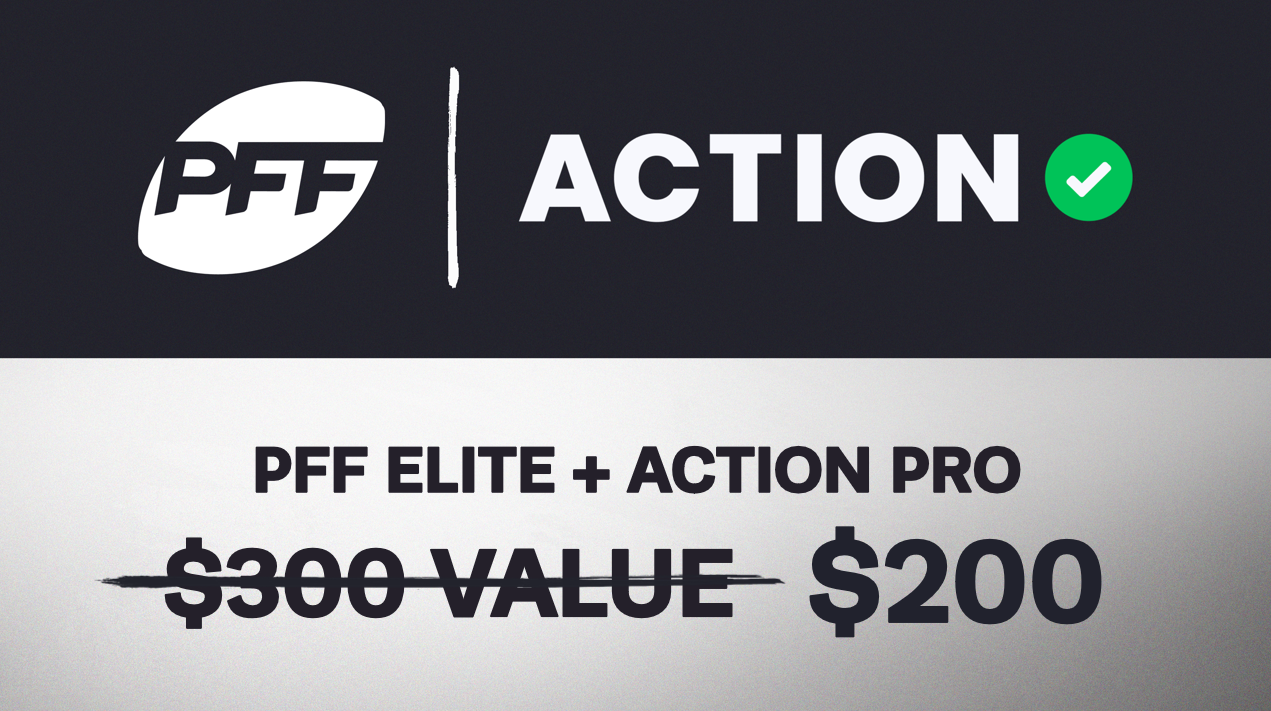 [Editor's Note: PFF's advanced statistics and player grades are powered by AWS machine learning capabilities.]
Top Stories
What to make of Jalen Hurts
The Philadelphia Eagles found the win column in Jalen Hurts' first start, and they did so in impressive fashion against the top-seeded New Orleans Saints.
Hurts was not great as a passer and finished with a 40.9 PFF passing grade, the second-lowest of the season by an Eagles quarterback. He had a dangerous sideline interception dropped and missed a few more open throws, while 74% of his 167 passing yards came after the catch.
However, the difference Hurts brought to the table was in the run game, where he ran 18 times for 106 yards, including both designed runs and scrambles. That is a new normal in today's NFL, as more run-pass threats get opportunities around the league.
Hurts was able to add value on the ground despite a poor game through the air, something that simply isn't possible with every quarterback in the league. As I've said many times in this column and on the PFF NFL Podcast, a good running quarterback raises the floor of an offense and allows points to be scored even on days with an inefficient passing attack.
Hurts also may have made his presence felt on running back Miles Sanders' 82-yard touchdown run when the Saints' linebackers were peeking in the backfield and ultimately helped to give Sanders a clean shot into the secondary where he only had to make one man miss on the way to the end zone.
The big question is if this style is sustainable, and the answer is that more 40.0 passing grades from Hurts will not lead to the same result for the Eagles, but his added value in the run game at least gives the offense a chance to function as the passing game continues to find its way after season-long struggles.
Drew Lock playing for his job?
We only have about a season's worth of play from Drew Lock in his two seasons in the NFL, as he's now dropped back to pass 521 times in his career.
So far, the results have been below average across the board, whether looking at back-to-back years of sub-60.0 PFF grades or any other traditional statistical measure. However, Lock posted the second-best passing grade of his career this weekend, at least showing off what this offense is capable of.
Lock hit WR K.J. Hamler on two deep touchdowns, and we also saw big plays from WRs Jerry Jeudy and Tim Patrick. It's only one game, but this is the type of outing the Denver Broncos have been hoping for out of Lock — he finished 21-for-27 for 280 yards and four touchdowns.
The question this offseason will center around whether Lock gets another year to prove himself despite only having about a season's worth of actual snaps. Working in Lock's favor is his career arc in college at Missouri, where he improved his PFF grade every year and showed that he can develop. On the other hand, there will be many viable quarterbacks on the open market, available for trade or in the draft, and Lock is no lock to be the starting signal-caller in Denver in 2021.
Roethlisberger has been the same quarterback over the last two weeks
After unwarranted MVP hype due to the Steelers' 11-0 start, Ben Roethlisberger is no longer a part of the MVP conversation, and now there are question marks about his current ability at the age of 38.
The reality is that the last two games — both Steelers losses — are right in line with Roethlisberger's play over the rest of the season; he just hasn't had nearly as much help from his playmakers or his defense. He posted a solid 77.6 passing grade against the Washington Football Team last week, but six drops and a batted pass for an interception led to a much worse statistical outing.
Then, this week against the Buffalo Bills, Roethlisberger produced a 53.4 passing grade, his worst of the season. However, this grade is not some 2020 anomaly, as it's Roethlisberger's fourth passing grade in the 50s; the Steelers just won the previous three outings, so they went overlooked.
We've seen a limited passing attack in Pittsburgh all season as Roethlisberger has struggled to throw the ball down the field, and he's run the quickest-hitting passing attack in the league, eschewing his prototypical big plays for letting his playmakers create after the catch. The only difference in recent weeks is the Steelers getting a case of the dropsies and Roethlisberger no longer getting away with some of the poor passes he made earlier in the season that fell incomplete and protected his stat line.
Big Ben has been playing with a limited skill set all season, but the Pittsburgh offense can still move the ball with a solid group of playmakers. At some point, however, they must find a way to get the ball down the field, where Roethlisberger's 72.3 passer rating on 20-plus-yard throws ranks just 31st in the NFL.
Quick Hitters
Lions QB Matthew Stafford posted his third "blue" grade of the year, his second in as many weeks. With so much uncertainty in Detroit moving forward, Stafford could be auditioning for a future role in another city, and he's done well to show what he's capable of in recent weeks.
Another potential lame-duck quarterback is Matt Ryan, who may also be a future trade candidate once a new regime takes over in Atlanta. He's had a roller coaster of a season, with five games grading at 83.0 or better but now four games grading below 60.0. This weekend's game against the Chargers saw Ryan post a season-low 52.8 grade to go with five turnover-worthy plays.
Early-season interception luck started to turn on Patrick Mahomes, who finished with three interceptions despite entering the game with only two on the year. It didn't matter in the end, as the Chiefs' playmakers are simply too good, but it was an uncharacteristically poor game from Mahomes from a ball-security standpoint, as he finished with four turnover-worthy plays in a game for the second time this season.
PFF CONTEXT
It feels like it's 2018 all over again as we try to explain a strong Trubisky stat line that is accompanied by a mediocre PFF grade. He finished with a 66.4 passing grade, 16th in the league this week, to go with the fourth-best passer rating at 126.7.
The difference stemmed from Trubisky picking up 73% of his passing yards after the catch in large part due to an average target depth of just 4.4 yards. It was a well-called game of screens and boot action combined with a bubble screen for a touchdown and Trubisky missing a few more throws that should have been completed. Overall, Trubisky played fine, just not 126.7-passer-rating well.
Perhaps Wilson's best throw on a fine afternoon, dropped by David Moore.
The best incompletion of the week courtesy of Russell Wilson pic.twitter.com/4blWMzcoZZ

— Steve Palazzolo (@PFF_Steve) December 15, 2020
Luckiest pass of the Week: Jalen Hurts
Here's the most dangerous pass of the day for Hurts on what could have been a game-changing pick-six.
The luckiest pass of the week comes from Jalen Hurts. Would this pass have changed the narrative if it's caught? pic.twitter.com/xXxhY4SIbw

— Steve Palazzolo (@PFF_Steve) December 15, 2020
Brady finds Miller for the 48-yard score on a pass that traveled over 55 yards in the air to a perfect spot.
And the #BigTimeThrow of the week comes from Old Man Brady.

55+ yards in the air…perfect pic.twitter.com/R1UsS8zyb6

— Steve Palazzolo (@PFF_Steve) December 15, 2020
Stat of the Week
Philip Rivers was pressured on just one of his 28 dropbacks against the Raiders, good for a pressure rate of 3.6%, lowest for any quarterback in a game this season.