Last season, the Cowboys took a big step forward offensively, but it didn't show up in their record — they finished 8-8 and out of the playoff picture. They lost four games by four points or less and had six losses in one-score games, showing that they were better than their .500 record would indicate. They have the pieces in place to duplicate last year's offensive success, and new head coach Mike McCarthy appears intent on letting that happen with offensive coordinator Kellen Moore retaining play-calling duties.
The key may be on the defensive side of the ball, as the secondary has some turnover and needs to complement the offense if Dallas is to compete in the NFC East. If the Cowboys plays to the last year's level, more breaks should fall their way, and they'll be right in the middle of the hunt in the NFC.
Subscribe to PFF's EDGE or ELITE subscriptions to get access to the following tools, charts, etc. 
– All Premium Article Content
– Fantasy Football Rankings & Projections
– Fantasy Football Draft Guide, Cheat Sheets & Advanced Stats
– Fantasy Football Mock Draft Tool (DraftMaster)
– Fantasy Football Strength of Schedule Matrix
– NFL Player Grades
– NFL Premium Stats
ADDITIONS/SUBTRACTIONS
Additions/players brought back:
QB Dak Prescott (exclusive franchise tag)
WR Amari Cooper (re-signed for five years, $100 million, $60 million guaranteed)
CB Anthony Brown (re-signed for three years, $15.5 million)
TE Blake Jarwin (re-signed for four years, $22 million)
LB Sean Lee (re-signed for one year, $4.5 million, $2 million guaranteed)
iOL Joe Looney (re-signed)
DI Gerald McCoy (signed for three years, $18.3 million)
K Kai Forbath (re-signed)
S Darian Thompson (re-signed)
S Ha Ha Clinton-Dix (signed for one year, $4 million)
Losses:
CB Byron Jones
EDGE Robert Quinn
WR Randall Cobb
TE Jason Witten
QUARTERBACK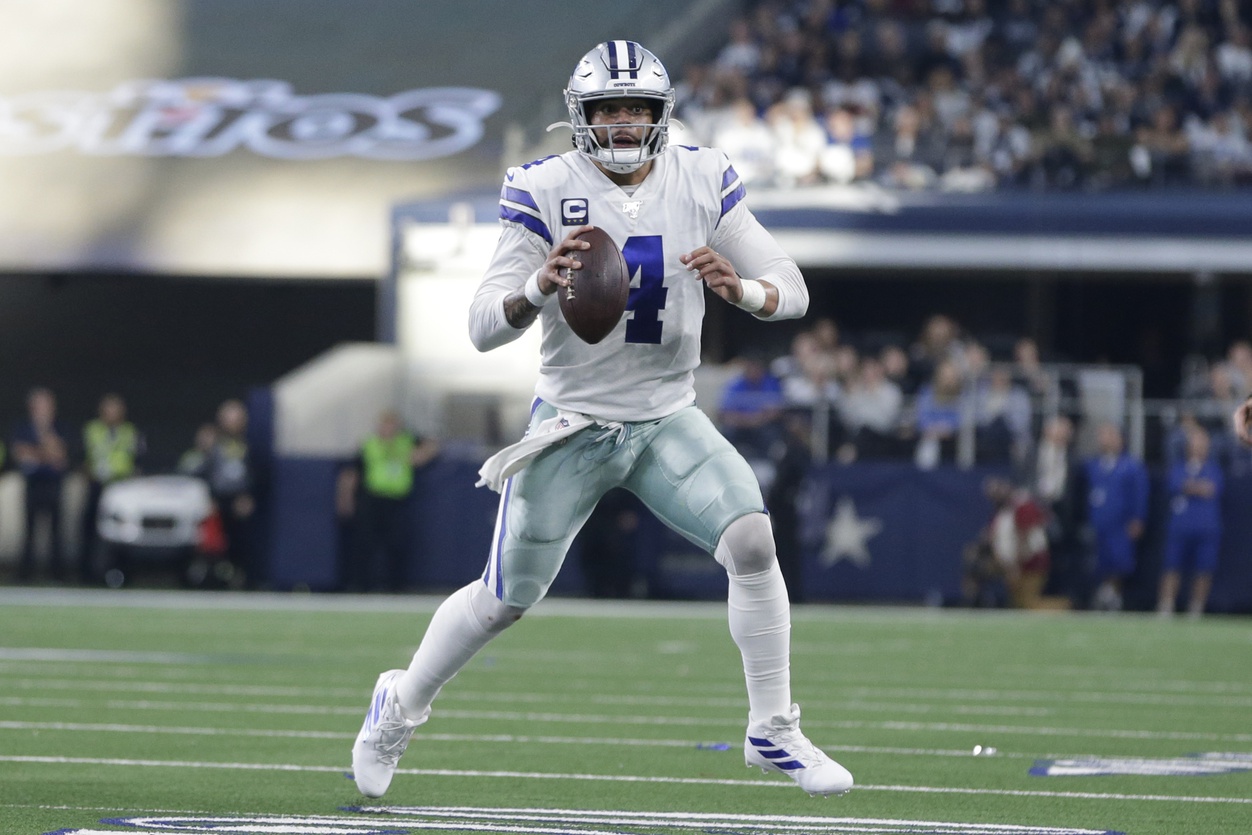 Here's what I said about Dak Prescott after the 2019 season:
"Prescott had his most productive season since his rookie year, as fresh play-calling and a full year of strong playmakers led to Dallas ranking third in the league with an EPA of 0.23 on passing plays. Prescott ranked among the middle class of quarterbacks in PFF grading in 2017 and 2018, and his 2019 campaign showed that the right supporting cast could lead to high-end production from mid-tier signal-callers. Prescott attacked down the field more than ever, leading to his No. 3 ranking in the league in passing yards on 20-plus yard throws, and he finished fourth in PFF rushing grade at 76.2. Overall, it was a good season for Prescott, who improved his positively graded throws, cut down on the negatives and showed that he could have a top-notch season when given a strong group of receivers."
With Prescott officially playing on the franchise tag, we see the dilemma with locking up a quarterback who is not clearly in the top echelon every season. Prescott has two top-10 finishes in PFF grades, and the Dallas pass game was excellent last season. With most of the same pieces returning, the table is set for another productive pass game, and that's all that matters when building an offense. With the top receiving unit and one of the league's best offensive lines, expect another good year from Prescott and another debate about his long-term value a year from now.
RUNNING BACK
The Cowboys have had one of the better run-blocking offensive lines in the league over the past few years, and Ezekiel Elliott has been an excellent fit for their style. He's a gliding runner with good vision, all adding up to 4.6 yards per carry over his four-year career. Elliott doesn't force as many missed tackles as other top backs, but he's coming off career-highs in rushing grade (82.9) and yards after contact per rush (3.2).
His work out of the backfield has come in spurts, as he had catches of 72 and 83 yards in his first two years. And in 2018, he caught 83 passes on his way to a career-high 69.0 receiving grade. Last season, Dallas drafted Tony Pollard in the fourth round, and he got off to a great start with an 84.2 rushing grade and 5.3 yards per carry in 2019. He adds another pass-game element to take the pressure off Elliott. The Cowboys once again have one of the best running back units in the league.
WIDE RECEIVER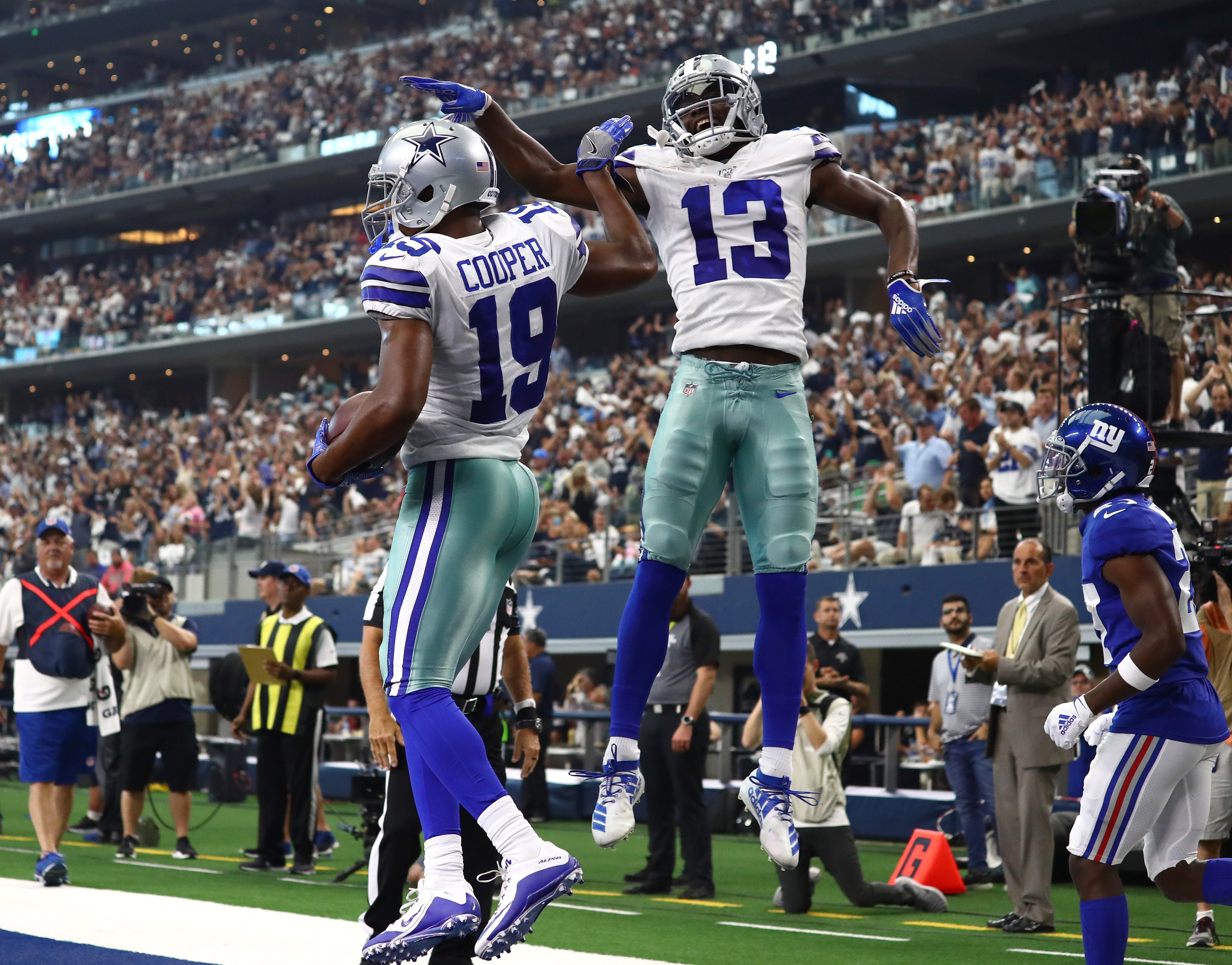 Dallas had one of the most efficient passing offenses in the league in 2019 —and it started with Amari Cooper and Michael Gallup becoming one of the NFL's best receiving duos. The passing offense has been far more efficient since Cooper came to Dallas in 2018, as evidenced by the 122.0 EPA (expected points added) on his 907 plays compared to just 2.95 EPA on 425 plays without him. Cooper's slick route running is a big reason why Dak Prescott ranked second in the league with 197 "open" throws beyond the sticks last season and finished third in the league with 503 yards on deep (20-plus yard) passes.
Gallup took a huge step forward in his second year and became one of the league's most effective intermediate (10-19 yard) threats, ranking ninth in the league with 483 yards in that range. Now throw first-round pick, CeeDee Lamb into the mix, and Dallas will compete to have the best group of receivers in the league. Lamb can win on the outside or in the slot, and he has an excellent feel for creating yards after the catch (averaged 11.0 YAC/reception last season). He may start out working mostly in the slot, but Dallas now has three legitimate receivers for defenses to contend with, and they can all line up anywhere on the field.
However, let's not forget that Dallas got 828 receiving yards and 6.1 yards after the catch per reception out of Randall Cobb last season. Even if Lamb is as good as advertised, Dallas was already just 11 yards away from having the most productive trio in the league in 2019. The No. 4 spot is wide open, but former second-rounder Devin Smith is the most intriguing name of the group, as he showed flashes of the deep speed that made him a second-round pick in 2015, but he finished with just five catches for 113 yards in three games last season.
TIGHT END
The Cowboys' tight end group produced a 60.5 receiving grade last season, good for just 19th in the NFL. Jason Witten moves on after a season where he looked like he'd lost a step and averaged just 8.4 yards per reception. Blake Jarwin is the projected starter and brings more athleticism to the position, as he's averaged 11.2 yards per reception in his career and his 66.6 receiving grade ranked 19th among tight ends last season.
The backup spot will be a battle between 2018 fourth-rounder Dalton Schultz, who has 14 career catches and Blake Bell, who is playing for his fifth team in five years. Given the depth of the receiving corps, Dallas does not need huge production out of its tight ends, and Jarwin's athleticism could be an asset with an increased workload and opposing defenses focusing on the receivers.
OFFENSIVE LINE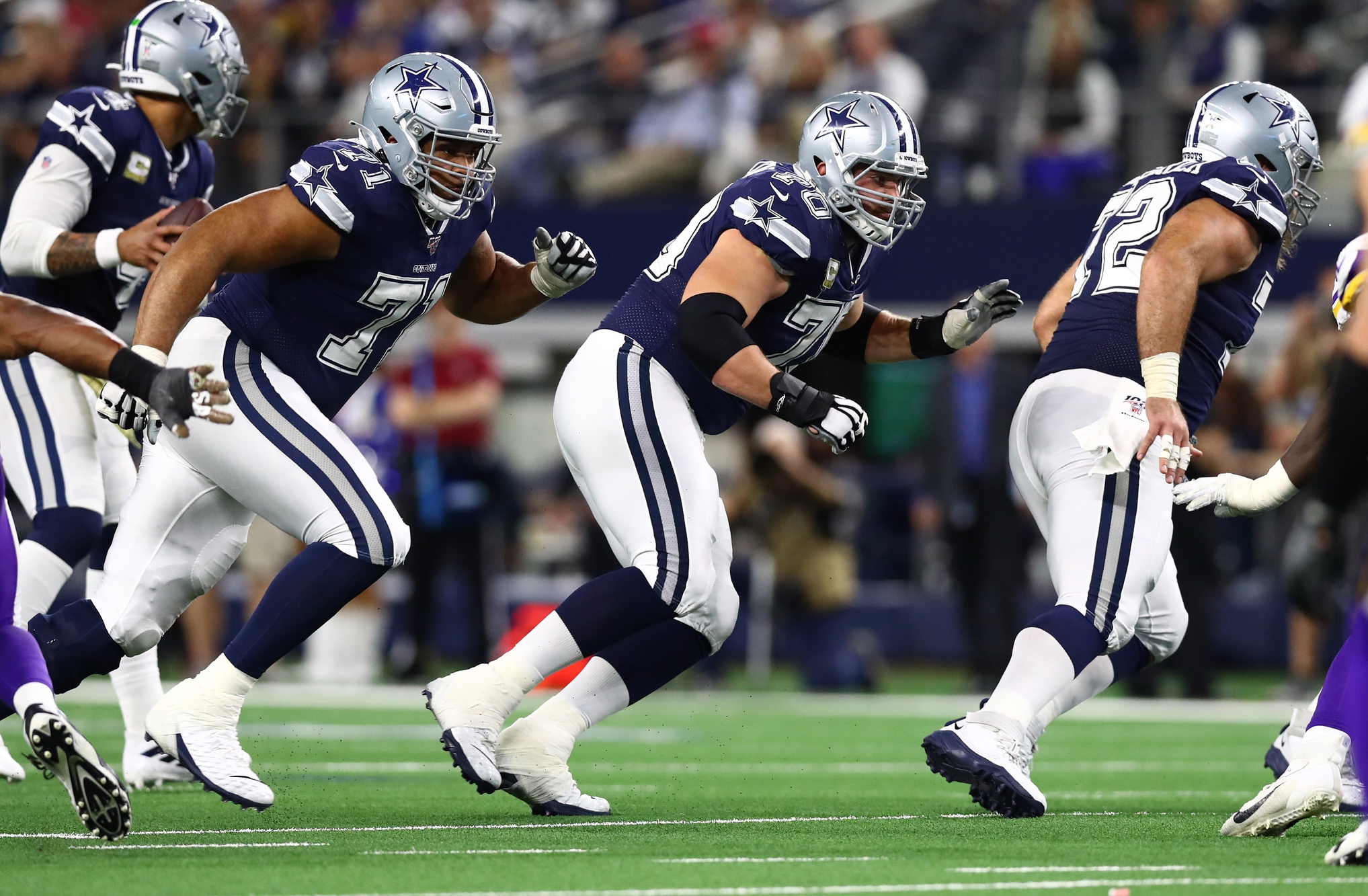 The Cowboys' offensive line annually ranks among the league's best, and their unit finished fourth in our 2019 end-of-season rankings. They've trotted out premier players at three spots on the line for multiple years now, though center Travis Frederick is retiring after landing PFF All-Decade honors. Left tackle Tyron Smith remains one of the NFL's best, earning a 91.1 overall grade since 2015 that ranks fourth — though he's only graded at 82.7 over the past three years, good for 11th-best during that time. Smith has battled injuries in recent years, and he's not what he once was in pass protection, but he can still handle the league's best and is rarely beaten in the run game.
Right guard Zack Martin is the other star on the line, an all-around technician who will battle Quenton Nelson for the distinction of the league's best guard. Martin's 91.4 overall grade since 2015 ranks first among guards. He also ranks second in pass-blocking grade and fourth in run-blocking grade.
Replacing Frederick at center will be an issue, even though he was a shell of his former All-Pro self last season. Joe Looney is first in line at center, but the last time he started a full season was in 2018, and he earned just a 52.9 overall grade — including a 46.3 run-blocking grade that doesn't come close to matching Frederick's output. Keep an eye on rookie fourth-round pick Tyler Biadasz, who had a fantastic career at Wisconsin. With the Badgers, he had the highest percentage of positively graded blocks in the run game among interior offensive linemen in the draft class. But he still has room to grow in pass protection, where he had just a 69.3 grade on true pass sets last season.
At right tackle, La'el Collins had a breakout 2019 season with a career-high 86.0 overall grade, including the No. 3 run-blocking grade (88.6) among tackles. At left guard, Connor Williams enters his third season, a pivotal year for an offensive lineman's development. Williams has ranked 53rd and 46th among guards in his two NFL seasons, so he's capable of providing mid-level play, but expectations are much higher for the 2018 second-round pick. Dallas loses a key piece in Frederick, but Collins' emergence keeps them in the mix to rank among the best lines once again in 2020.
DEFENSIVE LINE
Demarcus Lawrence has been the star on this defensive line since he broke out for the Cowboys, but the unit that takes shape around him has one of the widest range of outcomes of any group in the league. Gerald McCoy and Dontari Poe both come over from the Carolina Panthers, but neither player is the force they once were. McCoy was solid in his first season outside of Tampa Bay, but he hasn't had a PFF pass-rush grade above 70.0 in two seasons now, and his 72.0 overall mark in 2019 was the lowest he has posted since 2015. Given what Dallas had inside in 2019, he should still be a significant upgrade, but his days as a dominant force may be over.
Poe never had the consistency of McCoy, but he has become a solid run defender who brings little as a pass-rusher. He has generated just 30 total pressures from over 500 rushes in his past two seasons combined. Rookie Neville Gallimore was the fifth-ranked interior defender on PFF's 2020 Big Board and represented a steal in the third round. He has a real chance to contribute immediately, even if he never quite put it all together in college. He improved each season of his career at Oklahoma and will push for NFL snaps in Year 1.
Trysten Hill, the Cowboys' second-round pick last year, was a project at the time and saw just 121 snaps as a rookie, but he could also earn more playing time if he can demonstrate development. However, the real X-factor in this group is Aldon Smith, who has been out of the league since 2017. Smith at his best was one of the best edge rushers in the league, battling Von Miller as the pre-eminent edge-rushing force of the 2011 draft before off-field issues sent his career into a spiral. He is still just 30 years old and, if he has gotten his act together, brings an upside that is rare to find for such a minimal cost.
Smith held the rookie record for total pressures (64) until this past season, when Nick Bosa blew past that mark, and he could transform this defensive front if he can return to his prior form before the personal troubles.
LINEBACKER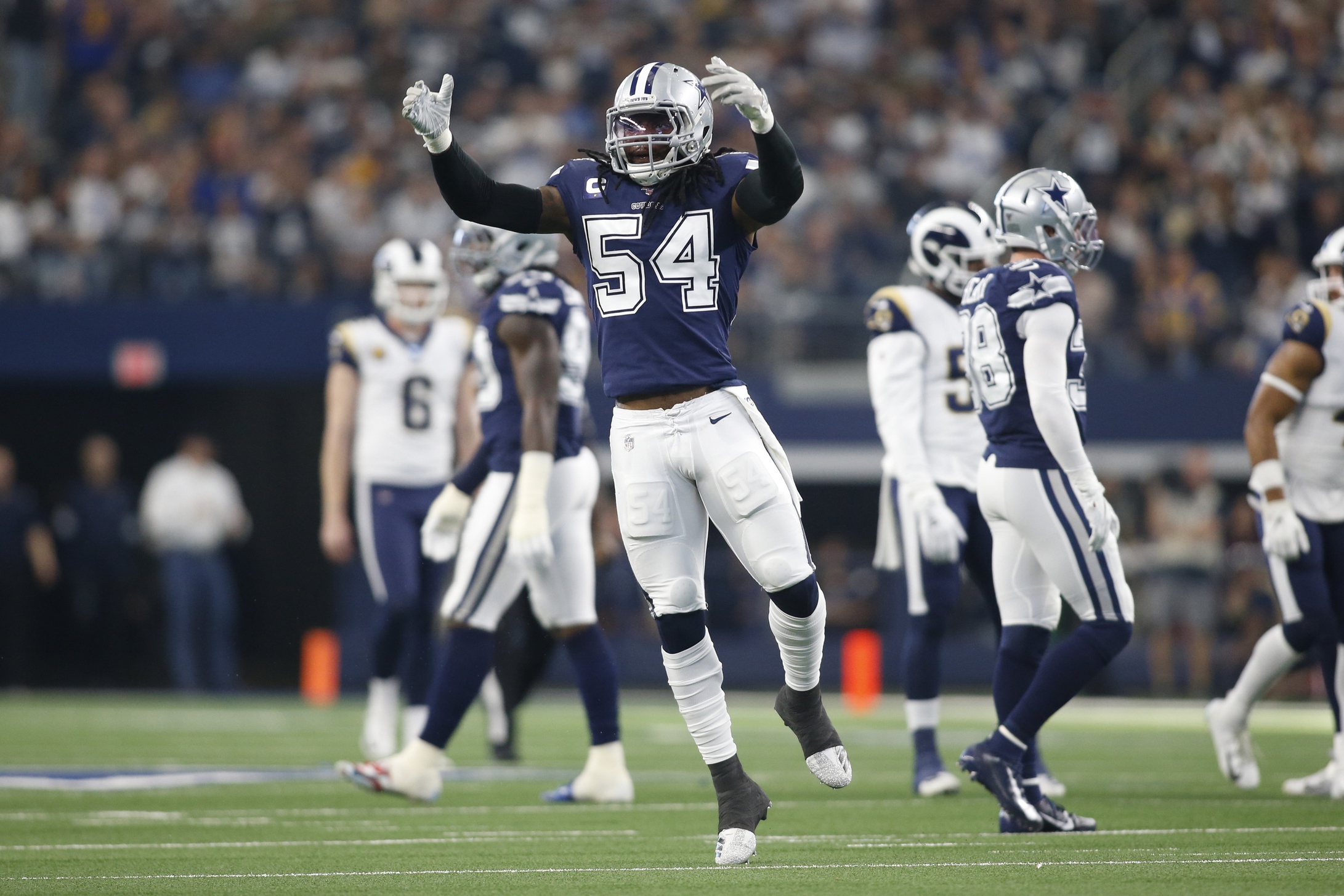 In 2018, the Cowboys had the second-highest graded linebacking corps in the league at 80.2 overall, but they dropped to 11th with a 66.2 grade last season. The unit enters 2020 as one of the best in the league, led by Leighton Vander Esch and Jaylon Smith. Vander Esch was limited to just 510 snaps last season and took a step back with a 58.5 grade after posting an 84.4 grade that ranked fifth in the league in 2018. Expect Vander Esch to return closer to his 2018 form, as he missed 14.5% of his tackles last season compared to just 8.9% in 2018.
Smith ranked right behind Vander Esch with an 84.0 overall grade, sixth-best in 2018, but he regressed last season to a 70.2 grade that ranked 19th. He has recovered nicely from a knee injury that dropped him to the second round of the 2016 draft and is one of the league's best all-around linebackers. The Cowboys also return Sean Lee, who has become more of a role player at this point in his career but still brings experience and leadership to keep the unit together. Lee is coming off the two lowest grades of his career, a 57.8 mark in 2018 and a 61.5 grade last season.
Joe Thomas adds veteran depth and posted a career-high 64.4 grade last season on 246 snaps. The Cowboys feature a strong one-two punch at linebacker in Vander Esch and Smith, and they need the duo to get back to its 2018 form to maximize the potential of the defense.
SECONDARY
With Byron Jones now in Miami, the Cowboys are on the hunt for a new No. 1 corner. The hope is that rookie Trevon Diggs can hit the ground running. The Alabama product was seen as a potential first-round selection from the Cowboys pre-draft, but they were able to secure him in the second round. While his coverage numbers and grade were spectacular last year (90.3 coverage grade), he was eviscerated by LSU's J'Marr Chase, the closest thing to an NFL receiver Diggs faced last season.
Diggs has exceptional length and size and is made for the kind of role Byron Jones leaves behind, but his transition could be bumpy. Chidobe Awuzie and Anthony Brown are the incumbents, and Awuzie could catapult himself into a different stratum of cornerback play if he can convert some of his pass breakups into interceptions. He had 11 pass breakups but just one pick. Brown didn't allow a touchdown on 22 targets last season, but he hasn't had a PFF coverage grade above 66.0 in his NFL career.
Daryl Worley and Maurice Canady supply veteran depth despite having some flaws, while Dallas struck another potential steal in this year's draft with Reggie Robinson out of Tulsa. Jourdan Lewis should man the slot once more, and while he has been solid, he hasn't quite developed into the star that he had the potential to be. At safety, Xavier Woods will partner with Ha-Ha Clinton-Dix if he can hold off the challenge of Darian Thompson. Both players are capable coverage specialists and more-than-solid presences in the secondary.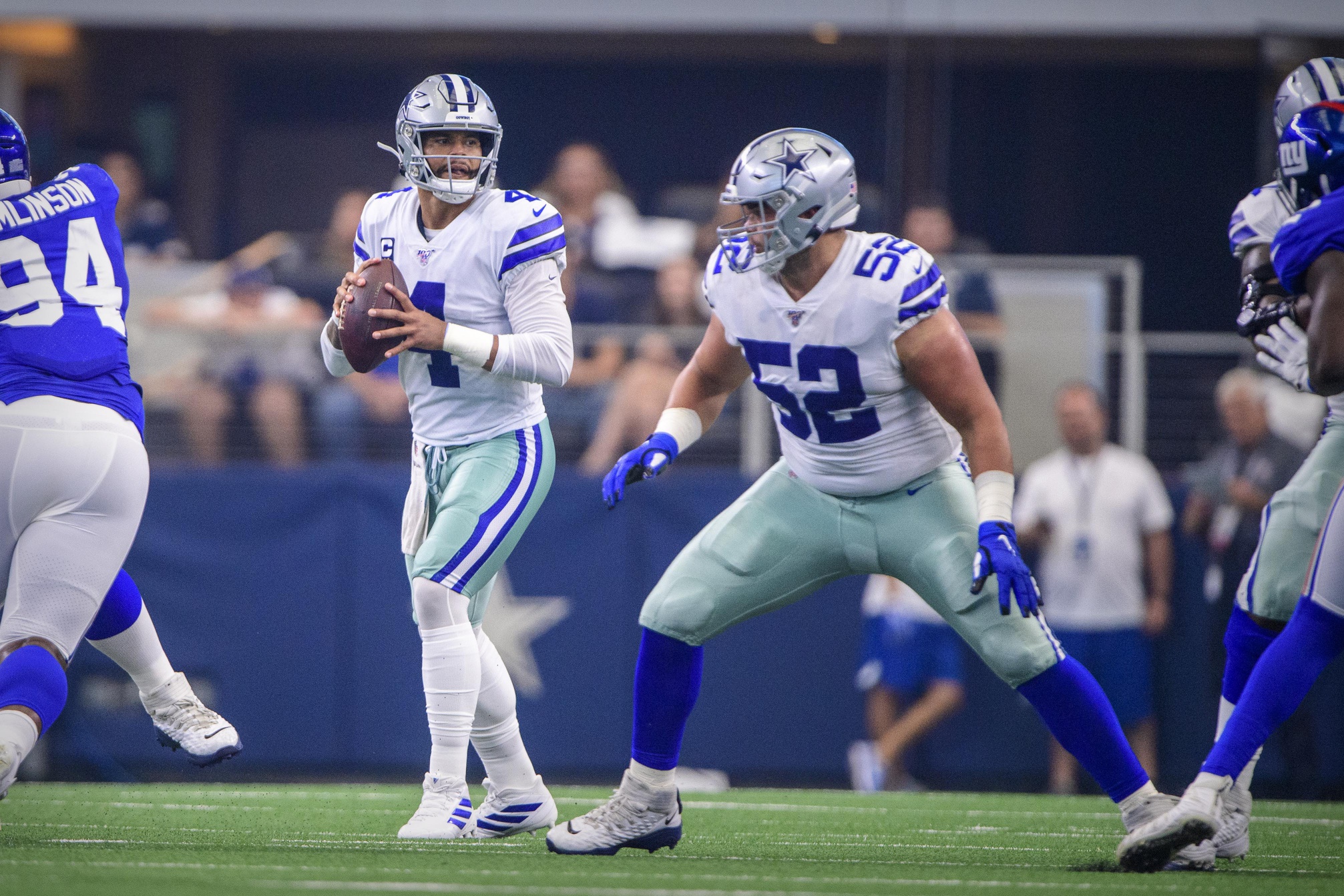 If the Cowboys want to maintain their top-notch offensive line, Williams may be the key. With Frederick retiring and Tyron Smith taking a step back in recent years, the Cowboys are not as dominant up front as they've been in the past. Williams is excellent when blocking on the move, gliding to the second level with ease, but he must cut down on a few mental mistakes to take the next step. Keep an eye on him this season.
DRAFT CLASS REVIEW
The Cowboys got one of our few A+ drafts after getting impact and value throughout. It started with letting the board fall to them with wide receiver CeeDee Lamb, the No. 2 receiver on the PFF Big Board. Dallas got another first-round talent in Trevon Diggs in the second round, and he'll compete for cornerback snaps right away. Third-rounder Neville Gallimore adds excellent athleticism to the defensive interior, and fourth-round center Tyler Biadasz is the best run-blocking interior offensive lineman in the draft and a future starter. It was a strong overall effort from the Cowboys, and this draft has home-run potential.
BEST BET
The Cowboys are the odds-on favorite to win the NFC East and are the fourth-most likely team to get to the Super Bowl out of the NFC. They are slightly lower in our simulation probability than current betting markets, which is expected from a favorite who also happens to be one of the most public teams to bet on. Their 9.5-win total is shaded heavily to the over, making under 9.5 at plus money a worthwhile bet, according to our simulation results. Our current fantasy projections have Dak Prescott throwing for 4,074.5 passing yards, which offers enticing value on his current yardage prop total of 4,319.5 given the unknown injury situation for players this year.