After years as one of the best teams in the NFC, the Minnesota Vikings enter the 2020 season poised to compete but with more question marks than they've had in recent memory. The roster has undergone an overhaul over the past few seasons, with productive players moving on and more young players being counted on in their stead. Minnesota's 15-player 2020 draft class exemplifies that shift, as does the loss of several key veterans, including star wide receiver Stefon Diggs.
Even with the turnover, the Vikings have plenty of pieces in place in the right areas, from quarterback to wide receiver to the secondary. However, their 2020 success will likely be determined by how soon that monster draft class is ready to contribute.
ADDITIONS/SUBTRACTIONS
DI Michael Pierce (signed for three years, $28 million, $18 million guaranteed)
S Anthony Harris (franchise tag)
FB C.J. Ham (re-signed for four years, $12.25 million)
LB Eric Wilson (second-round tender)
Losses:
WR Stefon Diggs (via trade)
CB Trae Waynes
EDGE Everson Griffen
QUARTERBACK
Here's what I said about Kirk Cousins after the 2019 season:
"After a slow start to the season and one of the worst games of his career in Week 2 against the Packers, Cousins turned things around to put together the best performance of his career and his second top-10 finish in PFF grading. He took to the Vikings' outside zone/play action-heavy scheme, working well both inside and outside the pocket. Cousins was incredibly accurate at the intermediate (10 to 19 yards downfield) level and cut down on his turnover-worthy plays. The biggest improvement this season was his increase of 3.8 percentage points in positively graded throw rate, the third-highest mark in the NFL, and that's a credit to the system and supporting cast in Minnesota, even with their injury woes. Overall, it was a strong second season for Cousins, who improved his game and came through in big spots over the course of the year."
Cousins was one of the most efficient quarterbacks in the league last season, producing a career-high 84.1 overall grade, including the playoffs. He made big plays outside the pocket, and while the new system certainly provided more downfield opportunities, Cousins also did a fine job of keeping the offense on point despite injuries on the outside and uneven play from the offensive line. Fans are always left wanting for a "next step" from Cousins, whether it's a big playoff win or a get-on-my-back stretch of play in which he carries the team, and while those may never happen, he's a capable starter who will keep the Vikings in position to win games once again this season.
RUNNING BACK
Last season, Dalvin Cook showed what he's capable of when healthy, generating an 83.5 rushing grade that ranked fourth in the league during the regular season. He has one of the league's best combinations of power and burst, evident in his 4.5 yards per carry average over three years in the league. Cook is effective in the pass game, too, ranking second among running backs in screen yards in 2019. However, his eight drops and two fumbles marred his receiving grade for the year.
When healthy, Cook is right there with the top runners in the league. Behind him, 2019 third-rounder Alexander Mattison posted a 69.2 rushing grade and 4.6 yards per carry, while preseason sensation Mike Boone got into the action with 5.6 yards per carry on 49 attempts. The trio returns to give the Vikings one of the NFL's better backfields in 2020, led by Cook's big-play potential.
WIDE RECEIVER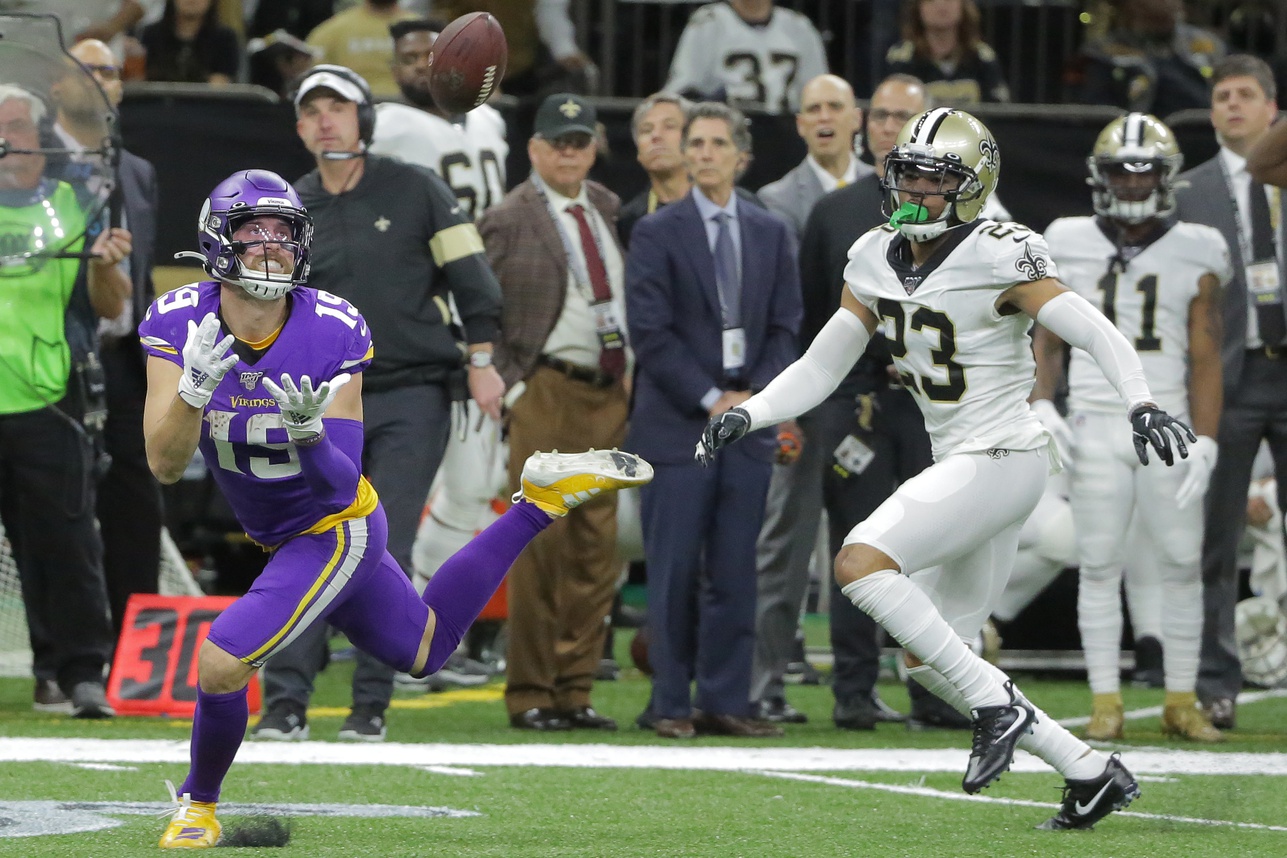 After trotting out one of the best receiving duos in the league over the past few years, the Vikings' unit is riddled with uncertainty entering this season. Adam Thielen was limited to just 541 snaps last season, but when healthy, he's a nuanced route-runner with the downfield ball skills to win all over the field. Thielen posted a 78.5 receiving grade in 2019 after earning a career-high 89.4 mark in 2019, which ranked seventh among wideouts.
The biggest question mark surrounds rookie first-rounder Justin Jefferson, who will be charged with replacing Stefon Diggs. Jefferson's scouting report will read a lot like Thielen's, as he's a crafty route-runner with an excellent feel for working the middle of the field. Most of Jefferson's production came out of the slot at LSU, where he often had free releases and schemed up throws, but he has the tools to win on the outside and caught 12 of his 13 contested catches a year ago. The Vikings didn't use three wide receivers often in 2019, but Olabisi Johnson did a fine job as a seventh-round rookie, grading at 63.7 overall to go with 311 yards, including the playoffs.
Tajae Sharpe signed a one-year deal this offseason after four years with the Titans and a career-best 72.3 grade last season. Fifth-round pick K.J. Osborn will compete for snaps, as will third-year player Chad Beebe, who has six career catches. Even if the Vikings are going to predominantly be a two-wide receiver team, they need Jefferson to transition smoothly to the NFL and Thielen to get back to his 2018 form if they are to boast one of the league's best receiving units in 2020.
TIGHT END
Minnesota has one of the better one-two punches in the league at tight end with Kyle Rudolph and Irv Smith. Rudolph has a huge frame, and while it always feels like he should be more productive, he's had a solid nine-year career for the Vikings. Last season, Rudolph had the 13th-best receiving grade among tight ends during the regular season (76.9), though his run blocking has tapered off in recent years, grading in the 50.0s for four straight seasons.
Smith brings a different skill set to the unit as more of an oversized receiver who can line up in the slot and make plays in space. He caught 39 passes for 350 yards as a rookie to go with a 65.4 run-blocking grade. Third-year tight end Tyler Conklin adds depth to the group with 14 career catches. With so many question marks in the receiving corps and Minnesota's penchant for two-tight end sets, expect even more production out of Rudolph and another step forward from Smith this season.
OFFENSIVE LINE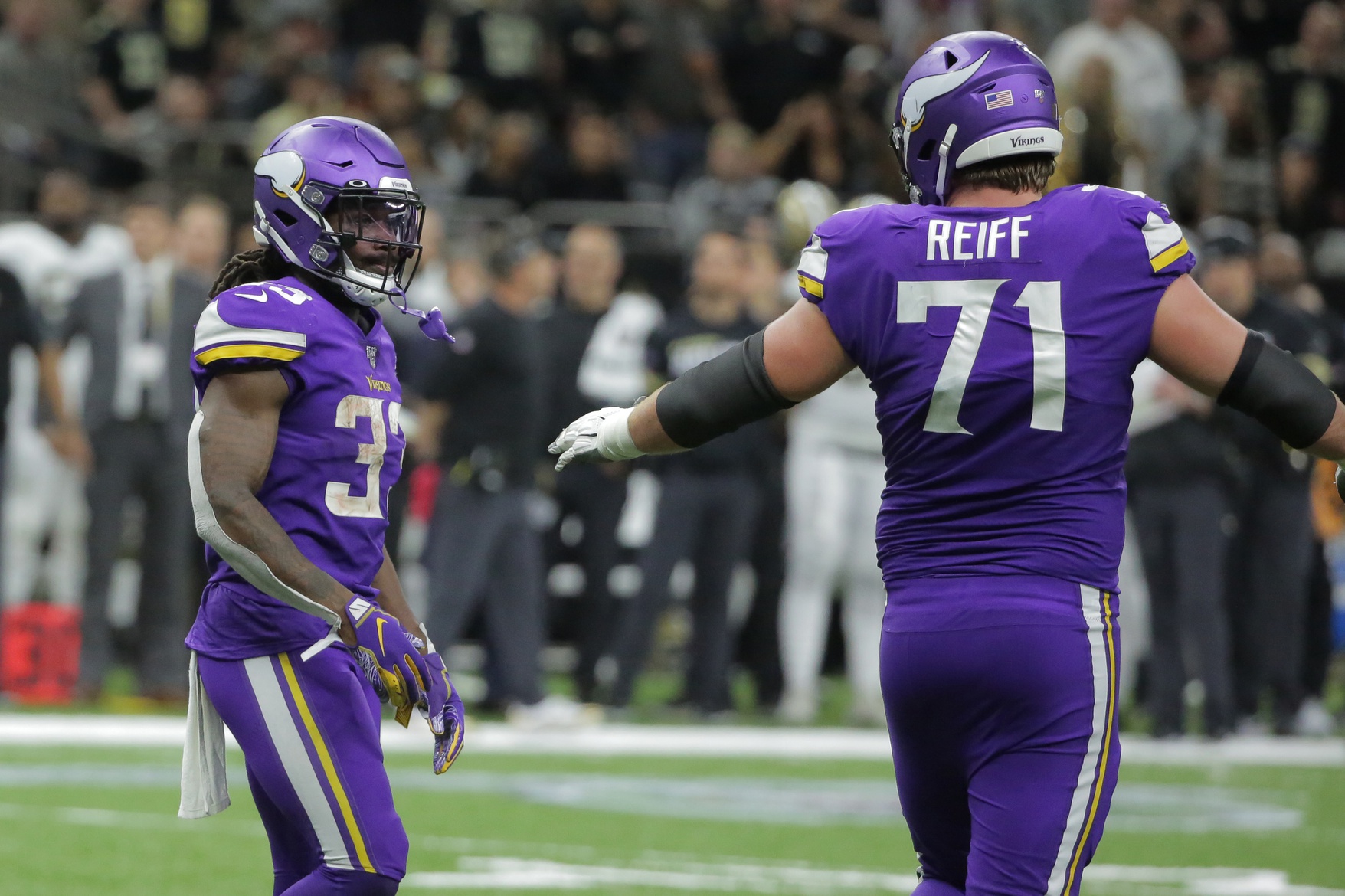 A new offensive system and play action-heavy approach helped the Vikings move up to 19th in our final offensive line rankings in 2019, and they return fourth-fifths of last year's unit. Left tackle Riley Reiff has been a mid-tier option since coming over from the Detroit Lions. He has had many solid games in his three years with the Vikings but also some duds, including a poor 31.6 pass-blocking grade against the San Francisco 49ers in the divisional round last year. On the plus side, Reiff is a solid zone blocker and had the 20th-highest percentage of positively graded run blocks among 82 qualifying tackles last year.
Right tackle Brian O'Neill is another athletic zone blocker who fits well in Minnesota's system, ranking 22nd in positively graded blocks in 2019 — right behind Reiff. O'Neill has also been solid in pass protection in his two NFL seasons, ranking in the top half of the league with a 68.6 grade. The Vikings used a second-round pick on Boise State tackle Ezra Cleveland, who profiles similarly to Reiff and O'Neill as a good zone blocker with mid-level expectations as a pass-blocker.
On the interior, left guard Pat Elflein has struggled as both a center and guard. Elflein's 57.4 overall grade ranks just 105th out of 130 qualifying interior offensive linemen over the past three years. Meanwhile, at right guard, Dakota Dozier is slated for the first extended starting action of his career, as he's yet to play more than 361 snaps in any of his five seasons. Dozier graded at just 51.5 across both guard positions and a little bit of center last season for the Vikings.
Center Garrett Bradbury has the perfect skill set for Minnesota's outside-zone scheme, and he flashed it last season. In pass protection, though, he struggled en route to a 38.7 pass-blocking grade that ranked last among centers. The Vikings have a good zone-blocking line that gave their running backs the third-highest percentage of positively graded blocks per rush last season, but there are holes in pass protection, especially in must-pass situations against good defensive lines.
DEFENSIVE LINE
The Vikings' defensive line has undergone significant changes this offseason, with the departures of arguably their two best players from the unit over the past few seasons in Linval Joseph and Everson Griffen. Joseph is now with the Los Angeles Chargers, whereas Griffen remains unsigned. Danielle Hunter had a career year last season, which should help make up for Griffen leaving, and the team brought in former Baltimore Ravens interior defender Michael Pierce to serve as Joseph's replacement.
Pierce isn't coming off his best season, but prior to that, he was a dominant run defender who had a 91.0 grade in 2018. He is a huge load in the middle  (340-plus pounds at just 6 feet tall) and should provide the Vikings a run-stuffing presence who is can push the pocket against the pass better than he gets credit for. Hunter and Pierce are the two proven commodities on the line, but the other two starting spots and the depth are a major concern.
Shamar Stephen played 580 snaps in the regular season last year and had just six total pressures. Ifeadi Odenigbo flashed potential on the edge, producing 25 total pressures and three high-end games, but he now needs to take a step forward as an every-down starter. Anthony Zettel was added to the roster but has shown little in his NFL career outside of a surprise 2017 season in which he generated 43 quarterback pressures. In 2019, though, he had just seven total pressures across time with the Bengals and 49ers.
The Vikings have taken several late-round shots on defensive line prospects over the past few seasons, but none have yet emerged to be positive role players beyond Odenigbo. Minnesota will hope that changes this offseason — otherwise, this line could be in for a significant regression.
LINEBACKER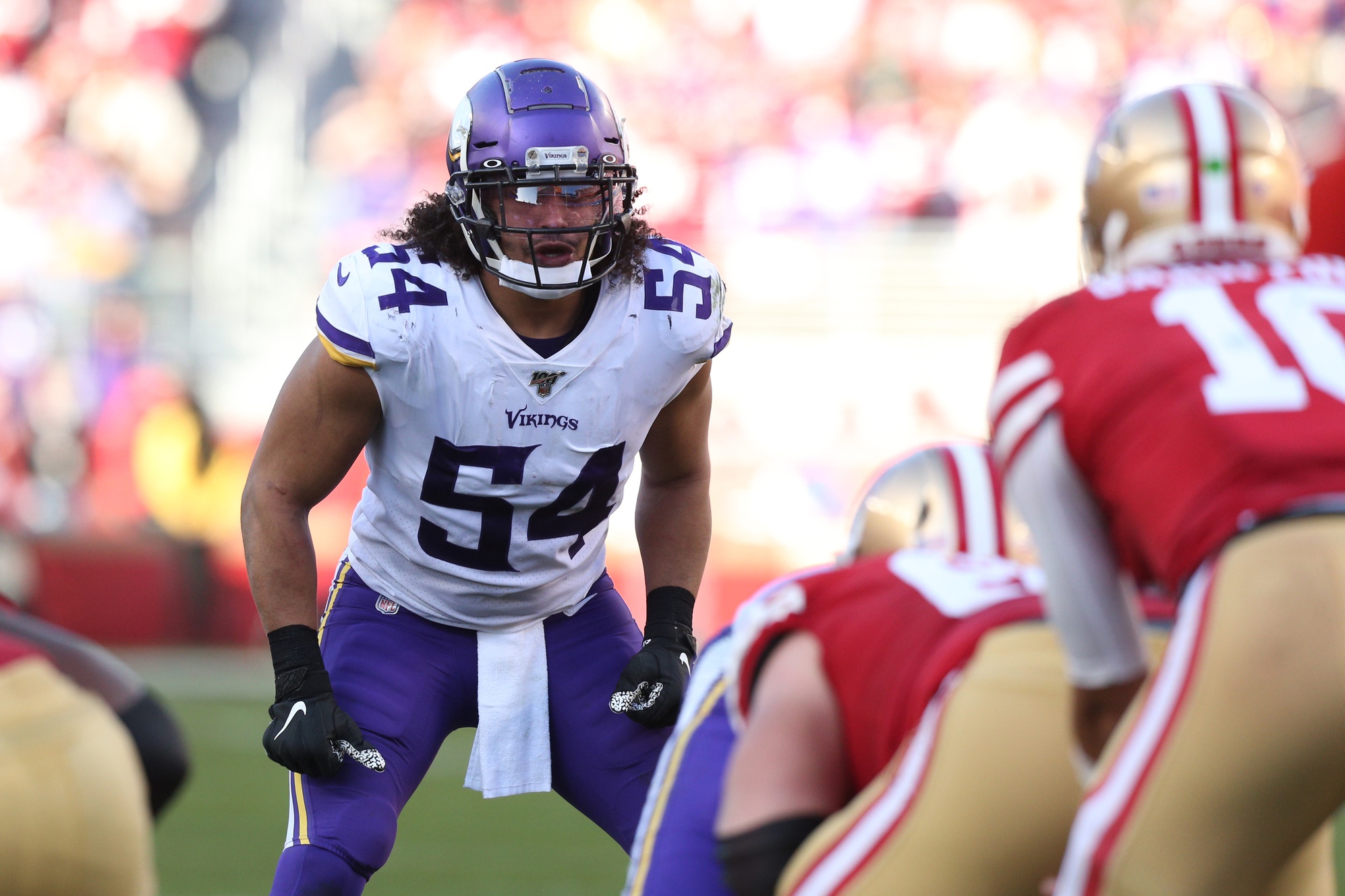 Last season, Eric Kendricks had a legitimate case for Defensive Player of the Year, as his 90.2 overall regular-season grade led all linebackers and he also led the way with 12 pass breakups. Kendricks had produced grades in the 60.0s in his previous three seasons, so last year was one in which he finally put it all together in each phase. In addition to Kendricks' playmaking in coverage, he also had the third-best run-defense grade (90.1) while tying for 10th with 17 pressures. It may be too much to expect another three-phase career year from Kendricks, but he'll likely be among the league's best in 2020.
Anthony Barr returns for his seventh year with the Vikings after finishing with a 60.6 overall grade that tied for 51st last season. He's now four seasons removed from his peak 90.0 overall grade in 2015 — his best mark since then has been just 70.5. Barr has coverage limitations but has been reasonable in the run game and rushed the passer over 100 times every season as the Vikings tap into his pass-rush ability.
Eric Wilson manned the No. 3 spot last season, grading out at 66.7. He'll have competition in Ben Gedeon, who produced a 60.1 grade on 102 snaps last season, and fourth-round pick Troy Dye, one of the better coverage linebackers in the draft who has the length to be a weapon against tight ends.
The Vikings have a solid group that plays to their defensive style, and another high-end year from Kendricks makes this one of the top units in the league.
SECONDARY
Few secondaries have more uncertainty than the Minnesota Vikings' unit right now. They lost their top three cornerbacks from a season ago in the offseason, leaving just Mike Hughes and Holton Hill to battle for playing time against rookies Jeff Gladney and Cameron Dantzler. Hughes was a first-round pick in 2018, but injuries have limited him to just over 700 snaps in two seasons split across multiple different positions. Hill played well as a rookie in 2019, but an eight-game suspension for 2020 makes it challenging to rely on him going forward, which will give Gladney and Dantzler every chance to start and feature heavily.
Gladney is the most battle-tested cornerback in the class, seeing 232 targets come his way in his college career, by far the most of any top corner. Dantzler has a frail-looking frame and did not test well, but he allowed just 42.7% of passes targeting his coverage to be caught for a meager 43.8 passer rating in his college career. At safety, the Vikings have the best tandem in the league in Harrison Smith and Anthony Harris, who will play on the franchise tag. The pair each had a coverage grade above 91.0 last season, and they should help mitigate some of the struggles from the cornerback group should they manifest as they did in 2019.
Given the turnover at the position, depth is a question mark across the board. Late-round rookies make up the options behind the safeties, with Brian Cole and Josh Metellus the primary backups, while Kris Boyd is the only other cornerback option the Vikings took in a draft.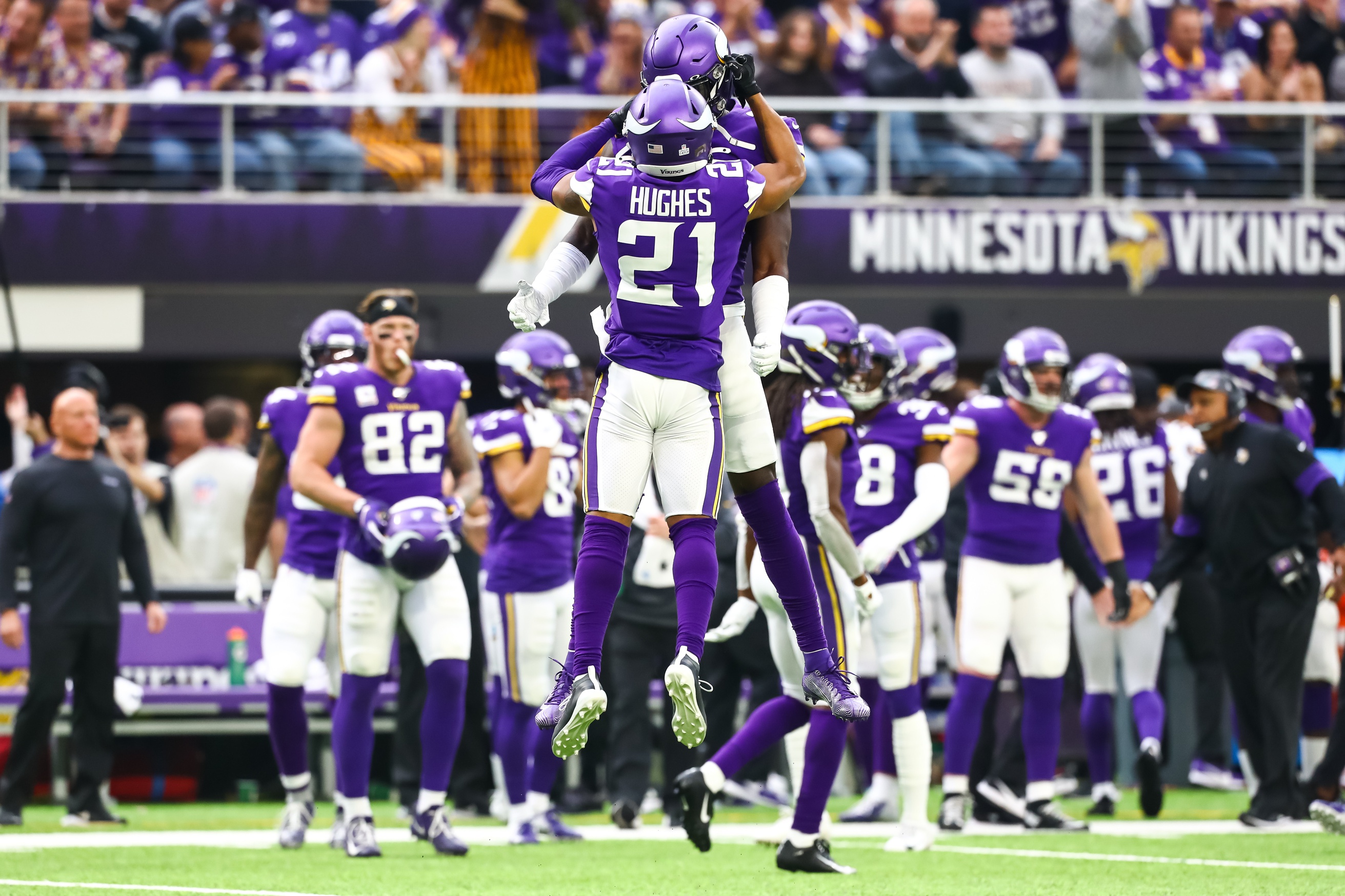 Both former first-rounders are crucial parts of the 2020 Vikings squad, with Hughes taking a big step forward in responsibility; he will be counted on as a starter, despite having only 744 career snaps in his two years. Hughes looked like a good fit for Minnesota's scheme coming out of college, but his peak grade is a 61.6 mark in 2018. Similarly, Bradbury is a scheme fit in the run game, but his pass blocking must improve if the Vikings hope to have a middle-of-the-pack offensive line. With so many rookies expected to contribute, the Vikings need both former first-rounders to take a big step forward and lead the rebuild.
DRAFT CLASS REVIEW
It's a potentially franchise-defining draft for the Vikings — they may have four starters in their first four picks and a plethora of contributors littered throughout their 15 total selections. All eyes will be on first-round wide receiver Justin Jefferson, who steps in to replace Diggs, while early production out of either Jeff Gladney or Cameron Dantzler at cornerback is crucial. Tackle Ezra Cleveland should have time to sit and develop, a nice luxury to have in the high-volume class. Minnesota's 11-player haul on Day 3 could go either way, but keep an eye on linebacker Troy Dye and edge defender Kenny Willekes carving out roles on the defense early on.
BEST BET
Bettors have not been fond of backing the Vikings this offseason; the team's win total has dropped one-half of a game since the start of the offseason. This was a line we recommended early, but the expected downward line movement has brought the bet closer to the range of our simulation outcomes.  Stefon Diggs is a considerable loss, but the effect on forecasting the Vikings appears to frame it as a signal of a team on the verge of disarray.
Essentially, the trade resolved the issue of a disgruntled star receiver but leaves questions about why the initial issues surfaced in the first place. Sitting at a plus money bet, the Vikings to miss the playoffs offers value, as we set this line closer to -110.