• Former second-round pick Denzel Mims could be the odd man out in the New York Jets receiver room.
• Although the Detroit Lions spent a seventh-rounder on Jermar Jefferson in 2021, a crowded backfield might leave him on the outside looking in, barring a strong preseason Week 3 showing.
• The Kansas City Chiefs signed running back Ronald Jones this offseason, but they too roster a packed running back corps. Jones has taken just four carries this preseason.
---
With just one week left in the preseason, plenty of players around the league are fighting for their chance to continue playing on Sundays once the regular season kicks off. 
Here are 10 players from around the NFL who need strong performances in their team's preseason finales to make that final 53-man roster.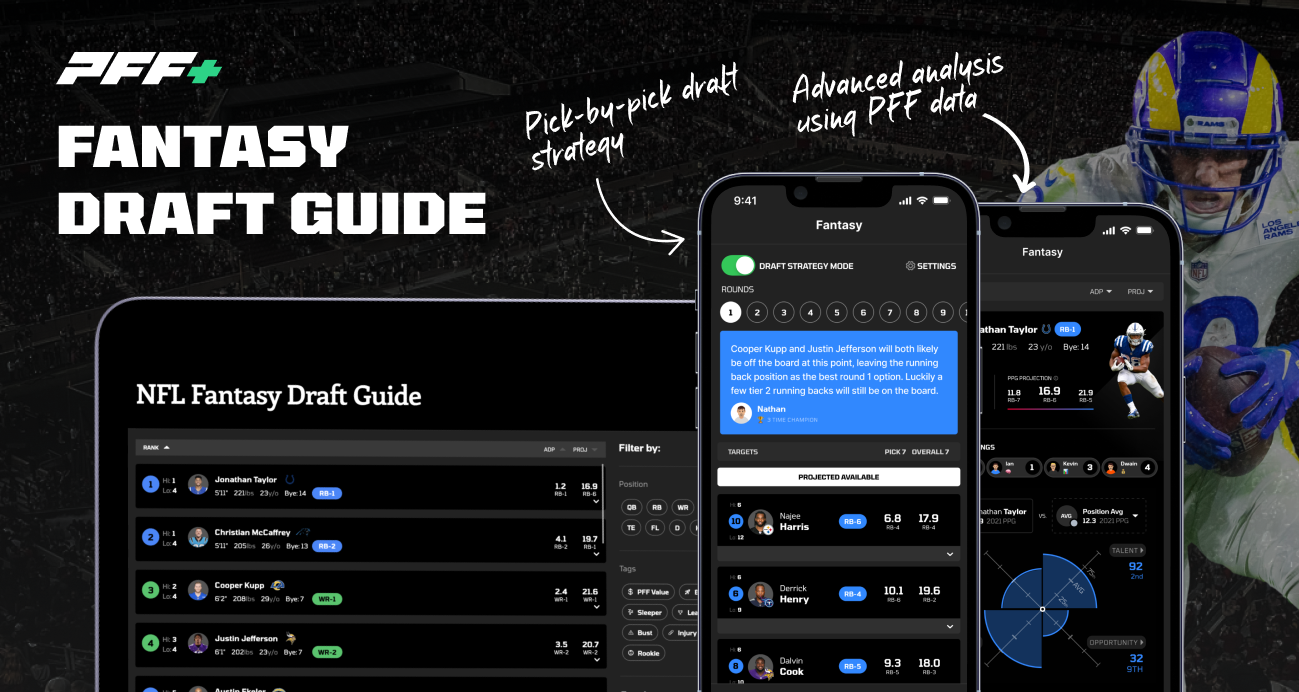 The Chiefs signed Jones this offseason to help bolster one of the few spots on their offense that needed new juice. Jones took a while to catch on with the Buccaneers, and though he failed to stick in Tampa Bay, there were flashes of athleticism with the ball in his hand. Unfortunately for Jones, the once-ideal running back room has become too crowded to crack. Through two preseason games, Jones has just four carries for one yard and a 48.4 PFF grade.
He needs a big performance in the Chiefs' preseason finale to make the final roster over the likes of Jerick McKinnon, Isiah Pacheco and even Derrick Gore, who is making a name for himself on special teams.
---
It has been a disappointing start to Mims' NFL career to this point. He caught 23 passes for 357 yards in his rookie campaign. But in his second season, he brought in just eight passes for 133 yards. Still, there was plenty of optimism for the 2020 second-round pick heading into his third campaign. But where the flashes still show up from time to time (64.9 receiving grade this preseason), so do the blunders.
Elijah Moore and Corey Davis are the veteran locks ahead of Mims, as is rookie Garrett Wilson. Braxton Berrios could also be ahead of Mims, depending on how much the Jets want to use Berrios' slot skill set. That makes Mims WR5 at best. The Jets would certainly like to trade him rather than cut him, but Mims will have to finish out the preseason strong to increase his value either in New York or elsewhere.
---
Slayton's career started off hot with back-to-back 700-yard seasons. But last year, he recorded career lows in targets, catches, yards and touchdowns. Slayton was running with the second and third teams for the start of training camp. He played with the first team in the Giants' initial preseason game but didn't play a snap during their second game (perhaps due to injury). Regardless, it's hard to think he's any sort of a lock to make the roster with a new coaching staff and new front office in the building from when he was drafted.
---
Layne, a converted wide receiver in college, was a third-round pick by the Steelers back in 2019. But he's played just 151 regular season snaps for the team in the three years since then and has never recorded a 50.0-plus PFF coverage grade. It looked like an uphill climb for Layne to make the roster this preseason, but an interception (though a bit opportunistic) in Week 2 does help his cause.
---
McGrone was one of the trendy "favorite picks" from the 2021 NFL Draft after the Patriots were able to get him in the fifth round. As one of the youngest prospects in the class (20 years old on draft day, still just 22 this season), McGrone was seen as a great late-round gem due to age and athletic potential. But it seems he might be on the outside looking in at the Patriots' final 53-man roster.
McGrone didn't play last season (placed on injured reserve to start the season), and though he's made some splashes during training camp, it doesn't seem to be enough to crack the final linebacker list. He'll need his best week yet to make his case a compelling one.
---
After racking up 19.5 tackles for loss and 12.5 sacks in his final season at Wisconsin, Baun went off the board in the third round of the 2020 NFL Draft. He played only 82 snaps his first season, garnering a 62.0 PFF grade, but his grade dropped all the way to 44.6 on a higher snap count (194) last year. 
Baun's best work came rushing the passer at Wisconsin, yet he played 82 reps in coverage compared to just 18 as a pass-rusher in 2021. The way Baun is being used right now as an off-ball linebacker is not showing a lot that would warrant a roster spot. But perhaps the coaching staff believes in him more than the production implies. 
---
It's been a tough preseason for the former 2020 second-round pick, which has unfortunately been the tale of his young NFL career thus far. As a rookie, he recorded a 30.2 overall grade, and though he improved in his second year, his 39.0 run-defense grade showed unreliability. Through 38 snaps this preseason, Blacklock's grade stands at 29.3. It's tough to move on from top-50 picks halfway through their rookie contracts, but Blacklock needs to put his best foot forward in the Texans' preseason finale.
---
Miller is known for his NFC Championship Game heroics where he caught a 39-yard touchdown with one second left in the first half to give Tampa Bay a 21-10 lead at Lambeau Field. He became a Buccaneers legend that day, but there hasn't been much from him since. With a crowded wide receiver room in Tampa Bay, led by Mike Evans, Chris Godwin, Julio Jones and Russell Gage, the Bucs are going to have to leave a handful of good receivers off the final 53-man roster. Miller is in a battle with Tyler Johnson, Cyril Grayson Jr. and Breshad Perriman for that WR5 spot. Miller played in just nine games last season due to injury.
If Tampa Bay lets him go, he won't be out of a job for long.
---
There was reason to believe Williams could find a place on the Falcons' final 53-man roster. He was the Chiefs' feature back from their playoff runs in 2018 and 2019, including a pivotal performance in their Super Bowl victory. That kind of postseason resume on an inexperienced roster could have been welcomed. But Cordarrelle Patterson is going to be the X-factor out of the backfield, rookie Tyler Allgeier is likely to take a spot and Avery Williams brings special teams experience. All of a sudden, Williams is in a battle for one of the final spots.
Perhaps the Falcons keep five running backs, but if they don't, Williams could be on the chopping block.
---
Though there were high hopes for Jefferson, who graded out well in the limited snaps he saw as a rookie in 2021, the Lions' running back room has so many bodies. D'Andre Swift and Jamaal Williams are the obvious go-to backs in Detroit. Next would be any of Jefferson, Craig Reynolds and Justin Jackson. But Jefferson gained just 25 yards on seven carries while Reynolds and Jackson gained 37 and 54, respectively, on the same amount of carries.
Dan Campbell has praised Jefferson for his improvement from last year to this year, so perhaps they'll still want him on the roster. But based purely on performance, Jefferson has an uphill battle going into the Lions' final preseason game.