Each NFL player endures a different developmental curve. Sometimes the proverbial light switch turns on overnight. Sometimes players improve gradually throughout their first few years in the NFL. And sometimes — hopefully not in the cases of any of the players below — a first-round player just can't find their footing in the NFL.
Below are 10 first-rounders who have had difficult transitions to the league over their first six weeks. Let's take a look at exactly what has gone wrong for each.
Of all the players on this list, Okudah is far and away the most surprising inclusion to me given his pre-draft evaluation. Two things stand out when diving deeper into the tape:
He's not too far off
He's getting better
There's no sugar coating it: His numbers have been awful through four games. Okudah has allowed 19 catches on 26 targets for 299 yards with one interception and no pass breakups. His ability to play the ball down the field has easily been the most worrisome part about his game.
He has let himself get stacked on multiple occasions when turning to locate the football and has bitten on a double-move for a deep catch. Take the play below, for example. Okudah actually stayed on top of Hopkins' go-route so well that he turned back anticipating a back-shoulder throw instead of focusing on the receiver and playing through the catch point.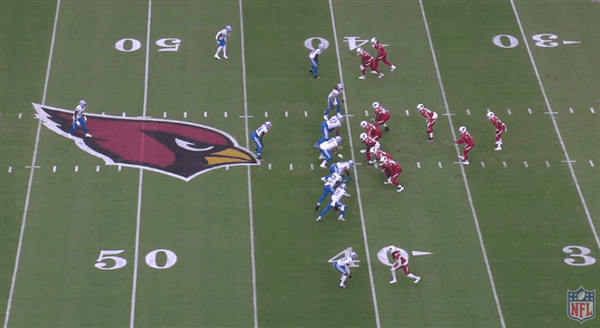 The act of sticking with receivers has rarely been his biggest problem.
Okudah was also thrown to the wolves fresh off his hamstring injury, tasked with guarding Davante Adams and DeAndre Hopkins in back-to-back weeks. He allowed 200 yards in those games and only 99 since. His outing last week against the Jaguars was easily his most encouraging performance of the season, and he had an excellent rep on a fade route.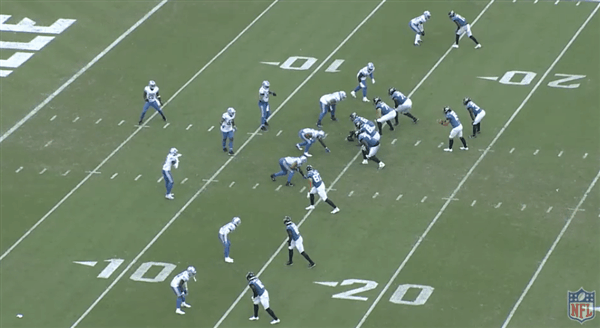 I think things will start to turn around soon here for Okudah given his physical skills.
Thomas' struggles have gotten a little out of proportion because of how well guys like Jedrick Wills Jr., Mekhi Becton and Tristan Wirfs have played after getting drafted later. We've seen a number of first-round tackles grade out even worse over their first seasons in the NFL than Thomas' 59.1 overall mark and go on to become quality starters in the league. That list includes Bryan Bulaga (58.7), Eric Fisher (57.8) and more recently Kolton Miller (49.6).
I went a little more in-depth about what's gone technically wrong with Thomas in a mailbag a couple of weeks ago that you can find here. More worrisome than his on-field performance should be the fact that he was late to a meeting last week and subsequently benched for a portion of the Giants' win over the Washington Football Team. With how much development he still has to go, you'd hope his attention to detail turns around.
Simmons' struggles have been overrated to a degree. Yes, he looked out of place on limited snaps in Week 1. Yes, he's still not a starter. But it was only a couple of ugly reps in that first game, and he didn't even play off-ball linebacker again until this past week. Against the Cowboys, Simmons made two really nice plays — one against the run and one in coverage — and didn't have any negatives on the day (the illegal contact flag was beyond ticky-tacky). This play against the run is easily the most encouraging.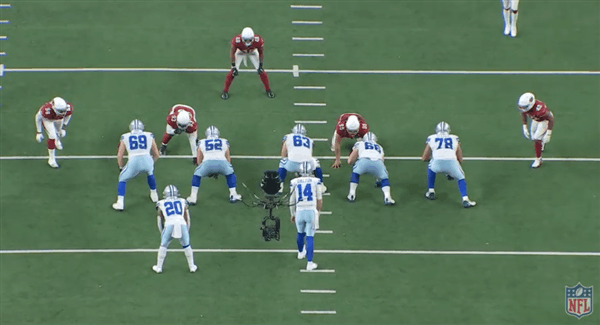 That's a play he was never asked to make at Clemson. It's nice to see him attacking the block there instead of the hole because that's a necessary step that a lot of young linebackers struggle with. As a linebacker, you attack the block there so that not only is your gap filled but you're also squeezing the adjacent gap.
Then there was his play in coverage running the seam from a mugged A-gap look, which showcases the kind of athleticism Simmons brings to the table. It's a play he should be able to make in his sleep.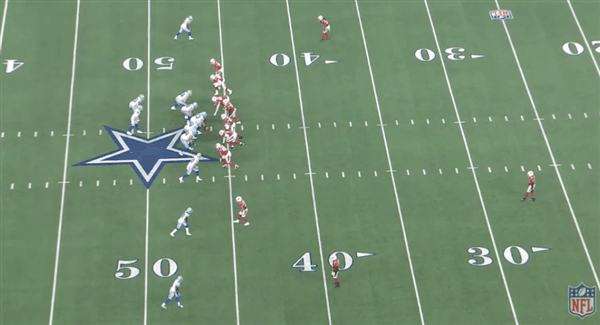 All in all, it has been a far more impressive second go-around. I'd look for Simmons to be in line for more playing time here soon.
If you watched him at all at USC or followed PFF's draft coverage, this inclusion shouldn't come as much of a surprise. Jackson was a project who struggled last season against every NFL-caliber edge rusher he faced. Now, he has a 49.8 overall grade for the season after allowing 11 pressures in four games before ending up on IR with a foot injury. And it's worrisome that Jackson didn't face much in the way of elite or even high-quality edge talent against the Patriots, Bills, Jaguars and Seahawks.
Having turned only 21 in May, Jackson was always drafted for what he could become and not necessarily what he was at the moment. That means his post-IR stint with the Dolphins will be crucial. Seeing some sort of development is necessary, and you don't want to be trotting him out again in a couple of years thinking that this is hopefully the season everything comes together.
While there are encouraging plays on Arnette's tape, his rookie year has gone about as poorly as anyone's on this list. After giving up 10 catches on 11 targets for 201 yards in his first three games, Arnette went on IR with a thumb injury. The hits keep coming, as Arnette was placed on the reserve/COVID-19 list this week.
Let's get to the tape, though. Everyone remembers Robby Anderson's double-move in Week 1 against Arnette that was cover-your-eyes ugly. There were two plays he made on screens, however, that get me excited to see more of him and — not that I'm putting this on him right now, by any means — make me think if things don't work out at corner, he could have a Malcolm Jenkins-esque switch to safety. What really stands out to me is the violence in the two plays below.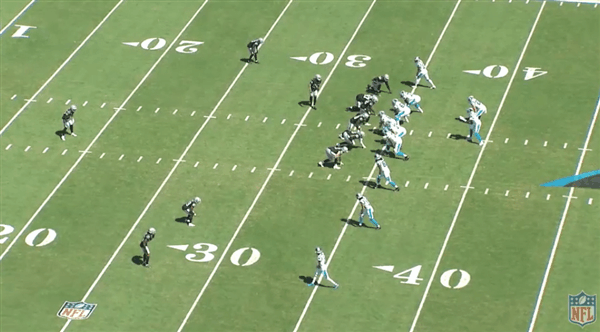 You can't coach that — especially for a player who, once again, was playing with a cast this year after injuring his thumb in training camp. That's a good starting point, even if his downfield coverage has been an issue so far.
Chaisson is yet another draft pick who came firmly with the "project" label. He averaged fewer than three pressures a game last year at LSU and managed only 36 total on 365 pass-rushing snaps for the Tigers. That's pretty much what we've seen this year, except against far better competition.
He's averaged exactly one pressure a game through six weeks and has the seventh-worst pass-rushing productivity score of any edge defender in the NFL (2.6). On top of that, Chaisson's 31.1 run-defense grade is the lowest in the league and he doesn't have a single stop against the run all year.
Chaisson's most impressive rep came on a Week 2 sack after rushing inside against Rodger Saffold.
K'Lavon Chaisson with his first sack on the season. 1st of many to come! pic.twitter.com/XgVvKZGEPG

— Jaguars United (@Jaguars_United) September 21, 2020
The worrisome thing is that those flashes have been few and far between. Even though he had middling production at LSU, you still saw high-level reps at least every week even when going up against NFL tackles — such as Texas' Sam Cosmi and Georgia's Andrew Thomas. That hasn't been the case in the NFL. He's had only four pass-rushing reps in six games earn grades of +1 or higher — what we'd call a quick win. Even if the production doesn't completely turn around, we have to see more of those from Chaisson going forward.
Rookie linebackers have had rocky transitions pretty much everywhere, so there no shame in Murray making this list. He's earned a 46.8 overall grade so far and doesn't have poor tackling to blame, as is sometimes the case. He's missed only three of 39 attempts thus far. Instead, Murray's issues have been with diagnosing in coverage. I have no problems with what I've seen so far on tape of him against the run over the past few weeks. You see that explosiveness play when he cranks it up into the hole coming downhill.
The rookie shut it down ‼️ @KennethMurray @Chargers pic.twitter.com/4ASjiTDa7y

— The Checkdown (@thecheckdown) October 13, 2020
His play speed and general awareness in coverage are what land him on this list. Here he is turning a crosser loose in his zone a few weeks ago against the Panthers.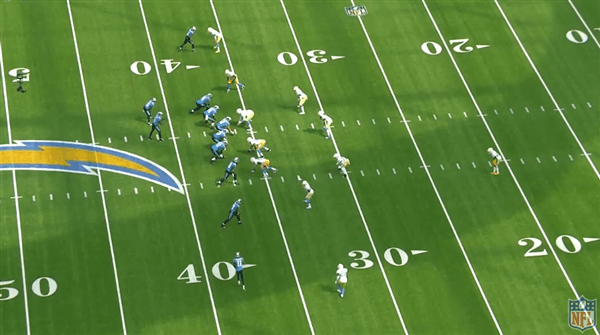 Those types of plays aren't uncommon by any means for a young linebacker in the NFL, and you can see similar ones on Devin White's tape last year. After what I've seen from Murray the past few weeks compared to the first couple, I'd put him as close to putting it all together.
As a rookie, Ruiz has battled both injuries and a positional change from center in college to right guard in the NFL. The transition to the NFL is already difficult enough in this pandemic-shortened offseason, so adding in those two things makes it unsurprising that Ruiz has had a tough go.
His 48.5 overall grade is the fourth-lowest of any starting guard in the NFL. The calmness to his game that we saw at Michigan hasn't been nearly as apparent this year. I've already seen more off-balance reps from Ruiz in four games than I did in a dozen outings last season. Simple things like passing off this T-E stunt are brand new to him after playing center the past two seasons at Michigan.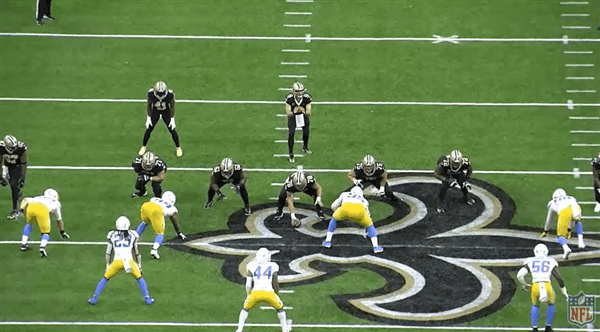 I'm not ready to hit the panic button at all on the 21-year-old, though. While I figured he'd transition smoother than this, I'll give him more than four games before I even start to worry a little.
Igbinoghene, similar to Okudah, has not been eased into the NFL by any means. With Byron Jones out in Week 2, Igbinoghene had the pleasure of tracking Stefon Diggs. I don't care if you're Darrelle Revis in his prime, that's no easy task. Unsurprisingly, Igbinoghene allowed seven catches on 11 targets for 145 yards and two scores in that game.
When given more reasonable assignments the rest of the year, he's allowed nine catches on 14 targets for 148 yards and one score. That's far more in line with what you'd expect from a rookie and promising for a cornerback who's not even 21 years old yet. Now that Murphy is back, however, Igbinoghene is still going to be third fiddle from here on out. He has played only 23 snaps over the past two weeks.
Of all the first-rounders on this list, Gladney may be the one I'm most concerned about. The first reason is simply his performance. He's allowed the second-most yards of any cornerback in the NFL (388) despite playing primarily from the slot this season. If you're looking for silver linings in his film, there haven't been too many.
The second reason is that he can't even start over fellow rookie third-rounder Cameron Dantzler on the outside — who himself has been a liability and given up 316 yards. Finally, Gladney is about to turn 24 in a month and a half. He was targeted 232 times over four seasons as a starter for TCU in the Big 12. Gladney was supposed to be battle-tested and ready for the rigors of the NFL. While everyone's adjustment to the league is unique, Gladney has a lot of knocks against him at the start of his career.