St. Louis City SC are off to a roaring start in their first MLS season, sitting atop both the Western Conference and MLS after five weeks at a record of 5-0-0. The MLS newcomers have had a historic start to the season, becoming the first expansion team to win its first five games to start a season.
The club has also broken another record: their first three victories came after being a goal down in those games. On top of that, two of the five wins have come away from home in hostile environments, winning at Austin FC and the Portland Timbers.
This fast start by St. Louis SC has many asking, are they real contenders? Using PFF grades and metrics, we will explore their season so far by looking at four areas of their squad.
1. Roman Bürki leading from the back  
St. Louis SC added Roman Bürki to their roster in 2022 as one of their first big name signings. He comes from Borussia Dortmund, having over 176 appearances for the Bundesliga side. Bürki has been a key part to the St. Louis SC defense as the team has only given up four goals in five games, including back-to-back shutouts in their most recent two games.
Capped nine times by the Swiss national team, Bürki currently holds a save percentage of 78%, good enough to rank sixth among MLS keepers and has made 14 saves, good for 10th best (min. 250 minutes played).
Bürki's distribution still has something left to be desired. He ranks 24th out of 28 players for true pass completion rate at his position. His accuracy may be underwhelming, but Bürki is intent to progress the ball forward as he ranks second in line-breaking passes completed with 11, behind only Tyler Miller of DC United with 15.
2. Stout defensive play from Tim Parker and Kyle Hiebert
St. Louis SC's most consistent centre-back pairing are the other key reasons why they have given up just four goals in five games as a unit.
Tim Parker, the former Houston Dynamo defender, has been an absolute rock in the back for St. Louis to start the year. Parker won 60% of challenges and generated a PFF challenge grade of 82.2 with Houston in 2022. He has gone a step further in 2023 with his new team, winning 68% of all challenges, good for fourth among centre-backs.
He has been good on aerial duels winning 13 of 19 events, worthy of being ranked 14th among at the position (min. 250 minutes played). Combined with other challenge facets, Parker's grade for the current season stands at 82.3, which qualifies as the 12th-best grade out of 92 centre-backs through five games.
Parker has been great defensively, but his passing has been below average. Parker's true passing percentage is 76%, leaving him ranked 48th out of 61 qualifying centre-backs.
That said, Parker takes chances with his passing as 16% of his pass attempts have sought to break an opposition line, this is good enough the sixth overall rank out of 61 players at the position (min. 250 minutes played).
All things considered, Parker has produced a passing grade of 65.7 to rank 33rd.
| | | | |
| --- | --- | --- | --- |
| Rank | Player name | Team | PFF challenge grade |
| 1 | Sean Nealis | New York Red Bulls | 93.4 |
| 2 | Jack Maher | Nashville SC | 88.1 |
| 3 | Kyle Hiebert | St. Louis City SC | 87.4 |
| 4 | Yeimar Gómez Andrade | Seattle Sounders FC | 87.0 |
| 5 | Steve Birnbaum | D.C. United | 86.8 |
Kyle Heibert has been a stud for St. Louis in his first MLS season. Heibert has won 75% of his challenges, including 75% of his aerial duels and 82% of his 50/50 duels. Heibert has produced a Challenger grade of 87.4 in 2023, good for 3rd/92 qualified Center-backs. A great start defensively in his debut MLS season.
The Canadian continues the trend from Bürki and Parker in terms of passing. Heibert has a true pass completion percentage of 75%, ranking him 56th out of 61 Center-backs, but 14% of his passes are line-breaking passes — the 14th-highest rank.
3. Could central midfield be the weak spot for St. Louis?
One of St. Louis' two Designated Players, Eduard Löwen, has been at the heart of the St. Louis midfield to start their season.
Signed from Bundesliga strugglers Vfl Bochum, Löwen has registered one goal, three assists and eight key passes.
His playmaking traits have been there to see in his 32 completed line-breaking passes, which rank him T-18th out of a total of 305 players.
Löwen has also generated a crossing grade of 76.0, sixth-highest out of 66 players who share his position and a passing grade of 73.5.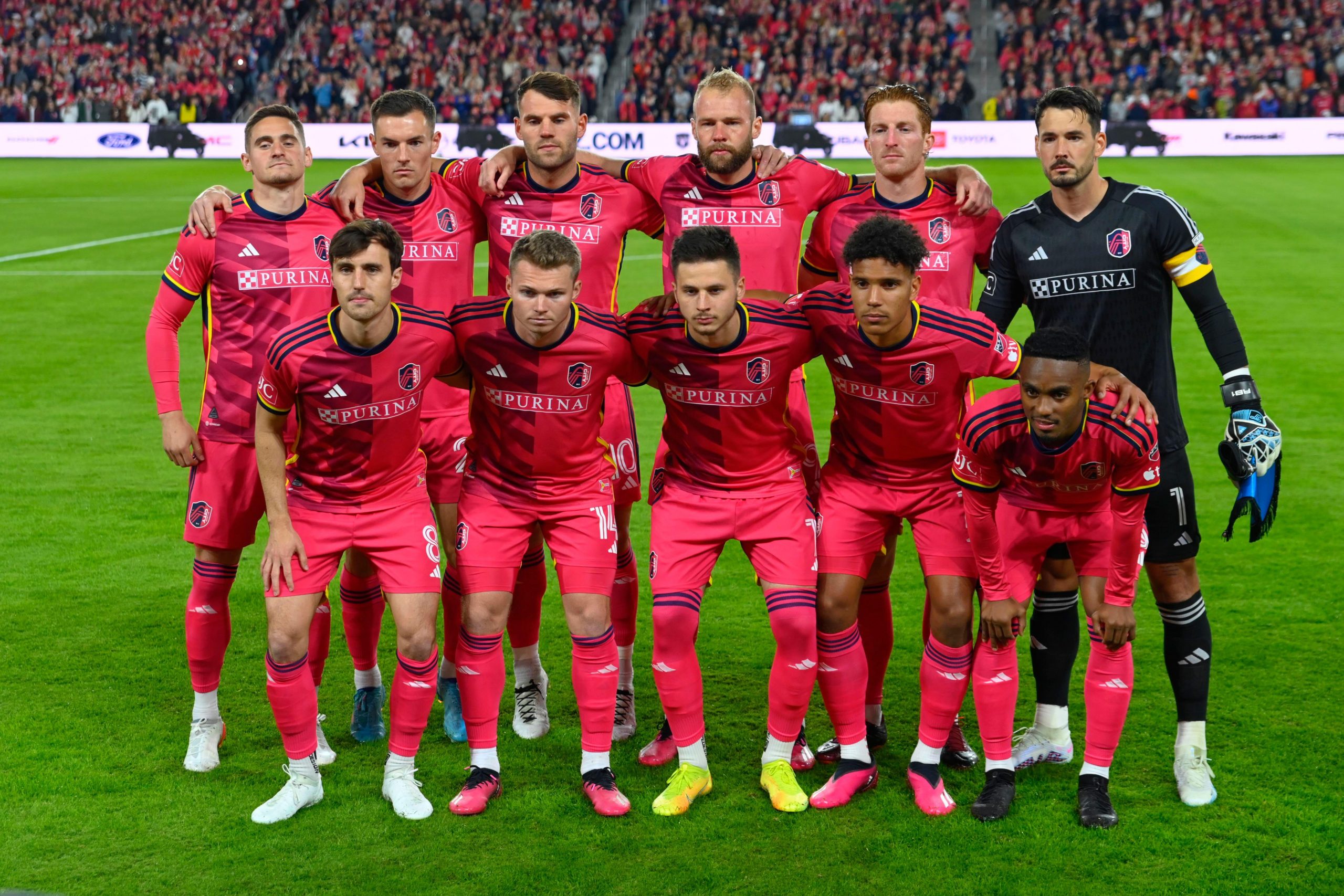 Löwen has struggled on the defensive end, winning only 33% of his challenges. This includes only defending two of nine dribbles and winning three of 14 aerial duels.
And while this has led Löwen to produce a 67.1 challenger grade, the 54th rank among midfielders, his overall grading profile stands above the majority of other midfielders without hitting elite levels.
4. Jared Stroud and Klauss, a dynamic duo in the making
The St. Louis' frontline is led by Designated Player Klauss and winger Jared Stroud.
Klauss lies second in the MLS goalscoring charts with five goals and has generated four chances. One key metric that forms a basis for Klauss' promising strike rate is the number of possessions he has registered within the opposition penalty area. The Brazilian's 30 total possessions in the opponent's 18-yard box through five games is second only to DC United's Christian Benteke (31).
With this positive territory, Klauss has generated a shooting grade of 90.3, the best shooting grade among all forwards and third overall in the MLS.
Stroud has two goals and has generated five goalscoring chances. Even though Stroud has only scored two goals, he leads all of the MLS in shooting grade at 91.8 — St Louis are the only team to have two players in the top 10 shot grades in Stroud and Klauss, occupying the first and third ranks overall.
Stroud has also been excellent on the ball in terms of carries, dribbles and tackle resistance, facets which contribute to a 75.4 ball carry grade. In his last full season with Austin FC in 2021, his ball carry grade was only 67.7. and shooting grade was 74.6.
| | | | | |
| --- | --- | --- | --- | --- |
| Rank | Player name | Team | Position | PFF shooting grade |
| 1 | Jared Stroud | St. Louis City SC | WAM | 91.8 |
| 2 | Jacob Shaffelburg | Nashville SC | WAM | 90.5 |
| 3 | Klauss | St. Louis City SC | CF | 90.3 |
| 4 | Jordan Morris | Seattle Sounder FC | WAM | 88.3 |
| 5 | Riqui Puig | LA Galaxy | CM | 85.1 |
If Roman Burki can continue to be a top 10 keeper and the partnership of Parker and Heibert continues to win challenges at the rate they are, the defense should be stifling for the remainder of the season. If Löwen can continue to play as a provider to the current duo of Stroud and Klauss, then MLS playoffs may run through St. Louis as they try to win the MLS Cup in their inaugural season as an expansion team.