The first overall pick in fantasy drafts is sexy, but there's a lot of pressure that comes with having to kick off the draft. Despite what old fantasy football clichés might suggest, you aren't going to lose your league in the first round. But this pick is still your shot at scoring the top fantasy asset, and you don't want to screw it up.
That's easier said than done sometimes in fantasy football. A lot of us overthink the decision. Paralysis from over-analysis. While we certainly shouldn't under-think what we're going to do on draft day, we do need to keep our process streamlined. Have a goal in mind for the pick, and execute the plan.
Some years, the decision is essentially made for us, as there's a consensus No. 1 pick. Unfortunately, this year isn't one of those years. A fully healthy Todd Gurley with a guaranteed bell cow workload would easily slot in as that top option, but Gurley is all but guaranteed to regress from last year's touch volume. From there, we really don't have a player who stands out from the pack. In fact, there are legitimately four potential candidates who could go first overall in your fantasy drafts in 2019. Let's take a look at these four players, and then I'll give insight into how to attack the first overall pick in your drafts.
[Editors' Note: Sign up today for FREE seven-day access to PFF's ELITE subscription to get access to all of PFF's fantasy stats, rankings, projections and more!]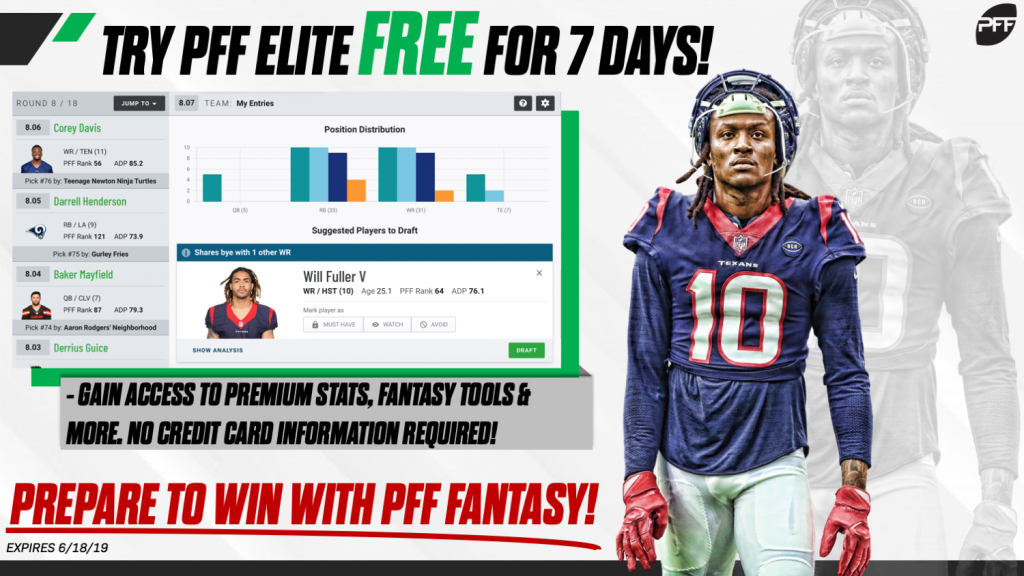 Saquon Barkley
Sometimes players don't live up to the hype, but that certainly wasn't the case for Barkley in his rookie season. The second overall selection in last year's draft burst onto the scene and racked up the second-most PPR points among running backs for the season despite playing on a very lackluster Giants offense.
The former Penn Stater notched a massive 352 touches and was especially effective in the passing game with 91 catches. While the Giants aren't likely to be any better offensively, Barkley is a rare fantasy option who can produce elite numbers even in a bad situation.
Christian McCaffrey
There wasn't a running back hotter than McCaffrey down the stretch last season. He led the position in fantasy scoring over the final nine weeks of the season, scoring a combined 10 touchdowns over that span. The big question entering last season for McCaffrey was whether or not the Panthers trusted him to handle a feature workload. The answer was obviously yes, as McCaffrey was one of just five players to average more than 20 touches per game.
Carolina made no major moves in their backfield this offseason, so expect McCaffrey to continue to see the lion's share of the work in 2019. McCaffrey's true three-down skill set and major big-play upside place him squarely in the elite conversation.
Ezekiel Elliott
Volume is king in fantasy football at the running back position, and Elliott is the odds on favorite to lead the league in touches yet again this year. The Cowboys back saw an enormous workload last year, topping 300 carries for the second time in three professional seasons and catching 77 balls.
The latter number was a dramatic increase over his 32 caches in 2016 and 26 in his suspension-shortened 2017 season. Dallas did draft pass-catching specialist Tony Pollard, but Elliott should still remain quite busy as a receiver. While he may not have as much upside as some of the other elite backs, Elliott's extremely high floor makes him arguably the safest pick on the board.
Alvin Kamara
Following a breakout rookie season, Kamara picked up right where he left off and posted an impressive three first-place fantasy finishes over the first four games last season. Of course, that was while Mark Ingram was suspended. While Kamara's numbers dipped after Ingram returned, he remained one of fantasy's top backs, ranking fifth in fantasy scoring from Weeks 5-16.
With Ingram now in Baltimore, Kamara has less competition for touches in the New Orleans backfield. The Saints added Latavius Murray, but he's clearly a step down from Ingram. But the great thing about Kamara is his overall efficiency has been so high that he really doesn't need 20-plus touches to be an effective fantasy option.
The Verdict: Ezekiel Elliott
Like we had with the No. 2 fantasy football quarterback, this is an extremely tight race where there really isn't a wrong answer. A case can be made for any one of these backs as the top option in 2019 fantasy drafts, but we need to have a clear goal in mind for the pick. There's a time to be aggressive in fantasy drafts and a time to be safe. At No. 1 overall, you need to balance these two approaches with your pick.
While all four players come with major upside, it's fair to argue that Elliott also brings the highest floor to the table. Elliott's projected touch volume separates him from Kamara and McCaffrey. While those two have higher ceilings, their impressive efficiency numbers from last season are more volatile than touches. That volatility invites the potential for a lower fantasy floor. We can certainly project Barkley for a healthy workload that could rival Elliott's, but the overall state of the Giants' offense means less stability that what Elliott will have surrounding him in Dallas.
This isn't an easy decision, but when you take stock of these four options, Elliott stands out just enough to warrant picking No. 1 overall. He's the focal point of a Cowboys offense that improved following the addition of Amari Cooper last season. Elliott led the league in touches last year and is the strong favorite to do so again. While Elliott finished fifth among running backs in PPR scoring, his six rushing touchdowns suggest there's room for positive regression toward the mean. Increased touchdown efficiency coupled with his hefty volume positions Elliott extremely well to finish 2019 as the No. 1 fantasy running back.