There's no debating the No. 1 quarterback in 2019 fantasy football drafts. Patrick Mahomes is locked in following his historic breakout last season. But who's the No. 2 quarterback? This question isn't as easily answered, but there are some candidates who stand out.
Before we dive into the players who could go after Mahomes, it's important to note that we shouldn't be looking to draft quarterbacks early in 1QB leagues. And yes, that includes home leagues where signal-callers tend to be drafted earlier than in fantasy industry drafts. That being said, home leagues are changing, and you may have noticed that quarterbacks are going later than they used to.
Mahomes is a good bet to be drafted in the second round of your drafts, if not earlier. But you may not see another quarterback drafted for several rounds. So while historically it has been a mistake to take the second quarterback in your draft, you may have the opportunity to grab the No. 2 option at a value. Of course, every draft is different, but you should be prepared to pounce if your No. 2 option slides to the sixth round in a 12-team league.
So let's get back to the question of who we should have as the second quarterback on our draft board. Here are the candidates:
Following a redshirt 2017 season, we really didn't know what to expect out of Luck last year. The Colts signal-caller got out of the gate slowly, leading to a widespread "I told you so" reaction from the naysayers. But Luck steadied the ship and rattled off 11 top-10 fantasy finishes over his final 13 games of the season.
When the dust settled, Luck offered a sizeable ROI on his draft day stock, finishing fifth among quarterbacks in 2018. Heading into this season, Indy addressed their lack of wide receiver depth with the addition of former Ohio State speedster Parris Campbell and the big-bodied Devin Funchess to go along with T.Y. Hilton and Eric Ebron. We've seen Luck finish as the top fantasy quarterback before, so we know he has elite potential.
Watson took the fantasy world by storm in his rookie season, posting three No. 1 weekly finishes in four games before a torn ACL cost him the second half of the year. Expectations were high entering last year, and Watson didn't disappoint. The Texans quarterback finished fourth at the position in fantasy scoring, topping 4,000 passing yards and posting a respectable 26 scores through the air.
But where Watson really delivers fantasy value is with his legs. His 550 rushing yards ranked third among quarterbacks and only Josh Allen and Dak Prescott scored more rushing touchdowns at the position. Watson's running ability and explosive upside give him a desirable high-floor/high-ceiling fantasy combination.
In a year where Mahomes cast a large shadow over the league, Ryan quietly put up monster numbers. The Falcons signal-caller topped 4,900 passing yards for the second time in the last three seasons to go along with 35 touchdown passes, all while throwing just seven picks. Those numbers were good enough to rank Ryan second among quarterbacks in fantasy scoring.
To be fair, it wasn't a consistent ride through the 2018 season with Ryan, but his weekly upside was very real. Expect more of the same out of Ryan this season, as the Falcons are still loaded up with offensive talent. Julio Jones remains one of the premier wideouts, and Calvin Ridley is primed to take another step forward in his second professional season. Ryan also has a steady target in Mohamed Sanu and upside in TE Austin Hooper.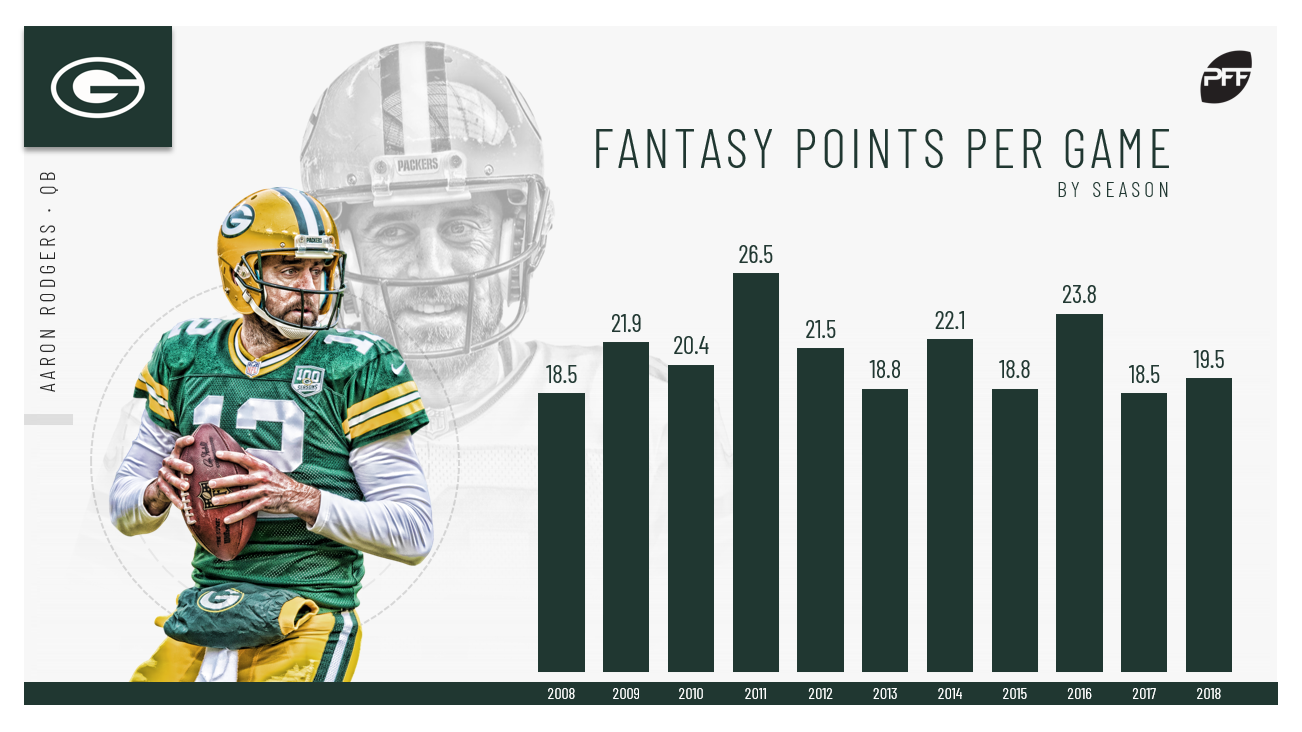 By all accounts, 2018 was a down year for Rodgers. The future Hall of Famer tossed just 25 touchdowns with the Packers offense sputtering its way through the regular season. But don't let the numbers fool you. Rodgers still showed the ability to produce big plays with a league-high 16 completions of 40-plus yards.
While the Packers didn't bolster their wide receiver corps over the offseason, Rodgers has one of the league's best pass catchers in Davante Adams at his disposal. He'll also be operating a new-look Packers offense under first-year head coach Matt LaFleur. While there's a lot of uncertainty surrounding the near future in Green Bay, Rodgers has long stretches of elite fantasy production in his career and is certainly very capable of getting back to that level in 2019.
The hottest quarterback in fantasy not named Patrick Mahomes just might be Mayfield. The former Heisman Trophy winner exploded in his rookie season with 27 touchdown passes in 13 games as a starter. Over that span, Mayfield ranked 11th at the position in fantasy scoring.
But what really gets people excited for Mayfield's fantasy prospects has the be the Browns' offseason addition of Odell Beckham Jr. Mayfield now has one of the sexiest groups of skill position options at his disposal. However, it's important to not overlook the fact that Cleveland will have a first-year head coach at the helm in Freddie Kitchens. Still, Mayfield showed last season that he has major fantasy upside.
The verdict: Deshaun Watson
This is a tight race without a clear-cut winner, but Watson gets the slight edge for the No. 2 spot. His ability as a runner combined with the explosive options in the Texans' passing game take him over the top. Luck is close, but it still feels like the Colts are missing something. Maybe Campbell is that something, but that's only speculation at this point. Despite Ryan's major upside as a passer, his limitations as a runner put him a tick behind Watson. Rodgers is more than capable of running, but he has by far the lowest level of surrounding talent on this list. And while Mayfield is uber-sexy, he's more of a dark horse candidate for the No. 2 spot in 2019.
Current consensus ADP has Watson coming off the board as the No. 4 quarterback with Luck at No. 2 and Rodgers at No. 3. His ADP has a fairly wide range backed on the site, but his average is pick 57. That being said, he's going as late as 74 on some sites. That means there's a good chance Watson could slide past the fifth round. If he does, the Texans signal-caller offers big-time fantasy upside at a reasonable draft day price.