Fantasy football projections are an important part of the process to dominate your fantasy football drafts, leagues, DFS contests and best ball leagues. Data scientist Eric Eager and our Director of Fantasy Jeff Ratcliffe are the brains behind PFF's player projections, which, in addition to offering value to fantasy football players, are connected to PFF Greenline, a betting tool available to just ELITE subscribers that makes predictions for the spread, moneyline and over/under.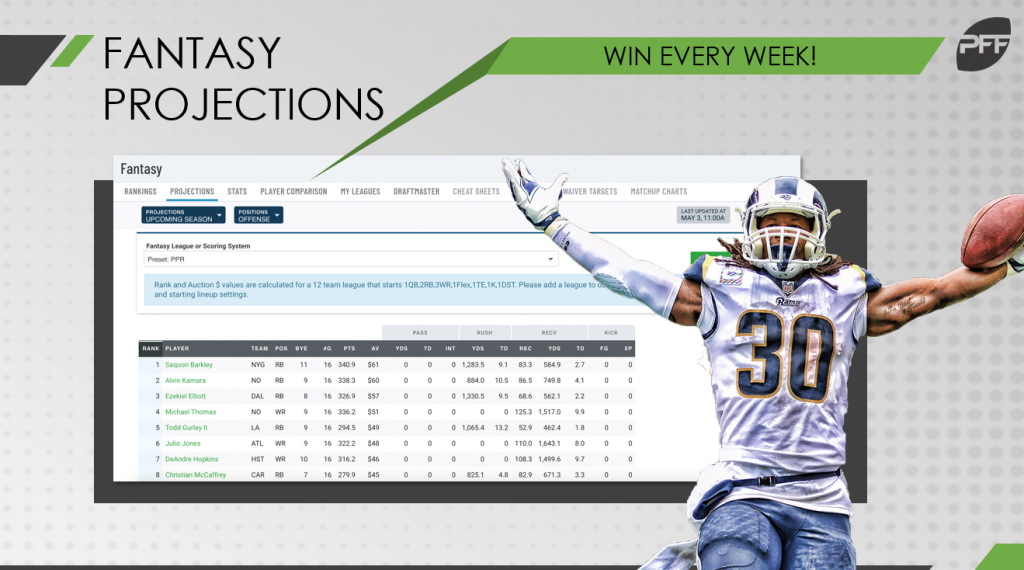 The models and algorithms behind PFF's player projections start with volume. Almost everyone will tell you that volume is king in fantasy football, and we certainly believe this. You need carries, targets (or, more importantly, air yards) and red-zone opportunities to pay off your owners.
Overall volume is generally dictated by the way we predict the game to end up. Using models for PFF Greenline, we project scores for every team in every game of the season and use the data to project volume totals for specific players. If a team is projected to win by a touchdown, then its lead running back is more likely to see significant carries. Conversely, receivers will likely see more targets on teams predicted to lose by a touchdown.
We use all of these insights coupled with target and carry share team tendencies to establish overall volume. After this step, efficiency comes into play. Using our unique grades and charting data, we're able to predict the number of yards before contact per carry for a running back during the course of a game while factoring in his team's run-blocking grades and his opponent's run-defense grades. We also predict a running back's yards after contact per carry, which is largely dependent on how good the running back is himself. Similar projections are made for quarterbacks, wide receivers, tight ends.
Individual defensive player (IDP) projections are made in a very similar way to offensive projections, but due to the nature of the game, they are far more dependent on a team's opposing offenses faced. That, and a league-wide quirk for awarding tackling differently in different stadiums.
PFF's fantasy projections offer value within DraftMaster as well as Season GM, tow products made available for EDGE and ELITE subscribers. In DraftMaster, subscribers can run mock drafts and receive pick suggestions based on PFF's fantasy projections to prepare for drafts in their in-season leagues. Season GM uses PFF's projections to optimize lineups each week throughout the season.
Player projections are the foundation for success in all areas of fantasy football and can also be extremely useful in play proposition betting. The wealth of data we have on individual players at PFF gives our numbers a unique advantage that you can leverage in your leagues, contests, and bets.