It's July, which means the fantasy football hype train is moving full steam ahead. Rankings are constantly shuffling as everyone tries to figure out who will be 2022's league-winners, sleepers and busts.
Of course, no actual new football has been played over the past six months. With all due respect to free agency, the NFL Draft experience, and OTAs: It's awfully curious how much a player's "stock" can change from one week to the next without anything really happening.
The reality of the matter is that it's a long offseason, and America just loves to keep talking ball. Straw man arguments and natural bone-headed analysis is simply the nature of the beast that is year-round football coverage. There's nothing wrong with digesting as much information as possible, but ultimately the NFL offseason cycle has become so intense that it's possible to find a perceived fatal flaw with pretty much anybody these days.
We'll lean into this latter point in today's article and note one key flaw with every top-12 quarterback in terms of their fantasy football average draft position (ADP). This tongue-in-cheek exercise isn't meant to disparage these great quarterbacks, but rather to show that anyone can be a jerk about a particular fantasy asset if they try hard enough. Please check out my 2022 team preview series for a full unbiased analysis of all 32 squads.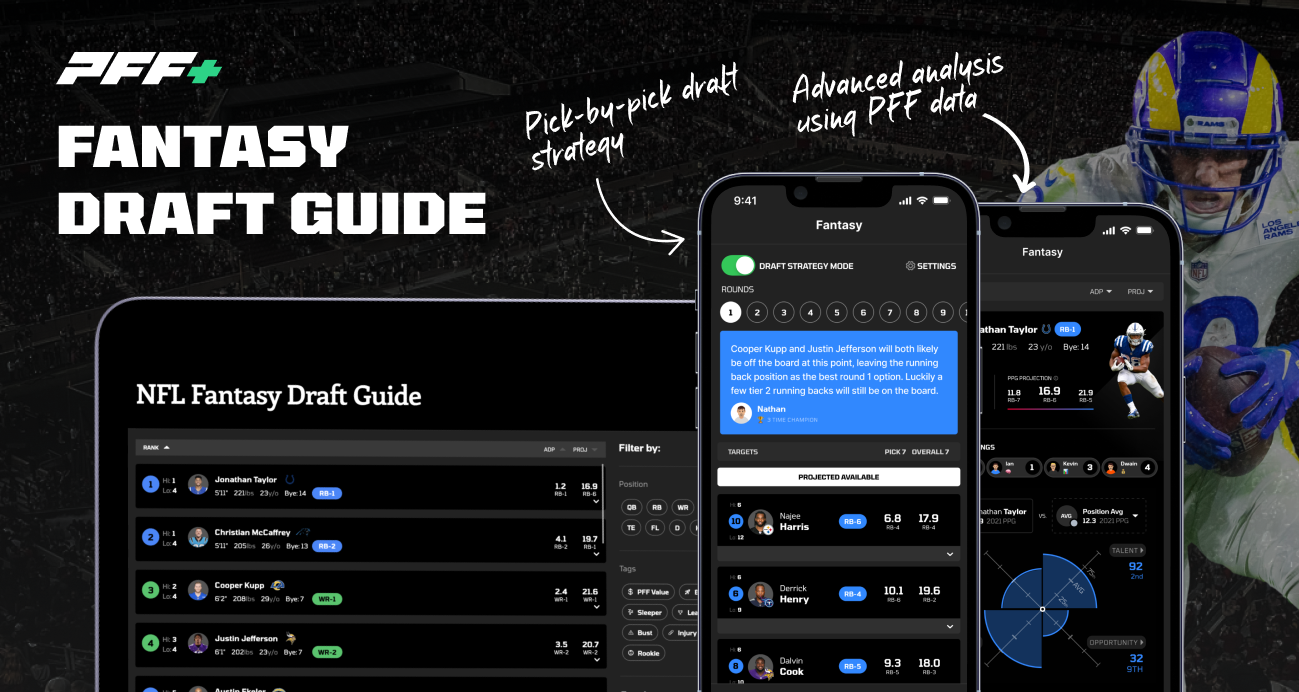 How it could go wrong: There was a lower fantasy floor for Allen than usual in 2021, as he finished outside the position's top-15 players on four separate occasions compared to just twice in 2020. His near-flawless playoff performances against the Patriots and Chiefs distract from the fact that his regular season passing performance in 2021 was closer to 2019 than 2020:
| | | | | | | |
| --- | --- | --- | --- | --- | --- | --- |
| Year | PFF Pass Grade | Passer Rating | PASS YPA | aComp% | Big-Time Throw% | Turnover-Worthy Play % |
| 2018 | 58 | 67.9 | 6.48 | 64.7% | 4.9% | 5.1% |
| 2019 | 61.9 | 85.3 | 6.7 | 71.7% | 2.7% | 4.0% |
| 2020 | 89.8 | 107.2 | 7.94 | 79.1% | 5.8% | 3.4% |
| 2021 | 77.5 | 92.2 | 6.82 | 73.8% | 5.7% | 3.4% |
Perhaps the offense doesn't gel quite as well with QB coach Ken Dorsey leading the charge in place of now Giants head coach Brian Daboll. This is also a rather thin wide receiver room behind Stefon Diggs.
Fantasy's back-to-back overall QB1 has at least a few obstacles to join 1995-1997 Brett Favre and 1992-1994 Steve Young as the only quarterbacks to finish atop the fantasy points leaderboard in three consecutive seasons. But even in this worst-case scenario: The elite pass- and run-game volume involved will make it tough for Allen to finish outside the position's top-six scorers.
How it could go wrong: Herbert has one of the biggest arms in the entire league, which makes the fact that he ranks 41st in average target depth (7.8) among 61 qualified signal-callers with 100-plus dropbacks since 2020 all the more confusing. Last season only Jared Goff, Matt Ryan, Jacoby Brissett, Jimmy Garoppolo, Tua Tagovailoa and Daniel Jones had a lower percentage of their passes travel at least 20 yards downfield.
Fantasy points count the same regardless of how far the ball was thrown downfield; just realize Herbert's quest to go Super Saiyan will be tougher without his tantalizing physical tools being fully unleashed. 
How it could go wrong: Mahomes' four games without the services of Tyreek Hill over the past four seasons certainly went well, as he posted finishes as the QB1, QB3, QB11 and QB12. Still, losing the league's premiere field-stretching talent could hurt Mahomes' one-hitter-quitter ability to rack up points in a hurry with the deep ball: Nobody has more passing yards (4,595) or touchdowns (48) on passes thrown at least 20 yards downfield since 2018. Mahomes has also averaged a league-high 15.5 yards per attempt while ranking seventh in adjusted completion rate (48.1%) on these throws.
With all due respect to new additions Marquez Valdes-Scantling, JuJu Smith-Schuster and Skyy Moore: Taking Hill out of the Chiefs offense is like taking away Bowser's ability to breathe fire. Of course, it'd be surprising if the position's all-time leader in fantasy points per game plummets too far down the ranks.