We're in the thick of the NFL offseason and it's officially time to start fantasy football prep. I'll be answering the biggest questions heading into the 2021 season. Click here to read the series of questions answered so far.
Every single professional football player is, in fact, a terrific athlete. It's possible to make just about anybody look good by picking select highlights.
Don't believe me? Look.
Sam Darnold is the best rushing QB the Panthers have had in a yearpic.twitter.com/Va1kuUcqpu

— Ian Hartitz (@Ihartitz) August 11, 2021
After spending the better part of the last decade churning out one piece of fantasy football content after another, I feel confident in my ability to talk up virtually every skill-position player in the league.
– Backup Pittsburgh Steelers RB Kalen Ballage? He thrived away from Adam Gase and has the sort of theoretical three-down ability to take over this backfield if Najee Harris fails to make it through the season healthy.
– Pint-sized Las Vegas Raiders WR Hunter Renfrow? He ranks 25th in yards per route run among 76 qualified receivers, ahead of guys such as D.K. Metcalf, Adam Thielen and CeeDee Lamb.
– Likely backup New York Jets TE Chris Herndon? One of just four rookie tight ends to average at least eight yards per target since 2000 (min. 50 targets).
Today's goal isn't to confirm our priors and talk up the game's best players. Rather, what follows is a breakdown of how the top-12 fantasy football running backs could go wrong in 2021. I'll use our PFF consensus fantasy ranks to list the top-12 backs before explaining how things could go south with an emphasis on brevity.
Great day to be great. Or in this case, to determine why some of the league's best talents could feasibly be less great than usual in the year 2021.
More of PFF's 2021 Fantasy Football tools here: 
Fantasy Football Draft Kit | Rankings & Tiers | Draft Guide | Cheat Sheets
Projections | Strength of Schedule | Expected Points | Weekly Finishes
How it could go wrong: It's tough for even the Trent Richardson's of the world to bust on the sort of volume CMC is projected to see in 2020. Still, McCaffrey's receiving usage in last season's three-game sample was a bit off compared to past years:
2017: 7.1 targets per game
2018: 7.8
2019: 8.9
2020: 6.3
McCaffrey more than made up for the lack of extreme target share with six touchdowns — just realize his path to more world-beating success revolves around getting the sort of triple-digit target workload that might not be as readily available under Joe Brady as it was with Norv Turner.
How it could go wrong: Cook has yet to play more than 14 games in a single season since entering the league in 2017. There haven't been many better, or more fed, backs when active, but missing time with a bit of scoring regression (30 scores in his last 28 games) could lead to Cook posting production outside of the position's top-five talents. Like CMC, it's hard for a back as talented as Cook to come close to 'busting' on 300-plus touches, but you could imagine.
How it could go wrong: We've seen nine instances of Kamara functioning without Drew Brees as his starting QB over the past two seasons. There was still plenty of good, as Kamara returned RB3, RB6 and RB9 finishes in full PPR scoring. However, he posted RB16, RB17, RB23, RB26, RB36 and RB37 production in his other six contests. The problem with Taysom Hill under center was a reduction in targets while Teddy Bridgewater failed to lead the sort of high-scoring offense that usually goes hand in hand with Sean Payton's stance. The reality that Michael Thomas (ankle) doesn't look particularly close to returning makes the potential target share loss less of an issue, but it certainly wouldn't be surprising if Kamara's touchdown total more closely resembles 2019 (6) as opposed to 2017 (13), 2018 (18) or 2020 (21).
How it could go wrong: The primary concern for Henry ahead of 2021 is the idea that he has been run into the ground over the past few seasons and is bound to regress due to too much volume. 2014 DeMarco Murray (449 touches), 2017 Le'Veon Bell (406) and 2019 McCaffrey (403) are the only players with more single-season touches than 2020 Henry (397) since 2010, and they all suffered rough ensuing seasons. Note that Henry's career touch totals aren't too far removed from the other backs on this list, yet he's missed just two games since entering the league in 2016.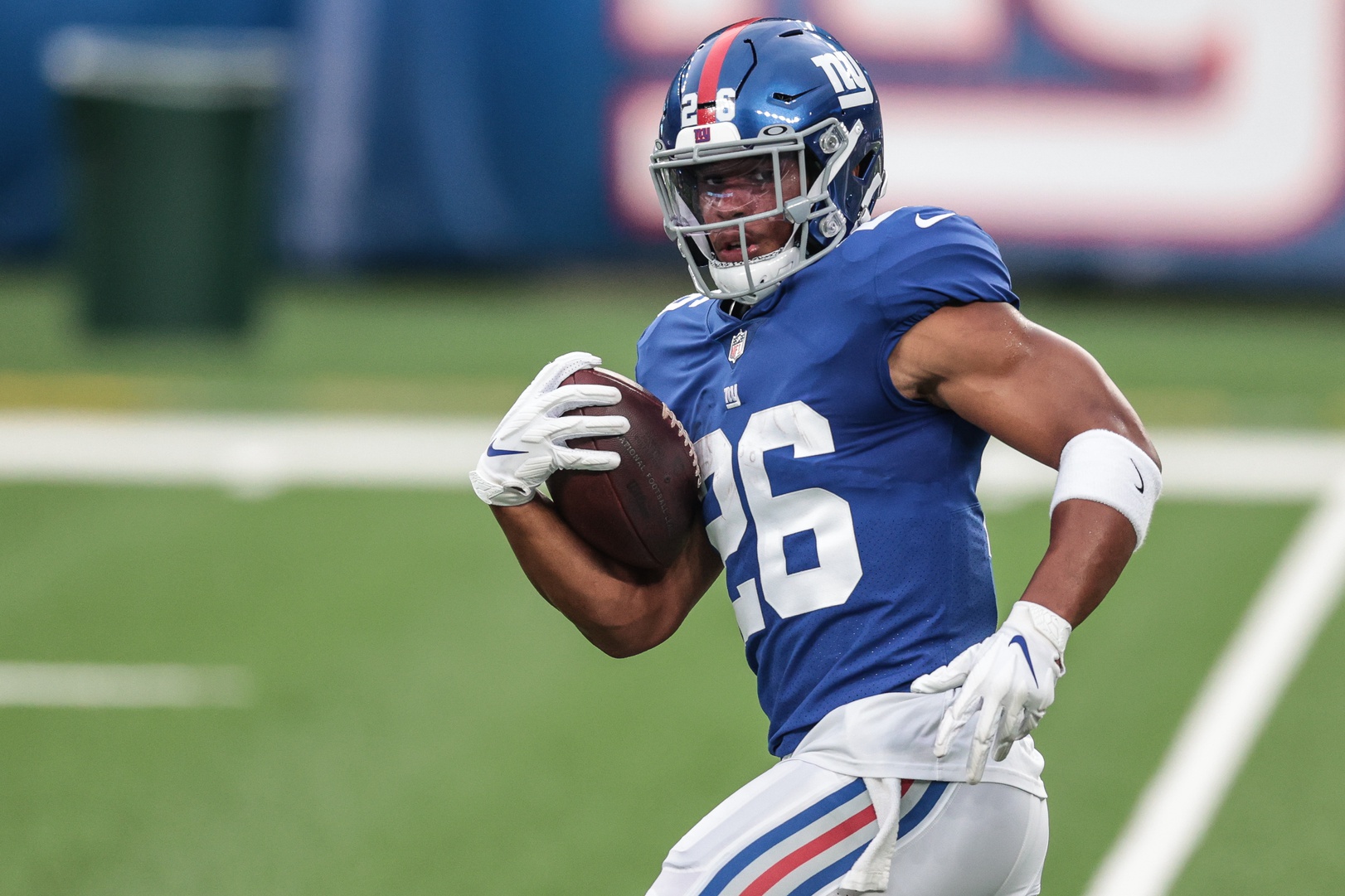 How it could go wrong: The worst-case Week 3 return scenario comes to fruition and limits Barkley to a 15-game campaign at best. His efficiency doesn't return to prime form in part due to his injury, PFF's 32nd-ranked offensive line ahead of 2021, the clapper and Daniel Jones, leading to underwhelming scoring totals despite continuing to see his usual gargantuan workload.
How it could go wrong: Last season's fumbling problems continue to persist while "best shape of his life" reports don't lead to better on-field performance. This leads to the Cowboys further embracing Pollard, making Zeke more of an early-down bell-cow back as opposed to the three-down workhorse he's typically been deployed as since entering the league in 2016.
How it could go wrong: The league's reigning No. 1 scoring offense falls back to Earth and finishes closer to the 2019 edition (15th). Additionally, Jamaal Williams' absence doesn't lead to more usage for Jones, as A.J. Dillon simply takes over the job. Jones, once again, makes the most of his touches, but with fewer trips to the end zone than usual, he struggles to supply more than borderline RB1 production.
How it could go wrong: The Chargers continue to ignore Ekeler around the goal line (just two carries inside the five-yard line in 2020) and feature one of Joshua Kelley, Justin Jackson or Larry Rountree as the early-down back in the Melvin Gordon mold. Ekeler's target average more closely resembles his last three games with Justin Herbert (4.7 targets per game) as opposed to his first five games with him (9.8).
How it could go wrong: Offseason proclamations from offensive coordinator Brian Callahan about utilizing Mixon as a true three-down back fall flat, as one of Samaje Perine, Trayveon Williams or Chris Evans winds up soaking up most of Giovani Bernard's leftover snaps and targets. This leads to Mixon functioning as more of an early-down bell-cow back behind a rather atrocious offensive line, making him unable to supply the sort of efficiency or scoring upside that most expect from a top-10 fantasy back.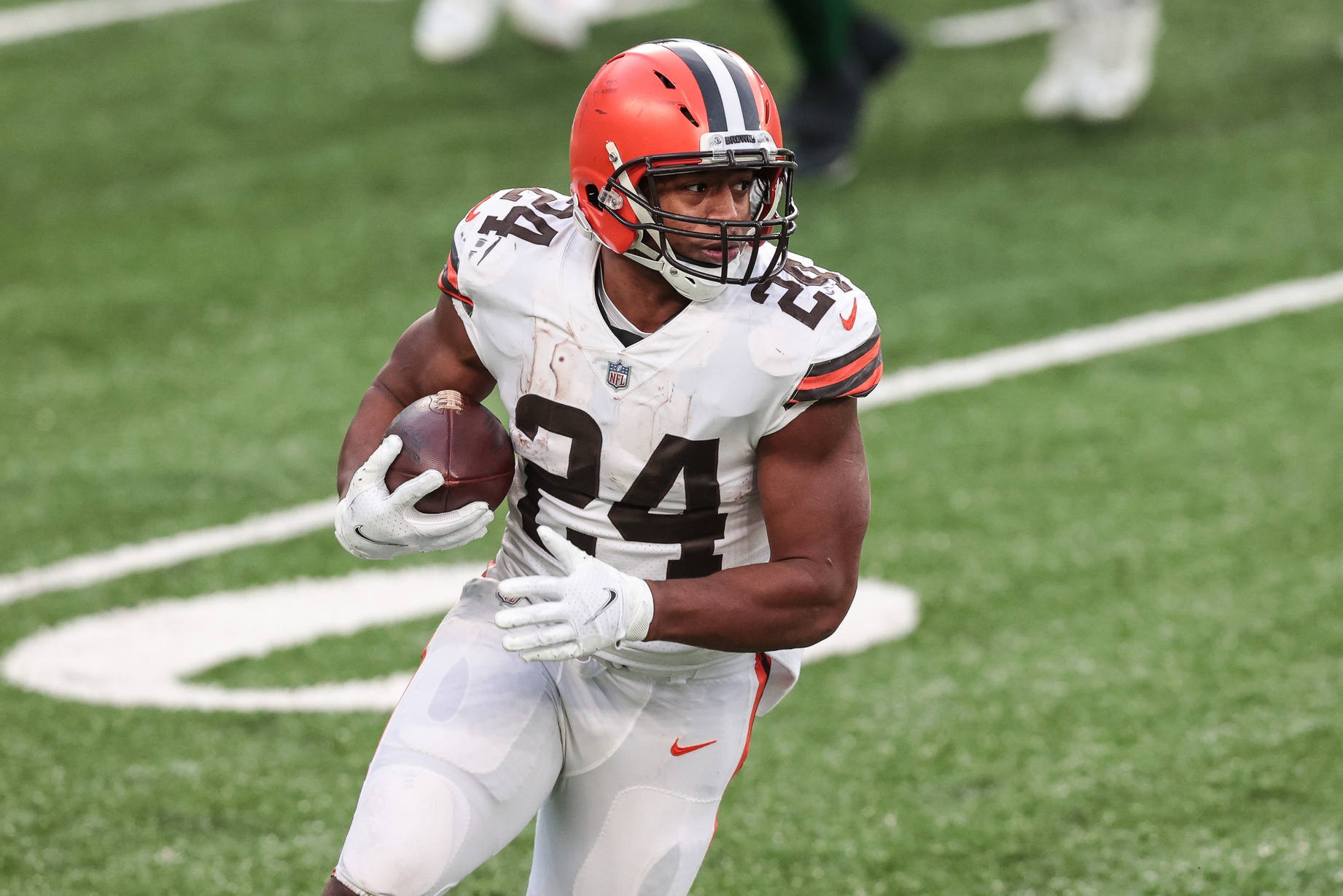 How it could go wrong: The Browns further lean into a committee and feature Kareem Hunt as more of a 1B option as opposed to the clear-cut No. 2 back. Thus, Chubb, who is already struggling for targets as it is, has to be even more efficient with his carries inside of an offense not necessarily guaranteed to improve on last season's 14th-place finish in scoring.
How it could go wrong: Taylor leads the Colts backfield in touches and snaps, but this offense continues to feature three backs with regularity. Last season, Nyheim Hines, Jordan Wilkins and Marlon Mack combined to out-snap (585 vs. 511) Taylor as well as rack up more carries and targets (272 vs. 271). Targets and scoring opportunities regress with Carson Wentz under center in place of noted RB-feeder Philip Rivers, leading to Taylor having to make the most out of a touch count closer to 200 than 300.
How it could go wrong: The Steelers' offensive line is as bad as most think it might be, leading to inefficiency from Harris that causes the coaching staff to question whether or not he should continue to receive such a featured three-down role. Ben Roethlisberger doesn't trust the rookie and focuses his target share on the team's wide receivers and tight ends, leaving Harris as an expensive lead back inside of one of the league's most pass-happy offenses.