(As we head into the 2019 fantasy football season, we're taking a trip around the league to identify the offseason moves we'd most like to see each team make for fantasy purposes. Today: the Miami Dolphins)
Things started so well in Miami in 2018. They started 3-0 and rose to 4-2 after a ridiculously exciting win over the strong Bears. Albert Wilson had had two monster games in his first season in Miami over from Kansas City. Jakeem Grant and Kenny Stills had highlights. Kenyan Drake and Frank Gore weren't major fantasy assets, but they were a good enough real-world tandem. And even though Ryan Tannehill had gotten hurt, Brock Osweiler came in and threw for 380 yards on maybe the league's best defense. The Dolphins weren't world-beaters, but times were happy.
And then that stopped. The Dolphins 3-7 the rest of the way, with one win over each of their divisional foes, and only a last-second Hail Mary win over the Patriots in Week 14 really offering up reason for excitement. Wilson and Grant landed on IR, Osweiler turned back into a pumpkin, Tannehill returned and was also basically a pumpkin. Drake was the team's only flex option to top even 130 PPR points, and considering he was getting fewer carries than Gore (and later Kalen Ballage) for most of the season, we aren't exactly going crazy for his season either.
So there is plenty of room for improvement in Miami in 2019. Here are three ways that can go.
(Keep up with the whole offseason wish list series here.)
Three offseason moves we want to see for Miami
Draft a quarterback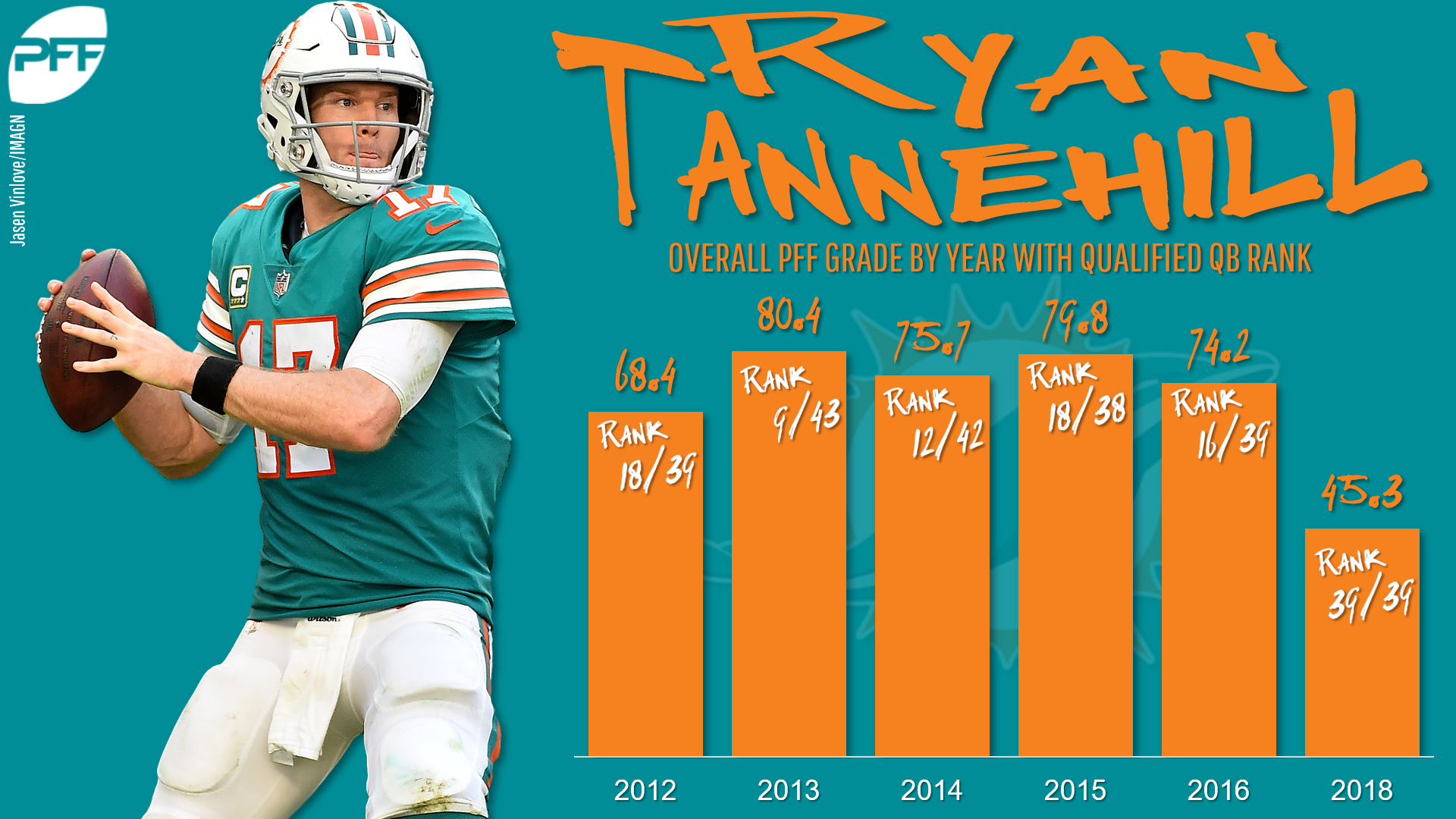 You kind of have to call Tannehill an NFL success, considering he had all of one year as a full-time QB starter in college. He's entering his eighth year in the league and has been his team's No. 1 quarterback every year he's been healthy. But he returned from injury in 2018 to put up the worst PFF grade (45.3) of his career — he'd never been below 68.4 before — and the worst grade of all 39 qualified quarterbacks. It's time to seriously think about next steps.
If the Dolphins want to feel around at the available free agents this offseason, more power to them, but my choice would be to use a Day 1 or 2 pick on a quarterback who can take over in 2020 if not before. This isn't the most exciting class of QB prospects we've had, but there are names who could at least be groomed to be the next signal-caller in Miami if and when they move on from Tannehill.
The last time the Dolphins' tight ends topped 200 PPR points as a unit was 2014, when they were led by Charles Clay. It's been a steady drop since, down to a worst-in-the-league 87.6 PPR points last year. 2018 draftee Mike Gesicki is still around and developing, so this isn't a position where the team needs to start from scratch or anything. But bringing in an upside play like Eifert could be an intriguing option. Since the Dolphins haven't relied on the position, if Eifert can't make a full recovery, oh well, c'est la vie. But if he can become a relevant part of the offense alongside Gesicki and the mass of wide receivers in Miami, it would have the potential to give that offense a dimension it's lacked for about half a decade now.
Draft offensive linemen
The Dolphins' line had a miserable 2018, finishing 31st in our end-of-season rankings. Only Jesse Davis played 900 snaps on the line, and tackle Ja'Wuan James is entering free agency. In Davis and Laremy Tunsil, there are pieces here, but there is more need than free agency and the Dolphins' fifth-lowest cap space can handle.
Better to turn their attention to the draft and start accumulating line pieces as much as they can. Drake & Co. can use the help, but so can the Dolphins of 2020 and beyond.