(Metrics that Matter is a regular offseason feature that examines some aspect of fantasy through a microscope to dive into the finer details.)
Doug Baldwin is a fantasy enigma.
Baldwin has ranked top-16 among wide receivers in fantasy points per game in each of the past three seasons. This is despite ranking 21st, 27th, and 42nd in targets per game over that stretch. Uncoincidentally, in each of these seasons, fantasy experts falsely predicted a looming regression, due to how well he had performed in spite of the small workload. Instead, Baldwin continued to perform at a hyper-efficient rate, proving he's probably just one of the best and most efficient wide receivers in the leagues.
Baldwin's breakout came in 2015, his first 1,000-yard season. He was a relatively unknown commodity up until that point. He had an ADP of WR60 heading into the 2015 season and went undrafted in the 2011 NFL Draft. No one could have seen this coming, right? Well, no one without access to PFF's grades and PFF's Premium Stats.
Though Baldwin was a fantasy afterthought for the first four seasons of his career, he still played at an extremely high level. Among all wide receivers with at least 50 targets in a single season, Baldwin has ranked 19th, 23rd, 20th, 36th, 27th, and 15th in yards per route run (he didn't reach 50 in 2012). Among all wide receivers with at least 500 snaps in a single season, Baldwin has ranked sixth, ninth, 10th, 22nd, 23rd, and 22nd in PFF grade. Basically, Baldwin is terrific and he's been terrific throughout his entire career.
In terms of efficiency, few other wide receivers come close. Over Baldwin's last 45 games, Seattle quarterbacks average a passer rating of 135.5 when targeting Baldwin. That 135.5 WR rating (over a much greater sample) would have ranked best among all wide receivers to see at least 50 targets in each of the past six seasons. In terms of expected fantasy points (Actual Opportunity), no wide receiver has been more efficient. Since entering the league in 2012, Baldwin has scored 204.3 fantasy points over his expectation (what a perfectly average wide receiver would have scored) – only Antonio Brown came close (199.8 over expectation).
While Baldwin might be just as efficient as the top wide receivers in the league (e.g. Brown, Julio Jones, DeAndre Hopkins, and Odell Beckham Jr.), he's rarely viewed in the same tier for fantasy. Baldwin has efficiency for days, but he disappoints in volume, which is more important than efficiency for fantasy football.
Since Week 10 of 2015, Baldwin ranks second among all receivers in fantasy points. This is despite drawing at least 59 fewer targets than any other receiver in the top seven.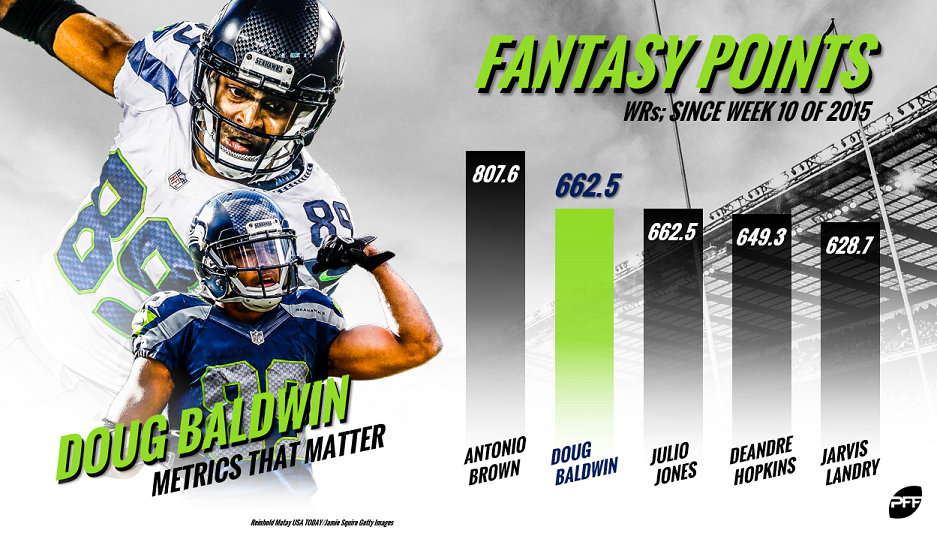 So what does this mean for fantasy?
Baldwin has overachieved on minimal volume throughout his career, but there's a good chance he might finally start seeing a workload more in line with your typical fantasy WR1s.
This offseason, Seattle lost 172 combined targets between Jimmy Graham and Paul Richardson, to be replaced by (presumably) Ed Dickson and the 34-year-old Brandon Marshall. Dickson hasn't topped 30 receptions in a single season since 2011 and Marshall ranks last in yards per target among all wide receivers with at least 150 targets over the past two seasons. Graham and Richardson also combine to leave behind 20 targets inside the 10-yard line (from last season), which is as much or more than 11 teams totaled last year.
Beyond this, Seattle's NFC West opponents have since welcomed Aqib Talib, Marcus Peters, and Richard Sherman onto their rosters. Each has graded top-15 among cornerbacks at least once over the past two seasons and they combine for five top-20 finishes over the past two seasons. They combine to run just 8.1 percent of their routes in coverage lined up in the slot over this span. Baldwin, meanwhile, is safe, having run at least 73 percent of his routes from the slot in each of the past four seasons. Playing two games per year against Los Angeles (Peters and Talib), San Francisco (Sherman), and Arizona (Patrick Peterson), should only mean more targets funneled in Baldwin's direction.
Yes, Seattle drafted a running back in the first round of the 2018 NFL Draft and they want to be more run-heavy in 2018. Still, their starting offensive line group is made up of three players who graded out "poor" last season, a center who graded out "below average", and a left tackle who ranked only "average." We had them ranked as our sixth-worst offensive line last year, and they don't appear much better now. It's also hard to rank highly in run percentage without a good deal of positive game script, and Seattle's defense looks much less ferocious than it once was.
This offseason, Seattle has lost three of their five highest-graded defenders from a season ago (Sheldon Richardson, Kam Chancellor, and Sherman) as well as Michael Bennett (who was their second-highest-graded defender in 2016).
Seattle was our 11th-most-pass-heavy team last season (59.1 percent), which was a bit out of line with what we've come to expect from Seattle's offense in recent year. Across the three seasons before that, only Dallas was more run-heavy, with Seattle passing on only 53.5 percent of their plays. This was mostly due to the benefit of positive game script, leading on 47.9 percent of their plays over this stretch (fourth-most). In 2017, they led on only 33 percent of their plays (20th-most). Despite the draft capital invested in Rashaad Penny, I'm expecting a pass percentage more in line with their 2017 total next year.
Get to the point already!
Premise 1: Baldwin is one of the most efficient wide receivers in the NFL (if not, the most efficient).
Premise 2: Due to all of the factors outlined in the above section, it looks highly likely Baldwin's workload will be better in 2018 than in any season previous.
Premise 3: His price tag has not adjusted for this increase in volume, with an ADP of WR10, after ranking 14th, eighth, and 11th among wide receivers in total fantasy points over the past three seasons.
Conclusion: Baldwin is a strong value in fantasy leagues and an excellent early-third-round pick in current drafts.