The difference between a player being a WR1 and WR2 in fantasy usually boils down to consistency. Many players at the position are capable of turning in some big performances on any given Sunday. There are not very many of them that do it more often than not.
We already broke down the most consistent fantasy performers at quarterback and running back over the past few years earlier in this series. Now, we turn our attention to fantasy wideouts.
Let's take a look at the top 36 PFF wide receivers in the latest PFF fantasy rankings and study their track record of consistency since 2014.
We've gone week by week to tally the total fantasy points scored at the position and calculated how frequently each player had a "plus" effort, meaning finished above the average total points for wide receivers for that given week.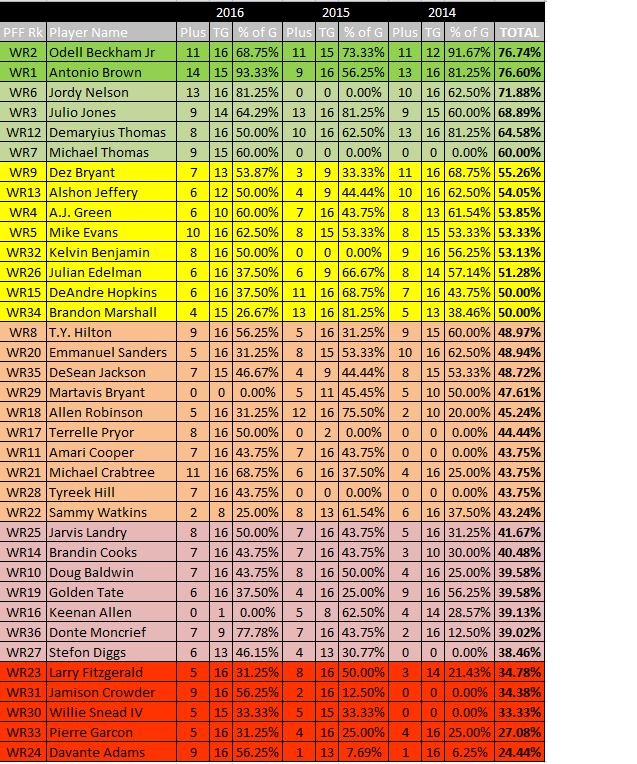 Here are some observations from this research:
(Editor's note: Obviously, this was all written before Beckham's injury Monday night, and let's just hope for the best, yeah?)
Beckham has played in the league four seasons and he has scored double-digit touchdowns in each, finishing as a top-five wideout ever year. In 43 career games he's only failed to reach double-digit PPR points eight times, but has scored 20 or more fantasy points 21 times. He's as consistent as they come.
Most of Beckham's damage has come from long range. He's struggled to be elite in the red zone, pulling in eight of his 17 targets inside the 10-yard line over the past two seasons. The team added Brandon Marshall and drafted rookie tight end Evan Engram and both could emerge as the team's primary options near the end zone.
The arrival of these two players could take away a few targets, but it also should help open things up for Beckham as well as defenses will have to dedicate some of their resources elsewhere.
Over the last four years, Brown has averaged 120 catches, 1,579 yards and 10.8 TDs per season. He's led the NFL in targets over that stretch while averaging 11.1 looks per game. That has led to the Steeler wideout delivering 10 or more fantasy points in 70.2 percent of his contests during that span.
Like Beckham, Brown will have some more wide receivers to share targets with this season as Martavis Bryant is expected back from suspension. No matter, he will still see targets galore. He's finished third, second, first, and fourth in targets since 2013.
Brown remains one of fantasy football's safest picks and shouldn't fall outside the top-three overall in any draft. A solid case can still be made for him as the top overall pick in PPR formats.
What Antonio Brown has produced over the past five seasons is remarkable pic.twitter.com/stntkq7XhF

— Pro Football Focus (@PFF) August 4, 2017
Thomas may never get back to the production fantasy owners enjoyed when Peyton Manning was slinging him the rock in 2013-14. Still, the past couple of seasons haven't been too shabby.
Even with some shaky quarterback play, he's still delivered 18 "plus" starts the past two years and is trying for a fifth season with least 90 catches and 1,000 yards. He had 1,038 yards and five touchdowns on 90 receptions in 2016.
The fact that Trevor Siemian has been named the starter at quarterback to begin the season for the Broncos should help provide some stability to his numbers. If he can add a few touchdowns, Thomas could finish with top-12 numbers and he's coming at a nice value in the late third or early fourth round.
Hilton has never scored more than seven times in a season and that has hurt his consistency factor, but he is a yardage machine. The Colts' speedster posted a career-high 1,448 yards last season and has averaged 15.7 YPC as a pro. He tends to get his stats in bunches though.
Consider: He's only had eight 100-yard games over the past two years and has gone without finding the end zone in 22 out 32 of those contests.
If you throw out his monster campaign of 2015, Robinson only finished in the top half of the position in seven of 26 games since 2014.
Blake Bortles can be blamed for much of the wide receiver's struggles, but bad numbers are bad no matter who is to blame. After being drafted in the late first and early second round a year ago, Robinson pulled in just 50.6 percent of his catches a year ago and he saw his aDOT fall by 4.2 yards from a season earlier.
Even though his ADP has dropped by a full round in the past few months, Robinson still has a limited ceiling compared to some other fourth-round wide receivers like Alshon Jeffery, Tyreek Hill, Davante Adams, and Martavis Bryant.
If you are going off consistency, Cooper may be the most overrated player at the position. His current WR8/2.06 ADP does not match up with the performance through two seasons.
The next time Cooper catches a pass inside the 10-yard line it will be the first time he's ever accomplished the feat as a pro. It comes as no surprise that he's only scored 11 times in 32 career games.
The fact he plays in the AFC West and has to face the Chiefs, Broncos and Chargers twice don't do him any favors. He has some tough matchups ahead in 2017 which won't help his chances of taking a next step.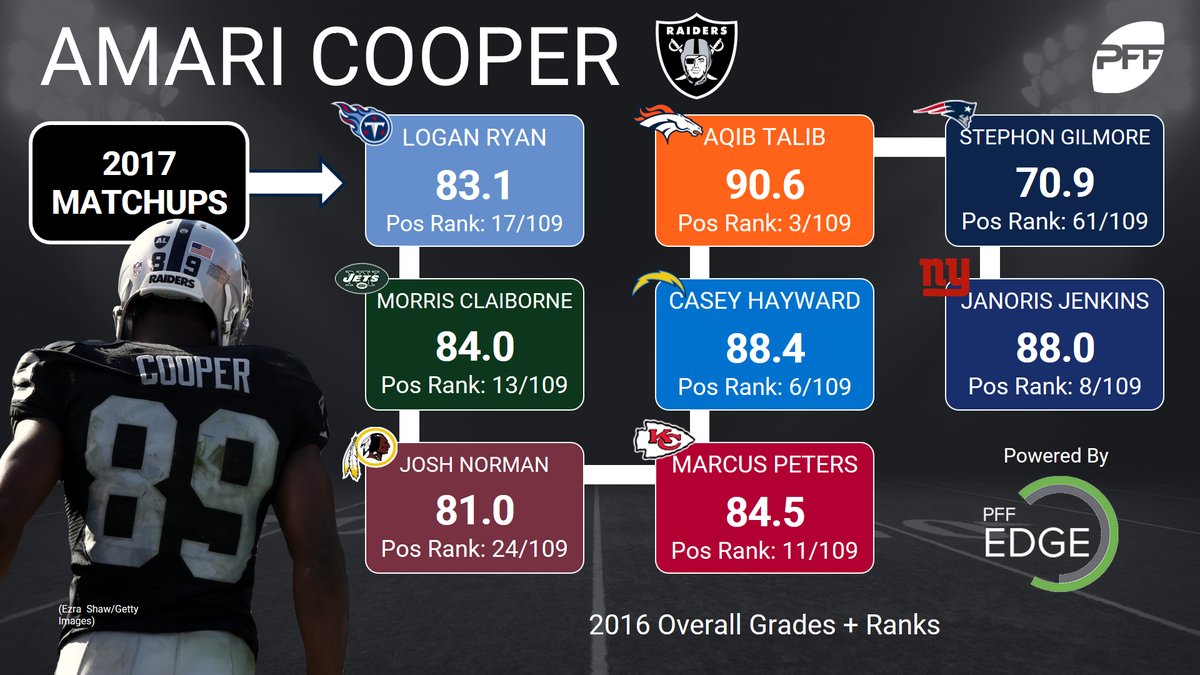 Baldwin shows up low on the list due to a subpar 2014 campaign, but over the past two years he's emerged as the No. 1 wideout in Seattle.
His numbers slipped when Russell Wilson was hobbled last year, but the veteran still has pulled in a league-best 75 percent of his passes the past two years. Consider him a decent WR1, but if you nab him as your WR2 it's even better.
Final take
Wide receiver is the easiest position to predict and part of that is the fact they don't get hurt at rate players at other positions do.
Another factor is how big of a share of targets a wideout will command on their respective team. Given the durability wide receivers bring to the table finding ones that offer consistent production become valuable fantasy commodities.
You won't be able to build an entire fantasy receiving corps of consistent producers at the position, but be sure to grab one or two receivers with a proven track record if possible.