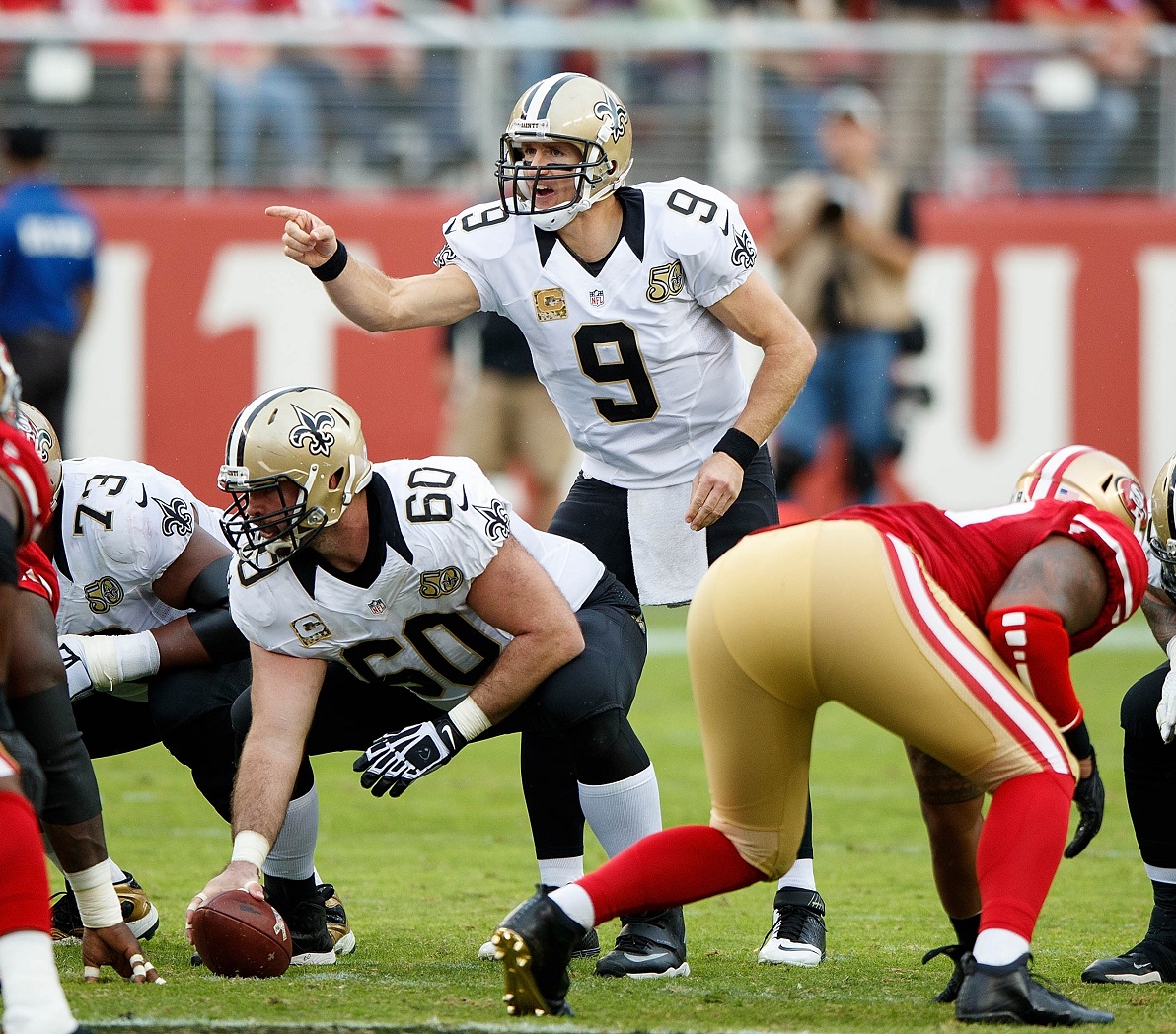 SANTA CLARA, CA - NOVEMBER 06: Quarterback Drew Brees #9 of the New Orleans Saints signals from behind the line of scrimmage during the third quarter against the San Francisco 49ers at Levi's Stadium on November 6, 2016 in Santa Clara, California. The New Orleans Saints defeated the San Francisco 49ers 41-23. (Photo by Jason O. Watson/Getty Images)
The head-to-head nature of fantasy football is what separates it from many other sports' season-long formats because you compete weekly for a win or a loss rather than a roto format, which is more focused on the final stat numbers at season's end. This makes having consistent performers a bit more important in football.
One of the most recommended approaches to building your fantasy team is to acquire a fair amount of safe-and-steady performers to go along with a nice group of upside guys.
We've spent some time already looking at some high-ceiling quarterbacks, so now it's time to see which of the guys lining up under center can provide that balance of consistent production.
There have been some very deep dives on this matter from a broader perspective from some respectable names across the industry, including PFF's own Scott Barrett when he put his spin on the subject earlier this summer during his Metrics that Matter series.
For the purpose of this conversation though, let's take a look at the top 25 quarterbacks in the most recent update of the PFF fantasy rankings and see how steady they have been from week to week over the past three seasons.
We've gone week by week to tally the total fantasy points scored at the position and calculated how frequently each player had a "plus" effort, meaning finished above the average total points for quarterbacks for that given week.
Here are some key takeaways to consider from studying the data:
Rodgers was the top fantasy producer at the position in 2016 as he became the first quarterback in league history to throw for over 4,000 yards with 39-plus touchdowns while rushing for at least four scores and compiling 350 or more yards on the ground.
When you look at the fact that he has 9.5 percent more than the most quarterback with these plus performances and you start to build a case for him as the early-round pick he will cost.
The rushing numbers are a big separator for Rodgers. He's hit 300 yards on the ground in every season which he's gone uninjured since 2009 while averaging 21.4 rushing yards per game and scoring 21 rushing touchdowns during that stretch.
Lingering concerns about the health of his shoulder have caused me to drop Luck a couple spots in my most recent rankings update and his ADP is following suit with FantasyFootballCalculator.com now projecting him a the sixth quarterback off the board at pick 7.03 after sitting in the middle of the fifth round for a while.
He finished 2016 as the fourth-best scoring quarterback. The Colts' signal caller finished with a bang by throwing 12 touchdowns and just five interceptions while averaging 282.6 passing yards per game over his final five contests. He added 95 yards and a score on the ground.
Luck has battled his fair share of injuries and the concern is warranted. Still, if he only misses a game or two and comes back at 100 percent the ceiling is pretty high given his newly found value. Enter with caution though as the risk is real.
No quarterback has played in more games with a higher percentage of qualifying performances than the Saints' quarterback.
The veteran passer broke 5,000 yards in the air for the fifth time in his career a season ago. It has only happened four other times in NFL history and no other player has accomplished that feat more than once.
How is that for consistency? Brees has only failed to reach 20 fantasy points in a game 13 times over the last three years, but has eclipsed 30 points or more another 13 times during that span.
Mariota had fewer turnovers and more explosive passing plays during his second season, including a seven-week stretch where he was one of the league's top fantasy signal-callers. He has difference-making running ability and has developed faster than expected.
He only finished the year 13th in fantasy scoring at quarterback. However, in the 24 career games that Mariota has started and finished, he's been a top-five-scoring quarterback in eight weeks and finished inside the top 10 in 12 of those contests.
The leg injury concerns have diminished as Mariota has been participating fully in camp thus far. He's locked in as a low-end QB1 target with a nice mix of consistency and potential.
Weekly positional rank (career – complete games)

Weekly Finish
2016
2015
Total
%Games Played
Top 5
4
4
8
33.33%
QB6 – QB10
4
0
4
16.77%
QB11- QB19
2
3
5
20.83%
QB20+
4
3
7
29.17%
The Redskins' quarterback is likely to last the longer in drafts this summer than he should. Only Brees and Matt Ryan threw for more yards than Cousins did a year ago, and Washington's starter has finished as a top-10 fantasy quarterback in each of his past two seasons, including a top-five effort a year ago.
Since Jay Gruden arrived in Washington as the head coach, the Redskins have ranked fourth in the league in passing yards and Cousins is a big reason why. There are few scenarios where the team will turn to its running game as the main approach in any contest. More opportunities are always a good thing for projecting fantasy production.
Newton is not someone that comes to mind when you think of consistency, and the numbers bear it here. He's the exact type of player that is better reserved for a best-ball format and season-long leagues where there is a high weekly money jackpot. He could blow up in some weeks and lay an egg in others.
He had a career year in 2015, but in the other two years of our study he only was above average in 13 of his 29 contests. With the team hoping to limit his rushing attempts a bit to save his healthy, his fantasy ceiling is shrinking. That will also make it harder for him to upset subpar passing numbers with his rushing stats.
One of the more surprising things fantasy owners might discover in this data is how unreliable Carr has been over the last few years. He's only been an above-average performer in 46.81 percent of his contests the last three years.
Oakland is a fun and exciting offense and the team made Carr the highest-paid quarterback in league history in a deal this offseason. He still has yet to finish inside the top 10 in passing yards in his career though, and only has 294 rushing yards and no touchdowns on the ground as a pro.
Currently Carr is one of the most-overpriced fantasy options on the board with a current ADP of 6.09/QB5. His consensus ranking at PFF has him slotted as QB15.
Final take
Consistency alone won't tell you enough. However, being aware of it and which players are going to be able to be counted on a regular basis to provide it could help you making the decision of when deciding between some players on draft day. It also will give you a better overall sense for roster construction as you seek the ultimate balance of reliable and excitable.