Back in my day: Wide receiver fantasy scoring has been lagging a bit in recent years.
Throw them the ball: There aren't as many alpha target-hog wide receivers these days compared to what was going on in the early 2010s.
We appreciate you: The Los Angeles Rams, Pittsburgh Steelers, Jacksonville Jaguars and Miami Dolphins stand out as bad offenses with fantasy-friendly wide receiver volume.
Estimated reading time: 7 minutes
---
The general idea of fantasy football draft strategies like "zero-RB" or "hero-RB" or – my least favorite name – "modified zero-RB" comes down to the belief that wide receivers should be prioritized early and often in lieu of taking running backs.
Any draft strategy can work if the right players are selected (shocking!), but it's important to check some of the assumptions being made about drafting wide receivers before going all in on the lifestyle.
Today's goal is the answer the following five questions after another exhilarating 2022 fantasy season:
Is wide receiver fantasy scoring largely better than ever?

Are the league's best wide receivers getting more volume than ever?

Have certain offenses consistently fed their wide receivers more fantasy-friendly volume than others in recent history?

How well is the fantasy industry identifying the top wide receivers based on preseason average draft position (ADP)?

What sort of archetype is optimal for late-round wide receivers?
Thanks to FanasyPros for the average draft position (ADP) data. All scoring refers to full point-per-reception (PPR) and ranks are on a per-game basis with a minimum of eight games played.

---
Is wide receiver fantasy scoring largely better than ever?
Not really! The following chart denotes the average PPR points per game from every season's top-12 and top-24 highest-scoring wide receivers over the past 10 years.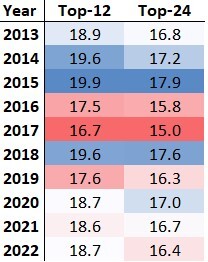 The Antonio Brown and Julio Jones era was a bit more robust than what the modern crew has managed to put together, but then again, it's tough to call this too much of a trend considering the uptick since back-to-back down years in 2016 and 2017.
My initial thought was that wide receiver scoring might be declining due to running backs and tight ends becoming more involved in the passing game. This doesn't initially seem to be the case, as all three skill-position groups have struggled to keep pace with the ascending quarterback position over the past three years.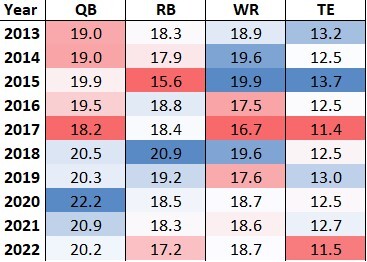 Perhaps NFL teams aren't concentrating quite as much as their target share on one specific wide receiver these days.
---
Are the league's best wide receivers getting more volume than ever?
The workhorse running back has become rarer in recent years – perhaps the same is true for the target-hog wide receiver!