Committee season: NFL teams have refrained from giving one single running back a true workhorse role in recent years.
Wicked smart: The fantasy football industry has generally gotten better at predicting the season's top-performing running backs in terms of preseason average draft position.
Passing league: The heavy majority of late-round gems at the running back position possessed a pretty clear ability to help in the passing game.
Estimated reading time: 8 minutes
---
Running backs tend to be pretty volatile in fantasy football land. Sure, it's not exactly a secret that Christian McCaffrey and Derrick Henry are capable of producing some incredible numbers when healthy enough to suit up, but there were times over the past six months that names such as Zonovan Knight, Deon Jackson and Kyren Williams were unironically sought after by fantasy managers of all shapes and sizes.
What follows is a breakdown of some broader big-picture questions about the position following the end of another exhilarating fantasy season, specifically:
Are there fewer workhorse running backs than ever?

What offenses are cool with featuring one single back?

Have certain offenses continued to largely doom fantasy running backs of all shapes and sizes?

Has the fantasy industry gotten any better at predicting every year's top running backs?

What sort of archetype is optimal for late-round running backs?
Thanks to FanasyPros for the average draft position (ADP) data. All scoring refers to full point-per-reception (PPR) and ranks are on a per-game basis with a minimum of eight games played.
---

---
Are there fewer workhorse running backs than ever?
Generally speaking, yes. Double-digit running backs racked up 300-plus touches in every season from 2000 -07, but that threshold has only been met twice in 15 years since.
On average, 6.1 running backs have racked up 300 touches per season over the past decade. Eight-such backs accomplished this feat in 2022 after back-to-back years of just four running backs racking up 300-plus combined carries and receptions. However, Najee Harris (313 touches), Austin Ekeler (311) and Dalvin Cook (304) would have been on the border without the assistance of a 17th regular season game.
There simply aren't many offenses still willing to give their starting running back a true workhorse role these days relative to what the game was like 15 years ago.
---
What offenses are cool with featuring one single back?
The following table denotes what percentage of a team's games featured them giving any running back 60%, 75% or 90%-plus of the offense's snaps. Example: The Arizona Cardinals played a running back (usually James Conner) on 90% of their offense's snaps in an NFL-high 29% of their games this season.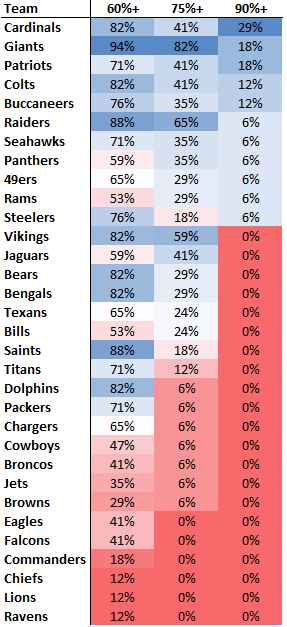 Only the Cardinals, New York Giants, New England Patriots, Indianapolis Colts and Tampa Bay Buccaneers showed any sort of consistent willingness to hand their starting back a near-every-down role. The Las Vegas Raiders, Seattle Seahawks, Carolina Panthers, San Francisco 49ers, Los Angeles Rams, Pittsburgh Steelers and Minnesota Vikings were also generally willing to feature one single back more weeks than not, but that still leaves the majority of the league in full-on committee mode.
The 2022 findings reflect what I found when looking at each specific play-caller prior to the season: You definitely don't need more than two hands to count the number of teams willing to give their running back a true workhorse role in the modern NFL.
Think of the workhorse running back like a Quaalude: Probably a lot of fun but ultimately irresponsible and rare in the year 2023.