Odds are good you've had your fantasy football draft by now. Odds are also good your roster hasn't seen huge turnover since then (if you drafted early and landed Andrew Luck and/or Lamar Miller … well, sorry, friend).
What that means is that, for the most part, you're ready for Week 1. What that does not mean is that your job is done until waivers run next week. There are several days between now and the first slate of games, during which a lot of long-formed opinions will change based on only one play, or at least only a few.
Below, we'll look at some players it might make sense to toss a waiver claim at before Week 1, because if you wait until after the games, you'll find yourself in a bidding war. Maybe these are guys who could suddenly become usable for your roster, or maybe they are guys who could wind up with trade value in short order. Either way, these are players it might make sense to snap up a week ahead of time, when their value is at a low point.
Winston is probably getting drafted in every league. But with an ADP of QB12, it's not a guarantee, and if he slipped through the cracks in your league, you'll want to rectify that before a Week 1 game that sees the electric Tampa Bay passing offense face off against a poor San Francisco pass defense. Winston might not be 100% owned entering Week 1. He will be entering Week 2.
It's hard to ask for a Week 1 matchup better than going against an Arizona team that should play at incredible pace this year and is without its top two cornerbacks in Patrick Peterson and Robert Alford. Stafford's stock has plummeted following a 2018 season that saw him finish as QB20, and with rumors of the Lions going extremely run-heavy in 2019, he might not bounce back. But with a nice cast of receiving weapons that includes Kenny Golladay, Marvin Jones, Danny Amendola, and rookie T.J. Hockenson, if Stafford has a big Week 1 he'll garner eyeballs, and that could lead to capitalizing on the trade market.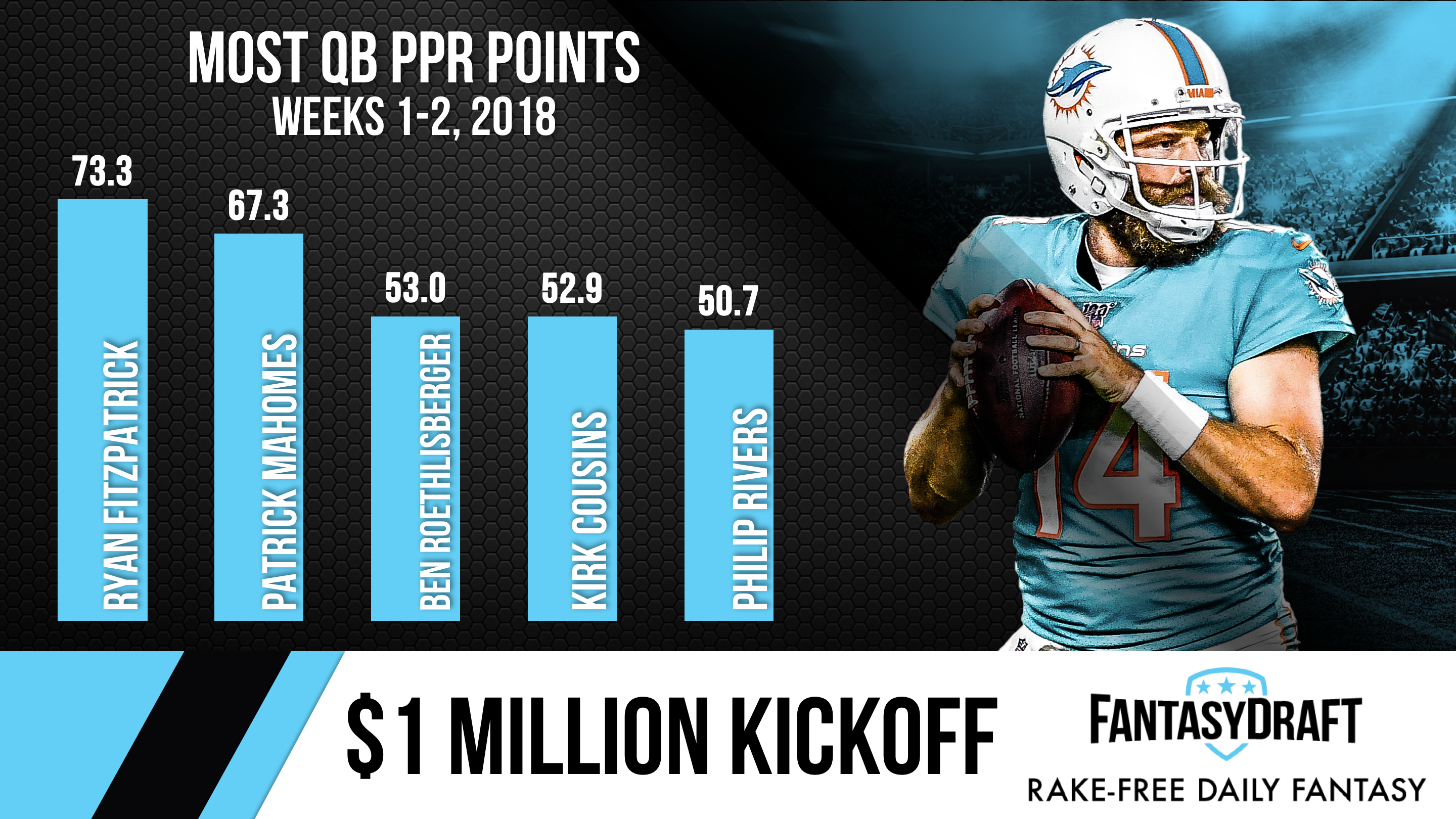 Okay, listen, we all know what Fitzpatrick is. If he starts all 16 games for the Dolphins, he'll have two games with 30-plus fantasy points and five with under 10, and you won't ever be able to guess when they'll come if your life depended on it. But he was the best quarterback in the league in Weeks 1-2 last year for fantasy (73.3 points, 6.0 more than second-place Patrick Mahomes) and real football (98.8 overall PFF grade, 5.3 better than second-place Mahomes). If he can bear even a passing resemblance to that in Week 1 this year, he'll be a hot commodity.
Pollard is likely to be drafted in most leagues, especially ones drafting late. But if he sneaks into the week before the season unowned — either it's a shallow league, or one that drafted early, or just something slipping through the cracks — there is no reason to let that last into Week 1. Even if Ezekiel Elliott reports and is good to go for the Week 1 game, he's going to do it with essentially no prep time with the team, and we saw in 2017 with Le'Veon Bell that that's a dicey proposition. Pollard's going to be a big part of the Cowboys' Week 1.
It became clear over the preseason that Montgomery, more than Bilal Powell or Elijah McGuire is the handcuff you want for Le'Veon Bell. But what might not be as clear is what Montgomery's value will be even with Bell on the field. We've never seen Adam Gase devote himself to a bell-cow back, and all indications are that he's unlikely to use Bell like he was used in Pittsburgh. That means Montgomery will at least have heavy use as a change-of-pace back, and his pass-catching ability should give him PPR value. He has flex upside that you can grab for free.
Baltimore is going to run a lot this year. As much as they ran down the stretch last year? Probably not, but that was pushing right up against the maximum amount an offense reasonably could run in this day and age anyway. But even accounting for a reduction in total runs, there should be more carries available than Lamar Jackson and Mark Ingram will handle all on their own. Right now, Edwards looks like the odds-on favorite to get the next-most carries, but Hill is right there to get them as well. Both are worth tossing on fantasy benches entering Week 1 until we see how it will shake out.
By yards per route run, Quinn was the best slot receiver in college in 2017. He just about redshirted his rookie year in the league, only seeing targets in Weeks 11 and 12 (and catching 9 of 10 of them!) sandwiched between injury. Still, it was promising, and now he enters his second year as the odds-on favorite to be the team's leading slot receiver in the role vacated by Jamison Crowder. If there's pass-catching value to be had among the Washington wide receivers, Quinn might be the favorite to offer it.
Gallup is on the fringes of being drafted in normal-sized leagues, but he should be faring better. His emergence in the offense last year was much quieter than Amari Cooper's, but once Cooper joined the team, Gallup's usage and productivity both climbed by about 50%. Now, Gallup's the unquestioned No. 2 receiver in an offense that might not have its No. 1 running back, has a tight end who looked washed up before retiring for a year, and has health questions around Cooper. There might be a Gallup stampede in a week. (If you think I didn't think about making a "gallup for Gallup" joke here, you don't know me very well.)
Renfrow's stock has risen over the preseason, and now he looks likely to open the season as the Raiders' No. 3 receiver, operating largely out of the slot. Is Darren Waller really going to break out? Is Antonio Brown healthy? Is Josh Jacobs ready for a starring role? If the answer to one or more of these questions is no, Renfrow could see a lot of targets. He's under serious deep-league consideration now, and that would only rise if he starts well.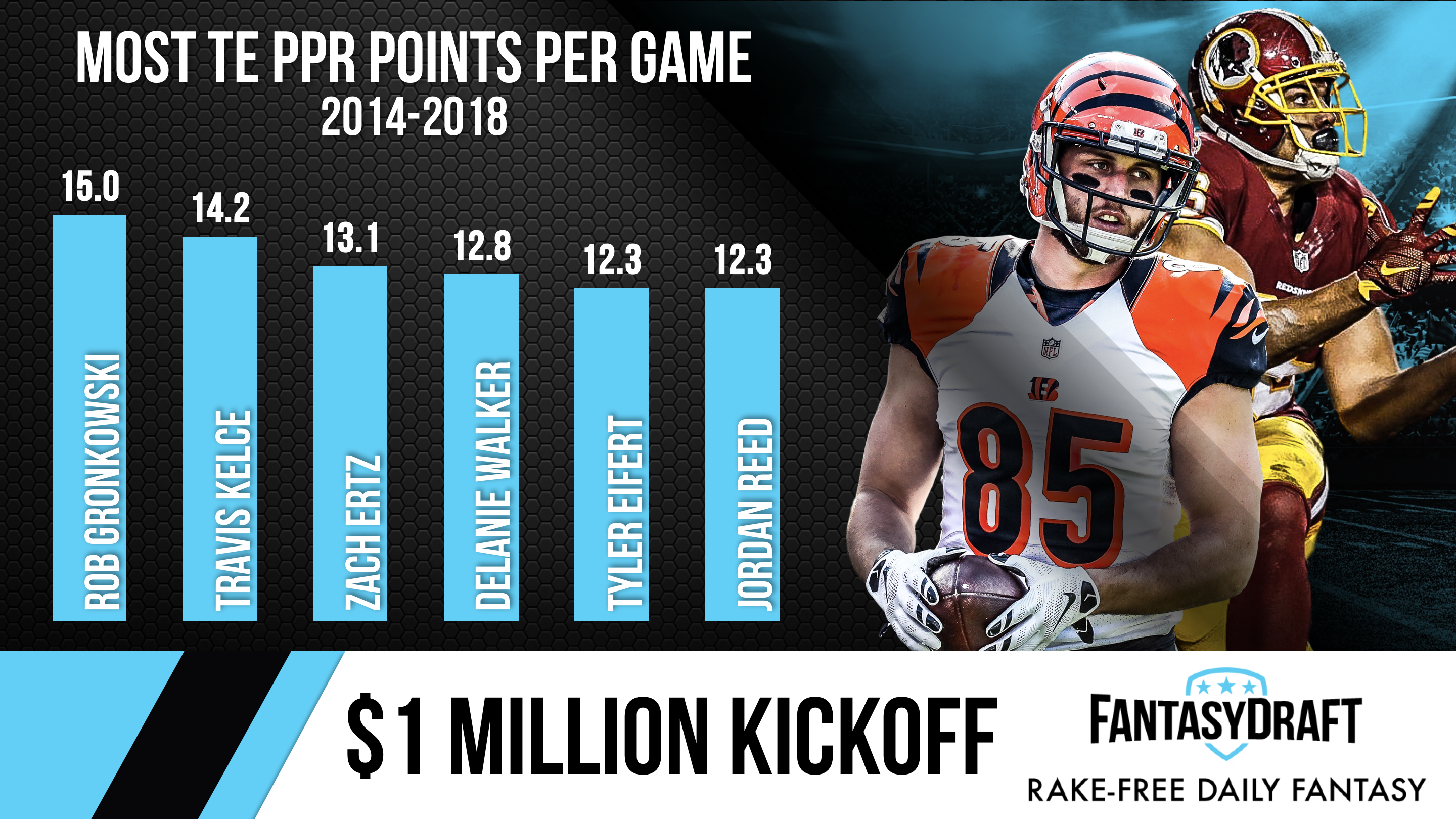 The knock on both of these tight ends is health; the rank fifth (Eifert) and sixth (Reed) in PPR points per game at the tight end position over the last five years at basically the same average — 12.29 for Eifert, 12.27 for Reed. If either guy comes out in Week 1 with a healthy, productive game, he'll be a hot commodity on the waiver wire. If you can justify it before the games? There's no risk in stashing one of them and hoping to capitalize, either by playing him or trading him.
As those of us around these parts have noted heavily this offseason, Doyle saw decisively more use than Eric Ebron last season when both were active, with only Ebron's ridiculous touchdown luck in those games coloring the impression. Despite that, Ebron's still going off the board as TE11 (per Fantasy Football Calculator ADP), while Doyle is undrafted. If their respective usage from last year continues into Week 1, that'll switch in a hurry.