Jonathan Taylor costs a pretty penny on DraftKings at $9,100, but he might not be as chalky as expected compared to

Christian McCaffrey

.

New Eagles No. 1 WR

A.J. Brown

has the highest PFF WR/CB matchup advantage of the week ahead of his projected shadow date with

Amani Oruwariye

.

This week's sponsored Ricky Bobby "I want to go fast" highest-projected matchup features the Buccaneers (No. 2 in situation neutral pace) at the Cowboys (No. 1).
Estimated reading time: 16 min
---
The NFL is a matchup-driven league. Offensive coordinators are always looking to scheme their playmakers into one-on-one situations against a defender, while defensive coordinators will attempt to do anything in their power to upset the timing and rhythm of the opposing quarterback.
Despite the obvious impact that defenses have on opposing offenses, fantasy players and fans alike are often left with one-way metrics to describe offenses and defenses that they are then forced to compare against each other in an attempt to identify mismatches.
The goal here is to provide easy-to-decipher charts and notes to define each week's key matchups and advantages on both sides of the ball in:
Explosive Plays

Pace

Pressure

Yards Before Contact

EPA
The following charts display matchup-specific information meant to highlight the largest mismatches in these ever-important facets of football to ultimately gain actionable betting and fantasy takeaways. And, of course, to have fun.
Note: Data is from 2021. There are plenty of limitations to this due to the current year being 2022; key discrepancies will be highlighted in the ensuing paragraphs and the metrics will get stronger as the season continues.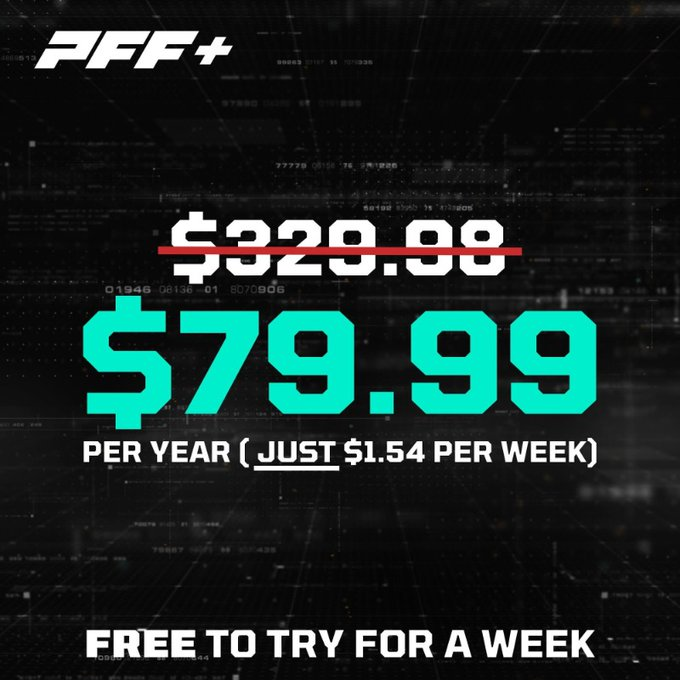 Explosive Plays
Big plays make the football world go round. Matchups between explosive offenses and leaky defenses are exactly what we're looking for when compiling game stacks in DFS, or when betting an over.
Explosive Pass Rate

: The sum of an offense's rate of 20-plus yard completions per pass attempt and the opposing defense's rate of 20-plus yard completions allowed per pass attempt. A higher percentage is better for offenses (blue is good, red is bad).

Explosive Run Rate

: The sum of an offense's rate of 15-plus yard gains per rush attempt and the opposing defense's rate of 15-plus yard runs allowed per rush attempt. A higher percentage is better for offenses (blue is good, red is bad).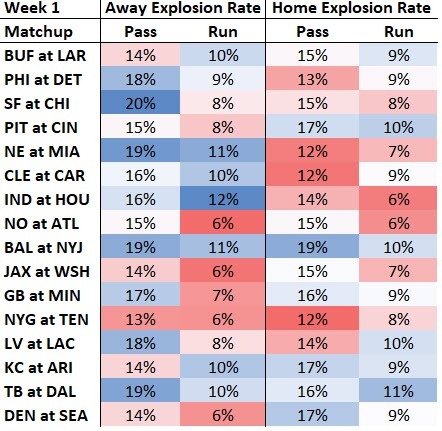 These offenses breed explosive plays: Just four offenses averaged an explosive pass play on at least 10% of their dropbacks last season: 49ers (11.2%), Patriots (10.3%), Rams (10%) and Bengals (10%).
Believe in Trey Lance: Yes, Lance has a ways to go as a passer. Also yes, he ranked fourth in the NFL with an average of 8.5 yards per attempt last season, finishing just 0.1 yards behind Garoppolo himself. Obviously, Lance was working with a small sample size that included some blown-coverage-induced big plays, but that's also life in an offense that has playmakers all over the place in Deebo Samuel, George Kittle and Brandon Aiyuk.
The first test is a Bears defense that will need to get adjusted to life without Khalil Mack in a hurry. The squad isn't completely devoid of talent with DE Robert Quinn, LB Roquan Smith, CB Jaylon Johnson and FS Eddie Jackson all boasting plenty of accolades; just realize the 49ers (-6.5) are expected to see the sort of run-heavy leading game-script that *should* lead to all sorts of fantasy goodness from Lance throughout 2022.
Lance ($6,000 on DraftKings) is viable in cash games and tournaments alike; don't feel like you need to stack him with anybody thanks to the immense rushing upside at hand.
Good offense beats good defense in today's NFL: Offenses set up to thrive in their quest to create some explosive pass plays: 49ers, Patriots, Ravens, Buccaneers, Eagles and Raiders.
GOATS stay GOATS: Part of what makes Tom Brady's late-career greatness all the more impressive is the reality that he's managed to keep a downfield mindset while getting rid of the ball quickly. Overall, Brady had the league's third-quickest average release time (2.34) among 44 quarterbacks with at least 100 dropbacks, yet he still managed to post a more-than-respectable 8.4-yard average target depth (No. 15).
Brady might be forced to rely on Mike Evans more than ever with Chris Godwin (knee) and Russell Gage (hamstring) banged up. It's tough to get away from the TB12-Evans duo in Sunday night showdown slates considering the borderline erotic numbers that Evans has put up without Godwin in the lineup over the past two seasons:
7 receptions-104 yards-1 TD

7-122-1

5-41-1

5-55-1

4-47-1

6-89-2

9-117-1

8-119-1
Fly like an eagle: New Eagles No. 1 WR A.J. Brown has the highest PFF WR/CB matchup advantage of the week ahead of his projected shadow date with Amani Oruwariye. While Oruwariye did a good job in shadow coverage on Tee Higgins (3-44-0) and Allen Robinson (4-32-0) last season, things didn't go quite as well in two matchups against Justin Jefferson (7-124-0, 11-182-1). Obviously pretty understandable, but either way PFF's 25th-ranked secondary constitutes a smashable matchup for AJB ($6,400 on DraftKings).
Offense is easier when the defense sucks: The only two defenses that allowed an explosive pass play on at least 10% of their opponent's dropbacks happen to be squaring off in Week 1: The Jets (11.3%) and Ravens (11%) were easily the NFL's worst two secondaries at limiting big plays last season.
Cheap target hog wide receivers in a good matchup, is that something that you might be interested in?: Both the Jets and Ravens have improved their defenses through personnel changes and generally better health. Still, both Rashod Bateman ($5,300 on DraftKings) and Elijah Moore ($5,100) stand out as viable pivots off of the rather chalky Michael Pittman ($5,500). Yes, I believe that Pittman should be projected for more points than either Bateman or Moore. Also yes, it's one week; don't be afraid to take the slight price discount — and mega ownership discounts — on two talented second-year receivers poised to see all sorts of volume.
Not every passing attack is meant to fly: The clear-cut bottom-five offenses in terms of expected failure in creating big plays through the air: Giants, Titans, Dolphins, Panthers and Lions.