I think most fantasy football players understand that the contextual elements of a game — like whether it is at home or on the road, whether it is outside on in a dome, and whether it is forecasted to be sunny, windy or rainy matter. But few players make the appropriate mental adjustments for those factors when they make their lineup decisions. And now that daily fantasy is so popular, accounting for context is more critical than ever.
This year, I will try to make that much easier for you. Based on a bunch of research I've conducted over the last year, I've created a ranking system that separately projects players in a totally neutral context before separately adding venue, weather, and defensive adjustments one by one. That approach allows me to provide you with discrete projections for how much I expect the venue and the weather to help or hurt every player in fantasy. That full list of venue and weather adjustments is available for Elite subscribers, and I'll call out the most interesting and impactful every week in this column.
For Week 1, my interest and I expect the interest of many football fans starts in Cleveland.
Sunday, 1 p.m. ET
The AFC North has a monopoly on weather concerns in Week 1, and I find the Steelers and Browns game fascinating for several reasons. The forecast calls for intermittent rain and moderate-to-heavy winds in Cleveland during game time, which should hurt the passing attacks of both teams. However, Tyrod Taylor (+0.4 PPR adjustment) enjoys an overall plus venue-and-weather matchup because he benefits from being home and because he can rack up fantasy points with his legs. Taylor is seventh among quarterbacks for me this week, and that isn't totally an anomaly. I think the excitement over Baker Mayfield has distracted from the reality that Taylor should enjoy a massive upgrade in skill talent moving from the Bills to the Browns. While he is the starter, he'll be an effective fantasy player.
If the Browns do commit more heavily to the run because of the weather, look for Carlos Hyde (+0.1) and Nick Chubb (+0.3) to profit more than Duke Johnson (-1.0). Still, none are in my top-35 at the position this week in PPR formats.
The Steelers should have a much tougher test being on the road and considering that Ben Roethlisberger (-4.2) has shown unparalleled home/road splits. He actually suffers the biggest loss of projected fantasy points by any player at any position this week, which drops him from 12th in my true-talent rankings to 29th once you account for venue, weather, and the Browns defense, which looks to be much improved in particular in the front-seven. Don't start him this week.
The losses I project for Roethlisberger trickle down to his receivers, although for Antonio Brown (-3.0), that will never be enough to induce a fantasy decision. Even with his projected loss of 3.0 points, Julio Jones is the only wide receiver who jumps Brown for the top spot in my weekly PPR rankings. Because of his lesser volume, JuJu Smith-Schuster (-1.7) suffers a smaller decline in his projected fantasy production. However, his loss is much more significant. He falls from 35th to 44th among wide receivers and 74th to 94th among all flex considerations in my rankings. He's likely a bench this week in shallower formats.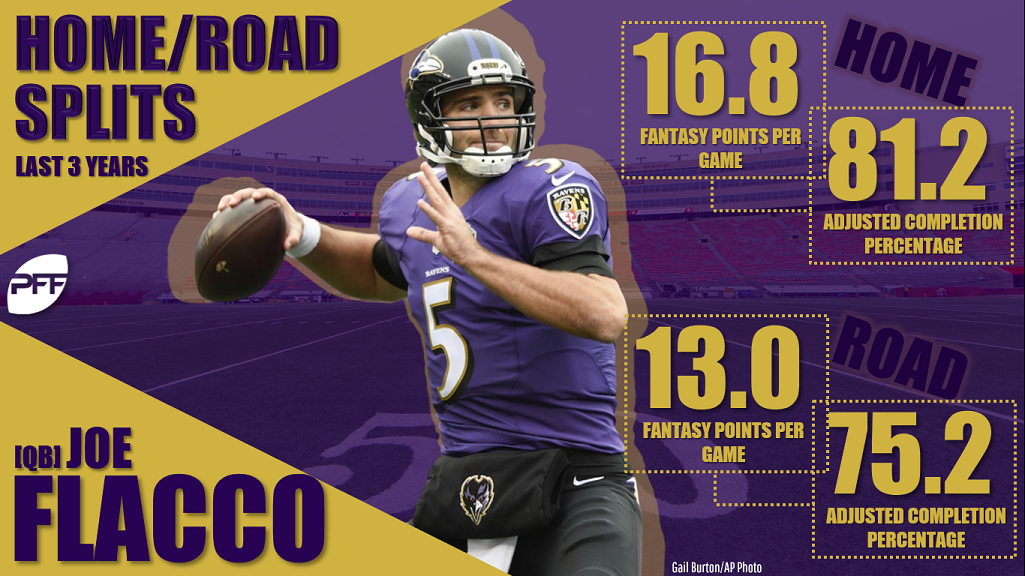 The Bills and Ravens game has a similar forecast of possible rain and wind, but the fantasy impact of that poor weather is somewhat counterbalanced because the Ravens are the home team. Like Roethlsiberger, Joe Flacco (+1.5) has shown bigger-than-normal home/road splits in his career, and his being at home this week should help him more than the rain and wind hurts him. Still, Flacco and the Ravens receivers give away most of their venue and weather gains because the Bills allow 10 percent fewer yards per pass attempt and 45 percent fewer touchdowns per pass attempt than a typical team.
Alex Collins (+0.7) is really the Ravens player you want in fantasy. The Bills allow 30 percent more touchdowns per rush attempt than average, and the Ravens will undoubtedly ride Collins if the rain or wind gets heavy. He's the No. 17 running back in my PPR rankings and No. 11 running back in my standard rankings this week.
For Nathan Peterman (-1.2), the road venue and poor weather drops him from last place to even further in last place in my quarterback rankings. Obviously, you aren't using him in fantasy leagues. However, LeSean McCoy (+0.2) is perfectly fine to start. I have some season-long concerns that he is not the same player he was in his prime, but at least for this week, he looks like he'll see the lion share of the work in the Bills' backfield and has the skills as a receiver that insulate him from much of venue and weather concerns.
Andy Dalton (+0.9) is the rare quarterback who plays relatively better on the road than at home, and this week's road contest is in the dome in Indianapolis. The combination of that plus venue and weather matchup and the plus defensive matchup against the Colts jumps Dalton up into a tie for 4th in my fantasy quarterback rankings with Cam Newton. I'm starting Dalton ahead of a handful of top-tier season passers including Russell Wilson (10th) and Deshaun Watson (11th) this week.
A.J. Green (+0.5) was a fantasy WR1 even before my venue, weather, and defensive adjustments. But among all Bengals skill players, Giovani Bernard (+1.2) actually gets the biggest boost and finishes in the flex range at No. 57 and No. 27 among RBs. Joe Mixon (-0.1) remains mostly unchanged since playing on the road hurts the Bengals' chances of building a lead and killing clock with their run game. But I think he has upside for better than that. Mixon was a tremendously efficient receiving back last year and could potentially eat into Bernard's third-down work this season.
Sunday, 8:30 p.m. ET
The Sunday night Chicago at Green Bay game is the coldest on the slate with a forecasted average temperature of 58.3 degrees Fahrenheit, which is not cold enough to hurt either team's passing game. I'm not sure I can say the same of Khalil Mack and the revamped Bears defense. That defensive opponent chips away most of Aaron Rodgers' (+1.7) gains from playing at home in good weather. He ends up No. 3 among fantasy quarterbacks in my weekly rankings. Davante Adams is fifth among receivers, and then I have Geronimo Allison and Randall Cobb back-to-back at 54th and 55th. I think either has a chance to emerge with Jordy Nelson now in Oakland, but I'm not confident I know which one it will be.