Devin Singletary completely controlled the Bills backfield over the last two games, tallying season-highs in snaps (87%), rushing attempts (55%) and route participation (79%) in Week 4. 
Romeo Doubs' route participation is averaging 95% over the last two games and he is demanding an impressive 25% target share. Doubs is likely entrenched as a top-two passing-game option for Green Bay and is the Packer to put your chip on for a monster season.
Josh Jacobs took over a gargantuan workload on his way to 34.4 points in Week 4. If this utilization holds, he will join elite names like Saquon Barkley and Christian McCaffrey.
Estimated reading time: 60 minutes
---
Editor's note: This year, PFF collaborated with Matthew Berry's Fantasy Life to bring readers the NFL Fantasy Football Utilization Report.
Volume is king in fantasy football, and this report will help you understand which players are due more or less according to their roles. It is a great way to know who is overperforming (sell high) and underperforming (buy low) based on historical data tied to metrics we know drive volume.
Overall offense: Which teams are enabling winning volume and efficiency across game scripts
Quarterbacks: How involved is each quarterback in the running game and who is unlocking upside for their weapons
Running backs: Which backs are handling early downs, short-yardage and passing downs
Tight ends: Who is running enough routes and meeting critical targets per route thresholds
Receivers: Which receivers are in the most routes and operating broadly within the offense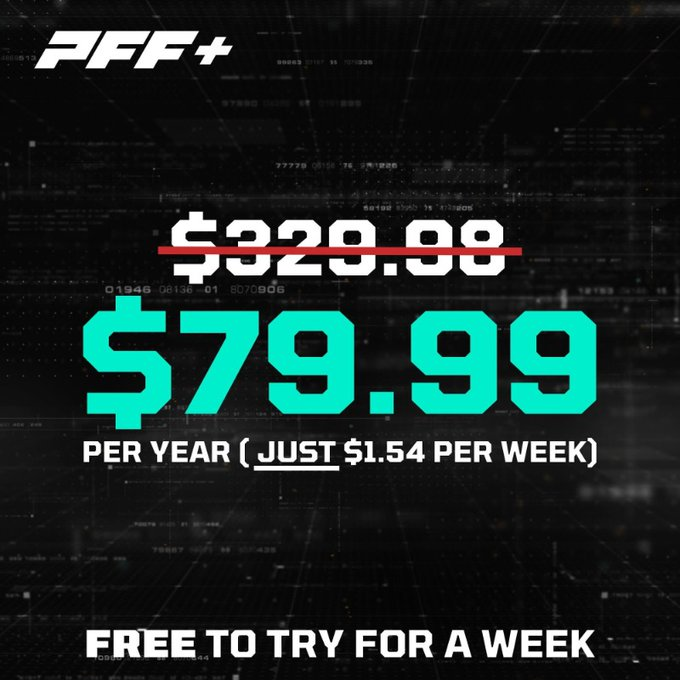 Waiver Wire
RB – Rachaad White
White is the clear-cut No. 2 option behind Leonard Fournette, and his role is growing. He posted season-highs in snaps (41%), rushing attempts (43%), route participation (37%) and targets (10%) in Week 4. The rookie has RB1 upside if something happens to Fournette and is trending toward stand-alone value on par with Tony Pollard. How much would you stake on Pollard if someone dropped him?
White is available in 70%-plus of Yahoo leagues and is the No. 1 priority at running back on the waivers, because if this hits, it will change your season. The FAB below is just a guideline, if you play in a deep league and need an RB, this is one of those spots where get as many chips in the middle as needed to play the hand.
WR – Rondale Moore
Moore returned to action with a 95% route participation and 18% target share. Greg Dortch played admirably with Moore out, but this game indicates he is solidly behind Moore in the pecking order. 
We have a good time making fun of Kliff Kingsbury and the Cardinals' offense on the internet, but they rank 14th in points per game (22), sixth in plays per minute (2.32) and fifth in time of possession (55%). Those are numbers we can definitely work with.
The 2021 Round 2 NFL draft pick was the talk of the offseason in Arizona, where coaches indicated his route tree would expand beyond gadget looks at the line of scrimmage. He had a 1.2 aDOT as a rookie, but that number was 10.4 in Week 4, thanks to two targets over 20 yards. However, he remained involved in the screen game with two looks and lined up all over the field, including three snaps from the backfield.
We could see Moore operate in a role similar to Curtis Samuel in Washington, which meshes well with his yards-after-the-catch skillset. Moore is available in 80% of Yahoo! leagues.
RB – Kenneth Walker III
The Seahawks offense was averaging 48 regulation plays over the first two games in 2022, and things appeared to be headed in the same direction as 2021 — pathetically bad for fantasy managers. However, due to Geno Smith's improved play, Pete Carrol indicated they would use more up-tempo offense starting in Week 3.
Over the last two games, they are running 18 more plays per game (66). On the season, they rank No. 2 in the NFL in snaps with at least 15 seconds remaining on the play clock (32%) in neutral game scripts.
These developments have opened up the possibilities for every skill player in Seattle, and it makes Kenneth Walker III a must-roster option in most formats. The rookie hit season-highs in snaps (36%), rushing attempts (25%) and route participation (23%) in Week 4 against the Lions. Despite not seeing targets in college, the Seahawks have made an effort to get him involved in the passing game with a mouthwatering 41% TPRR.
We could see Walker push for stand-alone value soon, but for now he is a top-notch handcuff to Rashaad Penny, who has a long history of injuries. If Penny goes down, Walker would skyrocket to low-end RB1 status. Walker is available in half of Yahoo leagues. His upside makes him a priority over Mike Boone and Tyler Allgeier, who don't carry the same talent profile.
RB – Mike Boone
Boone was already carving out a role in the passing game (LDD and two-minute offense) before the injury to Javonte Williams. Based on the data we have, he looks like the best bet to handle passing-downs as we move forward. However, Melvin Gordon III has been a plus receiver over his career, which makes this situation a bit fragile for a low-end player like Boone.
Gordon landed in the doghouse (fumbles) in Week 4, and with Nathaniel Hackett, anything is possible. So, we can't fully rule out a Boone takeover, but over the course of the season, the best bet in this offense remains a proven talent like Gordon over the journeyman.
Boone is available in almost 100% of leagues and you will likely have to be more aggressive than the allocation recommended below to get him in competitive leagues.
WR – Michael Gallup
Gallup returned to action and caught a touchdown. More impressively, he registered an 85% route participation. His target share wasn't great at 9%, but his touchdown is a reminder of his prowess in the end zone. 
Historically, Gallup hasn't demanded targets on a high level. Even after accounting for route participation limitations due to injuries and other factors by using TPRR, he is a fringe WR3 profile (17.5%). However, the target competition behind CeeDee Lamb isn't fierce.
Once fully healthy, we could see an 18% to 22% target share in a Cowboys offense, which isn't a bad thing considering their commitment to a high-volume attack over the last two seasons.
Gallup is a high-end WR4 who could force his way into WR3 territory once the Cowboys' offense opens up with Dak Prescott. Gallup is available in 60% of Yahoo leagues.
RB – Tyler Allgeier
Cordarrelle Patterson is headed to the IR for at least the next four weeks, which puts Allgeier at the front of a likely committee approach in the run-heavy Falcons attack. There is a chance Allgeier outperforms his peers by a wide margin and parlays this opportunity into a season-long increase in utilization.
Atlanta's depth chart isn't full of household names, but Caleb Huntley matched Allgeier in rushing attempts in Week 4 (29%) and was more involved in SDD situations (67%). Allgeier led the way in LDD snaps (88%) and might be the passing-down option. However, Damien Williams could return in Week 6 and has a strong history as a receiving option.
Ultimately, this is a tough situation to decipher on such a small sample size, and it could go in any direction. The bet is on Allgeier maximizing this opportunity and Patterson's injury lingering longer than expected.
---
Sell High
We don't have a major new sell-high candidate after Week 4, but many of the same names from the previous three weeks have unchanged situations or utilization profiles. 
Clyde Edwards-Helaire continues to outproduce expectations given his utilization profile (doesn't get passing downs or all of the work inside the 5-yard line). Even after factoring in Kansas City's offense, CEH is defying historical expectations, which makes him a great sell-high option if someone in your league buys that he is an actual top-five RB.
---
Buy Low
TE – Darren Waller
Waller is running cold, but his route participation remains elite at 87% and 90% over the last two games. 
Target competition is much higher with Davante Adams around, but Mack Hollins has been the biggest unforeseen obstacle. Since 2017, Hollins is a 13% TPRR player, which means this passing attack likely remains a three-person funnel as the season moves on with Adams, Waller and Hunter Renfrow. 
The Raiders currently rank 10th in points per game (24) and eighth in regulation passing plays per game (41.5), which is enough to support multiple weapons.
Waller still has a top-six talent profile, and things will eventually get back on track. That makes him an attractive buy-low option after a TE30 and TE29 finish.
WR – Seattle WRs
For all the team environment reasons outlined above under Kenneth Walker III, D.K. Metcalf and Tyler Lockett are catapulting up the rest-of-season rankings.
Metcalf's talent profile was never in question heading into this season. In 2021 he posted high-end numbers (minimum 500 routes):
PFF receiving grade: 82.5 (10th)

Target share: 25% (5th)

YPRR: 1.94 (17th)
The concerns for his 2022 outlook were all about how well Geno Smith could play and the atrociously low passing volume in 2021. 
Both of those barriers have been pushed aside and Metcalf is a top-12 option the rest of the way. No, you probably can't buy low anymore, but that is OK — go buy high. If your league mate values him as anything less than a WR1, you are getting value.
Similar to Metcalf, Lockett was still popping in PFF receiving grade last season, ranking 13th at 82.1. His target profile isn't as strong over the last few seasons, but the two are operating very closely to begin the season.
Lockett is a mid-range WR2 the rest of the way in the new high-flying and free-spirited Seahawks passing attack.
RB – Devin Singletary
Singletary completely controlled the Bills backfield over the last two games. In Week 4, he tallied season-highs in snaps (87%), rushing attempts (55%) and route participation (79%). 
Buffalo is hurting at WR after losing Jameson Crowder for the season (ankle). Additionally, Gabriel Davis and Dawson Knox aren't earning targets at a high clip, which mirrors their historical talent profiles. They might just be tertiary options. Singletary has 18% and 16% target shares in the last two weeks.
In his last eight games with 70%-plus snaps, he has delivered RB29, RB20, RB14, RB7, RB10, RB5, RB4 and RB23 finishes.
Singletary is a mid-range RB2 heading into Week 5 — go make a trade offer if you need RB help.
---
Upgrades
RB – Josh Jacobs
Jacobs took over a gargantuan workload on his way to 34.4 points in Week 4. If this utilization holds, he will join elite names like Saquon Barkley and Christian McCaffrey. His rush share has been robust all season (80%), but he picked up 100% of the two-minute offense against Denver and registered a juicy 73% route participation.
In a top-10 scoring offense, Jacobs moves into high-end RB2 territory. If Week 5 looks similar, he will climb to mid-range-RB1 status.
RB – Rashaad Penny
Yes, the Seahawks are a common theme in this edition of the utilization report and Penny isn't an exception. He has three games with a 67%-plus snap share and is firmly the No. 1 in Seattle at the moment.
An unexpected development for the veteran back is his growing role in the passing game. He handled 56% of the LDD opportunities in Week 4 with Travis Homer out. This development continued a trend we saw in Week 3, where he handled 38% of the LDD snaps and 20% of the two-minute offense in the game where Homer was injured.
Kenneth Walker III remains a threat to push for work as the season progresses, but right now Penny is riding high along with the rest of the Seahawks offense in their new up-tempo attack. 
Penny is a high-end RB2 moving forward.
RB – Derrick Henry
Henry has 23% and 24% target shares in the last two games, with three targets coming on screens (one was called back). The veteran back also picked up 44% of the two-minute offense in Week 4. 
The Titans appear to be seeking ways to spruce up their lackluster passing attack by getting their big back in space as a receiver. Henry is currently on pace for 47 targets, but if the last two weeks are any indication, we could see something closer to 60 — which would be huge for Henry's fantasy stock. 
Henry is a mid-range RB1 but will push for high-end status if the receiving work sticks.
RB – Breece Hall
Hall saw his utilization take another step forward in Week 4 with season-highs in snaps (66%), rush attempts (65%), and route participation (61%). Over the last two games, he has taken over the SDD work and leads the way on passing downs. His utilization metrics have already reached RB1 status in just four short weeks.
However, Michael Carter remains a factor with a 44% snap share. The backs are getting on the field together at times. Carter's presence means utilization could still fluctuate weekly. 
Hall is best thought of as a mid-range RB2 (three consecutive top-15 finishes) who could move into RB1 territory as soon as Week 5 if his utilization mirrors Week 4.
WR – Romeo Doubs
The rookie's route participation is averaging 95% over the last two games and he is demanding an impressive 25% target share. Doubs has two top-20 finishes in as many weeks, and he looks like a top-two passing game option for Aaron Rodgers. 
Given how weak this depth chart looks, Doubs is likely entrenched in his role for the remainder of the season and is the Packer to put your chip on for a monster season. He is a mid-range WR3 with high-end WR2 upside moving forward.
---
Downgrades
We are just going to keep all the vibes positive and focus on the upgrades in Week 5, OK y'all? If you are just itching for players to downgrade, consider Chase Edmonds and Michael Carter — if we get another week similar to Week 4, they will be highlighted here next week.
---
JUMP TO A TEAM:
ARZ | ATL | BLT | BUF | CAR | CIN | CHI | CLE | DEN | DAL | DET | GB | HOU | IND | JAX | KC | LVR | LAC | LAR | MIA | MIN | NE | NO | NYG | NYJ | PHI | PIT | SF | SEA | TB | TEN | WSH
Team ranks:
Points per game: 22.0 (14

th

)

Plays per minute: 2.32 (6

th

)

Time of possession: 55% (5

th

)
Regulation play ranks:
Plays per game: 71.0 (4

th

)

Dropbacks per game: 46.8 (4

th

)

Rush attempts per game: 24.3 (14

th

)
Pass-play rate by game script vs. 2021 NFL average:
Trailing by four or more points: 71% (+1)

Within three points: 57% (-3)

Leading by four or more points: N/A
Pass-volume environment: Good
Run-volume environment: Average
Quarterbacks
Monitoring:

Kyler Murray saw his highest designed-rush attempt share (28%) in Week 4 and registered a top-seven finish.
Rest of season:
Running backs
Rest of season:
James Conner: mid-range RB2

Eno Benjamin: stash RB5

Darrel Williams: stash RB6
Receivers and tight ends
Waiver/Upgrade:

Rondale Moore returned to action with a 95% route participation and 18% target share. There were concerns that Greg Dortch might have supplanted Moore while injured. However, the 2021 second-rounder appears to be set for a significant role. Last season Moore was a gadget player, but his 10.4 aDOT is an encouraging sign that the route tree is opening up. He also tallied one rushing attempt. Moore is available in 80% of Yahoo leagues.

FAB: 20-30%
Rest of season:
Marquise Brown: low-end WR1 until Hopkins returns; mid-range WR2 after

DeAndre Hopkins: mid-range WR2 upon return

Rondale Moore: high-end WR4 with WR3 upside

Greg Dortch: low-end WR5

Zach Ertz: mid-range TE1
---
Team ranks:
Points per game: 25.8 (8

th

)

Plays per minute: 2.14 (19

th

)

Time of possession: 48% (20

th

)
Regulation play ranks:
Plays per game: 59.3 (23

rd

)

Dropbacks per game: 28.8 (31

st

)

Rush attempts per game: 30.5 (4

th

)
Pass-play rate by game script vs. 2021 NFL average:
Trailing by four or more points: 51% (-19)

Within three points: 50% (-10)

Leading by four or more points: 43% (-8)
Pass-volume environment: Poor
Run-volume environment: Good
Quarterbacks
Rest of season:
Marcus Mariota: high-end QB2