Game script doesn't matter for pass-happy Bills: The Buffalo Bills continued their pass-heavy ways to kick off the 2022 season, despite leading by four or more points on 64% of plays.
Pitts' usage shows value despite disappointing box score: Atlanta Falcons TE Kyle Pitts didn't come through in the box score but ran a route on 72% of dropbacks and tied for the team lead in target share at 22%.
St. Brown's stock continues to rise: Detroit Lions WR Amon-Ra St. Brown has eclipsed a 30% target share in seven consecutive games dating back to last year.
Estimated reading time: 66 minutes
---
Editor's note: This year, PFF collaborated with Matthew Berry's Fantasy Life to bring readers the NFL Fantasy Football Utilization Report.
Volume is king in fantasy football, and this report will help you understand which players are due more or less according to their roles. It is a great way to know who is overperforming (sell high) and underperforming (buy low) based on historical data tied to metrics we know drive volume.
Overall offense: Which teams are enabling winning volume and efficiency across game scripts
Quarterbacks: How involved is each quarterback in the running game and who is unlocking upside for their weapons
Running backs: Which backs are handling early downs, short-yardage and passing downs
Tight ends: Who is running enough routes and meeting critical targets per route thresholds
Receivers: Which receivers are in the most routes and operating broadly within the offense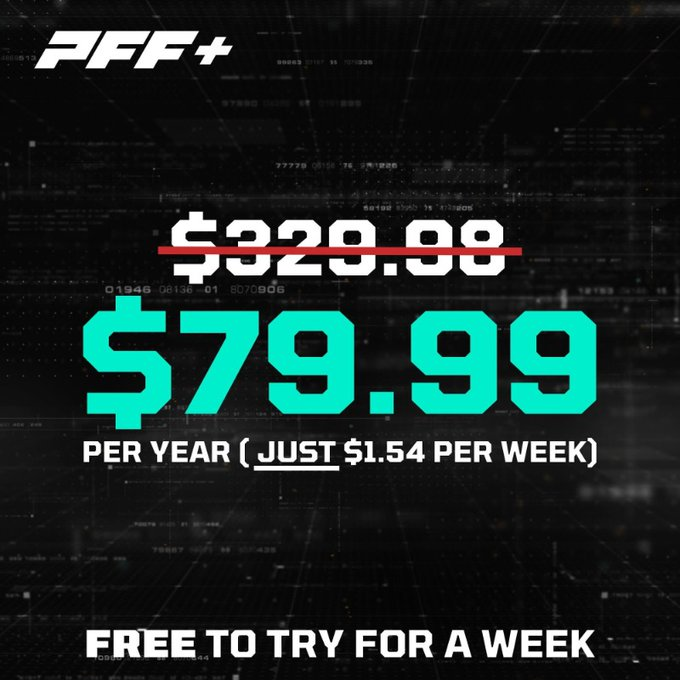 ---
Waiver Wire
QB – Carson Wentz is surrounded by explosive playmakers, and the Commanders could be a pass-first offense in 2022. Scott Turner dialed up a pass on 70% of plays with the score within 3 points — 10 percentage points above the NFL average. When Washington led by 4 or more, they continued to jam the accelerator, throwing the ball on 63% of plays (+12%). The former first-round is a high-end QB2 with upside heading into Week 2. FAB: 10-15%
QB – Justin Fields got involved in the designed rushing attack with 21% of the Bears' attempts in Week 1. The second-year quarterback was also active as a scrambler (17%), which makes him a prime breakout candidate despite his lackluster QB21 performance in Week 1. Since 2015, 14 of 16 quarterbacks to eclipse a 15% designed-rush share have finished as a top-10 option or higher. FAB: 5-10%
RB – Jeff Wilson Jr. handled all the running back duties after Elijah Mitchell left the game with a knee injury. Mitchell (MCL) could miss the next eight games, opening the door for Wilson to serve as a high-end RB3. FAB: 10-15%
WR – Julio Jones tied Mike Evans for the highest route participation (76%) on the Buccaneers and was second in target share (19%). With Chris Godwin likely to miss multiple games due to a hamstring, the door is open for the veteran to establish himself as a critical component of Tom Brady's attack. At a minimum, Jones is a mid-range WR2 while Godwin is out. FAB: 20-30%
WR – Curtis Samuel dominated with a 26% target share on his way to 21.2 fantasy points. He moved all over the field and got involved on the ground with a 16% rush share. The former Buckeye was a big-ticket free agent in 2021 after he popped in multiple breakout metrics in 2019 and 2020. With the Commanders looking like a pass-heavy attack this season, the arrow is pointing up for the explosive receiver. He is available in 90% of ESPN leagues. FAB: 20-30%
WR – Robbie Anderson led the Panthers with a 32% target share in Week 1. Mayfield was willing to target him downfield (21.2 ADOT) as the veteran receiver gobbled 53% of Carolina's air yards. Anderson has two top-20 PPR finishes in the last five seasons, so we know he is capable. He is available in over 60% of ESPN leagues. FAB 10-15%
Sell High
WR – Gabriel Davis' most likely path to fantasy relevance in 2022 was higher route participation, and he reached an eye-popping 100% in Week 1. Even if he doesn't take a step forward in target share, he can payoff ADP in the Bills' pass-happy offense. However, if someone in your league values him as a WR1, don't be afraid to make a deal — especially in dynasty formats.
RB – Antonio Gibson delivered in a big way in Week 1 with a top-10 finish at running back. The Commanders faced the fourth-least LDD situations in Week 1, which meant more snaps and routes for Gibson. McKissic still gobbled up all of the LDD and two-minute work, so we won't see route participation over 50% every week. Brian Robinson could return as soon as Week 5, making Gibson a sell-high candidate.
Buy Low
RB – Chase Edmonds came up small with 10.5 fantasy points but led the team in snaps (63%), rushing share (52%), route participation (57%) and target share (13%). He also handled most of the LDD work. Edmonds' utilization profiles as a mid-range RB2 option, and he has a history of producing explosive plays and delivering in the passing game.
WR – CeeDee Lamb will be without Dak Prescott for eight weeks, but he set a career-high in route participation (98%) – a 21 percentage point leap versus 2021. He led the team with a 26% target share, and 30% of his looks came on play-action. Lamb managed 17 points in Cooper Rush's lone start in Week 8 of 2021. He should still provide WR3 value with WR2 upside while Prescott recovers but that bumps back to WR1 status for the fantasy playoffs, where he could be a top-six option.
Upgrades
RB – Saquon Barkley is a top-three running back the rest of the way. He exploded for 31.4 fantasy points as the RB1 of Week 1. The 25-year-old operated as an every-down back, accounting for 82% of the snaps, 60% of rush attempts, 74% of routes and a 37% target share — and the juice was back. Barkley averaged 6.8 yards after contact and registered an explosive rush (10-plus yards) on 22% of his touches.
RB – Leonard Fournette registered a solid 15.7 points in Week 1 and might only be getting started. He bogarted 76% of snaps, 65% of rushing attempts and was in a route on 76% of pass plays. Since 2011, eight backs have handled over 60% of their team's rushing attempts and eclipsed the 70% route participation threshold. Their finishes: RB1, RB3, RB7 (Fournette in 2019), RB1, RB2, RB1, RB1 and RB3. The Buccaneer is a mid-range RB1 moving forward.
RB – Darrell Henderson took on a near-every-down role with 82% of snaps, 81% of rushing attempts and 78% route participation. That is elite RB1 utilization. We could see Akers eventually work his way back into the fold, but for now, Henderson is an RB2 with RB1 upside if the Rams can get their offensive line issues worked out.
WR – Michael Thomas posted 22.7 points in his return despite battling a lingering hamstring issue last week. His route participation (83%) and target share (26%) tied for the team lead, and he gobbled up 67% of the targets in the end zone. The 29-year-old vet moves up to a mid-range WR2 after a great Week 1, and we could be looking at a WR1 once he is fully healthy.
See the team summaries below for more upgrade news.
Downgrades
RB – Cam Akers only played 18% of snaps and handled 13% of the rushing attempts serving as a backup to Henderson. He is worth holding onto, but he shouldn't be near starting lineups. He is a stash RB option.
RB – James Cook worked behind Devin Singletary and Zack Moss in Week 1. He could still carve out a role as the passing-down option as the season progresses, but for now. Cook should remain on benches and can be cut in shallow formats.
RB – Damien Harris and Rhamondre Stevenson are stuck in a dreaded three-way committee with Ty Montgomery handling the passing-down duties. Stevenson's route participation (11%) was extremely disappointing, given all the discussion around his potential role in the passing game. Harris and Stevenson are splitting early-down snaps on an offense that looks dysfunctional at the moment and are low-end RB3s.
---
JUMP TO A TEAM:
ARZ | ATL | BLT | BUF | CAR | CIN | CHI | CLE | DEN | DAL | DET | GB | HOU | IND | JAX | KC | LVR | LAC | LAR | MIA | MIN | NE | NO | NYG | NYJ | PHI | PIT | SF | SEA | TB | TEN | WSH
---
The Cardinals trailed the Chiefs by 4 or more points on 100% of their plays in a 44-21 loss. They dropped back to pass on 71% of plays, 1 percentage point above expectation. Oddly, they never went to their two-minute offense.
Quarterbacks
Hold/Buy-low:

Murray was held under 200 yards passing, but the Cardinals only had one play-maker healthy in Marquise Brown. His utilization in the designed rushing attack was elite. This team will get healthier, and the schedule is loaded with shootout matchups.
Rest of season: top-five QB
Running backs
Upgrade:

Conner is the clear-cut No. 1 in Arizona. There were some concerns that passing-down work could slip away — that wasn't the case in Week 1. The veteran bogarted 90% of snaps in the first half, but Benjamin provided relief with the game well out of hand.

Upgrade/Waiver:

Benjamin is the No. 2 behind Conner but is best treated as a handcuff. We have seen Kliff Kingsbury ride one back when injuries strike. Benjamin is available in 98% of ESPN leagues.

FAB:10-15%
Downgradede/Drop:

Darrel Williams didn't play a snap and isn't worth holding.
Rest of season:
Conner: low-end RB1

Benjamin: hand-cuff RB5
Receivers and tight ends
Hold:

Brown couldn't parlay the receiving corps injuries into a significant target share against the Chiefs, but his days will come soon enough.

Waiver:

Dortch led the team with a 28% target share, making him a potential min-bid waiver option in deep formats. However, his role will likely shrink once Rondale Moore returns.

FAB: 1-2%
Hold:

Ertz was questionable due to a calf injury but gutted it out. Expect his route participation to improve hand-in-hand with his health.
Rest of season:
Hopkins: mid-range WR2 upon return

Brown: low-end WR2

Moore: upside WR4

Ertz: low-end TE1
---
The Falcons trailed by 4 or more points on only 13% of plays against the Saints. The game script allowed Arthur Smith to remain faithful to his run-heavy desires on 48% of plays. The Falcons deployed 12 or 21 personnel on 56% of snaps, which went hand-in-hand with a 51% play-action pass rate. Atlanta ranked No. 1 in both of those categories in Week 1.