Average draft position is a valuable tool in fantasy football in multiple ways. The first one is obvious: It helps you draft. You don't have to follow ADP religiously, but for the uninitiated, ADP gives a really strong framework for who to pick.
The second one is slightly more subtle, and requires slightly more work, but it can be even more influential: You can exploit ADP. If you have your own rankings, or a rankings system you trust, a quick comparison of the rankings to ADP can give a quick and dirty guide of who to pick and who to avoid. A player who is ranked much better than his ADP can be a great pick in drafts; a player who is ranked much worse than his ADP is a player to avoid.
With that in mind, I applied that exercise using our own PFF Fantasy staff rankings compared to Fantasy Football Calculator ADP. Below, check out the players to avoid in drafts in 2019 based on the comparison. (Saturday, I looked at players to target based on ADP and fantasy ranking.)
Quarterback
(PFF Fantasy rank: QB7; FFC ADP: QB5)
Mayfield has a huge ceiling, but the fantasy community is banking too hard on that happening. He's a fun player to draft, and he certainly could return value here, but there are safer quarterbacks to take in his range.
(PFF Fantasy rank: QB20; FFC ADP: QB15)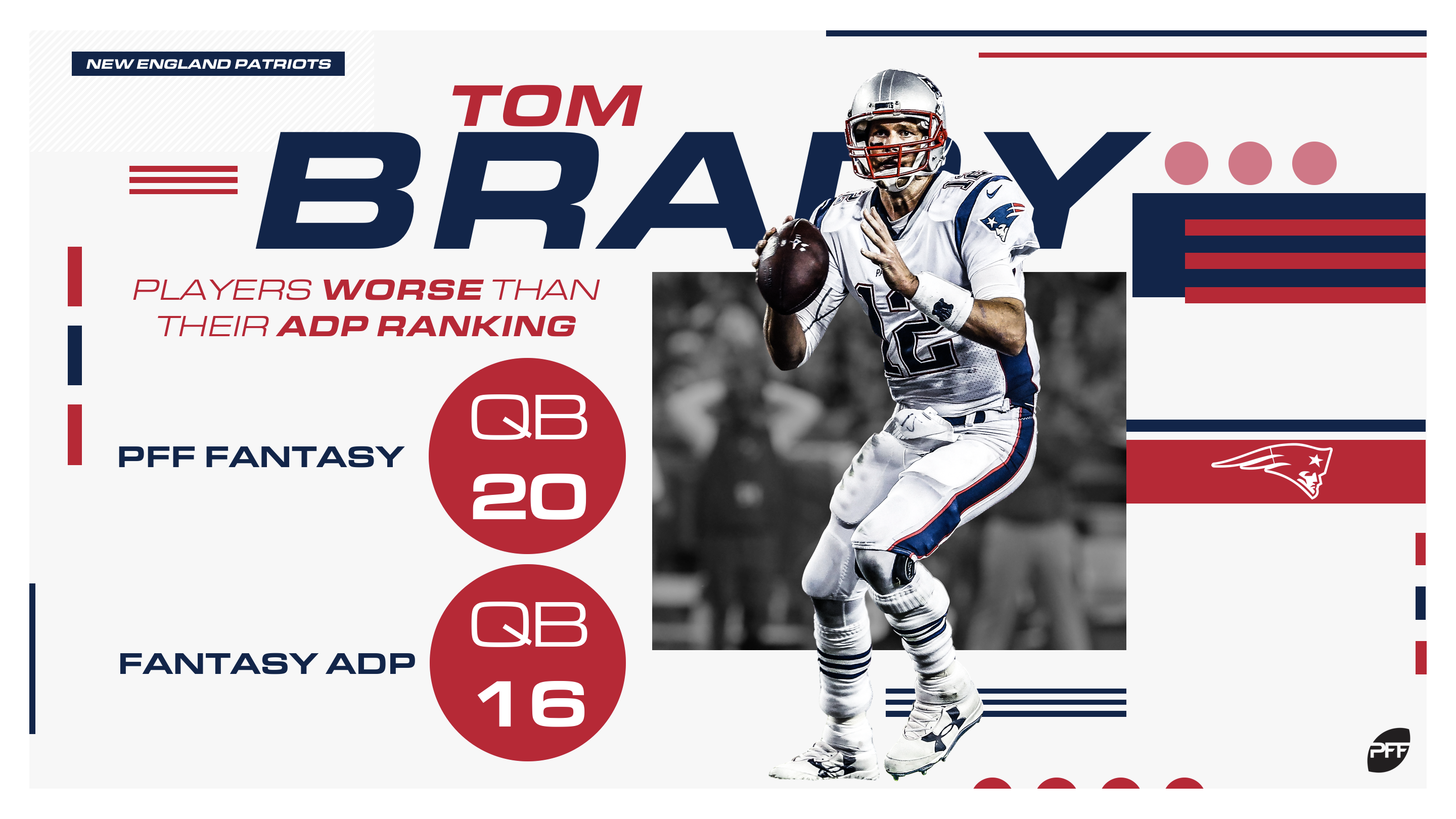 Brady is definitely still an excellent quarterback, putting up the No. 5 PFF grade at the position (90.7) in 2018. The problem is, his number of pass attempts per game in 2018 (35.6) was his lowest since 2011, he offers essentially no value on the ground, and oh yeah, he'll be 42 in August. Brady still has a high floor, but his ceiling is much lower than the drafting community appears to believe.
Running back
(PFF Fantasy rank: RB61; FFC ADP: RB36)
Hunt's getting drafted on name and upside. But he won't even be eligible to play until Week 10, and when he does, he's almost certainly to be on the wrong end of a timeshare with Nick Chubb and could also have Duke Johnson to contend with. I will bet that some two-thirds of the teams that draft Hunt won't be able to justify keeping him on the roster until he's eligible to play.
(PFF Fantasy rank: RB31; FFC ADP: RB25)
Even before we knew he was dealing with injury, Michel was being overdrafted, considering the crowded backfield in New England and his lack of contribution as a receiver. Now, with Michel opening camp on the active/PUP list and Damien Harris breathing down his neck, even our rankers might be too high on Michel, let alone the drafting community.
Wide receiver
(PFF Fantasy rank: WR29; FFC ADP: WR20)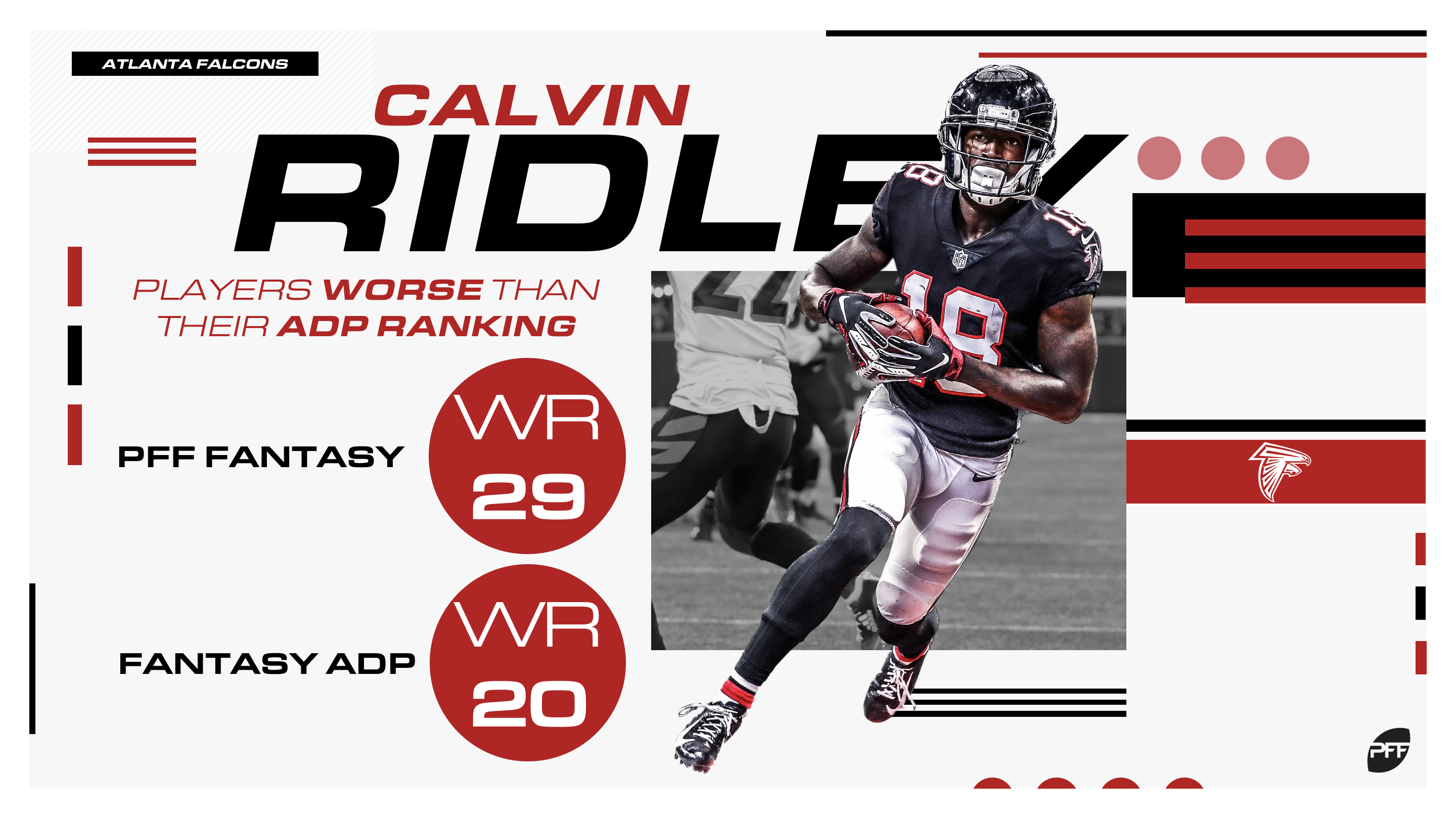 Assuming Julio Jones stays healthy (which we more or less have to assume for these purposes), what is Ridley's ceiling? He's likely to jump Mohamed Sanu in playing time this year, but Sanu's not just going to go away. Devonta Freeman is back and healthy and will get his touches, as will Austin Hooper. Ridley is an interesting prospect with worlds of upside, but drafting him as a mid-range WR2 is an overdraft.
(PFF Fantasy rank: WR58; FFC ADP: WR41)
I might be the wrong person to evaluate the gap here, as I'm high man on MVS in our staff rankings, putting him at 48th among receivers. Then again, even as high man, the drafting community is seven spots higher on the second-year receiver than I am. Drafters appear convinced the Packers offense will rebound in a big way in 2019 (Geronimo Allison is going even higher than MVS and is also overdrafted), but that might not be as sure a thing as drafters believe.
(PFF Fantasy rank: WR45; FFC ADP: WR32)
Somehow, the drafting community not only thinks Kirk will take over the No. 1 job in Arizona, it's a clear gap, with Larry Fitzgerald going four spots lower. On the flip side, our rankers have Fitzgerald going at almost the exact same spot as ADP (WR37 in our rankers, WR36 in ADP), but Kirk is more than a dozen spots lower. Kirk has promise, but he's not the sure thing drafters believe.
Tight end
(PFF Fantasy rank: TE26; FFC ADP: TE12)
Hockenson has name value, as the top tight end in the 2019 draft, but man is this an overbet for a rookie tight end. Drafting him as a back-end starter in a redraft league is asking for a world of disappointment, even before we consider that the Lions are going to be a run-heavy offense in 2019 and still have Kenny Golladay and Marvin Jones to catch passes.
Overall
This section is more about draft strategy, with some players landing in very different spots in the overall rankings than they do in overall ADP due to how our rankers approach drafts vs. how the drafting community does things.
(PFF Fantasy rank: 63rd overall; FFC ADP: 41st)
The drafting community thinks the Bears rookie is going to be a massive part of the offense, but our rankers are not so sure — note that we have Mike Davis as RB54 in our ranks, but he's not even getting picked in drafts. Montgomery has more risk than his draft stock indicates.
(PFF Fantasy rank: 12th overall; FFC ADP: 8th)
This has nothing to do with Thomas' standing among receivers — our rankers have him fourth, ADP has him third — and more to do with draft strategy. In our staff rankings, we have seven running backs, two wide receivers, and a tight end in the top-10. ADP has those numbers at six, four, and zero, respectively. In other words, if you follow our rankings, you're probably starting running back this year, and we think that's the best way to start, all things being equal.
Quarterbacks
Andrew Luck, Indianapolis Colts (Rank: 71st; ADP: 49th)
Patrick Mahomes, Kansas City Chiefs (Rank: 43rd; ADP: 31st)
Baker Mayfield, Cleveland Browns (Rank: 91st; ADP: 67th)
This is a clear indication of strategy vs. popular opinion. It remains as true as ever that waiting on quarterback is the best strategy, with so much value available at the position in late rounds or even on the post-draft waiver wire. Our rankers love Luck, for example — he's our QB3 compared to QB2 by ADP — but taking him in the early fifth round is passing up too much value at the skill positions.