Just two seasons ago, the Los Angeles Rams were an unstoppable offensive force that featured an elite fantasy option in Todd Gurley and an ascending passing game with Jared Goff at the helm. But things change quickly in the NFL, and the team backslid in 2019. Gurley is now out of the mix, and many questions linger heading into this season. Let's break down what our initial 2020 fantasy football projections have to say about the Rams.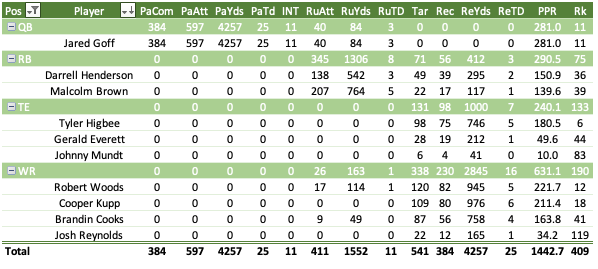 With Gurley out of the mix, the Rams backfield is currently in a holding pattern. Yes, you've likely seen fantasy pundits touting the idea that it's Darrell Henderson "SZN," but that take seems to be jumping the gun a bit. Henderson is an exciting young back, but his game really isn't suited to a three-down role. As you can see in our projections, we're actually giving Malcolm Brown a larger share of the Rams' carries. 
It's fair to wonder if the Rams' top fantasy back isn't currently on their roster. The team could certainly address the position in this month's draft. The Rams only gave six picks, but three of them come on Day 2. If Los Angeles uses one of those picks on a running back, that would all but eliminate any hope that Henderson breaks out this year.
I've noted several instances where I don't necessarily agree with the number in our initial projection release. That's an important thing to consider in your own process. Remember, projections are just averages that don't show you the full range of potential outcomes. Goff's numbers are a good example of a place where we can turn a critical eye towards the numbers. 
The Rams' signal-caller projects out very favorably as the No. 11 fantasy quarterback, but you'll notice that he comes in much lower in our 2020 fantasy football rankings at QB20. Why the difference of nine spots? Goff has proven that he can put up solid yardage numbers, with over 4,600 yards in each of the last two seasons, so floor isn't an issue. However, he only managed one game with more than two touchdown passes last season, and that came in Week 16 when he had three. Goff also had fewer than two passing scores seven times. In other words, his ceiling isn't particularly high. That lack of upside doesn't necessarily show in his projections, but it is factored into our rankings.
While we aren't necessarily bullish on Goff's fantasy outlook, it's hard to not view both Robert Woods and Cooper Kupp as WR2 options given their recent track record of success. Our numbers prefer Woods just slightly over Kupp, but we aren't going to argue with fantasy drafters who have the two flip-flopped in current ADP. Unlike last season, we do not have Brandin Cooks inside the top 30 as well. Cooks is coming off a massively disappointing 2019 season where a concussion and inconsistent play resulted in a 61st-place fantasy finish among wideouts. Sure, he does have weekly upside, but his risk-reward profile isn't suited to regular, season-long leagues. He's better viewed as a late-round option in best ball formats.
For a better part of the last four seasons, Tyler Higbee was essentially a fantasy afterthought. Gerald Everett was the preferred pass-catching tight end, and Higbee was left to pick up the scraps. But a midseason injury to Everett last year changed everything. Higbee assumed lead duties with Everett sidelined in Week 12 and proceeded to rattle off four-straight 100-yard performances. From Weeks 12-16, no tight end scored more fantasy points. To be fair, we do expect some regression from his insane production in December, but we're also very bullish on him picking up right where he left off. Higbee is shaping up as an optimal mid-round tight end target.
[Find the full collection of analysis and insights on PFF's 2020 fantasy football projections for all 32 NFL teams. Check back as more articles will be added each day.]