Welcome to the Week 9 edition of the 2019 fantasy football trade value chart. As we hit our stride into the final stretch of the fantasy football regular season, it's critical to structure your team to prepare for a deep postseason run or simply earn a playoff berth. Perhaps your team performed very well up to this point and you can capitalize upon certain owners' need to win now. Trading for potentially league-winning players at a discount like David Johnson, Odell Beckham Jr., Adam Thielen, or Patrick Mahomes, whom you may not need for the immediate future but can stash on your bench, may solidify your championship probabilities. Alternatively, if you're in the middle of the hunt for a playoff spot, you may need to sacrifice future boom potential for immediate production. Additionally, many leagues' trade deadlines are fast approaching, so time is of the essence.
Let's review what happened in Week 8 and key developments. In a complete and utter rout at the hands of the 49ers, Christian McCaffrey still had a magnificent day. Alternatively, Brandin Cooks suffered another concussion, putting his availability over the next few games – if not much longer – in question. Mike Evans went bananas while Le'Veon Bell disappointed. Austin Hooper still produced despite missing his (former) MVP-caliber QB, Matt Ryan, and Zach Ertz continued to frustrate owners. And of course, I won't overlook Drew Brees' return, in which he threw for 373 yards with three touchdowns and a lone interception. Those of you who held onto him or picked him up off waivers early were rewarded.
Aaron Jones had another massive performance, turning 20 touches (including seven receptions on eight targets) for 226 total yards and two receiving touchdowns. Even with Jamaal Williams' return, Jones remains a clear cut RB1 for now. Just as was last season in the home stretch before getting injured, Jones can be a league-winner if he remains healthy – which he's failed to do each of the past two seasons.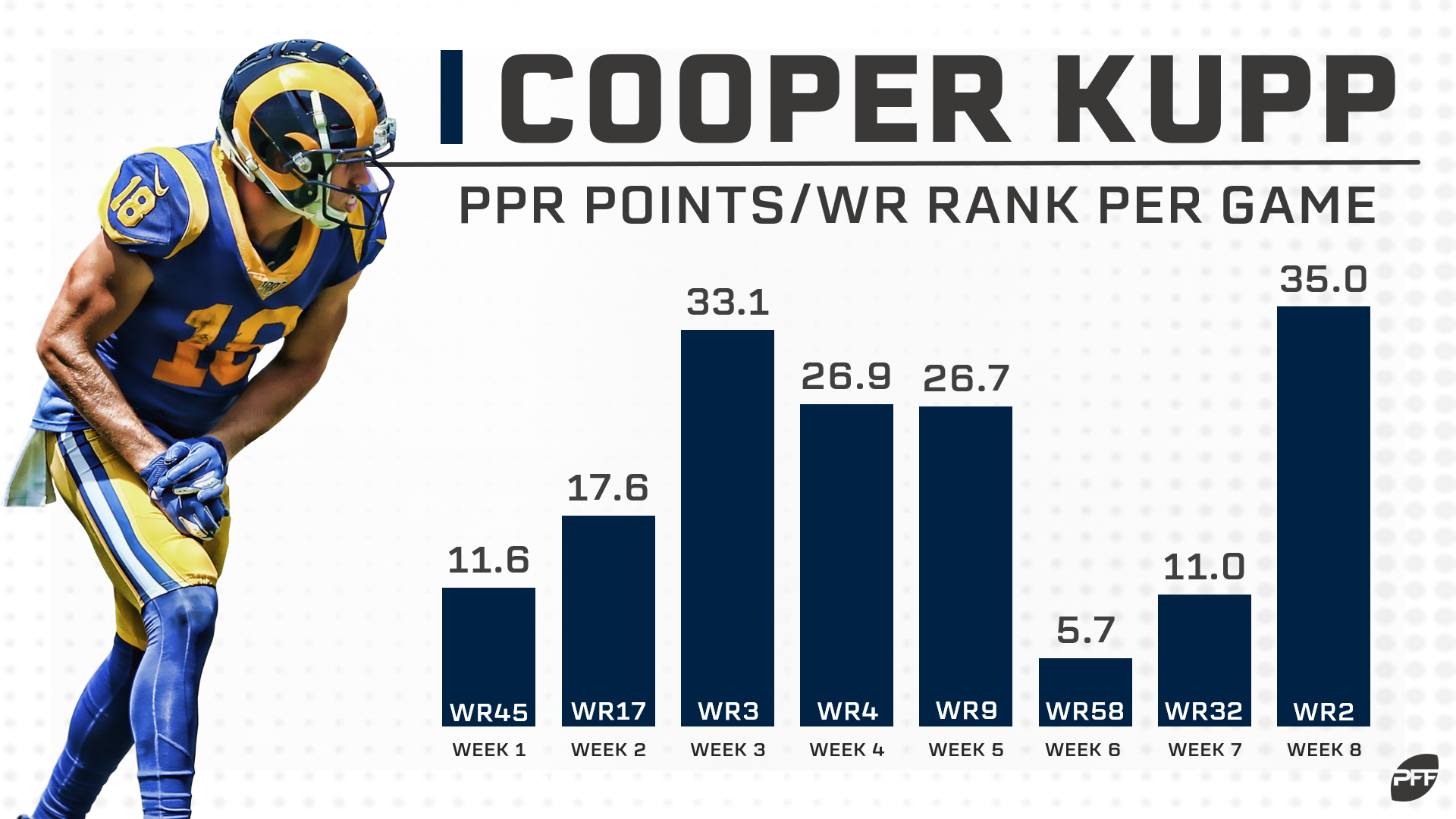 Cooper Kupp rebounded from a "poor" previous two games in which he totaled just 10 catches on 14 targets for 67 yards and no touchdowns. On Sunday against the Bengals, Kupp generated 220 yards and one touchdown on just seven receptions and 10 targets. He's a surefire WR1 the rest of the season, especially if Cooks misses significant time.
Check out the full chart below. Remember, these values simply provide you with a foundation for prospective trades as of week 8 and looking forward throughout the rest of the season. Tailoring these values to your league's distinct settings or your opponents' tendencies can drastically impact your transactions.
The trade value chart uses our rest-of-season projections to assign values to every relevant player. The players are displayed in order of their trade values.
Subscribe to PFF Edge to continue reading

Already have a subscription? Sign In